Race prep: Enduro21's KTM 350 EXC-F gets ready for a 3hr Cross-Country
The Enduro21 test mule KTM 350 EXC-F WESS Edition is about to reach its ultimate goal at the Hawkstone Park Fast Eddy Cross-Country, the race this bike was built for and by hook or by crook that's where we're heading.
By hook or crook? Let's explain. The WESS Edition 350 EXC-F was conceived and exists to stand alongside KTM's special edition models like the Erzbergrodeo 300 EXC TPI and the ISDE line-up.
The Erzberg 300 two-stroke is focused on extreme enduro and proves to be a sell-out success each time a new model comes out. KTM introduced this WESS Edition 350 four-stroke to cater for the 4T market in the same way but hinged on the different style events in the then WESS championship. Chiefly events like Hawkstone Park in the UK which is among the event names written in the bike's graphics.
However, Covid struck, events got cancelled, WESS transformed to the new Hard Enduro World Championship… to cut the story short this bike was left up the creak without a paddle.
Luckily for the bike (and us) that iconic Hawkstone Fast Eddy XC race is going ahead anyway, WESS or no WESS, and is about a four-hour drive away. So we entered, not just because Hawkstone is one awesome venue but out of a sense of duty to fulfil this bike's destiny.
That's the plan and with that big weekend ahead of it, this bike needs prepping.
Massive suspension upgrade
As part of an ongoing test of the latest WP XPLOR Pro Supertrax shock absorber and Cone Valve technology XPLOR Pro forks, this race will be one hell of a test.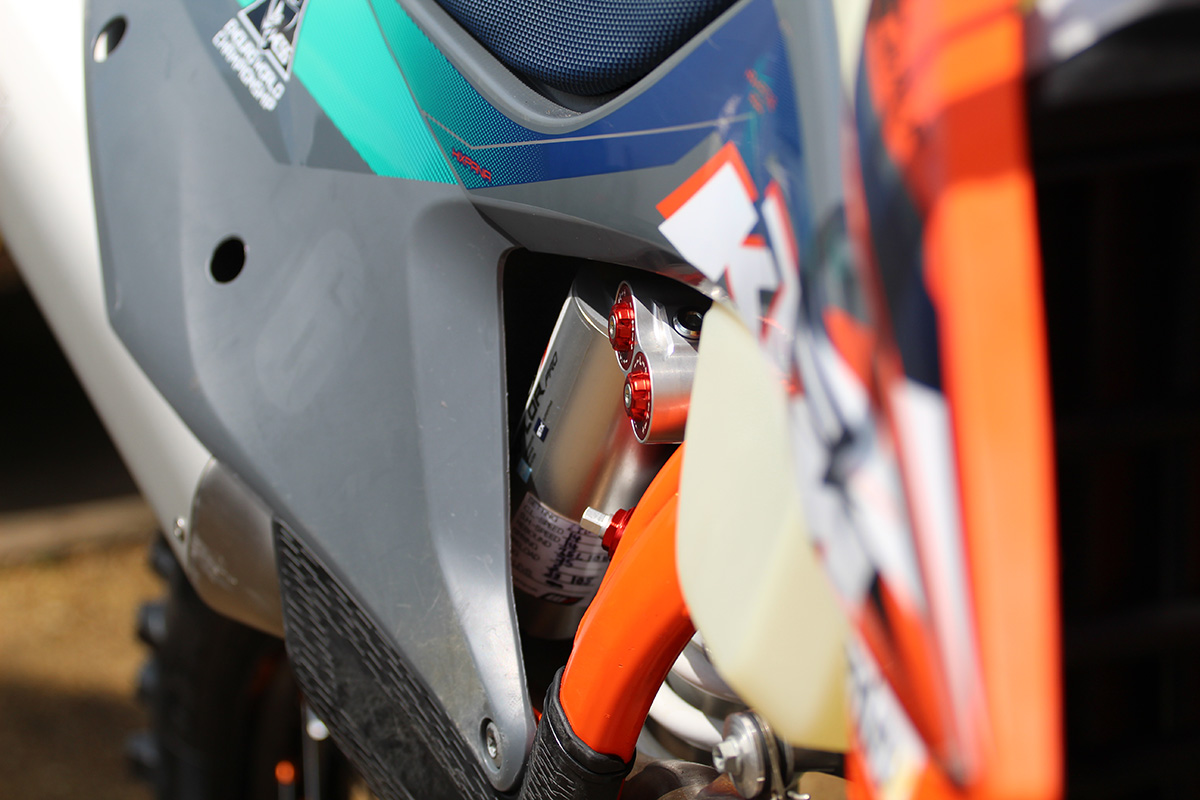 The WESS Edition 350 EXC-F has WP AER (air) forks, the same spec as found on the SX-F motocross model range with the standard WP XLPOR EXC shock on the rear. The AER forks would be fine at Hawkstone and in the riding we've already done on them we've been pretty happy with their feel and feedback.
But Hawkstone is brutal when the dirt gets beaten up by so many riders and during the three-hour XC race on Sunday it is fair to say stock WP equipment cannot cope with treatment like that. It's not designed to raced hard and in reality proves the reason why, if you're doing this kind of riding, you need to upgrade.
Which is why we've got this set to test, all those braking and acceleration bumps will certainly put it to the test.
Read our explainer article on the WP XPLOR Enduro range: WP Suspension guide – the XPLOR Enduro range explained
Tough times ahead
The Hawkstone weekend consists of a Sprint race on Saturday followed by a three-hour Cross-Country on the Sunday. It's a tough time for rider and bike so the standard practice is to run through the nuts and bolts around the engine and chassis to check everything is tight.
Fluids: check. Brake pads: nearly new, check. Spokes tight: check.
We've talked about the XC Gear bar mount before in test mule reports and it'll be a must to help absorb some of those bumps in the Sunday race. We're sticking with the Enduro Engineering handguards or roost deflectors too which have proved themselves this year so far. They bolt on the existing lever perches and twist on their own pivot point if you hit something. That means they'll knock back in place dead easily when I drop it!
Dunlop EN91 tyres
This event is our chance to test out the Dunlop EN91 tyres properly. Since the tyres were launched they've proved a success at world level, not least by taking Team USA to ISDE victory in 2019 but this will actually be our first chance to test them properly.
Hawkstone Park is a famously sandy track but the enduro loops in the trees has some really loamy, leaf mould dirt with plenty of roots and some big sandstone rocks. It's fair to say the EN91s will have a thorough test.
Getting guarded
The WESS 350F comes with the KTM Power Parts front disc guard as standard but we've also added the Power Parts rear brake caliper and brake disc guard for this event. The rocks in the hills at this venue are big and the rear brake disc is vulnerable to them as the ruts and holes in between dig out. For the same reason we've upgraded the stock plastic sump guard for an aluminium one – again this is the KTM Power Parts tidy aluminium one.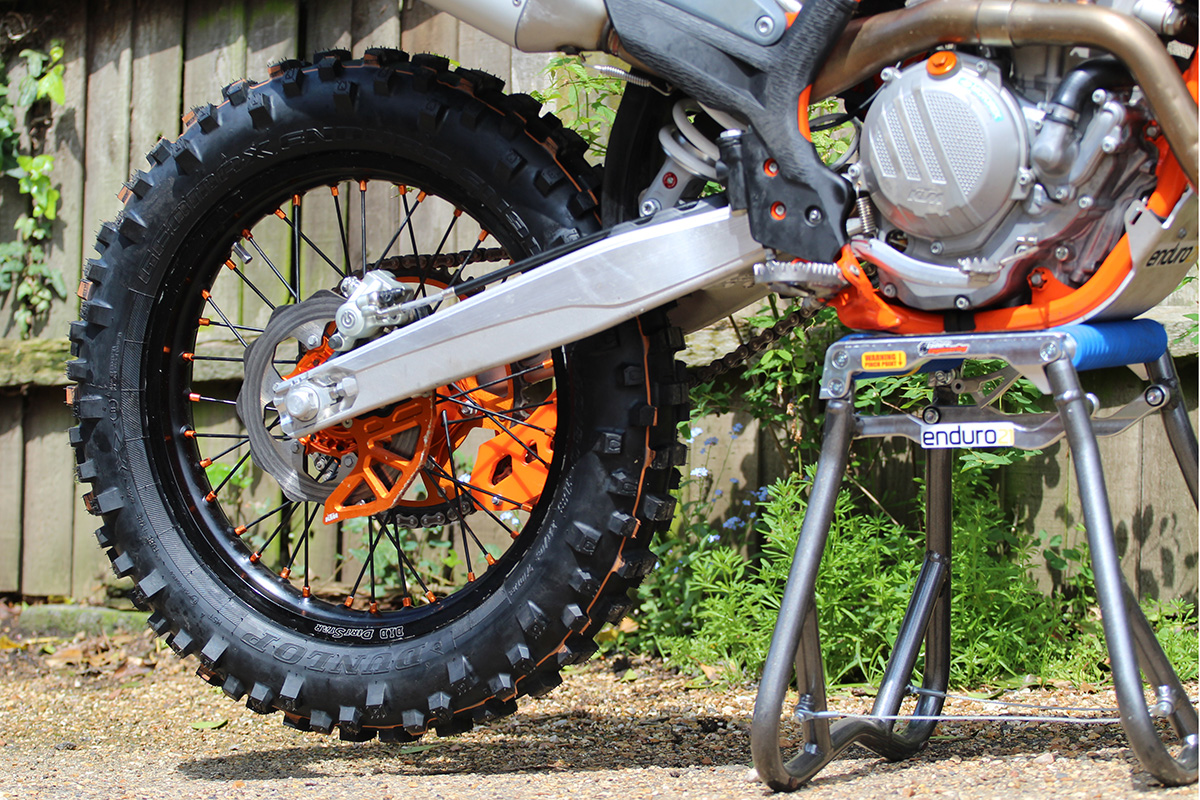 Around the other side of the rear wheel, we've swapped out the stock chain guide for an AXP part we had in our parts box. It is a little used and came from our previous test mule but the beefier part protects the Supersprox steal tooth rear sprocket – another must for this sandy track which eats soft sprockets.
Oil change
With 30 hours on the clock now this bike is well and truly bedded in and we've changed the oil a couple of times already. But a hard weekend ahead means a fresh batch went inside the 350's engine. We've stuck with the stock recommended oil for the bike, Motorex Cross Power 4T 10W/50 JASO M2.
Fresh air (filter)
Last time out on the bike, a bone dry three hour XC race, the dust was unbelievable, truly as bad as it gets. The filter afterwards showed the effects of three hours sucking in clouds of powder. If ever you needed proof for fitting a well-prepped, good quality air filter this was it.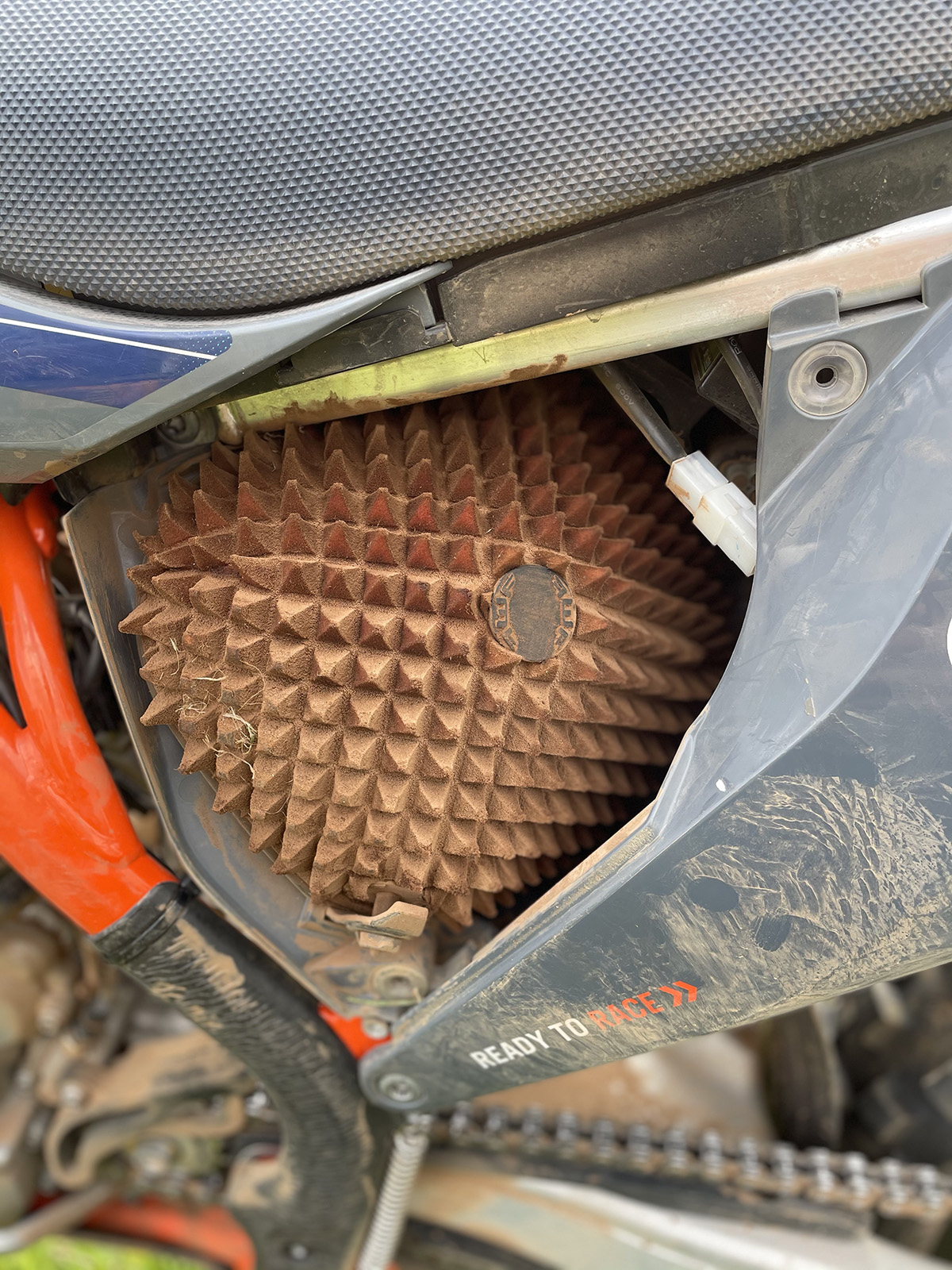 FunnelWeb Filters' Pro Line using their own filter oil is race tested not just by us but in GNCC, ISDE, and EnduroGP. This stuff keeps bikes running in the worst conditions.
A couple of grip donuts to help with the blisters and a front grab strap just in case those steep rocky climbs catch us out and she's ready and set for one big weekend. Bring it on.
Photo Credit: Enduro21