5 minutes…Jane Daniels – on the verge of the Dakar Rally 2024
Enduro21 catches five with four-time Women's World Enduro Champion Jane Daniels following her successful finish at the Rallye du Maroc, the event which should see her heading to the 2024 Dakar Rally with Fantic Racing.
Women's World Enduro Champion, ISDE winner, motocross, Scottish Six days Trial, Erzbergrodeo, even a touch of speedway…is there anything Jane Daniels hasn't done? Answer: Yes, the Dakar Rally.
Since Enduro 21 revealed Jane Daniels' move into Rally Raid at the beginning of the 2023 season, much has happened. Between an already full calendar competing in – and winning – the British and World Women's Enduro Championships, Jane has been busy with putting hours on the factory Fantic XEF 450 Rally bike.
Having now competed in the Rallye du Maroc where, despite a costly first day error, Jane finished 41st (from an entry of 134), as well successfully competing in the as the Swank Rally of Tunisia back in April, she has done enough to qualify for the 2024 Dakar Rally.
With her name on the entry list, all that remains is the ok from the race organisers and Jane is Saudi bound in the new year.
We caught up with Daniels as she headed to Sweden to compete in the Gotland Grand National. No rest!
So Jane, after six months on-and-off with the XEF 450 Rally what's it like transitioning from enduro to rally?
Jane Daniels: "Yes, it's something special, very different to enduro, a different kind of riding, very different bikes, but also a lot of fun. I'm really enjoying it. Although I've ridden the Six Days, riding six days in rally raid is very different, endurance is a major factor.
"But I've always liked to do different things with the bike, not just enduro, mixing in sprints, motocross and trials, extreme events like the ErzbergRodeo and the Scottish Six Days Trial. So why not rallying as well?"
With all the learning and rally events it's been a busy year…
"Yes, I was still committed to the World and British enduro championships and I'm very happy to have claimed both titles there. The rallying then filled any free time I might have had. I had a day job up until February but since then I've been a full-time racer, running between here, Italy, the world rounds and the rallies in North Africa."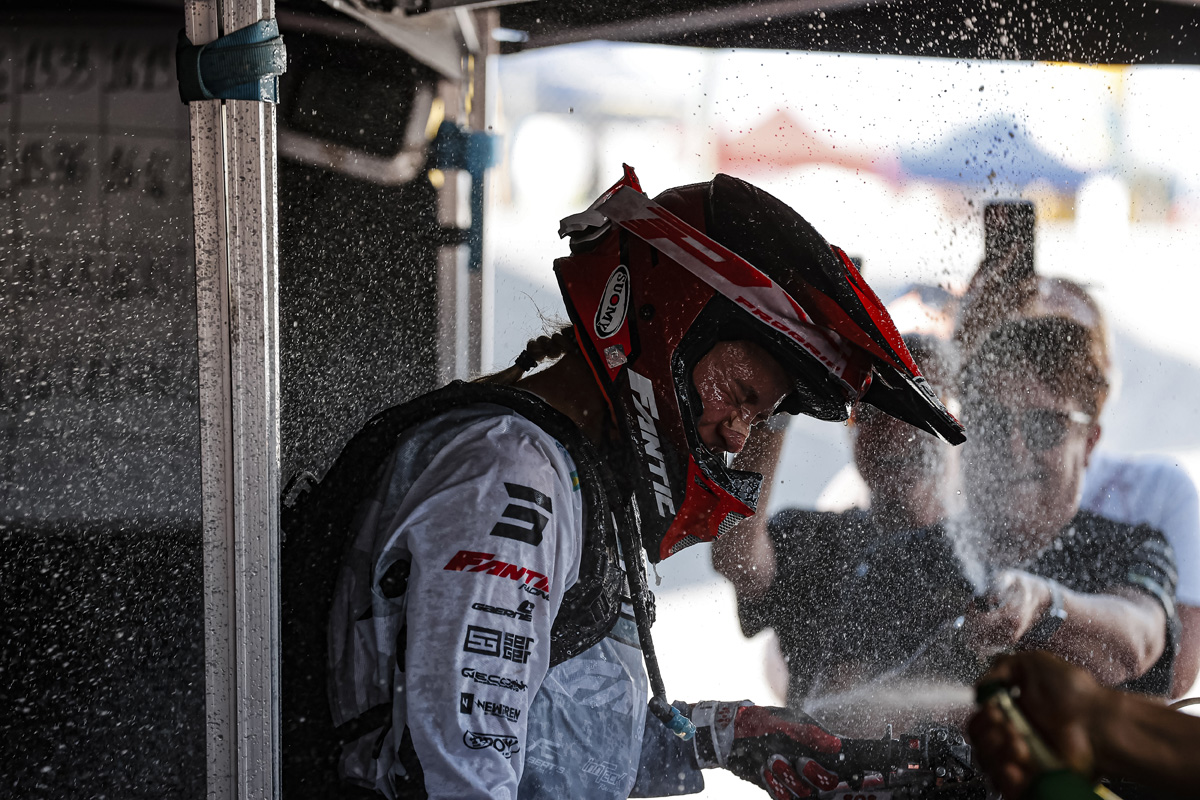 How have you prepared for rallying and what have you had to get to grips with?
"We started with a little road book training at the start of the year with Fantic's rally racer Tiziano Interno, I think everything I know about rally I've learned from him. Then in the beginning of April I competed in an Italian Motorally and the Swank Rally in Tunisia.
"It was handy those two rallies fell into a bit of a gap between the first round of the world championship and the next. After that I've had quite a few days testing and working on set-up with the rally bike.
"It's very different to an enduro bike, so I was starting from scratch on everything, from suspension set-up through to riding position. It's made the year very busy, I'd be flying between world rounds, British rounds then fitting in the rally testing.
For instance I flew straight from the last round of the British to Morocco to test the rally bike and work on a desert set-up for the Rallye du Maroc, then back to Portugal for setting up my enduro bike for the final round of the world championship then immediately back to Morocco again for the rally. It was all back-to-back."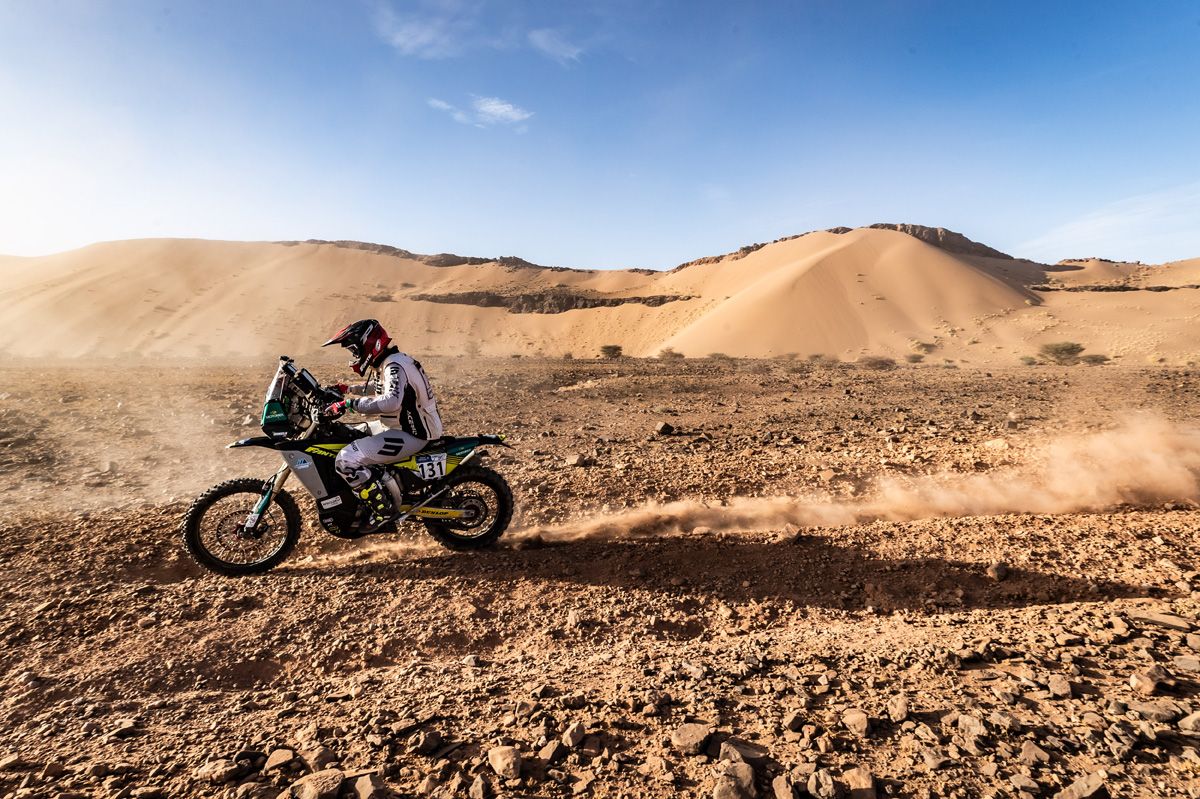 Your regular race bike is the Fantic XEF 250 – what's it like stepping up to a rally-spec 450?
"It's like no bike I've ridden before. As I said, my first job was to get a feel for it and find a set-up because I had no idea how you set up a rally bike.
"On the enduro bike you adopt a crouched-attack riding position, on the rally bike it's much more upright, almost relaxed, so you can ride a whole day. Just before the Rallye du Maroc I was again lowering my footrests – still learning and refining. And although the bike is bigger, heavier and more powerful, and the riding much longer, I can deal with it very well and I really enjoy the long days' riding."
The Rallye du Maroc was a make or break for your entry into Dakar, that must have been a pressure?
"I don't know if I had time to consider that. I finished on the Sunday at the world championship, then on the Monday I flew to Morocco. I had the complication that my kit bag didn't arrive until Tuesday. Then there's the inscription to get through, a final test ride of the bike and then Thursday I was into it for six days.
"The team kept reminding me the priority was to finish. No finish, no Dakar. On day one I made a navigational error and didn't ride to my normal pace and that cost me a lot of time, about an hour. The other days I rode at my normal pace so without that first day I could have finished around the top-20 – but that's racing, isn't it, the 'if onlys…'"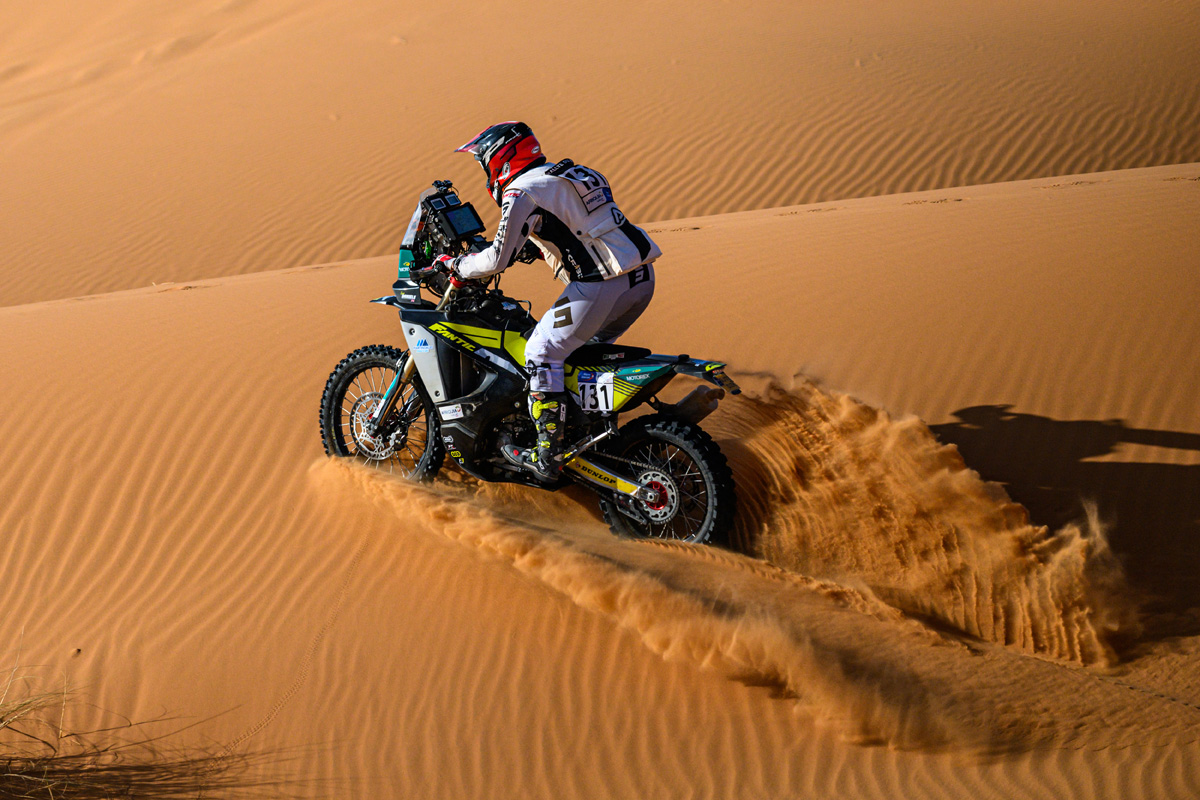 Weren't you tired? The final EnduroGP round is two solid days racing, not to mention walking the tests the week before, plus that testing schedule either side, then six days in Morocco…
"You know, I was actually very happy and comfortable riding the rally, I wasn't at all exhausted and I enjoyed every day. I think as I ride so much I'm well-conditioned for the physicality.
"A few years back I rode the Scottish Six Days Trial, but I rode a motocross at Hawkstone Park the day before then drove up that night ready for the trial. Right now, it's the same. I flew back last night from Morocco but I'll be on a boat tomorrow to Sweden for the Gotland Grand National. Today is getting all the washing done, and it's raining!"
So, the Dakar Rally it is then?
"I'll say 'hopefully'. That is the plan. But right now we just have to wait to hear from the organisers, there's still the matter of them officially confirming I've qualified. By the team's estimation – and from what we understand of the entry requirements – yes, I've done enough. And the team is preparing for me to race. But as I say, I'll be holding my breath until I see that entry officially confirmed."
Good luck and good luck at Gotland, that might be the hardest race of the year for you!
"Yes, I'm looking forward to it, thank you guys."
Thanks to Jon Bentman for help with the interview.
Photo Credit: Fantic Motor + Future7Media