Back to school: What you can learn from Enduro World Champion Steve Holcombe
Enduro21 goes back to school with Enduro World Champion Steve Holcombe and EnduroGP rider Alex Snow to learn how taking lessons from the best in the world can help any level rider be happier and more confident on their bike.
We don't all ride dirt bikes because we want to be a world champion. This much is true. But who wouldn't want to get a bit better at it?
If you're young and aiming at world domination or, like this Enduro21 test pilot, long past that point and just want to improve in the areas where you struggle sometimes, then a training school can help. And who better to teach the sport of enduro than the best in the world?
Enduro21 loaded up and headed deep into the heart of Wales for a day on the Enduro Training School run by World Enduro Champion Steve Holcombe and his mate, EnduroGP rider and former British Enduro Champion Alex Snow.
Here are the four reasons going back to school can help any rider…
Eat, sleep, repeat
It is hard not to feel a bit self-conscious when someone like Steve Holcombe is standing watching you make your first ham-fisted attempt at a long, rutted corner. It doesn't help much that he's just perfectly demonstrated how to do it on his factory Beta.
But both Holcombe and our other coach for the day, Lunigiana Honda Redmoto EnduroGP team rider Alex Snow, have a relaxed manner and a 'don't worry about it' attitude which puts everyone at ease.
Their enduro school split us into small groups broadly depending on ability (all ages are catered for) and spend time with either Steve or Alex and then switch around in the afternoon.
The groups nip off into different areas of the large venue we're at to practice elements of riding: single track in the trees, turns, roots on steep climbs, long corner ruts, line choices and some obstacles like tyres and logs are all fitted on to our day.
That first, self-conscious attempt at a rut is quickly forgotten as we come back around and have another go, then another, and another…before you know it you've strung together a dozen passes at the same piece of track and have been pulled over for instructions: "keep on the pegs longer", "look further ahead", "try it a gear higher".
Each time you come back around it seems to make more sense until you feel a difference and are in a more comfortable place on your bike doing that thing. This is lesson one: go back and do it again and again.
Focus on the problem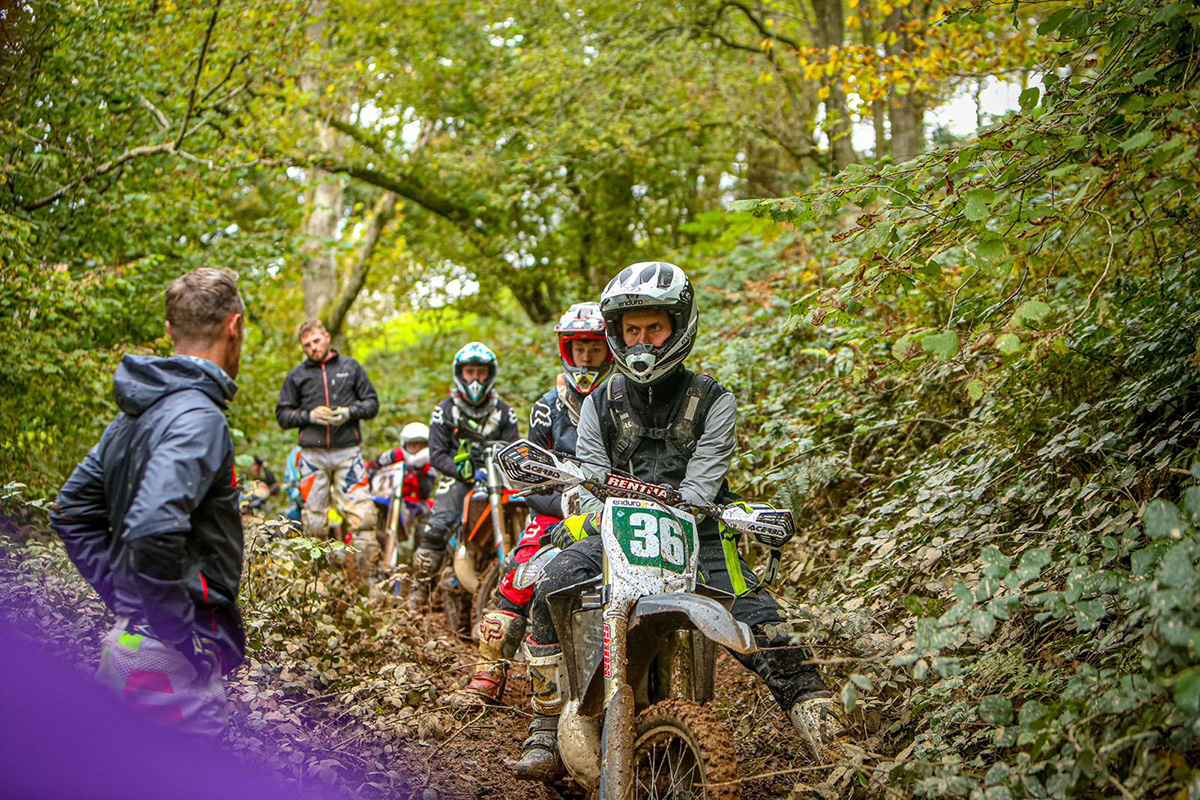 No matter what type of riding you do, timecard enduro, hard enduro or just spend your days out trail riding, it can be hard to improve things you struggle with when you're out doing what you always do.
It didn't matter that 50% of the attempts on that long and rutted corner were a balls-up (was that just me?), being able to just deal with that one aspect of riding was invaluable. Each run through was time spent examining body position, where you brake, how hard you brake, when you get on the gas, which line you take…having someone who knows exactly what they're talking about means those pieces of the jigsaw fit together around you right there and then in a meaningful way.
Even Holcombe admits that the switch from the 300 two-stroke he'd gathered the bulk of his world titles on to the 350 4T in 2020 needed time and wasn't as easy as it looked.
If you're uncomfortable, you're probably doing something wrong
What elements of riding off-road don't you like? Ruts, rocks, cambers or just something simple that you can never get right? The chances are the thing you dislike the most is the thing you try to avoid and you're almost certainly not alone.
There's a mantra in some philosophy book somewhere which says if something feels like hard work, you're probably doing it wrong. As someone more at home on a four-stroke, this day on the Enduro21 test mule YZ250 certainly proved that point. I make hard work of things on the YZ, things which seem easier on a 350 4T.
Alex and Steve got me hitting the same marks, keeping more consistent with the throttle, thinking more about body position – these were real lessons for me.
It felt like hard work but repeatedly doing it and having someone say, 'try this' or 'do that', meant things actually get easier and less like hard work!
Piece the jigsaw together
Reading the terrain is all part of the job in enduro or trail riding. One trick the best riders have is being able to see the terrain in front of them better than anyone else. Whether that is Graham Jarvis looking at a heap or rocks or Steve Holcombe looking at a taped special test, they make it look easy.
One of Alex's lessons was on a long, downhill rut that fed into a narrow and beaten-up line through the trees. The lesson was all about keeping your speed down the hill, not sitting down too early and carrying momentum through.
This lesson brought home the reality of seeing a section of track as a whole by doing each part of the jigsaw well. Get the first bit wrong and it affected the next part and made you more clumsy and slower overall.
Slowing it down at the start to be more in control, hitting the right line to be in the right place on the track and bike, being in the right gear and doing it all more smoothly ultimately made life easier. If you want to be faster in an enduro test that stuff matters but it is also meaningful if you just want to be able to ride for a few hours on a trail without getting so knackered.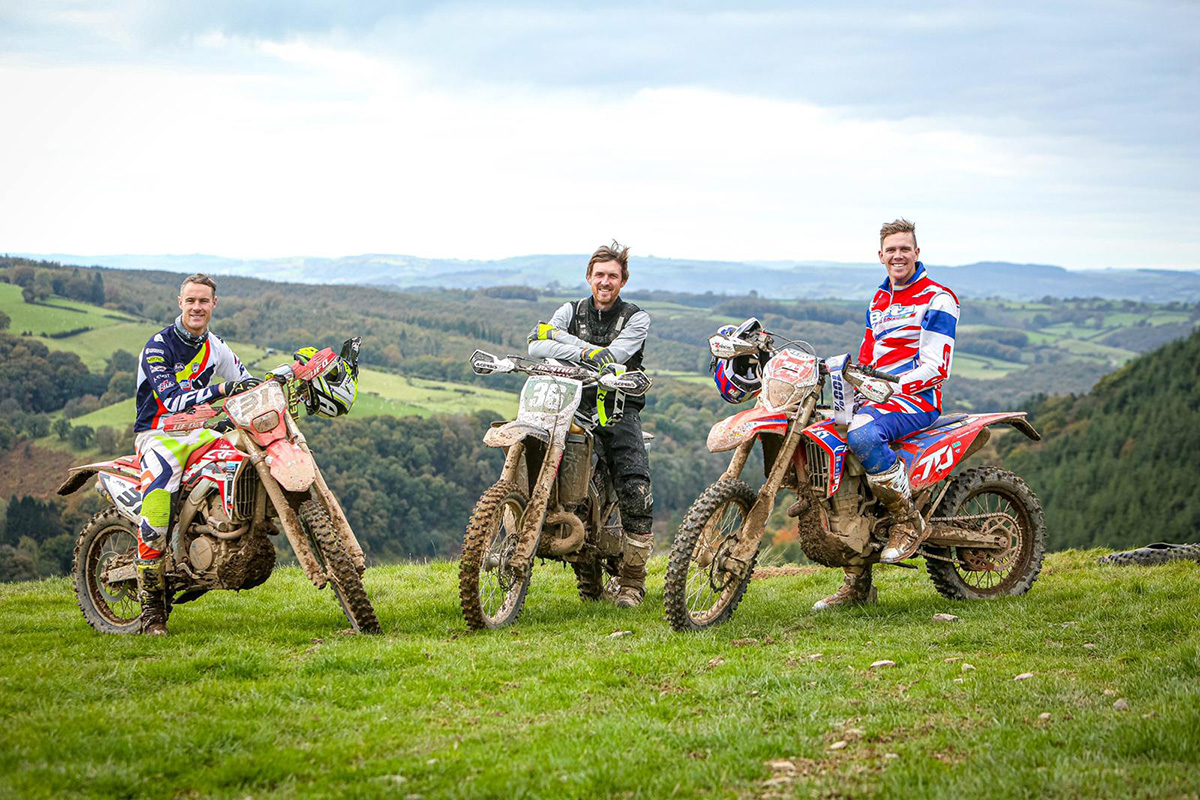 This day going back to the drawing board was never intended to make a champion out of anyone, particularly me. You can't ignore the fact that it was a treat to get insight from two riders like Steve and Alex – their manner is relaxed and encouraging and the day whipped past in a blink. They even gave out t-shirts...
I drove home feeling happier about my riding though and had plenty of things to think about the next time I put my boots on.
Steve Holcombe and Alex Snow run their Enduro Boot Camp Schools throughout the season depending on their race schedules. School dates are normally published on their social media channels (linked in their names here above).
More information email: This email address is being protected from spambots. You need JavaScript enabled to view it.
Photo Credit: Vision Off Road Media | Tristan Young