"I'm in with a shot at the title" – Nathan Watson coming good in EnduroGP '22
With four rounds and eight days racing completed in the 2022 FIM EnduroGP World Championship, Nathan Watson has stepped up as serious contender in E2 class, if not for the overall title.
Absent from the EnduroGP paddock since 2017, Watson returned with Honda Redmoto World Enduro team for some guest rides at the end of 2021 and secured the full-time ride for this season.
It has been a comeback season where he's progressively stepped up with each round and, by the second visit of the year to Portugal, took double day win for the overall GP victory.
The result sling-shotted Watson into serious title contention for the Enduro 2 class and into third overall in EnduroGP scratch standings.
"I feel like I'm in with a shot for the E2 title and that's ultimately the goal," says Nathan ahead of round five this weekend in Slovakia. "I have never won a world title, so I want to take advantage of it this season."
Watson is second in E2, just eight points behind leader Wil Ruprecht and heads to Slovakia knowing the terrain will better suit his legendary techniques in softer dirt than the hard, rocky conditions we've seen so often at other rounds this season.
"I'm really looking forward to the next two races in Slovakia and Hungary. In 2017 we raced in Slovakia and it was definitely more suited to what my favourite conditions are like. I like the soft, loamy ground with less stones. I'm prepared to push hard."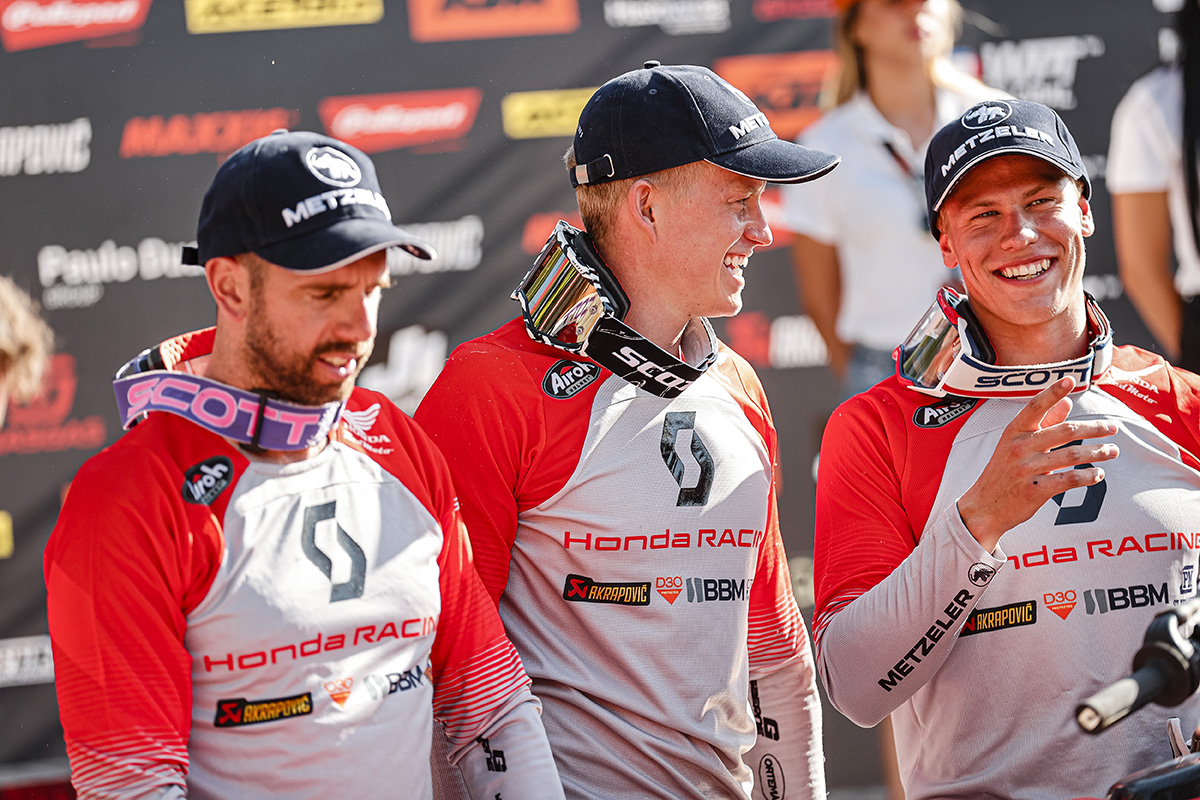 The switch to Honda was a big step for Watson who took the French beach race title and the infamous Le Touquet with KTM before moving to a French Honda team and a brief switch back to MXGP last year.
"I'm super happy with how things are going in the team. It seems a lot more relaxed than when I was in the KTM factory team and I think that it suits me. I'm there to do my job, they're there to do their job, and we get on really well.
"For the majority of my career I rode KTM or Husqvarna, so switching to Honda was a big step for me. We did a lot of testing and development to get the bike how I wanted it to be. I feel like we're dialled in right now.
"My form has come good at the right time in this championship," concludes Nathan ahead of the weekend's GP of Slovakia. "I'm really focused on getting points in E2. I want to win more races there and I know that when you're in a good position in E2, you're also in the hunt for EnduroGP too!"
The WPTGlobal FIM EnduroGP World Championship continues with round five in Gelnica, Slovakia on July 29-31.
Photo Credit: Future7Media