"I was smiling, those times are few and far between" Billy Bolt interview
Enduro21 sits down with Billy Bolt over a plate of pie and mash, sets the voice recorder rolling and lets the SuperEnduro World Champion talk us through round one, explain why an elbow injury nearly ruled him out, talk how training with Mani, Jonny and Taddy is raising the game and how the hell he made the track look so easy in Poland.
"Shall we get some grub?" "What have they got?" Pie and mash is the answer. "That'll do." Says Billy. In hindsight it seems typically British thing to do with the Hard Enduro World Champion but it wasn't planned. It just kind of happened.
Back at home after he had walked away with the opening round of the 2022 SuperEnduro World Championship in Poland, Enduro21 took the chance to sit down with Billy over this classic British plate of grub to find out more about that opening weekend in Lodz and how he nearly didn't make it after picking up a bad elbow injury (check the video below).
A face-to-face interview with Billy is always gravy because he is great to talk with, so just to warn you this interview is a longer read than normal on Enduro21, but we hope you enjoy it. You probably have time on your hands during this festive break.
Bill's latest vlog fits quite nicely on the end of our interview so we've embedded that below too. GoPros are not allowed at the FIM SuperEnduro indoor events and we rarely get to see the rocks, logs and lines onboard.
Hi Billy, in the end Poland turned out well but what happened the week before?
Billy Bolt: "The two weeks before the race I had problems, some people will know this story already, but I cut my arm in the week leading up to a British extreme race called The Tough One. Basically, I hit a door post in an indoor track in Spain."
"Long story short, that caused a lot of fluid build-up, the cut needed stitching and it meant a lot of backwards and forwards to doctors. It wasn't as bad as you'd think to going racing the Tough One (Billy won the Tough One by the way) because it wasn't as physical as you'd think and it seems mad to say it but it was more mellow than a SuperEnduro.
"I went back to Spain immediately on the Monday after the extreme race, tried to ride on the Tuesday and it was impossible. I was in so much pain.
"It wasn't good. I tried a few times to ride, went back to the van, had a drink, went again thinking it must be okay, went back to the van for some Haribos and a word with myself but I realised it was too bad so I went straight to the doctors.
"A couple of doctors later, after surgery I was at home with a drain in my arm basically. The SuperEnduro race was on the Saturday and I was in surgery on the Wednesday, was supposed to fly out on Thursday but I missed that flight 'coz I was still in the hospital, and in the end it was a mission just to get there."
Was there a chance you wouldn't race?
"The surgeon said I would be able to ride but it would be sore. He is a really, really good doctor, someone who fixes up lots of other racers in other sports. Doctor Casanovas in Girona.
"Basically there were two hematomas and an infection and together they made a lot of pressure inside my arm that made it super painful. He was confident he would get it better and that was obviously reassuring because it gave me the confidence to go to Poland but at the same time you never quite know what's going to happen. I had been under general anaesthetic and you never know how you're gonna feel when you come out the other side.
"The whole thing being so close to a race was a bit worrying but at the same time I had no option really. I couldn't ride on the Tuesday, something needed to be done immediately, I went to the doctors, had surgery, then Friday I flew to Poland and Saturday I got back on my bike."
Having got to Poland, did you expect it to do so well?
"No. I'd been off the SuperEnduro bike for two weeks by the time I got to Lodz. I had been training for indoors after the Hard Enduro season but after I hit my elbow, I switched and went to England to do the Tough One on the two-stroke and then had all that surgery process and all that. So I hadn't been training on the bike for two weeks when I got there.
"The main thing is I just felt a little bit rusty, you know. The elbow was a little bit stiff but mainly everything wasn't quite right. I wasn't timing or hitting things quite right, and my reaction times were just a little bit slow. Partly that was due to the surgery, partly due to my elbow being a bit sore and just because I hadn't been riding. That's why I think it took until the last race to really find my true speed.
"I knew where I was, I was confident how I was riding compared to the other guys but in the end for it to turn out like it did was a big, big relief."
You've been training with Jonny, Mani and Taddy at l'Ametla but none of you knew how the Americans would match up after the 2021 EnduroCross season. How was it facing those guys again?
"That's a good question. Everyone was kind of unsure about how they would get off the plane. Covid affected last year, they didn't come the previous season so it felt like years since the Americans were over here.
"After my year out with a broken leg it was kind of four years since I'd raced against those guys and that was also my first year doing SuperEnduro so it was intriguing to see where they would stack up."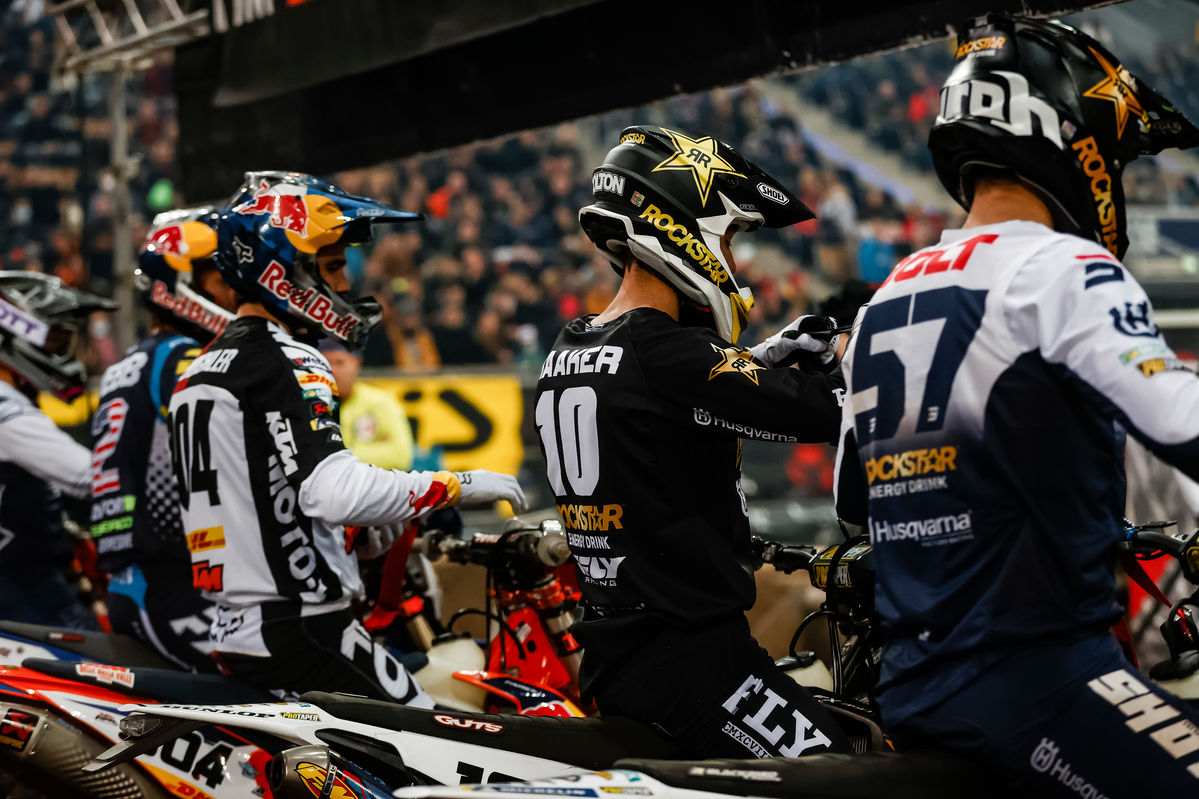 "But I think it's fair to say that we have a pretty high level here in Europe at the moment. We all train together and we are all riding well. When we are doing training motos, we're measuring up against each other. Sometimes I might take a line that I saw nobody else is doing and then while I'm watching, everyone else will do it as well. I'm looking at the track thinking, 'right I'm gonna have to find something else here!'
"In that environment, living, training and doing the job it's good. How Mani and I have been this year at all the Hard Enduro rounds it's so good for your riding because you're pushing each other every day."
Training together is a philosophy that works in other sports…
"It keeps you grounded, you know? You're getting humbled a lot more because the guys around you on the test track are doing the same times and the same things. When it's like that you know you've gotta work hard because if you take it easy you're going to get beaten.
"Whether there is a stopwatch on or not, everyone's got an eyeball on each other. It has been like it all year with me and Mani. If we're running up a steep hill somewhere and say he messes up the hill, you know for sure that I'm putting my wheels in exactly the right place and hitting the right line because I'm gonna make that hill.
"It's in our nature as racers to want to try and get that little bit of an advantage over the next guy. That's a healthy environment to work in. We're mates for sure but when you're on a hill you're trying to beat each other."
So how was it once you got on track with Cody and Colton?
"I guess we expected them to come in with a bit more because they arrive having done their EnduroCross season in August and September time. They've done six rounds or whatever and normally they arrive having had race time at least.
"That's one thing you can't recreate when you're training. We went straight from Getzenrodeo to training but our training track is outdoors where we do most our training and it isn't the same. It's way tighter indoors, the ground is always softer and it's very difficult to replicate the track conditions.
"So in a way I expected more from the Americans but you also have to say that their tracks are little different and that takes a bit of adapting to from their point of view. It is swings roundabouts.
"It's not like none of us have haven't been riding and we've all been riding together for a few years now and you've got that experience to rely on. The main thing was the gap between the last time we'd all raced indoors against each other."
That said, apart from a few laps in the second moto, you looked comfortable on the Lodz track compared to the other guys…
"The first practise blew me away when I was five seconds quicker but I think I was the only one tripling the matrix in that session so I was making a bit of time there. It could be just the other guys didn't get clean laps, you never know.
"Timed practise was a lot closer, everyone was getting on it a bit more by then. I was trying three logs before the sand section which in the end in the last two races I started to triple but I messed it up five times in a row. I got a bit frustrated with it to be honest so I left qualifying a little bit pissed off and I knew there was a lot of time left on the track."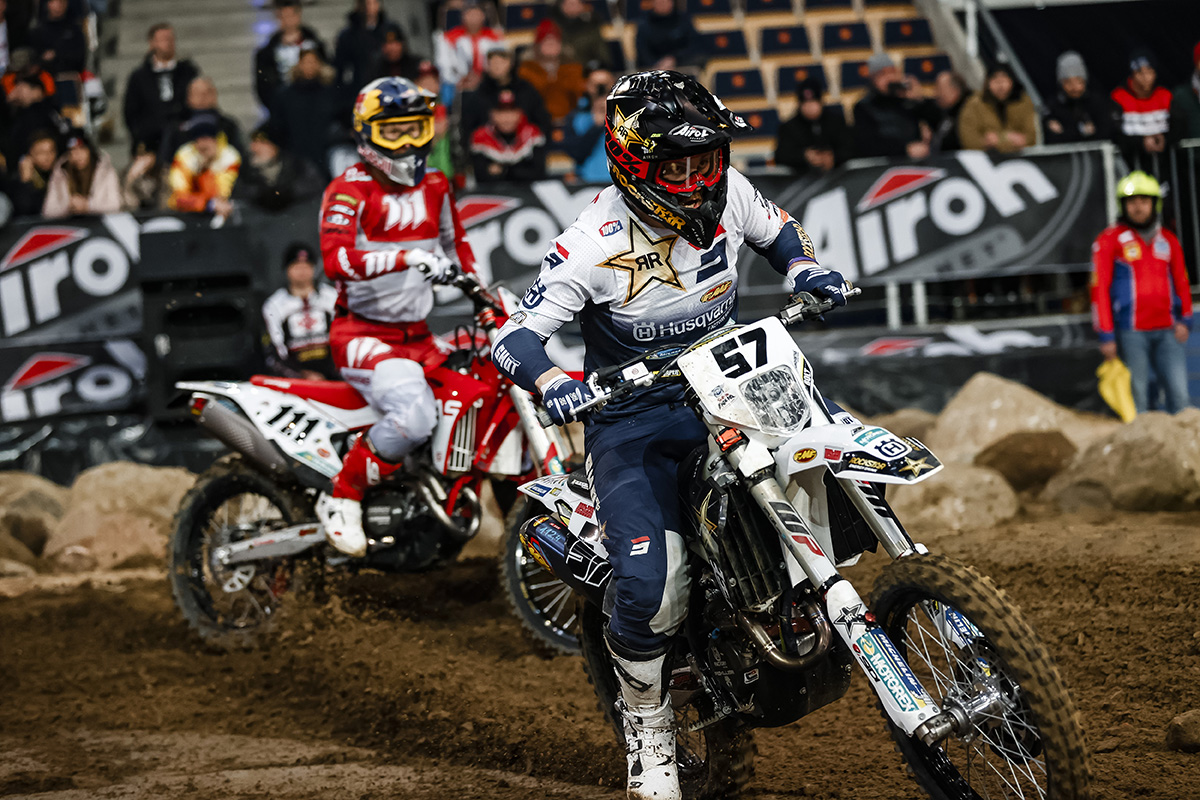 "By Superpole I knew I would be there or thereabouts in the race. I went out last 'coz I set the fastest qualifying time and the rider before me was Taddy and he is always good there so the pressure was on a bit. I saw him get the rock section really good so I was thinking I needed to do something special but then I saw on the on the big screen he crashed so there was a bit of a relief for me.
"It meant I didn't need to jump the rocks all the way and go balls out to make the time. I was able to play it safe but still ended up with a comfortable fastest time and I guess at that point I had a little bit of confidence knowing I had a bit in the bag. I knew where I was with the track and what I needed to do if I wanted to go faster."
What about that second race then. Reverse grid is always intense but that was a good battle with Colton.
"Yeah that was intense. We came round on the second lap and Colton was out in front with me, Jonny, Mani and Taddy all going up the stairs pretty much together. I remember thinking this is going to be a good race to watch for anyone back home!
"Basically, I just concentrated on hitting my marks, I had some good lines and the second half of the race I was putting in good laps and got by him but I lost it again 'coz I tipped off on the log and he pulled the gap again.
"It looked scruffy but it was during those few laps, when I was riding on my own closing the gap down on Colton, something kind of clicked. I don't know if it's the other guys slowing down or whether I got faster I'm not particularly sure. I definitely got faster looking at the overall race times and overall lap times.
"This is what makes me say the first race and a half was a bit rusty and then as the evening went on I got a bit more dialled in and got better.
"I obviously made it hard for myself in moto two but the main thing is I didn't give up and though it was chaotic I got the job done and I came out of that race feeling good."
We guess there's more going on for every rider that we don't see?
"It's one of the things, especially indoors. People don't know that you trying different things or that stuff happens inside you helmet during the evening.
"In the first race I started without my holeshot device down because I thought such a short start straight might actually be better for feel going into the first turn. It was better but I didn't help me with the launch so I was half a bike length behind. Having the inside line saved me.
"In the last race, back on the front row, I used the holeshot device, got a much better start and then everything came together.
"I came through the first corners in front and then I was able to stick some laps together. I was hitting the triple right, I was doing the triple into the matrix every time and I just felt it was one of those races where you just enjoy it from start to finish.
"It's not to sound cocky or anything but I felt like I could have ridden round there for 20 minutes, like they say you're in a flow state or something. I was really enjoying it you know. I was smiling while I was riding and honestly not particularly getting tired, living for the moment really and when it's like that it's a really good feeling."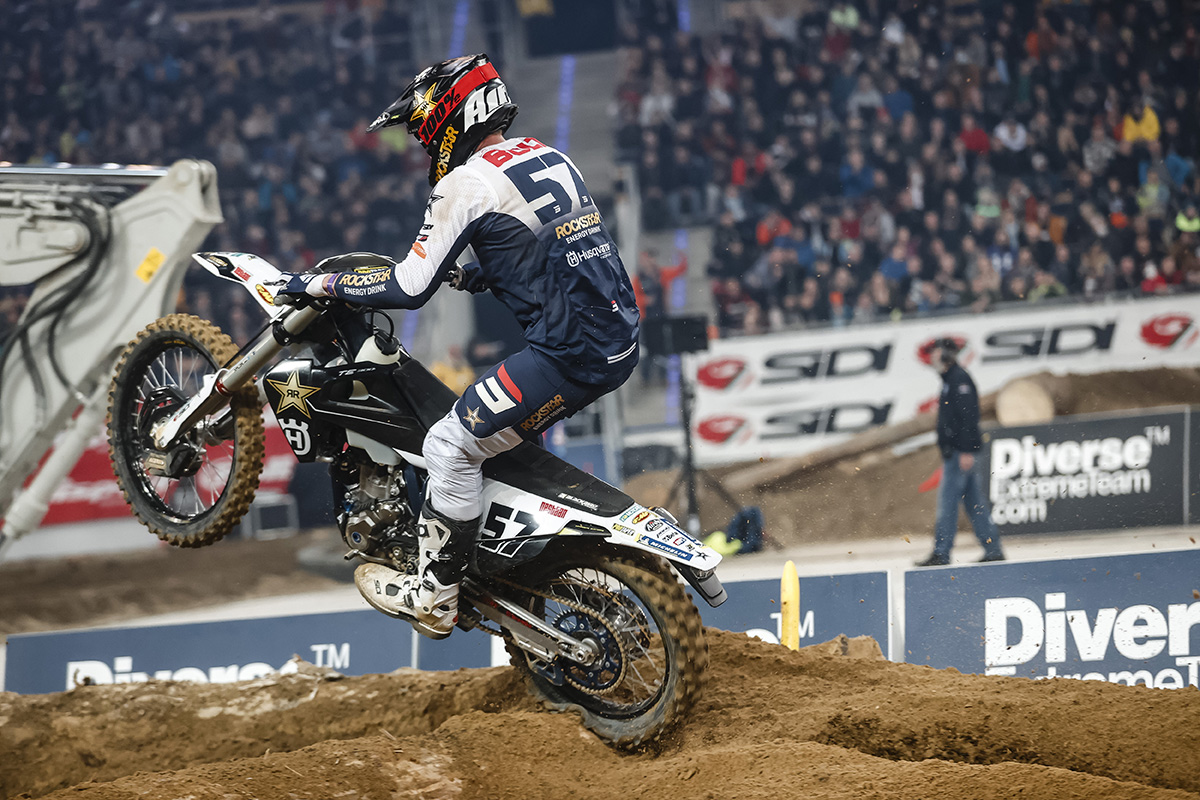 Sand in the cake hole…
"Another thing that people don't see is that I ended up getting a big lump of sand in the face. I know that motocross racers reading this will we'll go, 'yeah that happens all the time mate' but it really did affect me. I was riding around trying to cough it up and spit it out my mouth but it was just a big old, lump of sand in my face and I couldn't get rid of it.
"It still sounds like the most pathetic excuse ever, 'you just had sand in your mouth mate, what's wrong with you?!' But SuperEnduro is so intense, and you're relying on breathing, so struggling to get the air knocked my rhythm.In the end coming down the stairs one laps I just swallowed the whole lot get rid of it.
"By then you've done two or three laps not breathing properly and that has a knock-on effect. I finished that race and my arms felt pumped up and I was breathing heavily and that's the only the only time all night where I felt a little bit tired. It was such a small thing, just some sand in the mouth, but it made such an impact."
You won't be turning up at the next round thinking three motos will be that easy then?
"No, not a chance. Every track is different and like I say that third race, where I felt like I was in that flow state, those times are few and far between so no way.
"There's a lot of training to be done between now and then. After that race I went to Spain for another week (see video below) ahead of Christmas and then before the next race we'll be doing more training, trying some set-up and so on.
"The other guys are gonna look at that race, reflect on it and come back stronger and I'm not complacent at all. If I was the other guys, I'd be definitely motivated to get back to work, get on it and close that gap down.
"From my point of view I'm just gonna try to keep the ball rolling, keep on this wave and arrive there ready to go."
You'll grab some time off though?
"Yeah, it's important. You've got to keep on the ball because the championship is short, but you need to let your body recover. It's no good training every day of every week because you'll just burn yourself out.
"It's important to do other things as well. We don't really get an off season because we go straight from Hard Enduro to training for SuperEnduro and that season is intense and then it is straight back to the two-strokes and bike testing for the outdoor season.
"My elbow needs a bit more time too just knit itself up and when you're riding a little bit injured, you compensate with another part of your body and then that part gets stiffer and then you're riding a bit twisted and you start to get back ache and so on.
"You need time to recover from these things but I think it's one thing I've improved a lot over the last year or so. To get more of the right balance between riding and training and downtime and recovery time so that I arrive at the races prepared.
"People say I ride too much but, in my head, I know what is constructive training and what's just dicking around in a motorbike. Ultimately that's what I've been doing all my life but I know the difference between dicking about and constructive training!"
Latest Billy vlog...
The 2022 SuperEnduro World Championship is scheduled for round two in Israel on January 20. In the meantime, take a look at Billy's latest vlog with a heap of onboard POV action from the training track mentioned above, L'Ametla Park in Catalonia, Spain.
Photo Credit: Future7Media | Andrea Belluschi