Triumph Motorcycles Enduro project: "Triumph's commitment is truly serious" – Ivan Cervantes
Enduro21 catches up with five-time Enduro World Champion Ivan Cervantes to find out more about his new full-time job working for Triumph Motorcycles on their new enduro and motocross project...
Since retiring from racing Ivan Cervantes has been a busy man. Working with the Spanish federation (RFME), he's overseen the resurgent national enduro series, coached young talent onto the world stage and acted as team boss to the ISDE squads.
Earlier in 2021 Triumph dropped a bombshell by announcing they were stepping into the off-road market and that Ivan was onboard alongside Ricky Carmichael.
Enduro21 has spoken with Cervantes many times during the season but he was often tight-lipped, too busy or both. But with the season over we nailed him down at last to talk some more about Triumph's new off-road project scheduled for 2023.
Cervantes is bound to secrecy on some crucial aspects about the Triumphs but sometimes silence speaks louder than words…
So Ivan, how did this begin, how did Triumph get in touch?
Ivan Cervantes: "They called me to find out if I still had some kind of contract with the orange brand and I told them I hadn't for a couple of years. They asked if I would be interested in going to Hinckley (England), to test the Tiger. I was thinking only about that, because the Adventure bike market is booming and more and more motorcycles of this type are everywhere."
So you didn't know what awaited you there?
"When I got to the factory, they showed me a Tiger and we took a few photos, but then they took me to an office and told me: 'We are going to show you something about which, until it is made public, you can say absolutely nothing.'
"I signed a confidentiality contract, but I thought it would be in relation to some new adventure bike. There was a presentation, slides appeared, all of them adventure bikes, and suddenly, on the screen it appears: 'New Project Enduro & Motocross bike.'
"They stopped the presentation and ask me: 'Are we still…? And I replied: 'Of course, of course…' For heaven's sake, don't leave me in suspense!." (Laughs)
It was a good way to start, right?
"Yes. Then they continued by telling me that they wanted to count on me in their project, because they considered me one of the best enduro riders historically and my profile was the perfect fit for their new Enduro project."
You were full of confidence and enthusiasm from day one…
"It is something that motivates me a lot. I wanted to know what the project would be like and where things were going. It will be a completely new bike, with a 100% Triumph engine and chassis.
"That's one of the reasons I've been fully involved in it, to make a dream come true. For me it is wonderful to become part of a factory project like this, where I can contribute my point of view and all my experience. In addition, there will be many more things to do in the future."
Ricky Carmichael is on onboard too?
"Yes. After a few days, they told me that we would have a new teammate. 'A very fast rider from motocross and supercross and who wore number four…'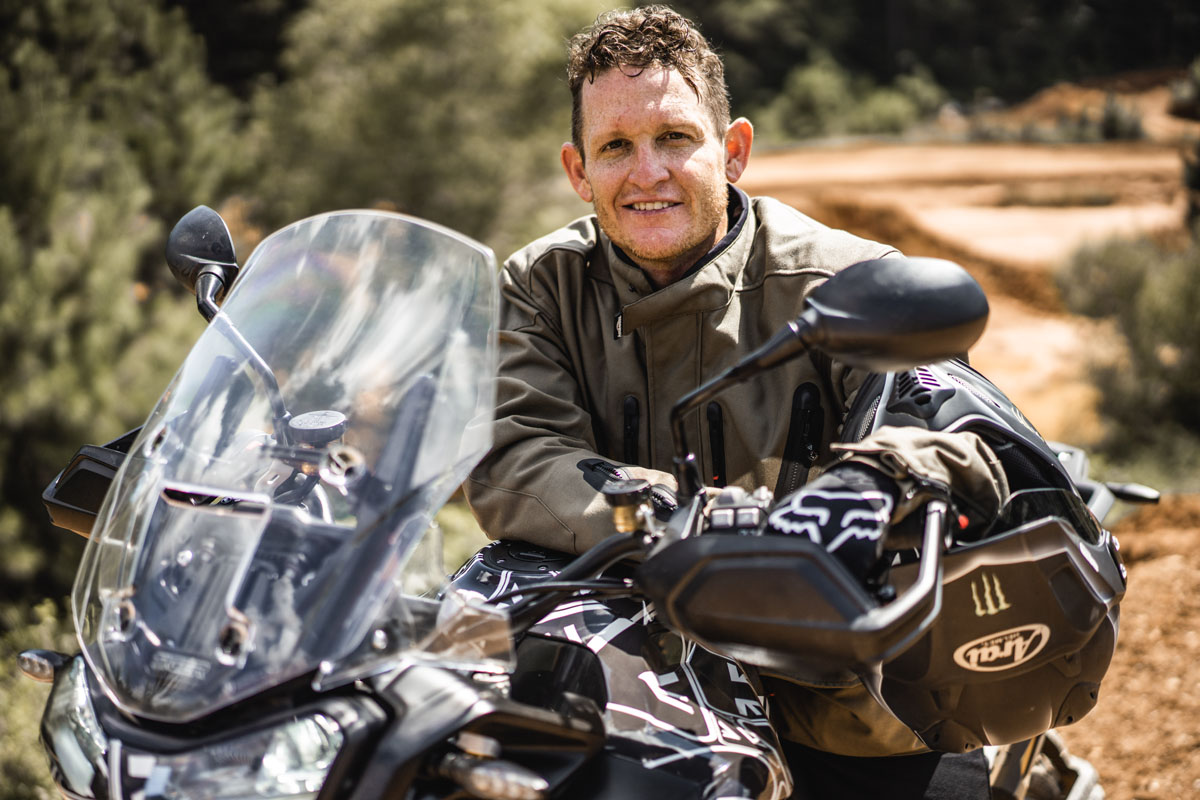 "I said don't screw me, don't screw me…! (Laughs)They confirmed that Ricky is onboard too and I'm still freaking out now! I'd had posters of him in my room. When you see that a figure like him, with all that he has achieved at a professional level, becomes part of the team, you realise that Triumph's commitment is truly serious."
And finally, the news broke...
"All of this was kept secret until the day the new Enduro and Motocross project was announced [July 20, 2021]. Despite not yet having a physical bike to show the public, we wanted to do a lot of hype and I think it was achieved. Now we are working on making even more noise. And from what I know, I think there will be little from here.
"There is news in the near future and I think people are going to be very surprised. Only with what we have now, people will already freak out… I am very excited about this project."
There has been talk of enduro and motocross models, will there be similarities or are they completely different motorcycles?
"Obviously, the manufacture of MX and Enduro motorcycles follows a concept very similar to that of other brands that have differentiated models for both disciplines. I can only tell you that we are working hard on all of this. We will still take a while to make it happen, and the news is good but people need a little patience before it comes out."
Since you said goodbye to the Spanish Federation at the end of this season, are you 100% involved in the Triumph project?
"I needed more time to be able to do tests. I could have continued as a coach, but I have decided to focus on only one thing. On a family level, I have spent 16 years of my life competing and traveling a lot, I have two children and I just want to spend more time with them. For this reason, after four years as national enduro coach and delegate of the RFME, I decided to put an end to this stage and focus on trying things out for Triumph, since that means less travel burden for me."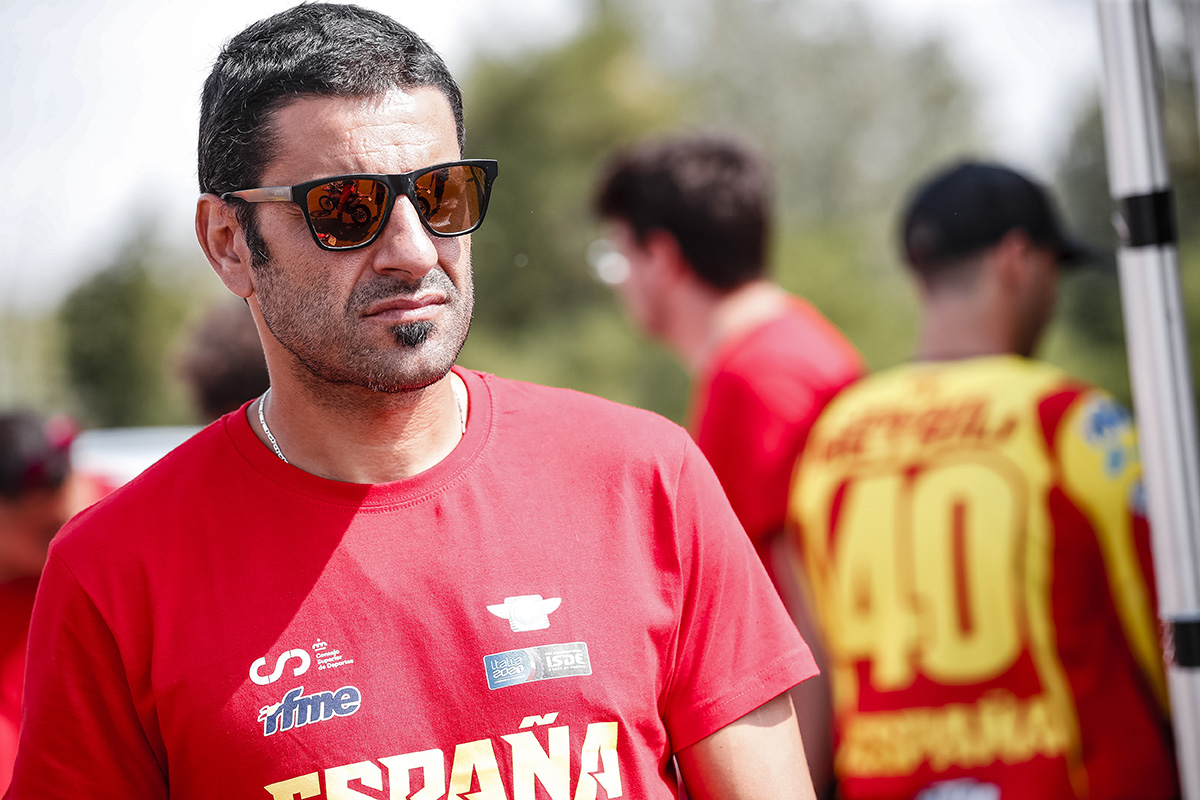 "The bike is now rolling and that means that the tests, as time progresses, will increase. I have fully involved myself in this new project and I want to be there 100%. I did not want to find myself in the situation of having to try something and not be able to do it because I was out, either at the National or the World Championship.
"Although Triumph understood that, they asked me for more time. So I had to do without one of the things that occupied my days the most and, right now, the Triumph project made me much more excited."
Considering European emission regulations, will Triumph bet on four-stroke engines...a 250 and 450cc?
"For now, it will be. We all know that the 2T, despite the boom they have experienced in recent years, increasingly are a greater problem when it comes to 'legalizing' them. So, for the moment, we will focus solely and exclusively on the four-strokes."
Triumph is deeply rooted in the street bikes, but could the 450 lead to rally and the Dakar?
"Well…[pauses]," (laughs)
Tell us, as far as you can, if you are also planning a race team?
"Yes, at the racing level we are talking about a team for the EnduroGP World Championship and probably for a national championship. Although we still have to see what will be done in this case, Spain or Italy, because the 'Assoluti' has more force since it concentrates many more pilots of international level."
So, will we continue to see each other in the paddocks?
"Surely. Maybe not as a team manager, more as a coordinator or something similar. My future, at the team level, is that things will come out and the most certain thing is that, in one way or another, I will end up taking care of them. So, I think so. I think we will see each other again in the paddocks."
In a first phase in the advice and development of the motorcycle and then at a sporting level?
"We really haven't talked about it specifically yet. Despite the fact that the tests never end and a brand always has to continue developing new things, there will come a day when we will have to focus on the racing project, and for this there will be a group of people, not just one person, who take care.
"And in this sense, there is a fundamental role on my part, due to my experience as a world championship rider, track records and everything I have learned as a RFME coach. It is logical…"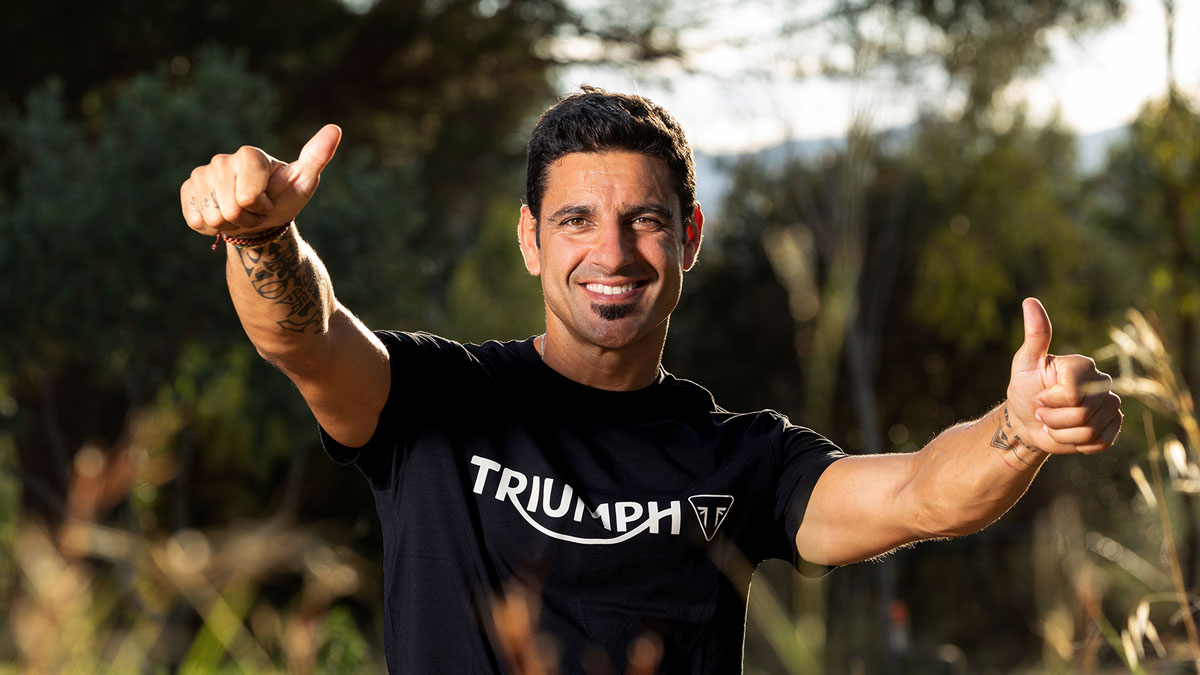 Let's talk hypothetically about forming a team, you said already that it is strange the official teams do not look at drivers like Jaume Betriu…would you like to have him?
(Laughter) "Obviously, when I see a rider like Jaume, who manages to finish runner-up in the E3 world two years in a row, always fighting for the 'top 5' in the EnduroGP scratch and without being in an official team, I would certainly like to have names like his in our team or that of some other Italian or English pilot in those same circumstances, riders who fight for victory. And right now, for me, Jaume is one of the drivers fighting to win.
"On his day, when it comes time to form the EnduroGP team, if Jaume continues with the same pace and motivation that he has now, I would love to have him on a Triumph."
Moving away form Triumph project, how do you see the next EnduroGP season with the arrival of Daniel Milner, as well as Freeman, García, Holcombe, Verona, Rupretch, Betriu, Guarneri...
"You just said some names that I, personally, would very much like to have in this wonderful team that we would like to do, like Andrea Verona. He is young with talent, he has a lot of desire and I like his style. Without making too much noise he has placed himself among the fastest. Like Rupretch, who is a very technical driver, very smooth and with a very clean riding style that makes you ask at the end of the special 'how could it be that he did this time if it seems that he is not giving gas?
"In the World Championship, in addition to Holcombe, Freeman and García, there have been names that have really surprised me and that have made the EnduroGP overall results"
"Verona likes it and has shown great potential after winning the E1 category for the second year in a row, and also standing out at the Scratch level in the ISDE, where he beat Josep a day, who could not be distracted for a moment, because he was always focused. I like him a lot.
"Then there are drivers like Hamish Macdonald who I also like a lot, because he is a very young driver with a great potential and I like, above all, the way he faces races. He is not afraid of anyone and has achieved very good results. Obviously, the youth have played him some tricks, due to lack of experience or excess of fierceness, but he has been there too."
And the arrival of Milner?
"I think Daniel wants to spend the last of his bullets in Europe, where he has never competed before. He wanted to fulfil that dream and, for Fantic, it is a perfect fit to have the Australian. He is a fast rider and eager to come here. Probably with less respect than he deserves.
"I think he will be fast, but to be in the top 5 at the level of Josep, Brad, Wil, Steve, Andrea, Davide or Jaume have right now...the level is very high and in Europe it is faster than Australia.
"Sanders, for example, did some very good ISDEs and as a result of that, he joined the official KTM Farioli team, he went to the World Championship but his results did not come during those two years. Although I hope that Milner's motivation is different. He wants to spend the last of his cartridges here and I hope he is shooting big."