Jonny Walker – "I've never really won a championship before"
Winning the 2022 AMA EnduroCross Championship in his rookie season was only part of the story for Jonny Walker. Beta Factory supported rider, sure, but this was racing and winning out the back of a pick-up truck, practising where he could and in the end getting the job done after a season which began with major knee and shoulder surgery.
Unbelievably it is Jonny's first major championship crown despite so many victories at events like Romaniacs and Erzberg, plus years of being in contention indoors and out – most notably the first WESS year when he crashed badly while leading the points.
Enduro21 finally catches with Walker after a week globe-trotting his way back across the USA, the Atlantic, the UK and finally his own home in Andorra to get a bit more insight into that EnduroCross win.
Firstly, congrats, EnduroCross rookie to '22 series champion is no mean feat and the first non-American to do it for a decade. How did the final round in Reno unfold?
Jonny Walker: "Yeah it was pretty straightforward from my side to be honest, despite the championship being on the line. I was third in the first moto, I tried to push to go to the guys in front but Colton and Cody were running such a good pace that I just had to stay behind them. I was only few seconds behind but I had a bit of arm pump, riding a little bit tense.
"In the second race I think Trystan got out front and I eventually caught up with him and I almost got past him on the last lap but he ran me wide before the matrix and he ended up winning.
"Then the final moto I got a good little lead going from the start and then jumped into the matrix smashed my pipe and that lost me just enough power to make a difference. I struggled basically to jump through the matrix every lap just because the power wasn't right, it was pretty flat. So I didn't have the hit of power if you know what I mean. But, yeah, that's how they unfolded and I just knew I had to finish just behind him so it was all good."
Was the last moto all under control? You knew you only had to finish behind Trystan? What were the nerves like and were you worried about other riders like Cody (who won overall)?
"Well it wasn't really Cody I had to worry about, it was all Trystan's other teammates [laughs]. I was a little bit stressed going into the last moto because I knew that I had to worry about Colton, Taddy and maybe Ryder. I knew they were going to be there trying to get me kind of thing and trying to get in the middle."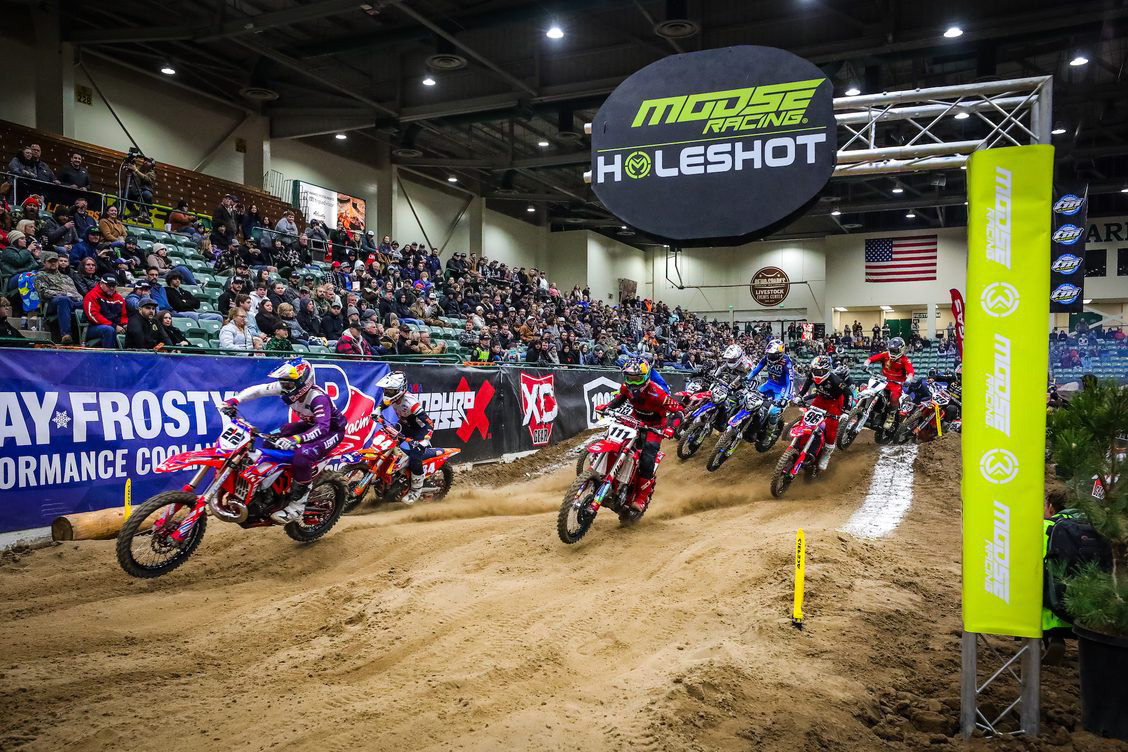 "So basically, I just concentrated on the start and managed to pull a holeshot for the first time all year so that was good timing! I was fired up for that one.
"I knew Cody wasn't gonna get in the mix and honestly I knew that I kind of had the pace on him and the others as long as I rode steady. So, yeah, my only worry was those other three people – it's not like Trystan was riding for a one man team like me!"
You seemed confident. Were you comfortable on the EnduroCross tracks and did you have more in the bag if you needed it at the last round?
"I felt confident on all the tracks to be honest. They were all pretty different but they all had nice flow which helps and definitely I like to ride like that, it suited me.
"I definitely had more in the bag in Reno but I just rode a little bit tense because obviously there was a championship on the line. Not super-tense that I couldn't ride properly or anything, I just had to keep reminding myself to jump some stuff and be smooth and then I rode a little bit better because of that."
When's the last time you won a championship? It's been a while (No offence!)
"Actually, I've never really won a major championship before. I've won the European Championship and stuff like that but never an indoor title. I've been in contention for things a few times of course but never actually nailed one. So yeah, I'm super-happy to have finished on top with the quality of riders in this series."
After so much time out and many seasons affected by injury, does it feel like a relief to be back fit and riding at a level where you should be?
"I feel like I'm back where I should be but I do still have to deal with the injuries. When I was out there in the US I was only riding two days a week, maximum three, just because my knee would get sore.
"I'm not far out of surgery realistically and my shoulder's still not brilliant. I've kind of learned to deal with it if you know what I mean. I can't ride every day, I wish I could like I used to but I think I used to ride everyday and make myself worse. I'm kinda learning in my old age to deal with injuries and ride better because of it."
"I was trying to practise wherever I could with the little stash of spares that had in my tool box in the back of the truck"
Despite help from Beta and Beta USA, people don't realise it's still quite a DIY job for you, more so over there in the US. Was it harder work because of that?
"It's definitely a DIY effort that's for sure. The Beta USA team would bring the race bike on a Friday and I would prep it on a Friday afternoon, or my mechanic when he was there. Then we raced on the Saturday.
"I took my own engine and suspension across to the US for the series and I could have got spares from Italy but I didn't really need anything.
"Beta USA did help me but it's the same as back here in Europe, I still plan everything myself. Obviously, it's easier back here because I'm at home, I've got my own stuff etc. whereas over there I was driving to all the races in a pick-up truck, the team would take the bike and I was trying to practise basically wherever I could with the little stash of spares that had in my tool box in the back of the truck."
Tell us you top five maddest things American has thrown at you or you've seen in the last couple of months?
"Sorry to be boring but really there isn't really a top five things becasue the whole experience was amazing. I'm really glad that I did it the way I did by driving around because I got to see so much. I know everyone says it who isn't from America, but you don't realise how vast it is until you do it like that.
"We did see some cool stuff like wildlife and sights on the way, but yeah, the whole trip was amazing and it was just brilliant. Sorry to be boring!"
What next? You are back in Europe and is it straight into SuperEnduro training?
"Yeah, it is just straight into SuperEnduro training although I'm not going to start until next week because I decided to have a week off.
"All the travel has been pretty bad – we finished the race on Saturday and I drove eight hours on Sunday, got a hotel, drove another eight hours the next day to another hotel. When we got there took the engines out and suspension ready to fly back. Then we flew on Tuesday landed in England on Wednesday in London, then I drove back home which is six hours north – it was like four days just travelling and I think that's why I feel so shit now. I've just landed back in Barcelona so I'm going to have another few days off, the jet lag is killing me…I can't sleep."
Fair to say Billy was on another level last SuperEnduro season, you must be more confident coming into the 2023 series?
"For sure Billy was on it last year and he always is obviously. He's had a few injuries this year as well but there's no doubt about it, he will be good again. But yeah, hopefully we can win some races and be battling for the championship this year, EnduroCross is different but it helps to have been racing and I'm really looking forward to it."
Check out Jonny's vlog from the final round: Jonny Walker's vlog – 2022 EnduroCross Championship winning ride
Photo Credit: Future7Media + Jack Jaxson