"We're working on a new engine" – Alfredo Gomez talks moving to Rieju
After more than a decade racing for KTM Group (KTM and Husqvarna Factory Racing teams) Alfredo Gomez has signed with Rieju Enduro Team. Enduro21 talks to the Spaniard about his new ride, where he'll race in 2023 and how he's helping develop the MR300 two-stroke enduro machine.
"This was not the first time talking with Rieju, we spoke some years ago," explains Alfredo Gomez following his shock announcement he'd signed up with Rieju.
In many ways it is match made in heaven for the Spanish rider and manufacturer, but Alfredo has huge experience in racing and says things had to be right before he finally took up their offer to race for the factory enduro team.
"I had some conditions, and they didn't have the experience or the budget to make it happen." Gomez continues. "After some years we began talking again this summer, now they have the experience, more budget and a clear idea of what they want… in the end we made the agreement. Which is great.
"Our goal is to be in the top five consistently during the championship, as I have been doing this year [2022], and also to try to push for some wins, I think we have what it takes… we´ll just pin it!"
After so many years developing and racing the fuel injected TPI model bikes from Austria, Gomez is back to carburettors. After only getting the bike to test a few days before the opening round of the 2023 SuperEnduro World Championship round last weekend, were they ready to go racing at that level?
"No. We started in Poland and it was just only the sixth time I rode the bike. I had just gone through one fuel tank. We just did a couple of tests, so we were not really ready. With some things I feel at home but there are others where I struggle. I have been riding for KTM for many years, and even if I adapt fast, it takes some time. We'll keep testing to make the bike suit me better.
"For SuperEnduro the idea is to race in Poland, Germany and France. Then we'll go into full hard enduro mode to race the full HEWC and some other events like I do every year: a couple or three Romanian Championship rounds and some events in South America, USA and Indonesia for the moment."
Rieju made their comeback into racing just a couple of years ago, tells us more about the project and what you can bring to the brand.
"Yes, Rieju just came back to enduro a couple of years back and we have a bike with and old engine in which are trying to work as much as possible to make it perform as its best.
"We're working on a new engine which has already past the midway point of development and on a new bike, which will also be ready soon. We have agreed to sign for two years and afterwards, if we are both happy, we'll expand the deal."
A top level rider like you brings some visibility to Rieju…
"The idea of having a rider like me brings more visibility to the brand, along with better results at the races obviously. We want to put Rieju at the top to make it known worldwide for both the racer and the Sunday warrior.
"When I first rode the bike I was impressed with how well it worked, I thought it was going to be worse. Before I signed, I told them I wanted to test the bike. If I like it, we would continue talking but if not the deal wasn't going to happen. And the truth is that I liked it and here we are. Part of my job is to let the public know how these bikes work to bring the number of bikes sold up."
What are the strong points of the Rieju?
"The suspension, brakes and chassis. The engine is a bit outdated, but we are working hard on it and I think that for hard enduro we can make the bike work."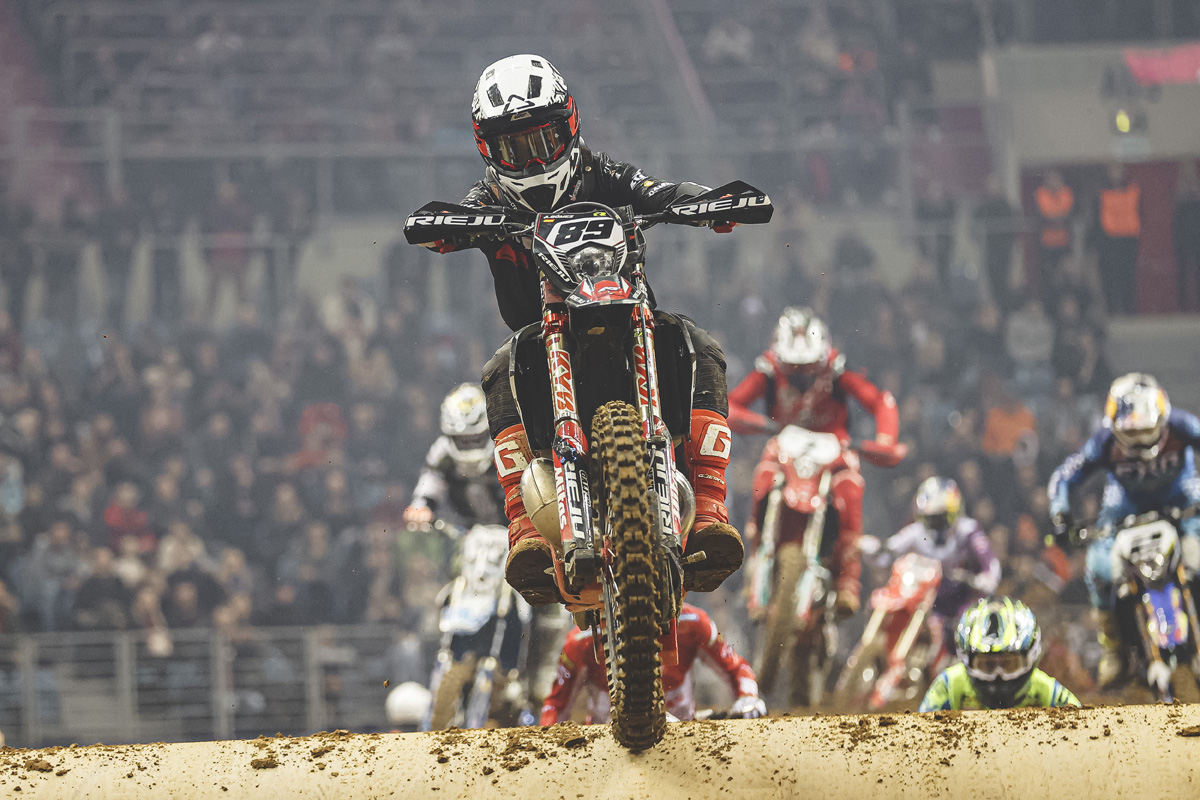 How was it being back in SuperEnduro?
"Great. We have some American riders and the Europeans racing, which is great. The number of Junior riders racing was huge, there were 32 in total which is great. In Poland they always make great races, there were 14,000 fans there, this race always sets the benchmark."
You set up your own team last year to continue racing in the HEWC. Will the AG Team project continue?
"One of the things I wanted to do when I set up my own team, it was to separate AG Racing from me. It helps me a lot to be part of the team to be able to bring some sponsors and material.
"All my personal sponsors back up the team and we have been able to train a lot and the riders Suff Sella and Marc Fernandez did a good work. Marc just raced in Poland, his first SuperEnduro race ever, and finished fourth. Suff sadly broke his leg the week before the race while training, but he'll come back stronger, he's just 19.
"The team will continue as it is. The only difference will be that I won't be inside and that I'm looking to bring two more riders in for the next season, which will force us to make the structure bigger. It's going great and I'm having a great time, which is the most important thing. I think it gives the younger riders a great opportunity to race around the world.
"I will also continue my work with the Spanish Federation for the Spanish Hard Enduro Championship which we're trying to make more popular among the amateur riders."
Photo Credit: Rieju + Future7Media