KTM's Justin Maxwell explains the new app technology on 2021 models
While KTM and Husqvarna's 2021 motocross models saw minor mechanical updates, the far greater story was their new electronic technology set to transform our riding lives – apps for off-road are a reality.
2021 marks the first step for KTM, Husqvarna (and later this year) GasGas models which embark on a new path of electronic control and adjustability for us as riders of their off-road machines. All new models (both KTM and Husqvarna 2021 line-ups were launched this month) will have the option for a power controlling app which allows easy changes to engine mapping, traction control, throttle response and engine braking via your phone.
The apps, labelled 'myKTM app' on the orange bikes and 'Husqvarna Motorcycles app' on the white machines, are the first step of a whole heap of electronic options coming our way for off-road and enduro in the future. Fancy making easy changes to engine mapping, traction control, throttle response and engine braking via your phone? Now you can.
We spoke to Justin Maxwell the Head of Product Management at KTM AG, the overall group which includes KTM, Husqvarna and GasGas, to get a better understanding of this new technology.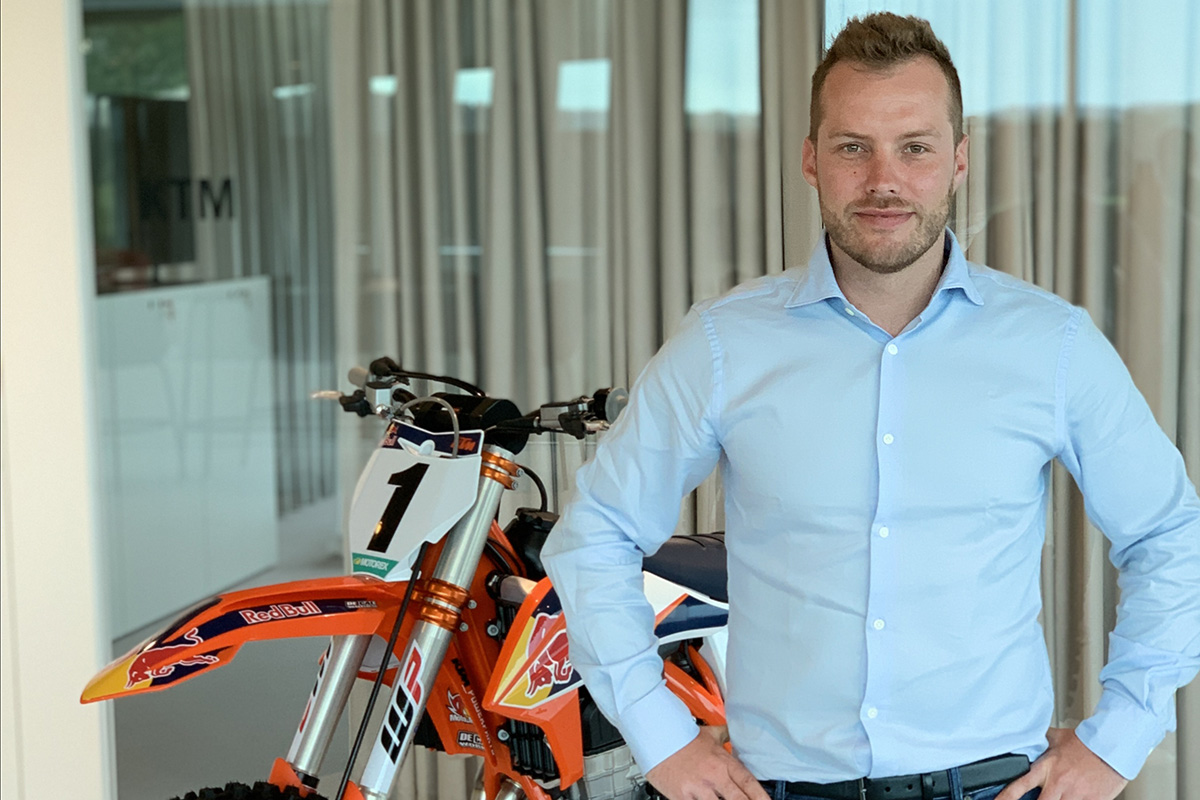 Hi Justin, the news about KTM's 2021 motocross models has landed with the big news about the app. Can you explain more?
Justin Maxwell: Yes, this was the right time for us to launch the new myKTM app. The model cycle of the bikes means this year was a good year to do it and it is a step forward for us to make this development and give riders this extra option with their bikes.
After many mechanical updates in the past we have been focusing quite a lot on what we can do on the digital side. Our engineers work hard to develop the mechanical side of the bikes, it gets a harder and harder challenge, so we looked at the electronic side and for opportunities to develop because we have not done much in that area yet in reality.
Explain the benefits of the app. Why do we need it?
Our main focus is to give the customer adjustability in a much more user-friendly way. The everyday rider doesn't understand the complications of engine mapping and algorithms and numbers so we worked hard to make it easy to understand simple stuff like adjusting for more power on the bottom end, more traction control here or more top end or whatever. The point was to make it easy to use for the 80% of customers to use not just for the small percentage.
We did quite a bit of work to get the base settings for different soil types or weather conditions and from there the rider has basically a sliding scale, for example to adjust traction control, from zero to maximum. You can really feel the difference with throttle control from the two ends of the scale and that can help your riding depending on what kind of conditions you are in.
Who developed the app?
Everything was developed in-house. Basically a company within our company is 'KTM Innovations' and they took on the whole project. It was all started, designed and R&D tested in-house. R&D did a lot of the testing, then Innovations would analysis the results to see if they were using the system as they wanted and we also got involved from the Product Management side to make sure it was working how we wanted. They then take all the feedback and make changes. It was an effort from all of the departments.
Other options for this technology are on the market [Yamaha notably have their Power Tuner app], is this KTM's response to that?
We started working on this solution before others came to light so I guess you could say we were developing in tandem and not reactively. They were just a bit ahead of us but we've got quite a bit more for the complete solution we think and we've got more on the way.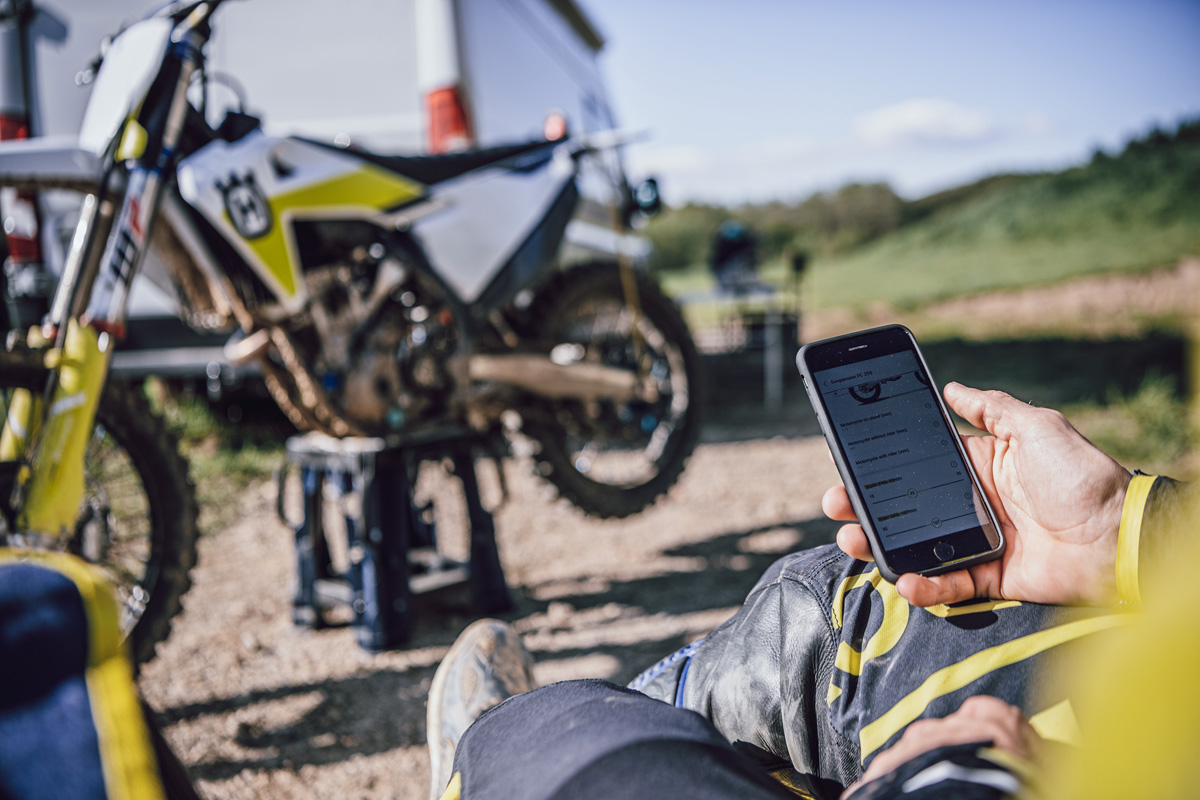 Once we're are ready to put out there our full connectivity solution it will be right up there and nothing else like it will have been seen before.
There is more to come then?
Yes. This is the first step and obviously one of the more important to be able to adjust your bike right on the spot. But there will be more important steps to make changes to your bike to make yourself faster, noticeably faster.
Are the new apps simple process to install?
Actually, anyone could install it themselves, it is plug and play. The main reason to have a dealer install it is to make sure you have the latest firmware updates installed on your bike. They need to plug in the diagnostics to make sure the firmware is up to date but it is really easy to install to the bar pad and the wiring harness plug is basically behind the number board. Anyone could install it if they can change a wheel.
It fits to the handlebars and looks like a big bar pad – is that the whole unit?
The unit is inside as such, so what you can see is not the whole unit. The bar pad dimensions are pretty much the same.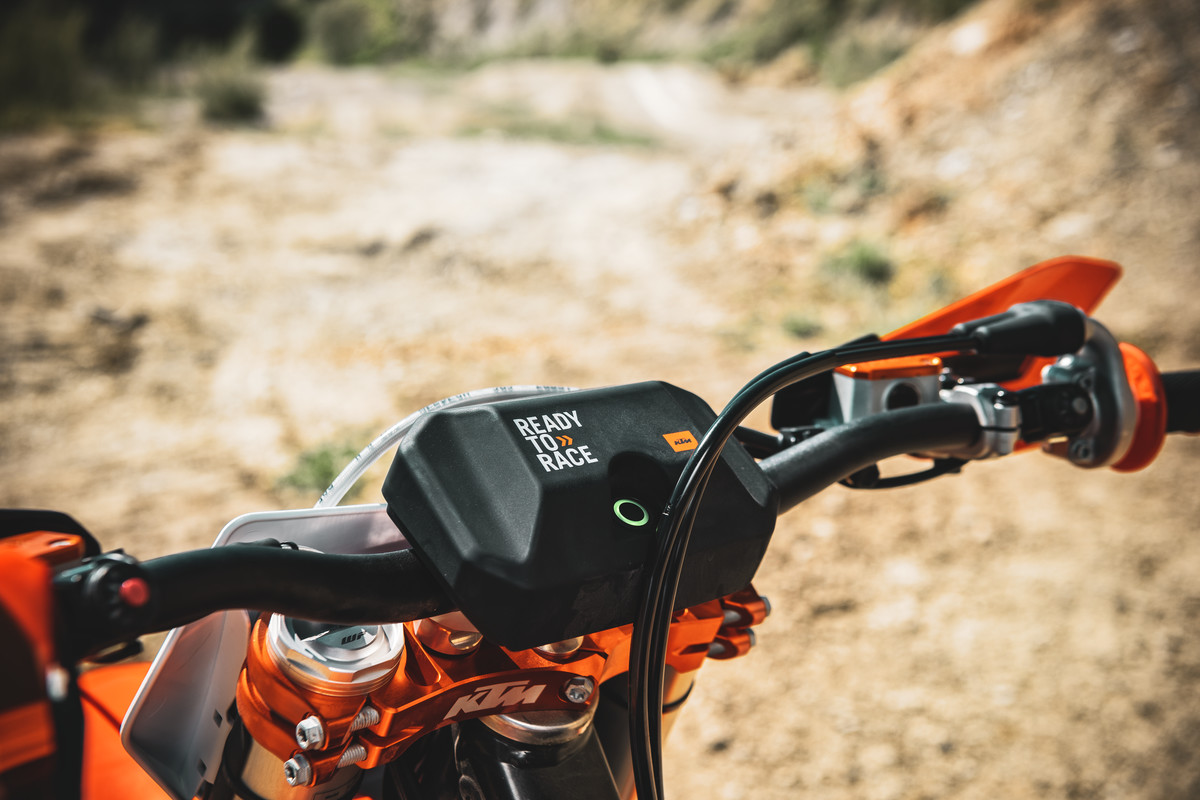 It doesn't really bulge out in any area it is just a little box integrated inside within which are some computer boards, LED lighting and it is robust, waterproof and all those things you would expect a part for off-road to be.
Was it an option to put it somewhere else on the bike?
It has the button on top which we use to activate it and it is accessible there in terms of connecting it to your phone so it makes sense. We also did not want to start changing the bikes which were already developed – if you start moving things around it can be like a 'can of worms', create a lot more work and we did not want to do that.
At this stage it is just the SX-F models? Not the XC-F models as well?
At this stage we focused on the SX-F, four stroke models, getting it to market and delivering it directly to motocross. With the Cross-Country models of course it will be possible, they run the same ECU and wiring harness, but it will be in the next stage that we will also add these bikes to the garage in the app. (Enduro21 note – you can plug the controller unit into an XC-F model, call your bike an SX-F within the app and it will upload the same). It's just an update for us but we need to add the different bikes on the app.
The other major thing is the app has options for suspensions settings which we haven't done yet on the Cross-Country models.
We need your support
If you've enjoyed this article, if you've found it informative, interesting, entertaining even, please support us.
We want to continue doing what we do, to the best of our ability, serving the enduro and off-road community.
Please consider a donation, every little helps…
Thank you.
Will we see it on the EXC models in the future? Will it work for enduro?
I would say that when we get something that works in enduro then we will of course offer it. The complication with enduro is the homologation. It is a mammoth task to make sure we are running in the homologated area when each and every one of the adjustments are made.
Generally, right now, we just homologate two maps with the different enduro bikes but with the app we would need to go through and do emissions testing on a whole different scale.
When we bring out more of the solutions for connectivity then for sure more will be available for more bikes but at the moment what we have does not make a lot of sense for enduro.
Presumably it is the same for two-stroke TPI models? We will see it for those models in the future?
Yep, absolutely. As soon as we unlock some more of the options within the myKTM app it will be an option for the two and four stroke fuel injected EXC models. I think you will see it is quite impressive what we can do on the Enduro side as well.
Photo Credit: KTM