New TCX Comp EVO 2 Michelin boots
TCX launches their new top of the range off-road boots the TCX Comp EVO 2 Michelin which feature the Michelin MX Hybrid sole to improve traction, stability while also making them lighter and more sensitive.
Italian boots manufacturer TCX has presented their new Comp EVO 2 Michelin off-road boots. Aimed at both novices and professionals their new top of the range boots are fitted with the Michelin MX Hybrid sole, born from the partnership between Michelin and TCX, which improves traction and stability and also makes them lighter and more sensitive.
TCX Comp EVO 2 Michelin highlights:
Anti-torsion Double Flex Control System (DFC), to reduce the risk of over-extension of the ankle joint
Polyurethane heel counter, toe and ankle plates
Polyurethane adjustable shin plate
High wear-resistant microfibre upper and polyurethane bootleg
Breathable mesh lining with internal padding
Thermoplastic polyurethane shift pad
Internal heat guards, for the best grip on the bike
Ergonomic stretch upper collar, to keep outside dirt and debries
Closure with 4 replaceable and micro-adjustable aluminium buckles and Velcro
Ergonomic removable footbed
Michelin® Hybrid MX rubber outsole with OC compound, highly durable with optimal traction and stability on any surface
Colours: Black – Black/White – Black/Red - Indigo Blue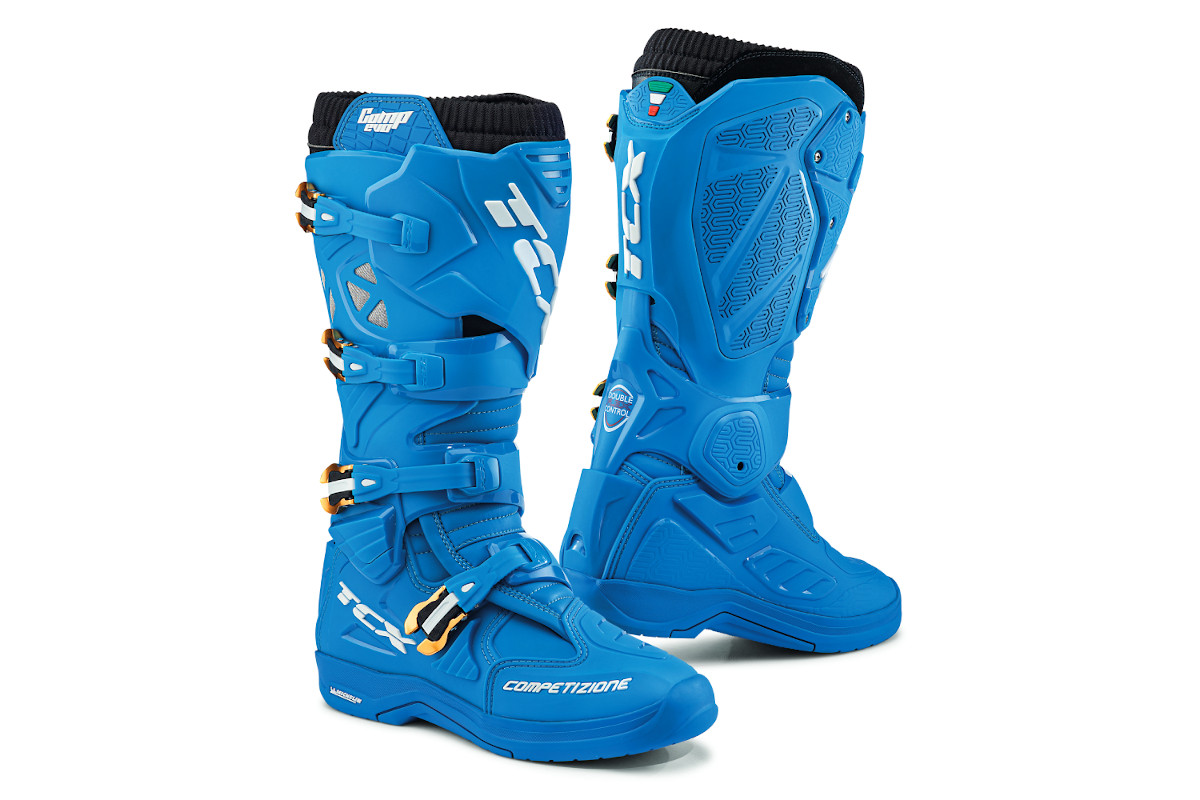 The TCX Comp Evo 2 Michelin also feature the new Double Flex Control system which features an independent PU ankle frame to improve the leg's front and rear flexibility and offers excellent protection against impact.
The upper part of the boots features a PU bootleg which is integrated into the Double Flex Control system, resulting in a better fit of the calf while preventing mud, dust and gravel from getting inside.
The PU boot leg is equipped with a rubber heat-guard that offers a superior grip with the chassis and the polyurethane shin plate equips an adjustable system to fit different calf dimensions.
Cost: $499.99/£399.99/€449.99
More information: TCXBoots.com