First look: New Galfer Disc Shark – tougher off-road brake disc dramatically reduces heat build-up
Galfer brakes announce all-new "Shark" rear brakes disc developed by 2023 EnduroGP World Champion Steve Holcombe and with big claims to be stronger, offer more consistent performance and dramatically reduce heat build-up.
It feels like a long time that Galfer told Enduro21 they had an innovative, new rear brake disc coming. The secret has in fact been out the bag all '23 season with Steve Holcombe running their "Shark" on the rear of his world championship-winning Beta.
Innovative and new? Galfer say they have put a lot of research and development into making the Shark rear disc achieve 30% lower operating temperatures with a stronger 5mm thick disc, improved brake pad life and a more consistent performance in all off-road riding conditions.
Galfer Shark technical highlights:
30% reduced operating temperature
5mm thick for strength
Boosted thermal capacity
Greater stability and more consistent behaviour in all riding conditions
25-40% longer brake pad life
Improved brake lever feel
Galfer say the design remit for the Shark rear brake disc was a simple one: focus on making it stronger, more consistent and capable of dealing with the toughest of-road conditions.
Developed with the 2023 Enduro World Champion, Steve Holcombe, during the entire EnduroGP season, Galfer's new Disc Shark can already boast three world titles.
Motocross and Supercross rider Jordi Tixier is also on the list of riders helping the testing programme along with all the supported teams in the world enduro championship: Sherco Factory Team, Team TM Boano Factory.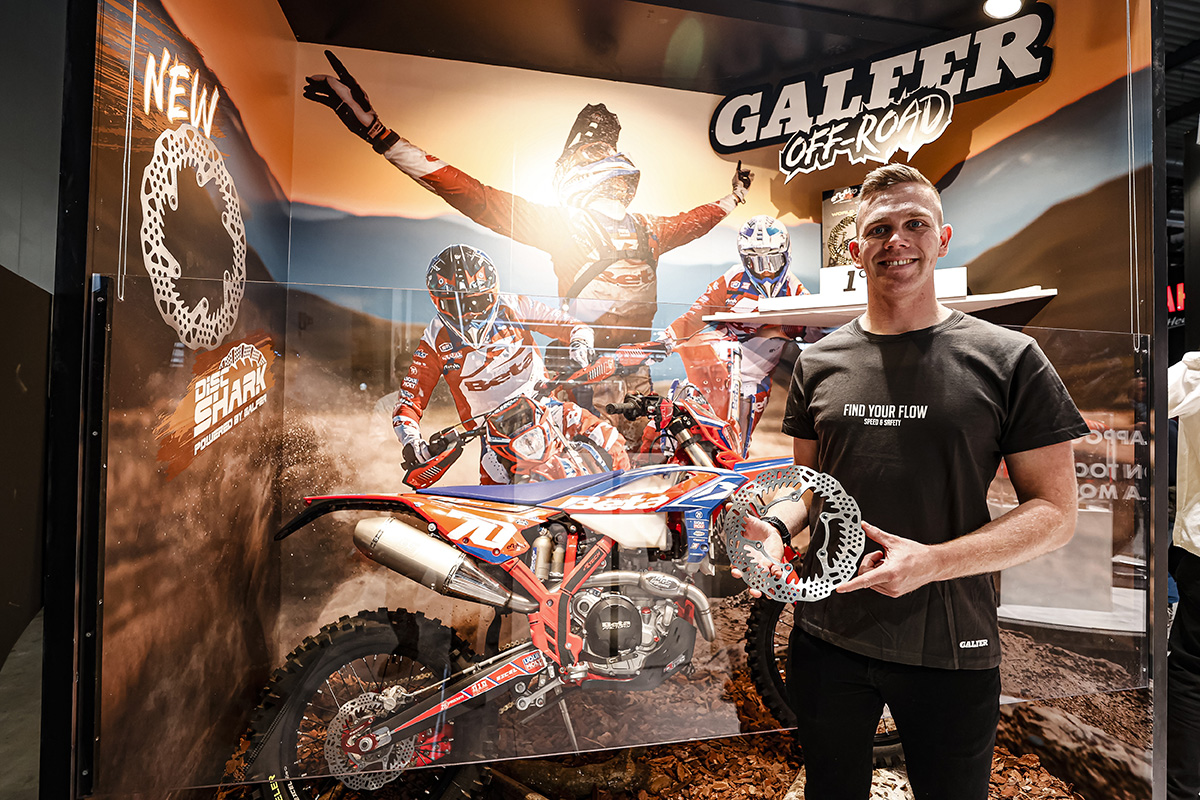 A quick chat with Holcombe about the Shark disc and he says having the same rear brake feeling and power from the start to the finish of an enduro test, even when the test is a long and hard one on the brakes, is a real improvement.
Steve says being wider at 5mm means you don't have to push the lever as far and he really likes the fact that means the lever sits exactly where he wants it. From outside the tapes it seems like the reduction in heat build-up also means the chirping and squeaking brakes which can often be heard in tough enduro tests has also been eliminated.
The thermal image and graph below show Galfer's claim about the reduction in heat build-up in reality.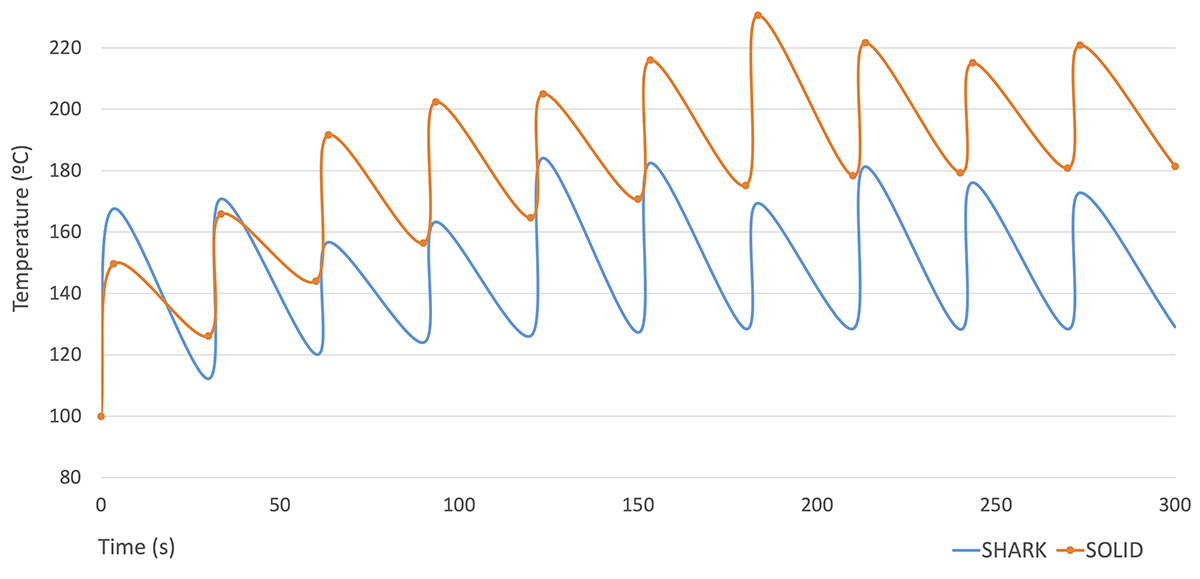 The new "Disc Shark" discs or rotors if you prefer were presented for the first time at the EICMA 2023 International Motorcycle Exhibition.
Galfer say the fitment range is for enduro and motocross motorcycle models from KTM, Husqvarna, GASGAS, Beta and Sherco. They will also soon be available for the rest of the motorcycle brands on the market. The disc is available in 240mm and 220mm sizes.
Price: RRP €125 + VAT
More information: www.galfer.eu
Photo Credit: Future7Media | Andrea Belluschi + Galfer | Cristiano Morello