2021 Trefle Lozerien: Christophe Nambotin takes his first victory since 2012
Video highlights and results from the 2021 Trefle Lozerien French Classic Enduro where Christophe Nambotin proved the master of the conditions – victory at the 35th edition of Le Trèf was Nambotin's second win since way back in 2012.
2021 Trefle Lozerien in a nutshell:
The hugely popular French enduro attracted 700 riders for three days riding in stunning scenery with the weather ever bit a feature as much as the grass tests.
It was Jeremy Miroir who got the ball rolling on day one in Mende ahead of Jeremy Tarroux and Junior rider Killian Lunier making an impression to finish third overall. Christophe Nambotin was fifth behind Emmanuel Ablepart at this stage but times were very close between the top five, just six seconds separated them.
Times remained tight between the other four in the top five on day two, but 'Nambot' turned the tables to establish a 15 seconds lead ahead of Tarroux and Jeremy Miroir dropping to third.
Le Tref's third day traditionally sees the riders start in reverse number order and it was never going to be easy in the heavy rain – for the pro riders that meant heavily beaten tests, slower riders and plenty of room for error.
The two Sherco riders Nambotin and Tarroux kept things consistent in the tricky conditions to cement their places on the podium. Even when special test number four proved particularly difficult to negotiate for the top riders and caused a test results blip – Tarroux set the 28th fastest time and Nambotin the 30th!
The final test on the final day proved a bitter end for Antione Meo. The enduro legend had been running inside the top 10 but the heavy fall meant a broken shoulder and a trip to the hospital.
Nambotin won this 35th edition of the Trèfle Lozérien 19 seconds ahead of Tarroux with Emmanuel Albepart third one minute behind the winner. Fourth (by just eight seconds) and deserving a mention was best Junior Killian Lunier.
Former MXGP rider Clement Desalle finished his first major enduro race in 10th position scratch and fifth place on day three being his best results.
Day 3 video highlights:
2021 Trefle Lozerien general classification (top 10):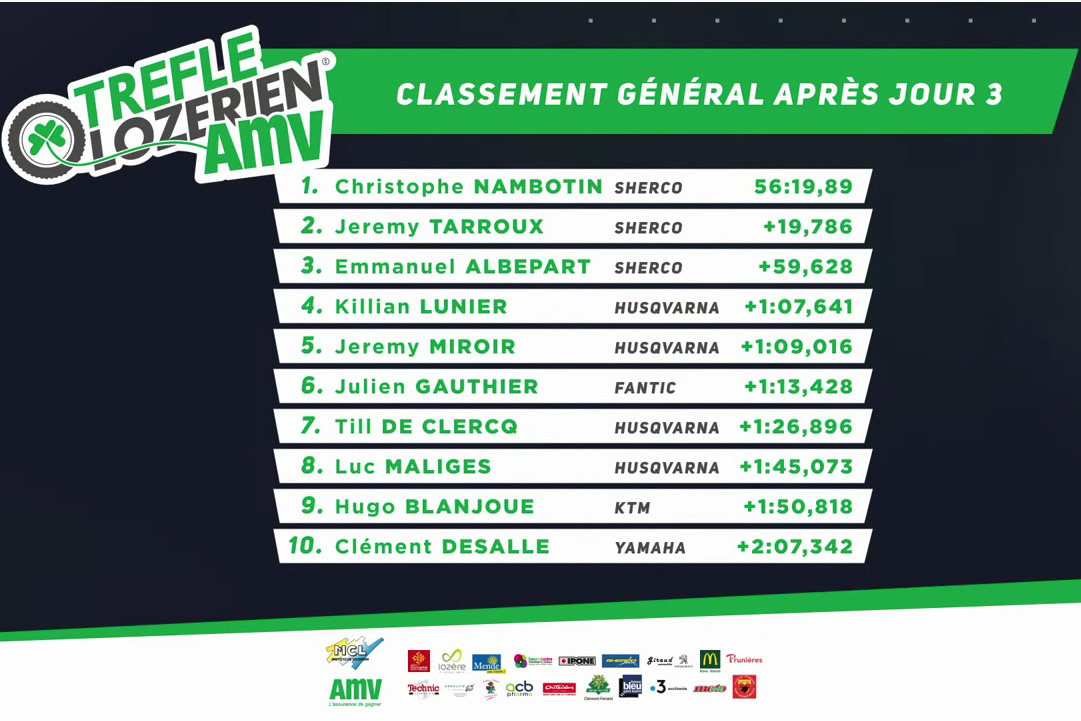 Full results: www.trefle-lozerien-amv.com/resultats
Photo Credit: Julien Suau | Trefle Lozerien