5 minutes: Oriol Mena back racing Enduro with Rieju
With his Hero Motorsports deal for Dakar put to one side, Oriol Mena stepped back to his roots with an offer from Rieju to race their MR 300 in the Spanish Enduro Championship. Enduro21 catches up with the former Junior World Champion, ISDE Trophy winner and twice top 10 Dakar Rally finisher…
Oriol Mena's jump to rally raid with the Hero Motorsports team brought success that others moving from world enduro have failed to match. Two top 10 Dakar Rally finishes does not come easily and proved the Spaniard has the skills. But with Hero taking stock and looking to take different direction with bike development – not least following the tragic incident with Paulo Goncalves – Mena found himself looking for different options in 2020.
Step forward Reiju. With their high-profile buyout of the former Gas Gas two-stroke enduro model range, the Spanish manufacturer looked to take steps back into racing with their new MR 300 two-stroke. Suddenly Mena was back in enduro paddocks with a bike and support for the Spanish Enduro Championship.
Rieju are taking a more measured approach with enduro bike production, 900 units were built, 900 have now been sold this year. Rumour has it they will also step up with a race team in 2021 but for now, Oriol has the task of showing the bikes can cut it.
Enduro21 caught up with Oriol at the 2020 Spanish Enduro Championship to find out why he's racing a Rieju, what happened to the rally deal and what's next…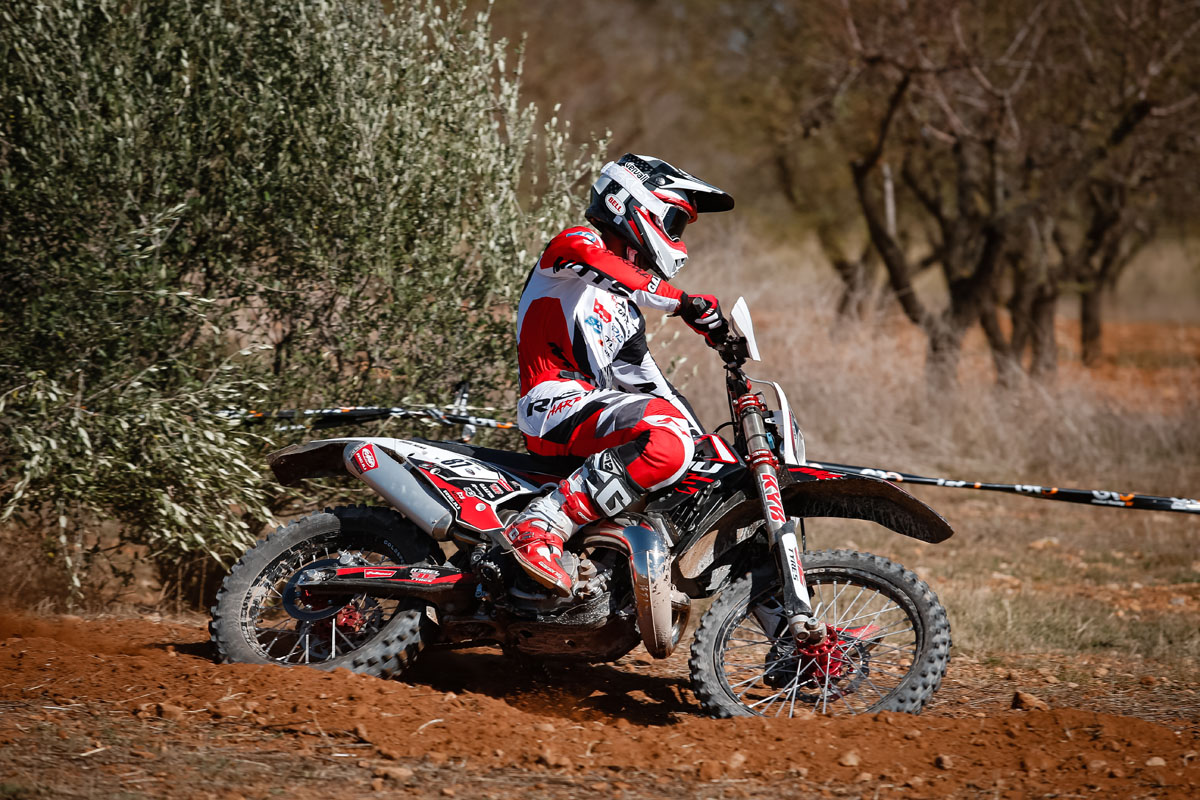 Enduro21: We have seen you back in the Spanish Enduro Championship with Rieju. Tell us more…
Oriol Mena: "Yes, I'm back racing in Spanish Enduro Championship with Rieju. I'm really pleased with how I have been welcomed by Rieju. We have a mutual agreement simply that means I have their bike, I go to the races and try to give the best possible image and help with their exposure. It's an agreement to try to stay active in case I got the chance to go back to the Dakar. We'll see what happens."
For the record Mena faced the tough conditions at the Infiesto Enduro, rounds four and five of the 2020 Spanish Championship, and took eighth overall and fifth in E3 on both days. Oriol was also 13th overall and fourth in E3 class at round three in Cabanes and very different conditions.
What happened to your deal with Hero Motorsports?
"When I signed the deal with Hero to race rally and the Dakar it was in April 2019. I had a two-year deal through 2019 and 2020. It was year-on-year contract where if either party wasn't feeling it the contract wouldn't renew.
"When they came back from the Dakar this year they went over everything that happened, not only Speedy's loss (Paulo Goncalves sadly passed during the event) but also the mechanical problems they suffered, something that didn't happened before because our bike was known for being really reliable."
"After these problems the team got together and decided to go for a new project (which hasn't been made public yet) and reduce a bit the competition activity to focus on the new bike.
"They told me they didn't want to compromise my career because they were going to focus on the development of the new bike and that could mean some DNFs in the races we were going to take part. For that reason they gave me freedom thinking I would find another opportunity."
The deal with Rieju keeps you focused…what happens next?
"With Coronavirus in between it has been difficult and honestly, I don't think that teams are looking into making their structures any bigger so I'm trying to find an alternative to race Dakar. If I don't make it happen by the end of the year it would mean the end of my career."
What options do you have for Dakar 2021?
"Right now, I have an offer on the table, but obviously I have to pay for it. With all respect to the people who made that offer, which I'm really pleased to get, I considered that with my previous results, two top 10 finishes, knowing what fighting for a top 10 takes and you can't really do it if you don't have the back-up. You can finish 15th but no-one wants that. I'm not going to pay to race Dakar and put my life in danger.
"It's not something that I'm looking for but if any rider from a team suffers an injury like I did last year there's always the possibility to get a call. It's not very likely to happen, but you never know what can happen, so I'm here trying to stay active and open to any opportunities."
Photo Credit: Enduro21 | Nicki Martinez