2022 EnduroCross: Jonny Walker turns it around for maiden win in Oregon
Jonny Walker claimed his maiden victory at round two, his second race of the 2022 AMA EnduroCross championship in Redmond, Oregon ahead of Cody Webb and Ryder LeBlond as Hart and Haaker suffer.
One week is a long time in racing and the podium results in Oregon for round two of the '22 EX season don't half show it. A turnaround from one week previous, where Taddy Blazusiak conquered from Trystan Hart and Blake Gutzeit saw crashes for Taddy, bike problems for Hart and Gutzeit's bubble burst with a lowly 12th place and some dodgy on-track tactics.
Results can often screw-up the form book though and both Jonny Walker, Ryder LeBlond and Cody Webb showed Salt Lake's results last week weren't quite where they were at.
A faster and longer track in Oregon saw a 1-1-3 results from Walker for his maiden EnduroCross victory and a return to the top step the Beta rider had been looking for. It would be a very strong showing for young Ryder LeBlond also with his best result indoors, bettering many much more experienced riders and narrowly missing out on the final moto win.
Webb got the night started off right in the hot lap qualifiers with a time :56.653. He was the only rider to go sub :57 seconds on the much longer track than round one although his round one result surely helped by giving him more track time in the morning qualifiers compared to the other EX Pro riders.
Moto 1
Taddy Blazusiak and Cooper Abbott rocketed out the gate in moto one with Taddy just edging the holeshot but the story of the five-time champion's night unfolded immediately as he went down in turn one.
Abbott lead from Colton Haaker, Webb and Leblond but Jonny Walker was on a mission and picked off the riders in front to take the moto lead quickly. Walker continued to pull a gap as the moto progressed and went on to record his first EX race win, eight seconds clear of Haaker with Webb four seconds further back.
Moto 1 results: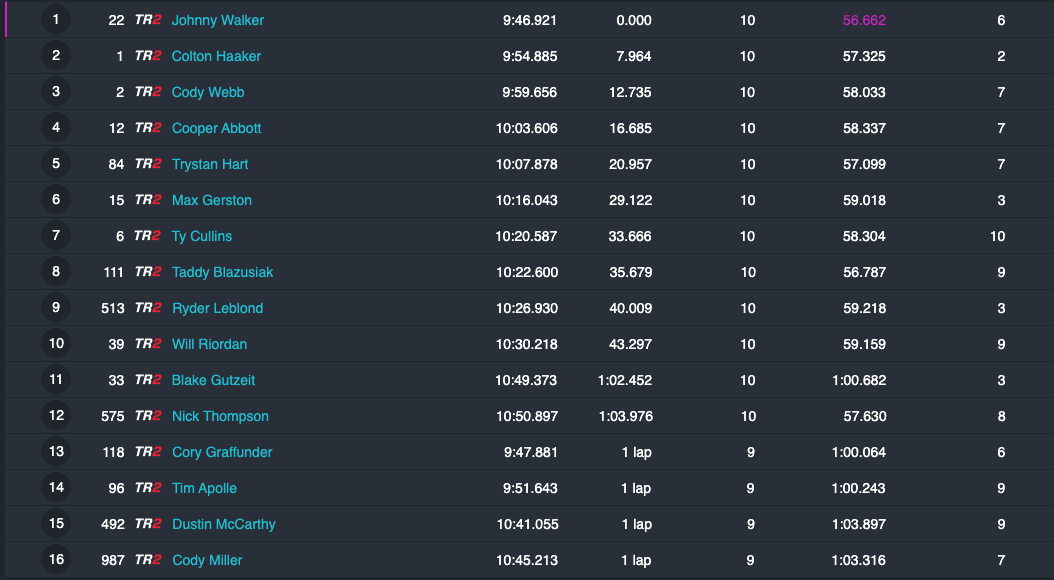 Moto 2
Moto 2 was where Trystan Hart's night derailed. The FMF KTM rider was leading the moto and looking good but a not unheard of "mechanical issue (a collapse of his rear suspension) meant a DNF. That placed him in a bad start position for the final moto but 5-16-4 is not the scorecard they needed.
In the reverse grid moto 2, Jonny Walker led the way in picking off the front row riders on the opening laps to slot into P1 ahead of Webb, Blazusiak, and Leblond battling for the other moto podium spots.
Leblond came out best of the rest behind Walker but ahead of Taddy and Cody ahead of Colton and setting up a showdown in the final moto.
Moto 2 results: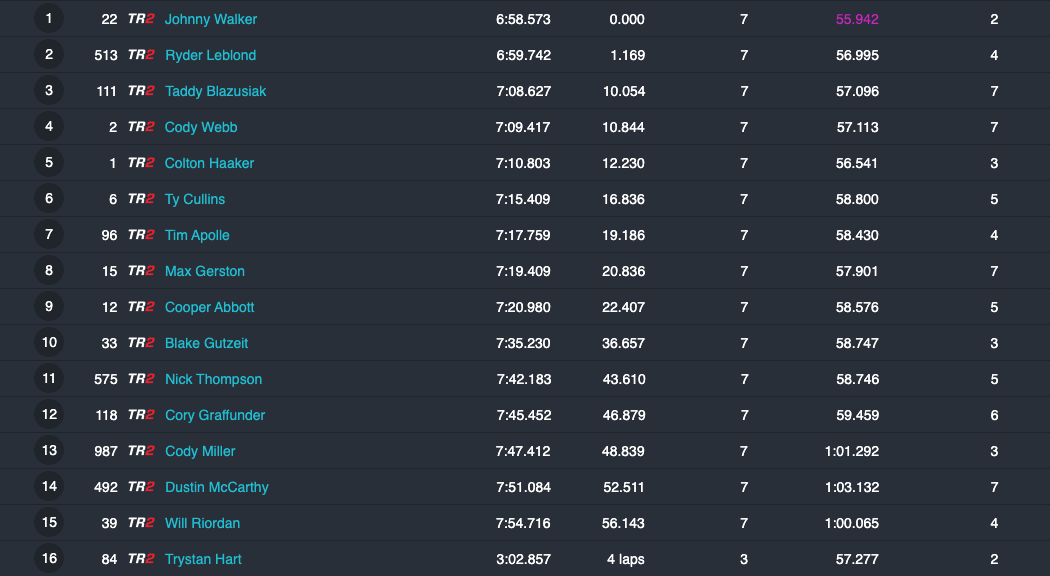 Moto 3
The final moto of the night had fans on the edge of their seats with Ryder Leblond taking the hole-shot with Jonny Walker, Colton Haaker and Cody Webb in tow. Haaker and Webb were tied for the final podium spot so it was yet another head-to-head race between the pair.
Midway through lap one Haaker made a pass on Walker in the rock garden but Jonny stuffed his front wheel into the side of Haaker, halting both their progress and allowing Webb to get around for P3 and set sights on Walker and LeBlond.
A bobble in the matrix by Walker on lap three saw Webb to move into P2 but with all eyes on the trio Haaker returned an aggressive move on Walker, losing both of them momentum.
LeBlond and Webb were gapping the pair behind when in the last lap, as they entered the cement corner, lapper Blake Gutzeit got in the way of LeBlond allowing Webb to make the pass for his first win of the season.
"I honestly feel bad for Ryder," said Webb after the epic race, "that would have been his first EX moto win, but that is racing."
Moto 3 results: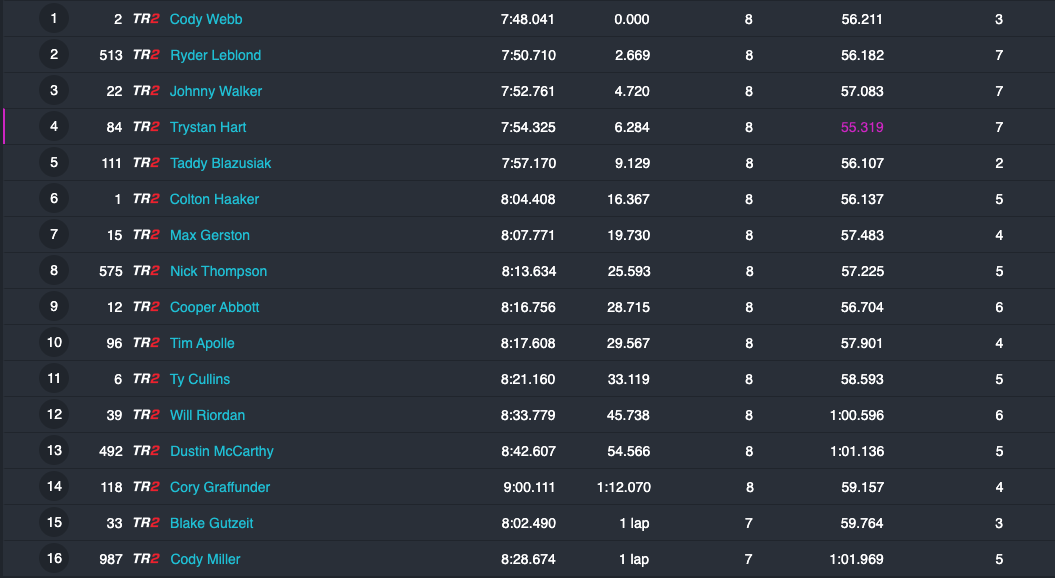 AMA EnduroCross Rnd 2 overall results: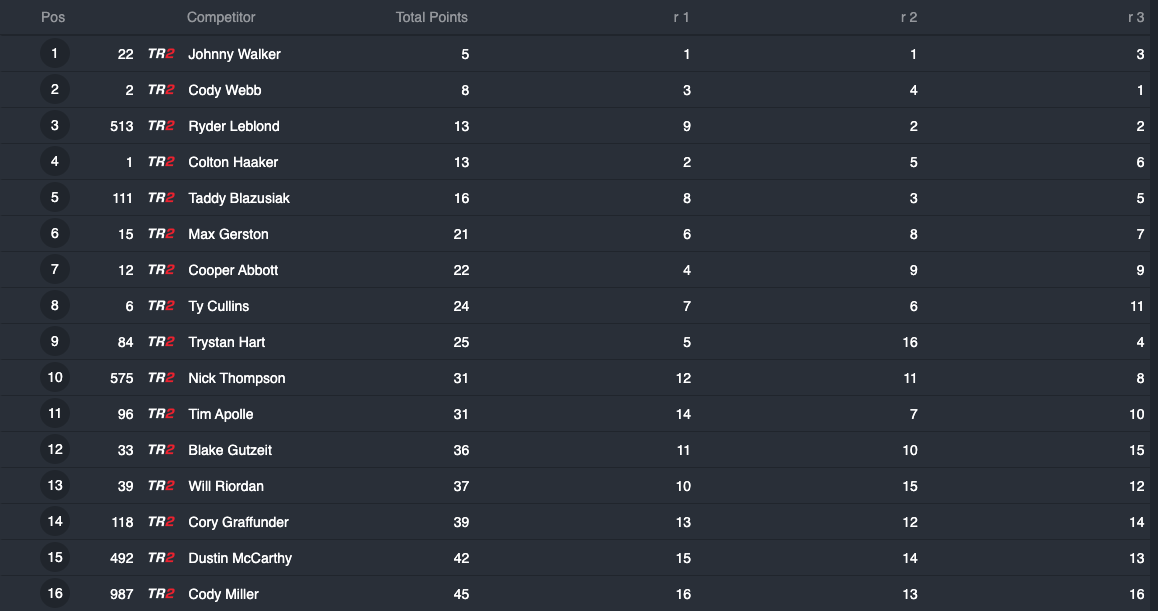 Taddy Blazusiak continues to lead the 2022 standings after two rounds. Each moto counts for points so his 1-2-1 scorecard from Salt Lake City means 46 points compared to Jonny Walker in second on 43 points after a 1-1-3 result in Redmond.
Despite his bad luck at round two, Trystan Hart holds third on 37 points with Leblond, Haaker, Abbott, Webb and Gutzeit all within three points of each other.
Gutzeit's dodgy on-track tactics?
We know the South African can be a tough competitor indoors from watching ihim in action at so many SuperEnduro races. But affecting the final moto race result and this incident below were not a good look. Judge for yourselves…
Round three of the 2022 AMA EnduroCross season continues on October 1 at the Western National Events Center, Denver. Get tickets: www.endurocross.com/series/ex-denver
Photo Credit: Jack Jaxson