2022 AMA EnduroCross results: Hart from Blazusiak at round three in Denver
Results from round three of the 2022 GEICO AMA 2022 EnduroCross championship in Denver Colorado where Trystan Hart claimed his first overall of the season, Colton Haaker crashes and Taddy Blazusiak continues to lead the standings.
The 2022 EnduroCross season cannot be accused of being dull with three winner from the three rounds now after Trystan Hart took his first overall, bouncing back from a mechanical last weekend with his Red Bull KTM.
Hart's score of 2-3-1 across the three motos was enough to beat Taddy Blazusiak into second with 4-1-2 moto finishes, although the GASGAS Factory pilot continues to lead the championship points standings. FactoryOne Sherco's, Cody Webb took his second podium on the bounce with 3-2-5 finishes placing him third overall.
Hart heads hot lap qualifiers
Trystan Hart laid down the marker for the night races by setting the fastest hot-lap time of 58.721. Rockstar Husqvarna's Colton Haaker was second-fastest with 58.824 ahead of FactoryOne Sherco's Cooper Abbott having his best qualifying run of the season so far in third in 58.925. Round two winner Jonny Walker was fourth with a time of 59.404 ahead of Webb fifth fastest and busting the minute at 1:01.651.
The Denver track was big, wide and open with some tough sections including a hellish logs matrix, ride onboard for a lap with Max Gerston:
Moto 1
The five-time EnduroCross Champion, Colton Haaker, took the Moose Holeshot and an early lead in moto one, ahead of Blake Gutzeit, Cody Webb, and Jonny Walker. Haaker's been inconsistent by his own standards this EX season so far, too often making mistakes when on for a strong result.
But not in this moto (keep reading though...) as held the lead and dominated the the race despite late pressure from Hart who had started down in seventh but picked everyone off to finish P2 ahead of Webb.
Moto 1 results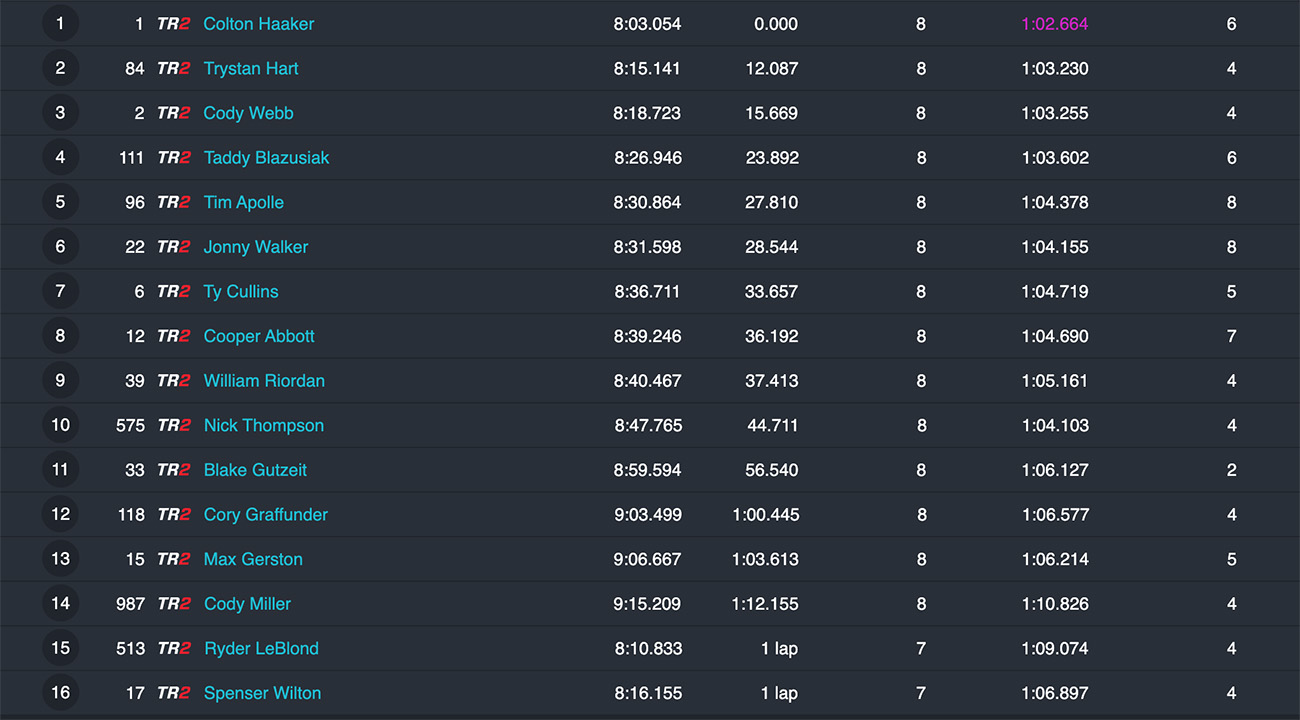 Moto 2
The second moto inverts the sixteen riders' finish positions from race one for gate picks, so the top eight riders start on the second row. Spenser Wilton took advantage of the front row start and shot out to an early lead.
Nick Thompson and Taddy Blazusiak were right behind him in second and third with Haaker taking a big get-off in the matrix, bending his bars in the process. Blazusiak would make quick work of things and take over the lead by the end of the first lap with Cody Webb swiftly into second and on his heels.
Webb never quite had the speed to make a pass and with Taddy faultless out front, he cruised to a first-place finish.
Having arguably the ride of the night, certainly in respect of the overall result, Trystan Hart came from 10th on lap one and worked his way back to third slot for moto two ahead of Abbott and Ty Cullins.
Moto 2 results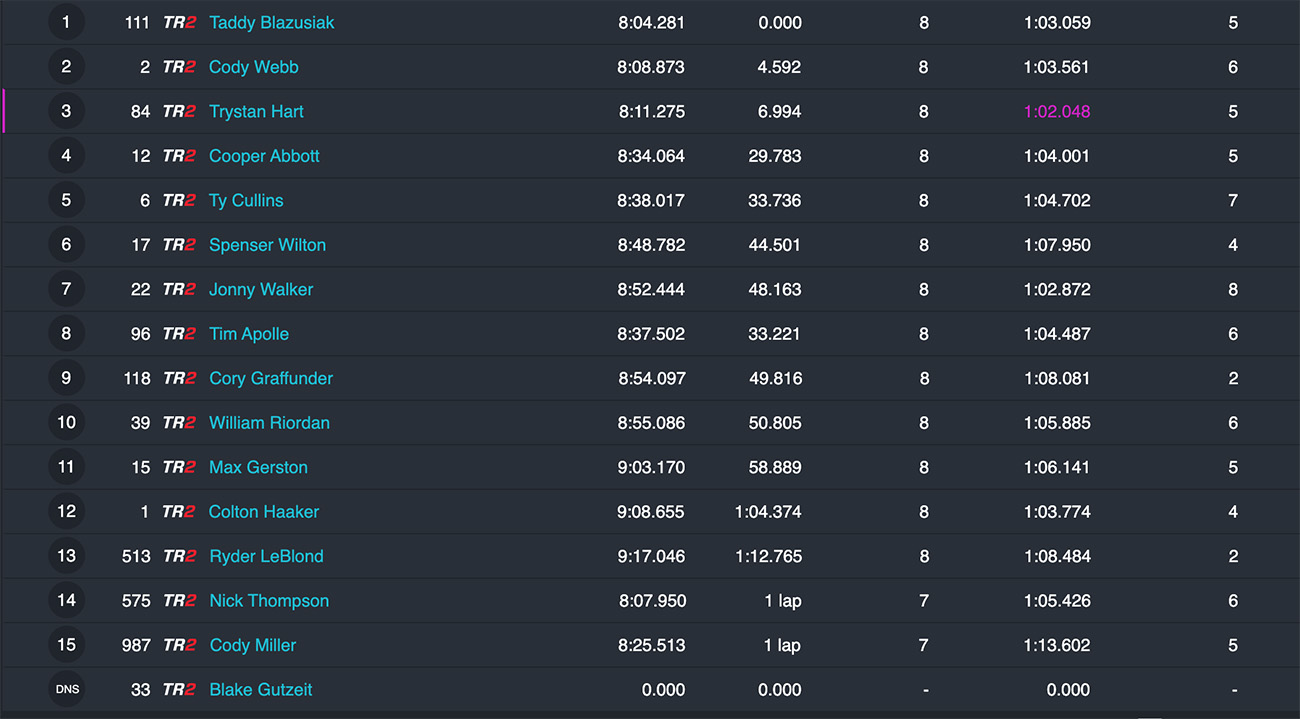 Moto 3
In the final moto, Hart finally made the start and maintained first-place right to the flag in a faultless ride. From the moment the gate drop Hart was focused and rode a consistently solid race.
Cooper Abbott was again in flying form for second place for most of the race, but unfortunately ran into a few hiccups in the final laps and dropped to fourth.
Blazusiak meanwhile did the opposite. After spending most of the race in fourth, he made passes in the last laps to finish in second place and narrowly miss out on the overall.
Jonny Walker, who had a quiet night by comparison to a week earlier, snagged his best result of the night and fastest lap for a third-place finish in moto three.
Moto 3 results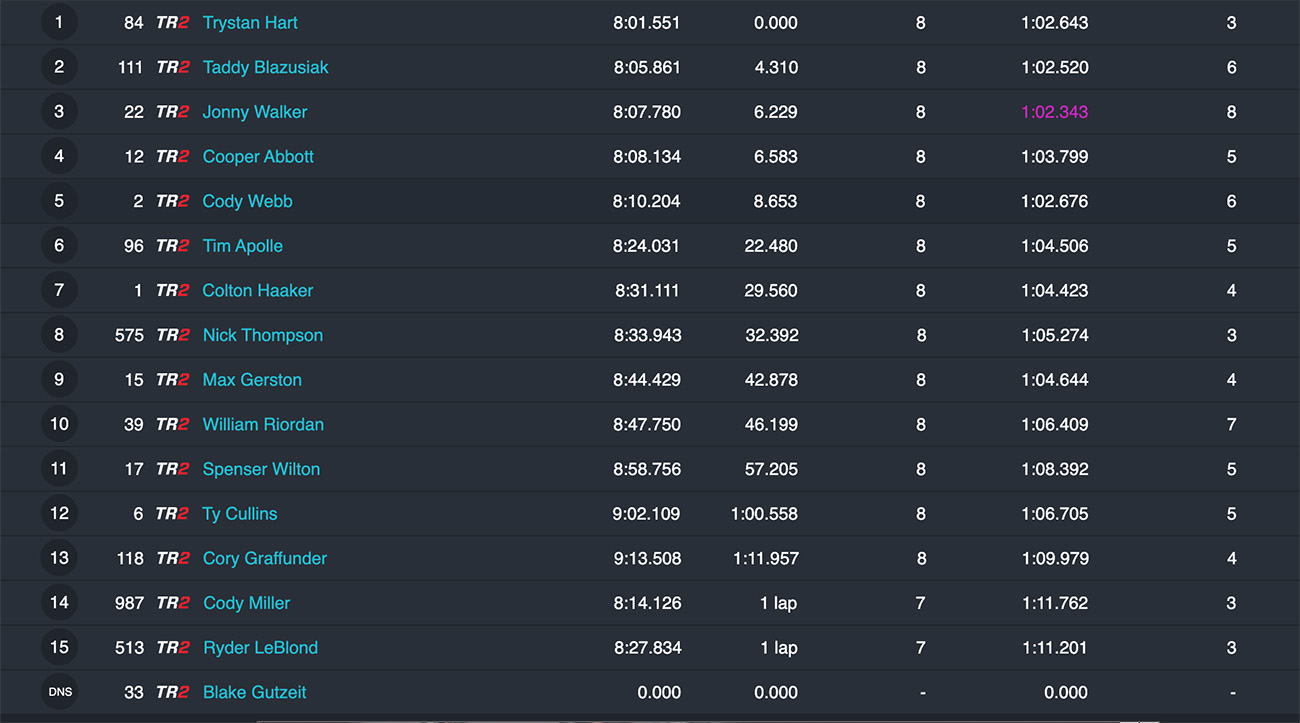 Trystan Hart: "It was a great night here in Denver and I ended up getting the win. Probably the highlight of my night was getting the Hot Lap, because that's something I've been working toward. I'm super stoked that I've got this momentum going into Round 4."
"It was a solid night for me but a few minor mistakes cost me," said Cody Webb. "I am stoked to be back on the podium and fourth in points after being dead last in round one. The track was awesome and the matrix was the hardest it has even been. I just wish it had stayed a little wet as that was suiting me well."
The overall top 10 results saw Jonny Walker finished fourth with 6-7-3 scorecard, Cooper Abbott in fifth overall with 8-4-4, Tim Apolle sixth ahead of Haaker who took seventh.
Ty Cullins came in eighth overall ahead Will Riordan in ninth. Nick Thompson came in tenth overall.
Championship standings after round three: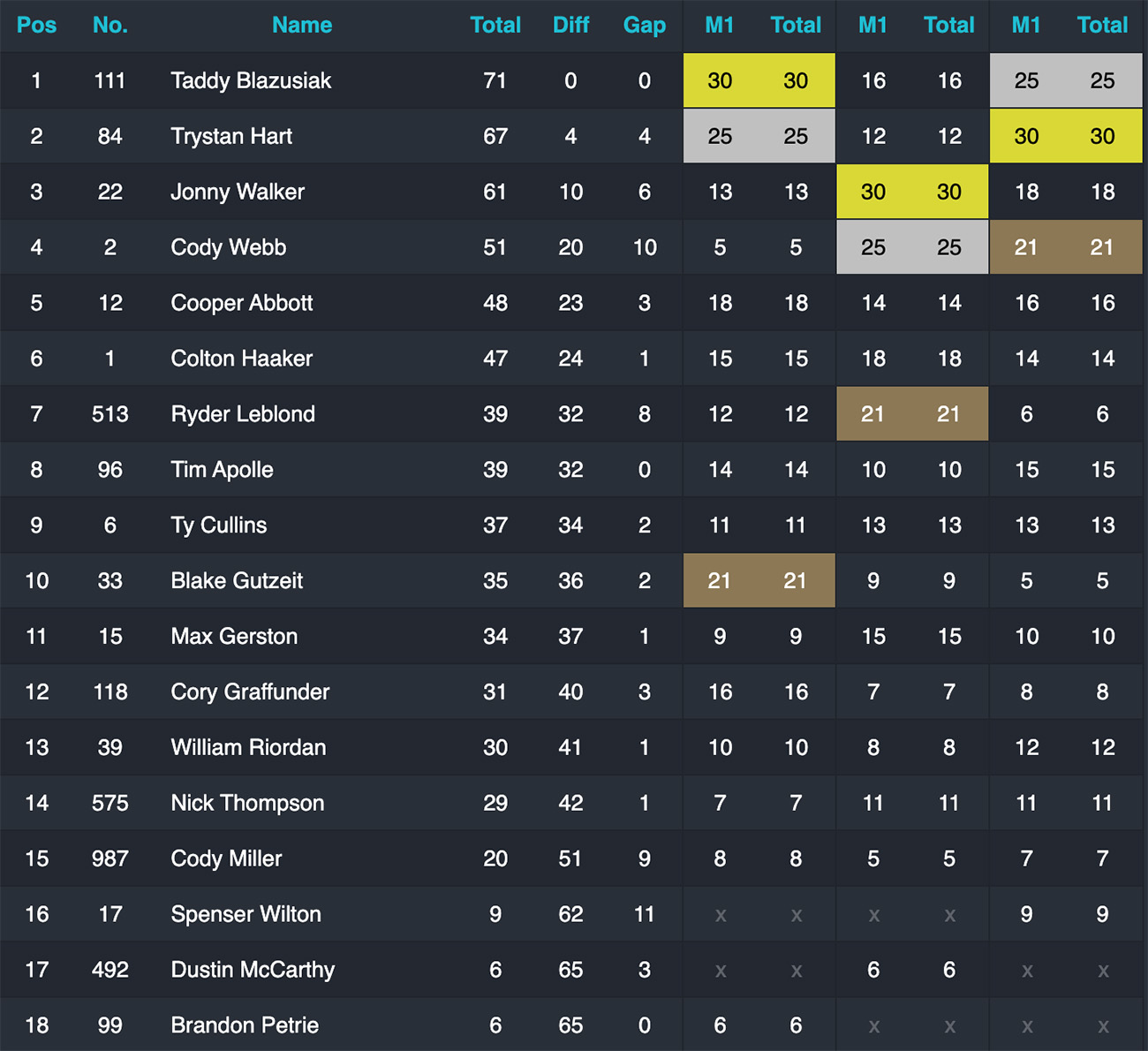 Turner and Forsley put on show in Women's Pro class
Four-time Women's EnduroCross champion Shelby Turner took the win after an exciting head-to-head battle with Sherco USA's Louise Forsley. The two finished P1 and P2 respectively after the race of the season in the Women's class and clear of Rachel Gutish in third and Hallie Marks in fourth.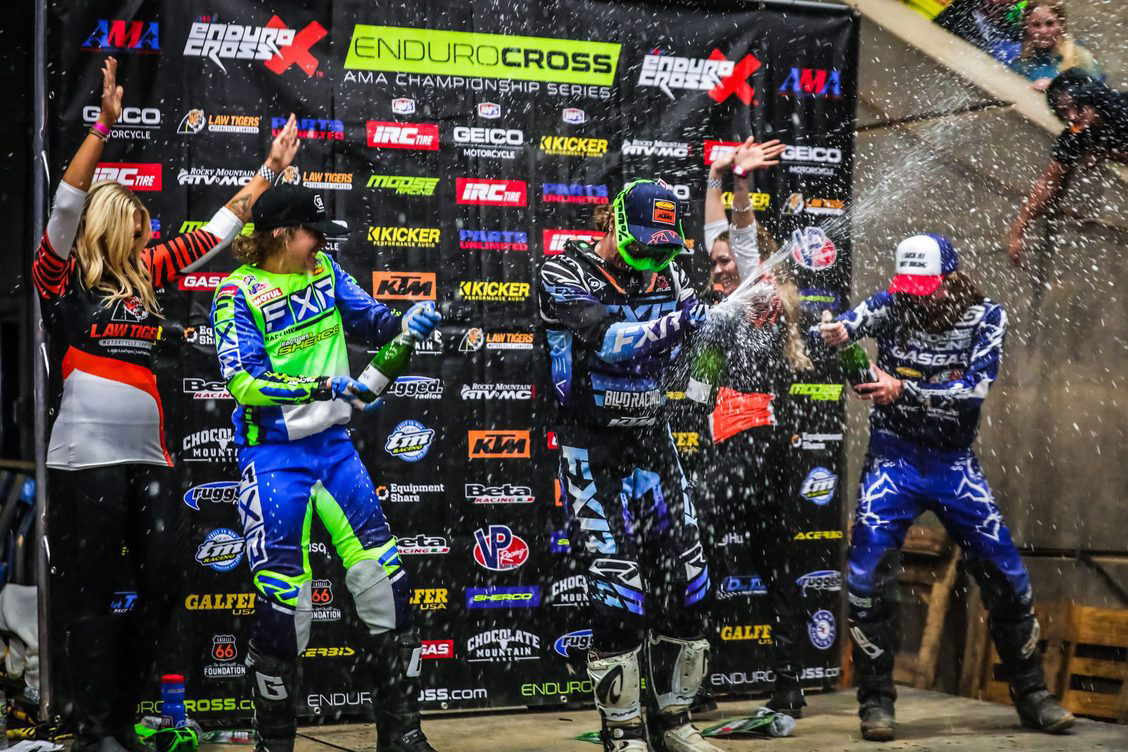 Brandon Petrie won the Expert class main event ahead of Justin Soule in second and Josh Roper in third. Roper, a GasGas racer, won the California Trials Invitational earlier this year.
The intermediate class main event was won by Coleman Johnson ahead of Braxton Hintze in second and Jack Williford in third.
David Kamo won the Veterans class with Tyler Kinkade in second and Ryan Gouevia in third.
The Novice class was won by Ray Amos. Fernando Pascal came in second and Justin Webb in third.
Jack Williford won the Junior Trials class, which is limited to riders that are 12 to 17 years of age. Braxton Hintze came in second place ahead of Riley Bender in third.
The fourth round of the 2022 GEICO AMA EnduroCross Championship Series takes a weekend off and returns on Saturday, October 22, in Prescott Valley, Arizona.