EnduroCross: Haaker does the double – Hart closes the gap
Colton Haaker completed a perfect weekend with his second win on the bounce at round two of the 2020 GEICO AMA EnduroCross series at Glen Helen Raceway.
The Rockstar Husqvarna rider overcame crashes and a resurgent Trystan Hart to take a 3-1-1 moto tally for the overall. Hart took the FMF KTM to second overall with 1-4-2 moto scores and Cody Webb rounded out the podium on his FactoryOne Sherco with 2-2-3 results.
Hart's marker in the sand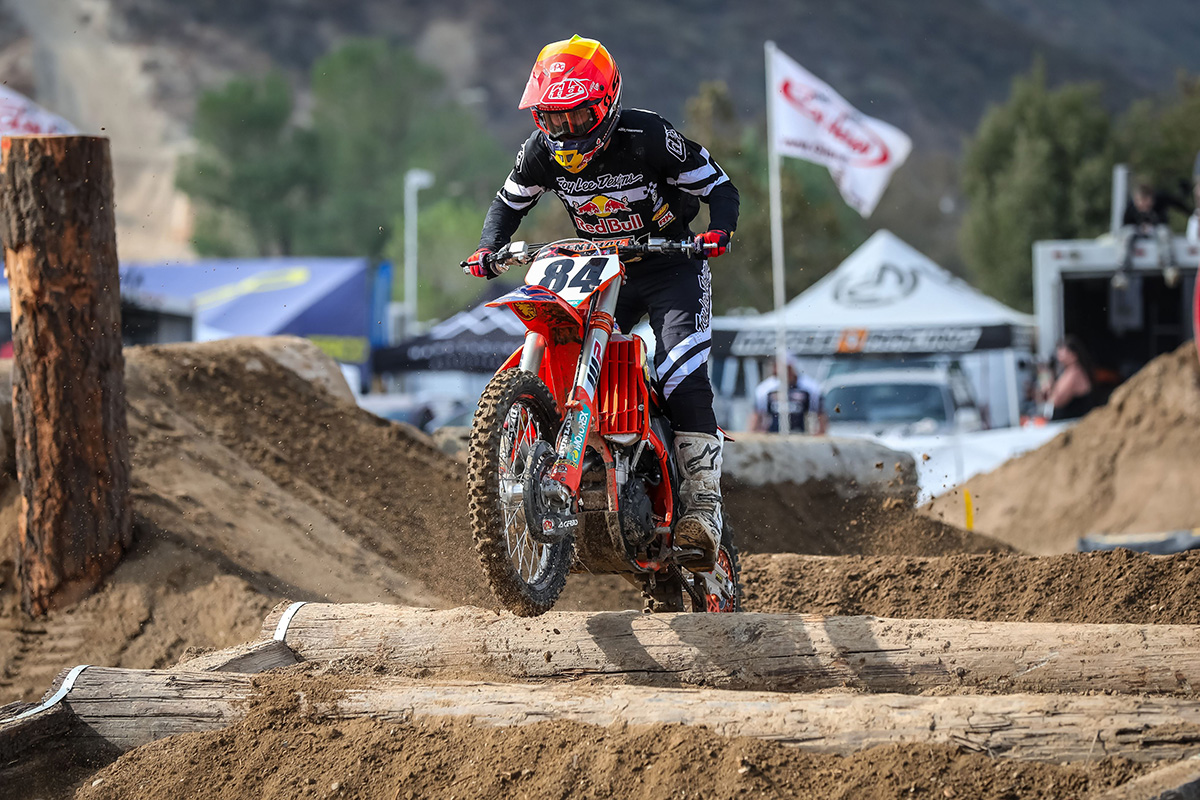 Trystan Hart set the fastest hot lap time for the second day in a row at Glen Helen ahead of Webb, Cooper Abbott, Noah Kepple and Haaker fifth after crashing on his lap.
Hart then made good on his qualifying result to take the Fox Holeshot in moto one with Haaker and Webb close behind setting up a good battle among the three title favourites. The three riders remained close for most of the race until Haaker made a mistake with about two laps remaining to allow Hart to escape and Webb to take over second, which he held to the finish. Haaker held on for third and Abbott came out on top of a race-long battle with SRT backed Cory Graffunder for fourth.
Wild Wally's holeshot
In the second moto, the sixteen riders take their gate picks in reverse order from the moto one results, putting the top eight finishers on the second row. Wally Palmer capitalized on his front row pick to take the holeshot on his SRT Kawasaki. Abbott got a great start from row two just behind Palmer and Haaker was not far behind. Webb and Hart were both further back and had to work hard to get to the front.
Haaker moved through the field to take the lead from Abbott within a couple of laps and Webb was soon into second. Graffunder worked his way up to third and held that spot to the finish. Hart dropped back to last at one point but was able to work up to fourth with Abbott rounding out the top five.
Final moto showdown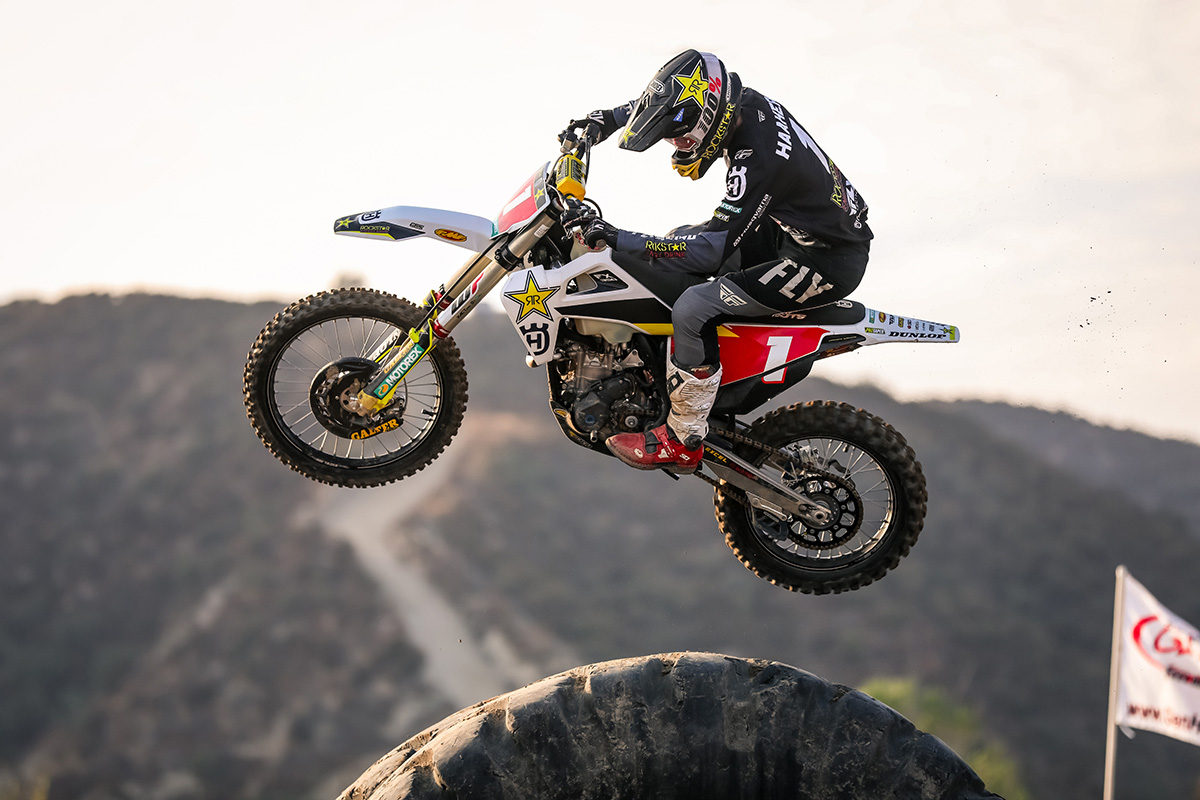 Haaker took the moto three Fox Holeshot and had Webb and Hart right behind him. Whoever won the moto would get the overall and the pressure was on as all three riders remained in tight formation for several laps. Hart managed to push his way past Webb and closed the gap to Haaker and it appeared that he may make the move for his first overall win. But Haaker held strong and managed to open a small gap in the final two laps. Hart was second in the moto with Webb third with the two earning second and third overall respectively. Beta's Benjamin Herrera put in a strong fourth in the final moto, which moved him to sixth overall. Graffunder was fifth for fourth overall and Abbott finished the final moto in seventh for fifth overall.
2020 Glen Helen AMA Super EnduroCross Rnd 2 overall results:
Colton Haaker, 3-1-1, Husqvarna
Trystan Hart, 1-4-2, KTM
Cody Webb, 2-2-3, Sherco
Cory Graffunder, 5-3-5, Yamaha
Cooper Abbott, 4-5-7, KTM
Benjamin Herrera, 7-6-4, Beta
Noah Kepple, 8-8-6, Husqvarna
Ryder Leblond, 6-7-10, KTM
Anthony Johnson, 10-9-8, KTM
William Riordan, 9-10-11, KTM
Ty Cullins, 11-13-9, TM
Spencer Wilton, 13-11-13, KTM
Brandon Petrie, 14-12-14, KTM
Daniel Lewis, 16-15-12, Husqvarna
Wally Palmer, 15-14-15, Kawasaki
Max Gerston, 12-16-16, Beta
Say what? Top three riders explain themselves:
"I had a huge crash in practice because my holeshot device didn't release," explained Colton, "then I crashed during the hot lap but managed a fifth-place still. The first race was going good but I got taken out trying to lap Wally Palmer so I dropped back to third. The second race was much better as I worked my way into the lead and did my thing to the end. And then the holeshot in the final moto helped me get the win. The red plate is heavy and defending the title is heavy but I am happy to get off to a great start to the season."
Trystan Hart was happier with his round two results. "I pulled away from Colton in moto one and that is something that I have wanted to do for a long time." Says the KTM factory rider. "It is great to know that I have the speed to race with Colton and Cody for the wins and now I just need to put it together. I knew in that final moto that a win would give me the overall and I pushed hard for it but came up just a little short. We have two more rounds next week and I am looking forward to it."
Too many jumps for Cody Webb
"I went the wrong way with my second place streak in that final moto." Says Cody. "I finished second five times in a row before that. This track had a lot of jumps, which does not suit my style so I was happy to get a good result and overall, I think we learned a lot about the bike with these two rounds. We decided to race the four-stroke just a few weeks ago and we were still making some changes today. We will do more testing this week and look to improve in the next two rounds back here at Glen Helen later in the week."
No stopping Shelby Turner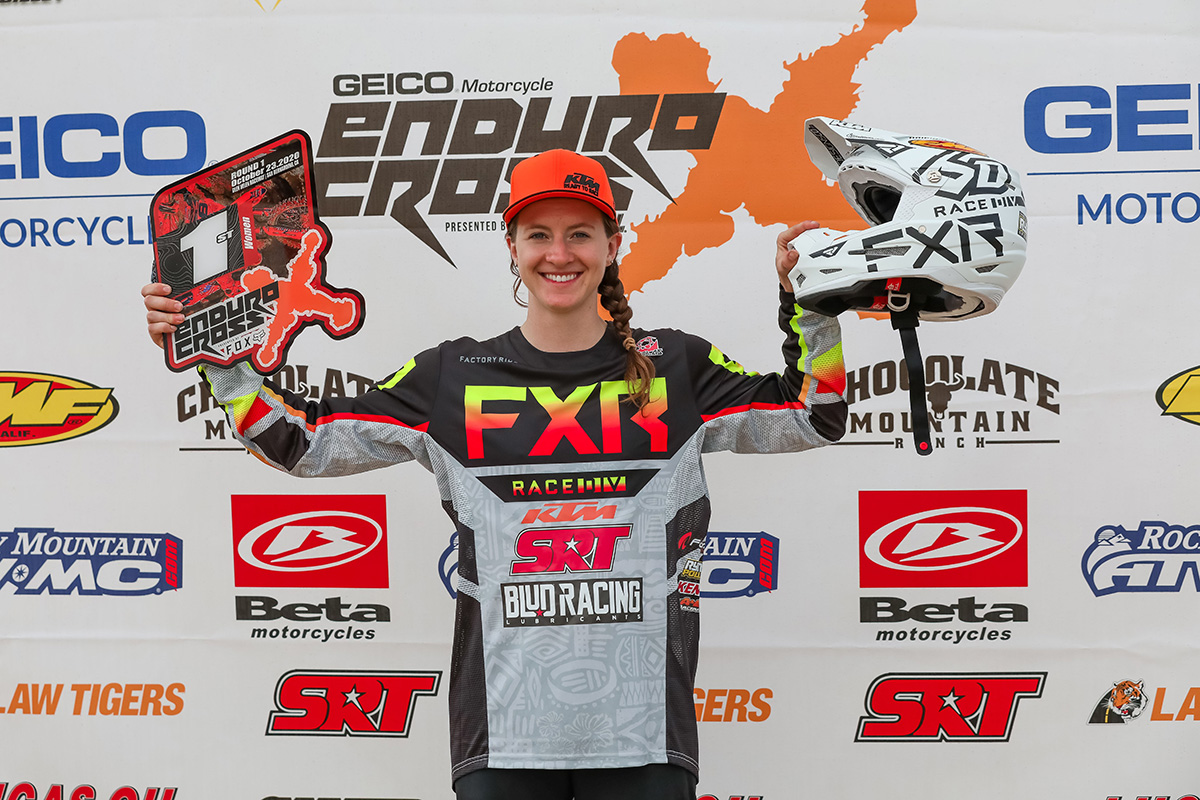 Shelby Turner took her second win in a row in the Women's class. Louise Forsley improved one position from the previous day to finish second on her Sherco and Morgan Tanke finished third on her Beta.
In the Amateur/Intermediate main event, Tyler Smith took the win on his Husqvarna and Joshua Fouth finished second on a Yamaha with Shelby Turner doubling up her track time to round out the podium.
Craig Thompson won the Vet class on his Husqvarna over Ryan Gouveia, the TM rider that took the win on the previous day. Wayne Dickert finished third on his Sherco.
Super Pro Class Championship Standings after Rnd 2: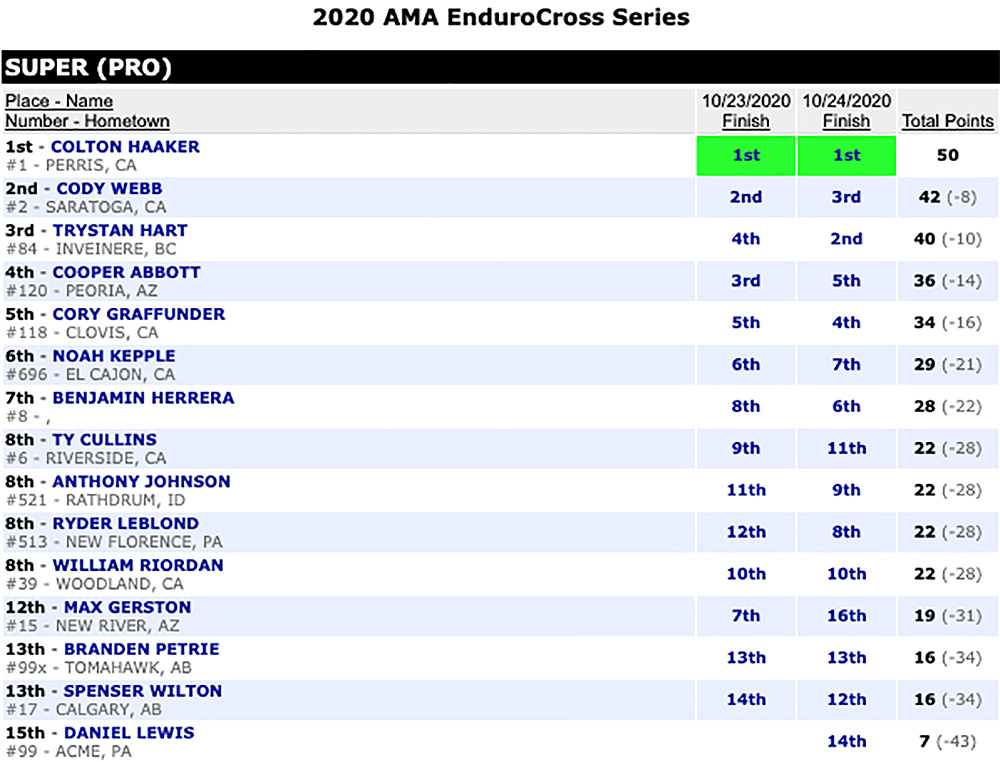 Detailed results can be found here: www.resultsmx.com
The EnduroCross riders will be back in action at Glen Helen for rounds three and four this coming Thursday and Friday.
More information: www.endurcross.com
Photo Credit: Jack Jaxson