EnduroCross: Haaker takes round 1 win at Glen Helen
Rockstar Husqvarna's Colton Haaker kicked off the 2020 GEICO AMA EnduroCross series with a win at Glen Helen Raceway ahead of Cody Webb and Cooper Abbott taking his first career podium.
After a season of very little racing by comparison to his rivals, defending EnduroCross champion recorded Colton Haaker's 1-3-1 moto scores were an impressive way earn the first overall win of the 2020 season. FactoryOne Sherco backed Cody Webb finished second overall with consistent 2-2-2 moto finishes. Cooper Abbott took his first Super EnduroCross podium with 4-1-4 finishes.
As the three-moto programme got underway on Friday afternoon, Cooper Abbott took the Fox Holeshot in the first moto with Haaker and Hart close behind making his debut for the FMF KTM team. Hart crashed early while Haaker took over the lead and steadily opened up a small gap on the rest of the field that he held to the finish. Webb and Hart also worked their way past Abbot to finish second and third while Abbott held on for fourth ahead of SRT Offroad backed Cory Graffunder.
Reverse gate picks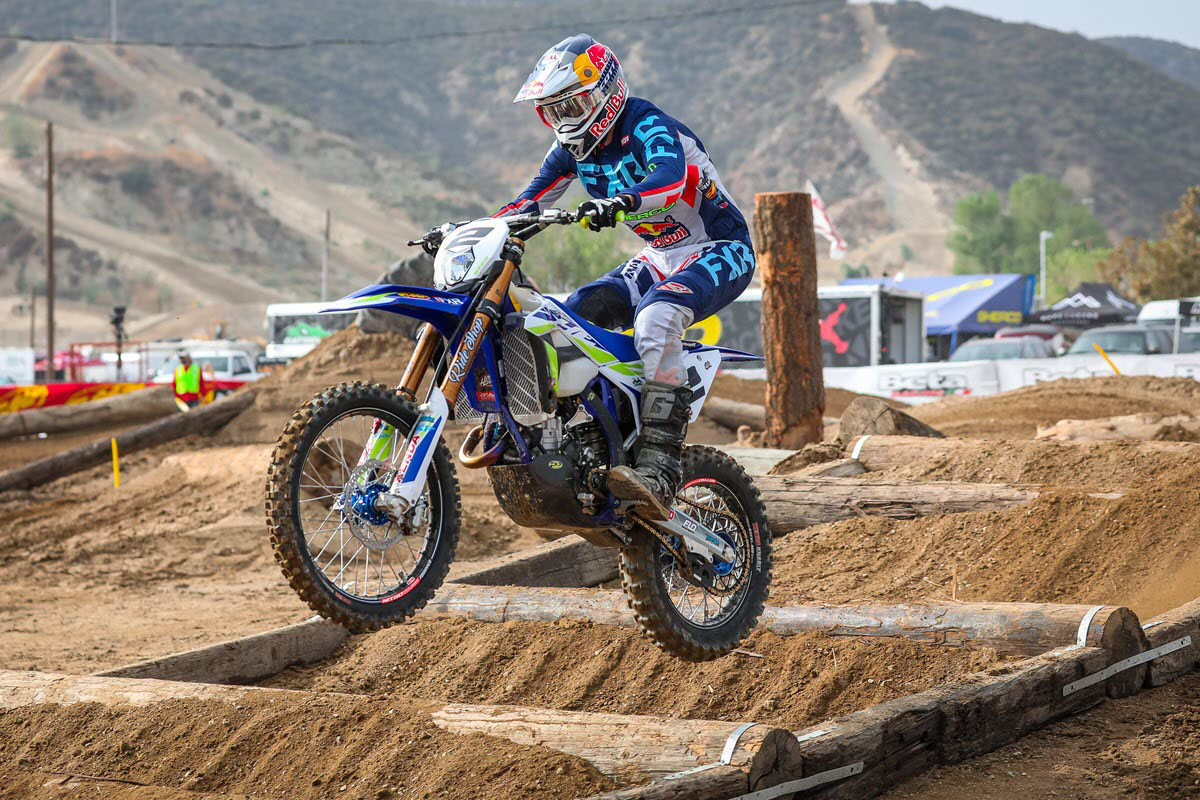 For moto two, the gate picks are reversed from the moto one results, which puts the top eight finishers on row two and it was Abbott who quickly worked his way past Pennsylvania's Ryder Leblond – racing his first ever EnduroCross – to take the lead. Abbott opened a gap as the rest of the top riders took longer to work their way to the front. Webb moved up to second and closed the gap up and made a pass for the lead just before the white flag but then crashed in the rock section on the last lap, allowing Abbott to retake the lead and his first-ever pro class moto win. Webb recovered to finish second and Haaker worked his way through the field to finish third. Graffunder finished fourth and TM backed Ty Cullins rounded out the top five.
Haaker owns moto three
In the final moto, Haaker took the Fox Holeshot and rode a steady race to take the moto win and overall. Webb rounded the first turn in the sixth position but quickly moved up to second where he finished.
Trystan Hart, who had crashed twice in moto two to ruin his chances for an overall win finished third in the final moto and fourth overall. Abbott finished fourth in the final moto, good enough for third overall and Graffunder rounded out the top five to finish fifth overall.
2020 Glen Helen AMA Super EnduroCross Rnd 1 overall results:
Colton Haaker, 1-2-1, Husqvarna
Cody Webb, 2-2-2, Sherco
Cooper Abbott, 4-1-4, KTM
Trystan Hart, 3-8-3, KTM
Cory Graffunder, 5-4-5, Yamaha
Noah Kepple, 7-6-6, Husqvarna
Max Gerston, 6-9-7, Beta
Benjamin Herrera, 8-7-8, Beta
Ty Cullins, 12-5-10, TM
William Riordan, 9-10-9, KTM
Anthony Johnson, 11-11-11, KTM
Ryder Leblond, 10-16-12, KTM
Brandon Petrie, 13-12-16, KTM
Spender Wilton, 15-13-14, KTM
Ron Commo, 16-14-13, Beta
James Flynn, 14-15-15, KTM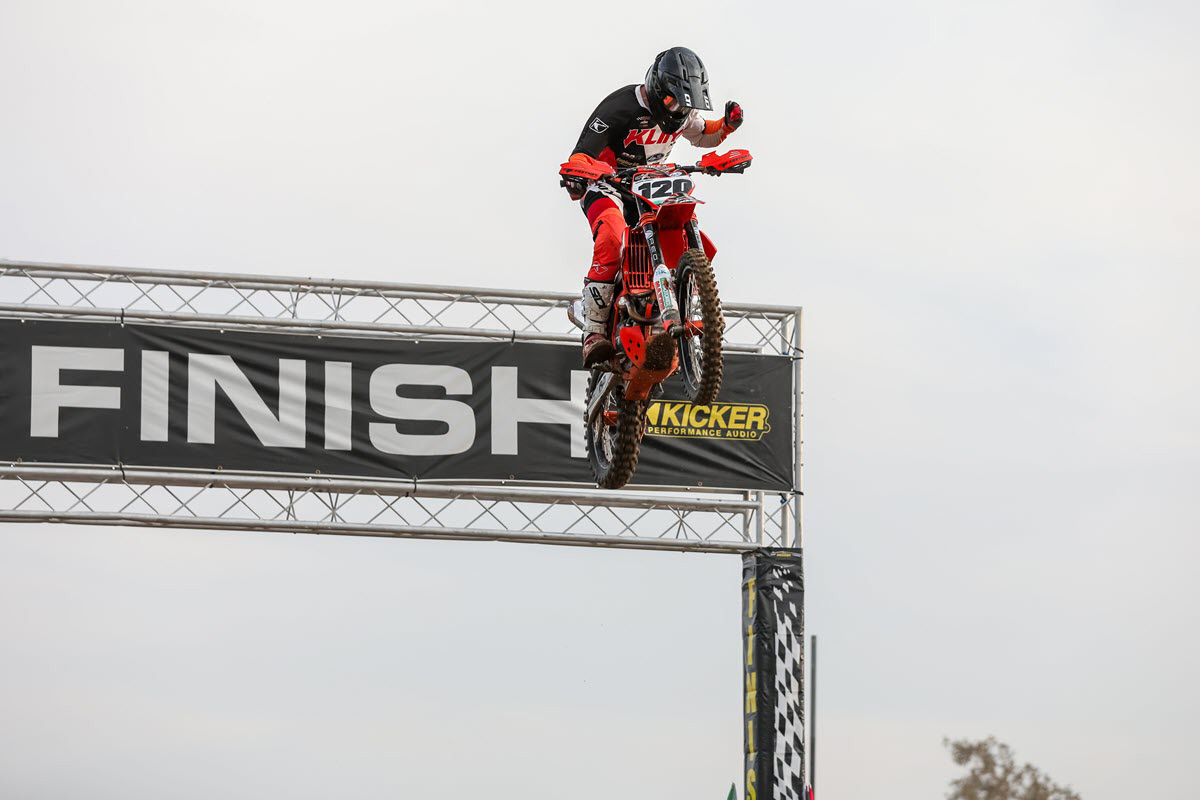 Say what? Top three rider comments:
Colton Haaker was happy to be back racing again after Covid-19 caused the EnduroCross schedule to be rescheduled to six races in just three weeks. "First of all, I am grateful to everybody that made this season happen. After a long time off and a hand injury, I felt like I was ready and riding really well but with so few races this year, I wasn't sure if I was really ready. So it is great to get it done."
Cody Webb was satisfied to finish second after switching over to the Sherco team for 2020 and missing the entire 2019 season due to a knee injury: "It felt good to be back. I missed all of last year so I was nervous coming into this series with a new bike and we also planned to race the two-stroke and just decided to switch to the Sherco 300 four-stroke a few weeks ago. The team and the bike performed really well and I think I can improve from here."
Cooper Abbott was ecstatic about earning his first career pro class podium finish: "I have worked really hard and felt like I was capable of being in the battle for that fourth-place guy and Trystan had some problems so that opened the door for me. I have been practicing with Trystan so I knew I had the speed. I led most of that second moto and then Webb passed me but he crashed right in front of me and I landed right on his bike. I got going first and took the win."
Shelby Turner dominates Women's class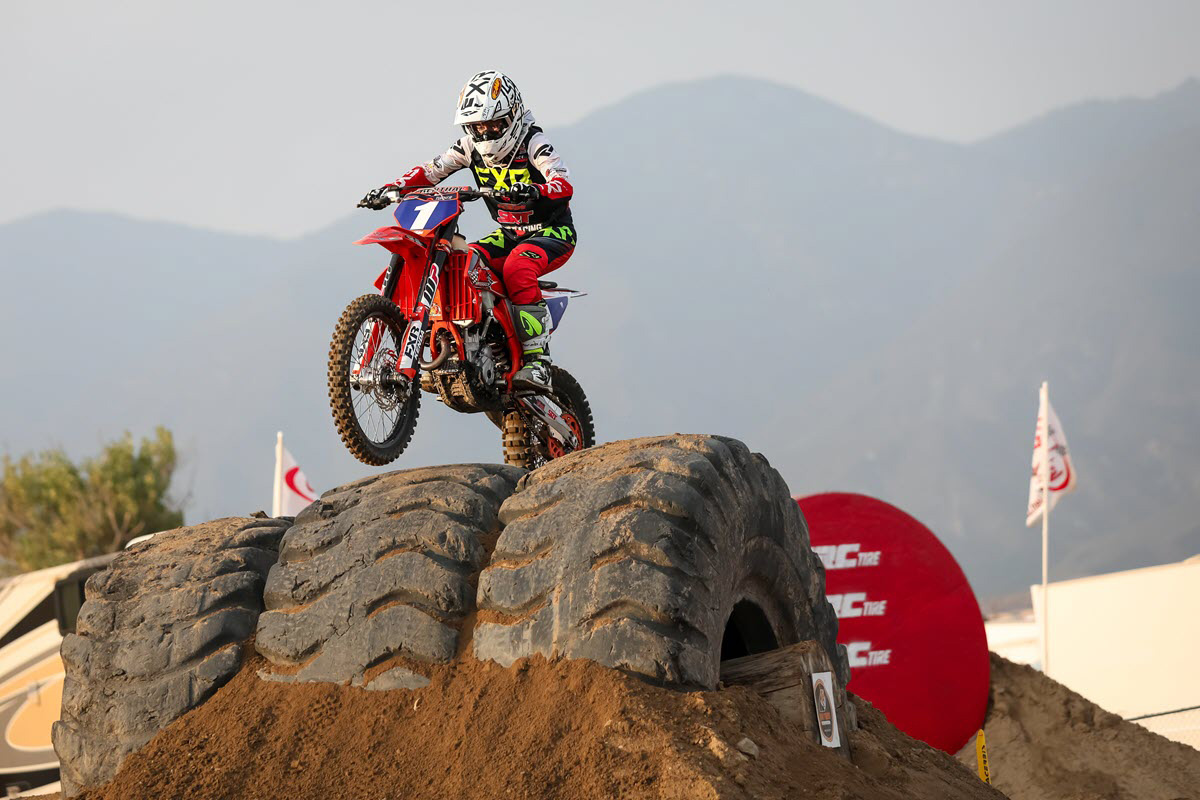 In the Women's class, multi-time Women's EnduroCross champion, Shelby Turner dominated the main event on her KTM. Louise Forsley finished second on a Sherco and Morgan Tanke rounded out the podium on a Beta.
For the second time ever, Sherby Turner also won the Amateur/Intermediate main event to go along with her Women's class win. Tyler Smith and Josh Mouzakis rounded out the podium.
Ryan Gouveia made the trip from Hawaii and won the Vet class on a TM. SRT backed Wally Palmer and Craig Thompson, the owner of SRT off-road, finished second and third respectively. Frederick Parr took the local club class win over Chayton Gardner.
The riders will be back in action on Saturday for round two at Glen Helen and races three and four will take place this coming Thursday and Friday at the same venue.
Detailed results can be found here: www.resultsmx.com
More information: www.endurcross.com
Photo Credit: Jack Jaxson