2022 EnduroGP results: Garcia spoils Italian GP party on Friday's Super Test
Results from Friday's Super Test at the 2022 EnduroGP World Championship round three in Carpineti, Italy where home favourites took turns to top the time sheets before Josep Garcia spoiled the party, beat Thomas Oldrati by 0.04 seconds.
EnduroGP of Italy, Friday Super Test in a nutshell:
The 2022 GP of Italy kicked off on Friday evening with the single runs through the Super Test. Set in a picturesque, rolling valley a couple of fields away from the paddock, the riders attack the opening test of the weekend in pairs and in reverse order with the senior pro classes going last.
There were a couple of classy riders right down the senior classes running order, stand-ins, returnees from injury and a wild card or two including Billy Bolt. Billy dropped some SuperEnduro techniques onto his hard enduro two-stroke TE300 and set the first sub-1:40 time of 1:38.70.
Matteo Cavallo then started an avalanche of Italian riders aiming for home honours and was the first to beat Bolt's time on the retro pink TM. Next up came Alex Salvini who blasted a 1:37.9, then almost last of all Thomas Oldrati fired the RedMoto rocket to 1:36.6.
But running last of all alongside gold plate holder Wil Ruprecht, Josep Garcia spoiled the tricolore party with a 1:36.5 to just take the fastest time of the night.
In the Junior classes, Enrico Rinaldi made himself popular with the home crowd with a 1:40.04 but Zach Pichon stole top spot by 0.04 in the final Junior class run.
It was as similar story in the Youth classes as times dropped before Harry Edmondson dropped a 1:42.9 in the final 125cc duel.
Harry Houghton made sure it was a double British bubble by setting the fastest time scratch in the Open class by a healthy four seconds margin.
EnduroGP of Italy Friday Super Test Results: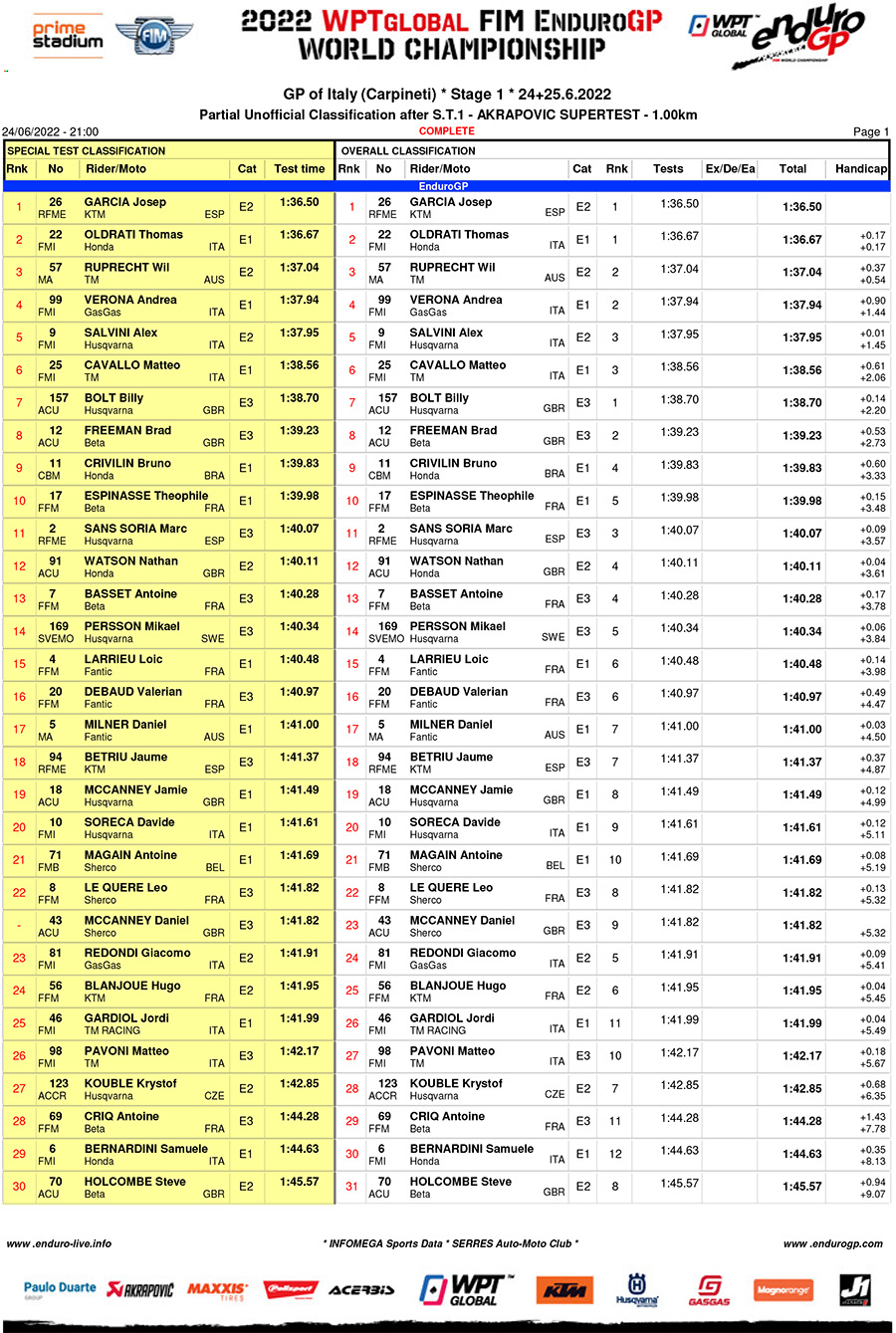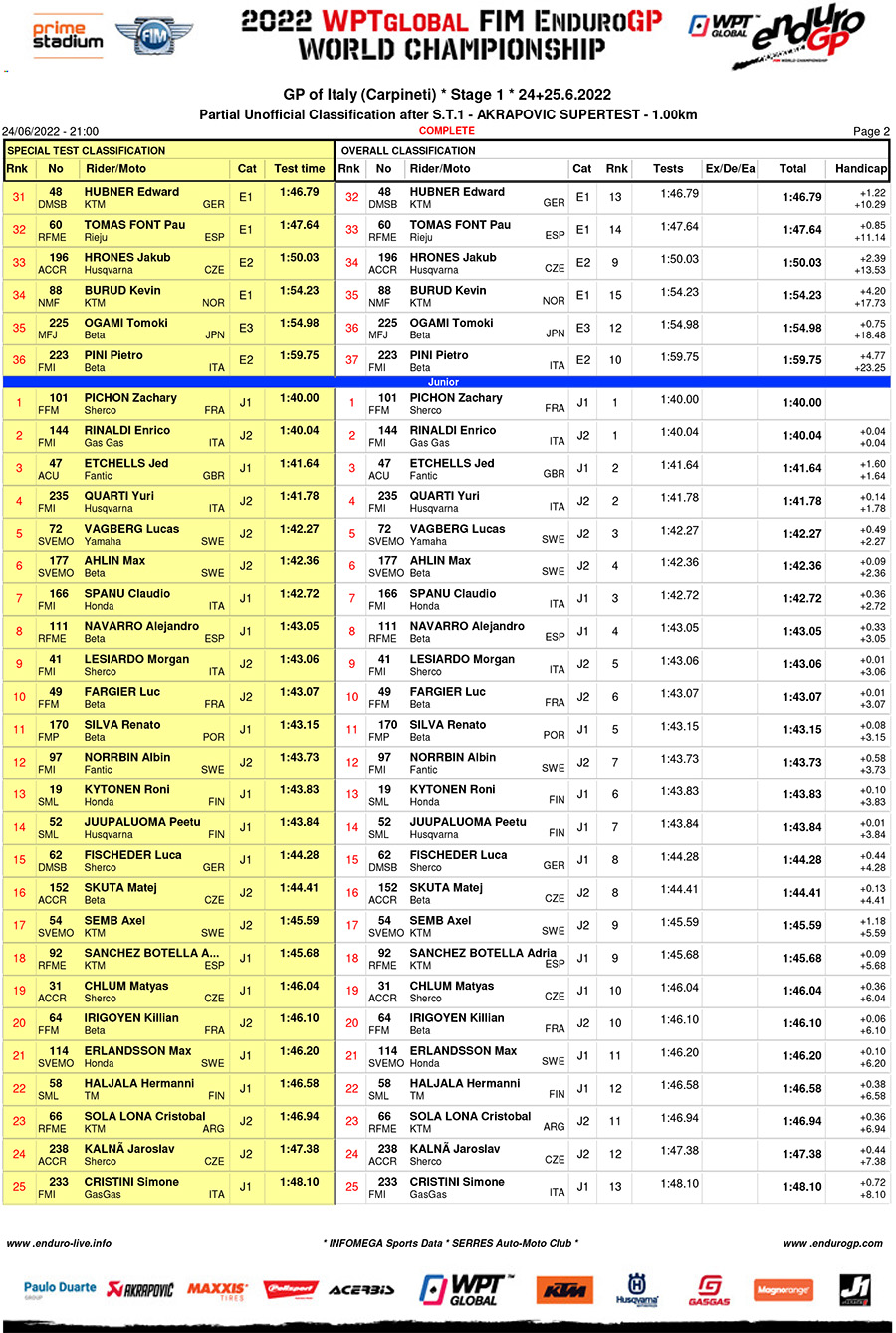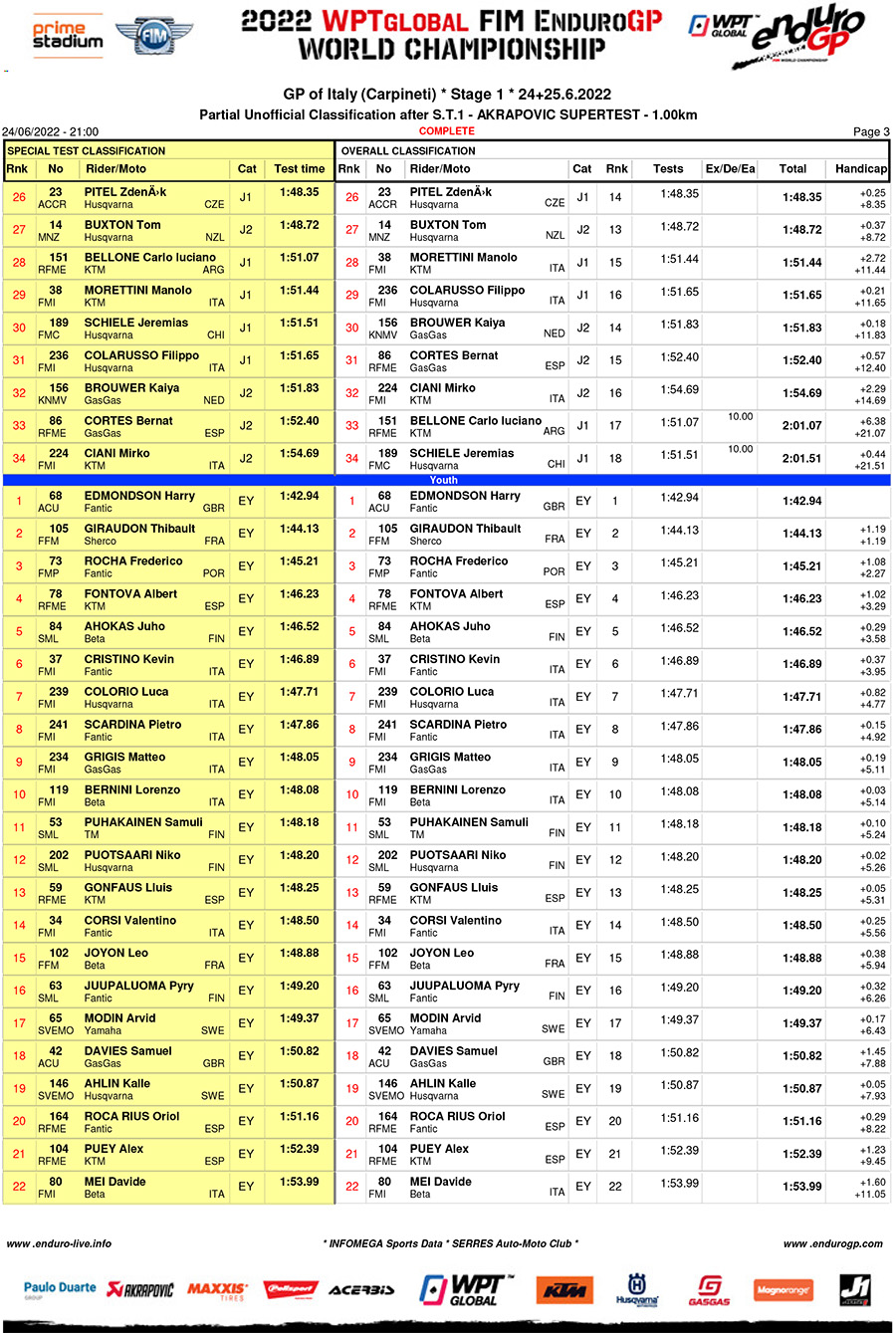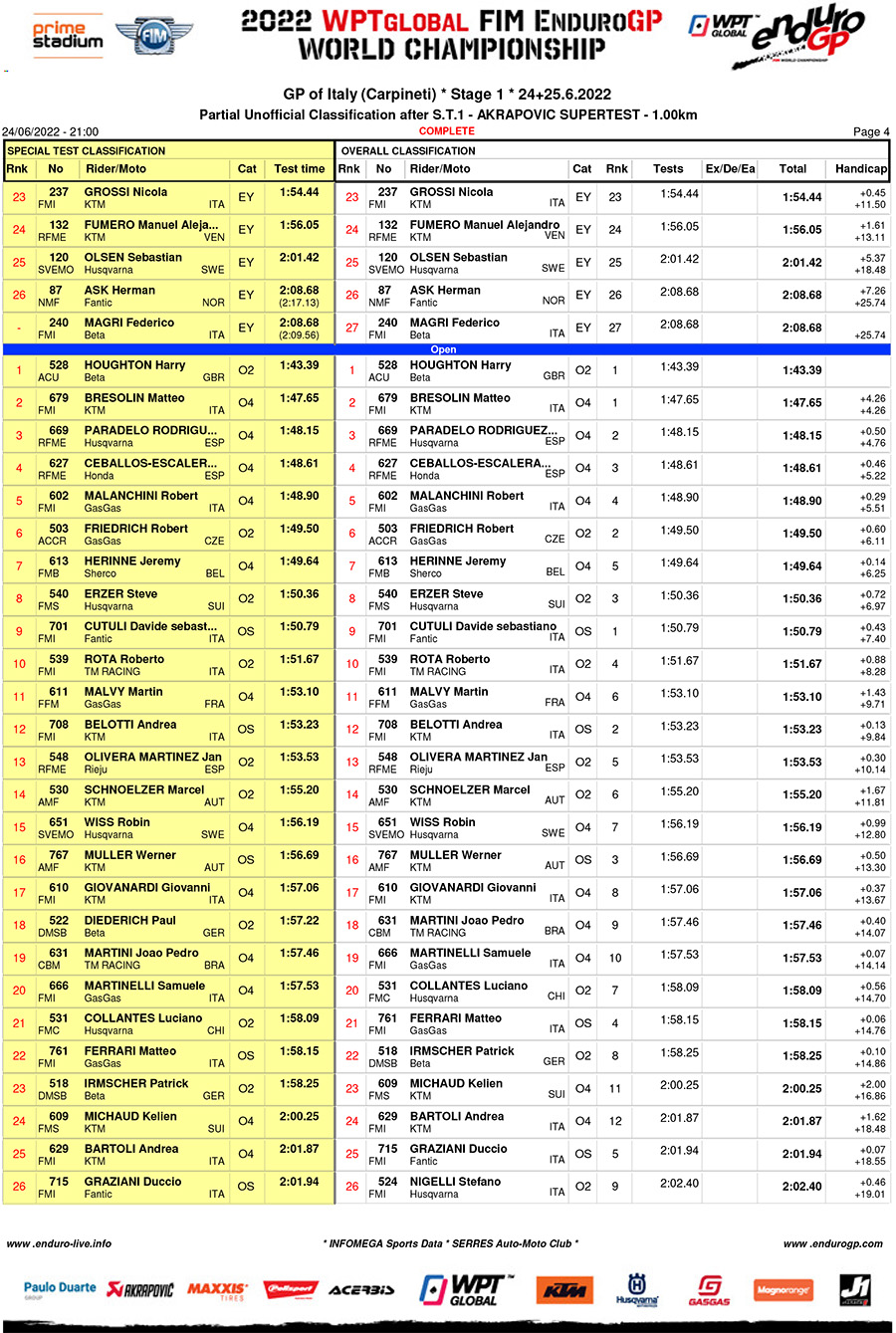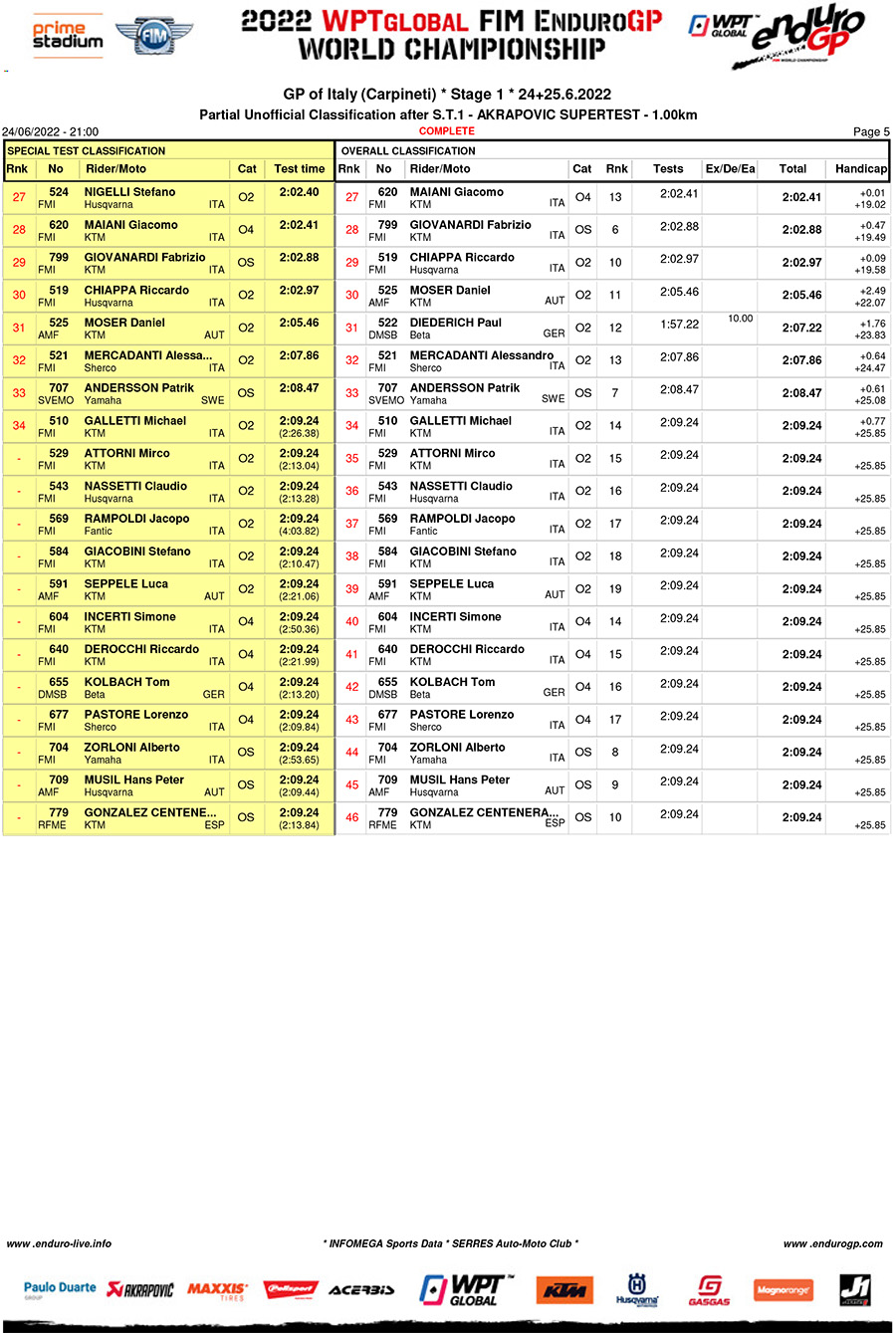 Photo Credit: Future7Media | Andrea Belluschi