2022 EnduroGP results: Garcia and Ruprecht boss day one in Italy  
Results from day one of the 2022 EnduroGP World Championship round three in Carpineti, Italy where Josep Garcia and Wil Ruprecht battled for the win head and shoulders above the rest with the KTM rider eventually taking the overall in the final tests.
EnduroGP of Italy, day one in a nutshell:
If the any Italian riders had any plans to win their home GP this weekend then Josep Garcia and Will Ruprecht had other ideas. The KTM and TM riders respectively put on a masterclass of riding in some spectacular tests on day one in Emilia Romagna region.
It is no coincidence they are also the joint equal championship points leaders and they made an early break on the rest in the first enduro test – a 13 minute run throught the rolling countryside – pulled a 14 second gap, and settled into a battle that put them far and above everyone else on the time sheets.
To prove how evenly matched they were, they posted exactly the same time on the first test of lap two. But by lap three the game of cat and mouse ended as Josep took chunks of time in the enduro and extreme tests and went on to take the EnduroGP scratch and E2 class win by 18 seconds ahead of Ruprecht who just dropped the ball slightly on the final lap.
Third overall, E1 winner and the best Italian rider on the day in front of the partisan crowd was Andrea Verona. The GASGAS rider was 20 seconds clear of Nathan Watson who took another solid fourth place on the RedMoto Honda and third in E2.
Second in E1 class, Daniel Milner was fifth overall for his best-ever GP result and first World Championship race having switched to the smaller Fantic XEF250.
Another milestone was achieved by E3 class winner and eighth placed rider overall, Mikael Persson. The Swedish rider finally nailed his first GP win today by a clear 30 seconds in front of some fast Italians. In doing so Mikael becomes the first rider to put a fuel injected, two-stroke Austrian bike on the top step of an EnduroGP podium, which is a milestone in itself.
It was business as usual in the Juniors for Zach Pichon who was again stretching a lead from the first tests on lap one. The Sherco rider was stealing chunks of time all day to finish over one minute clear of Roni Kytonen in second and Luc Fargier third – Pichon's final time would have put him eighth overall.
Harry Edmondson meanwhile took a measured win in the Youth class today. The Fantic rider didn't win every test, and the ones he did win weren't always by big margins, but his secret was consistency across the laps which even allowed him a crash in the last extreme test yet still to win by a 15 seconds margin.
Another big winning margin came in the Open classes where Harry Houghton delivered a convincing victory scratch and Open 2T class by over one minute. Jeremy Herinne was P2 scratch and won the Open 4T class.
A.O.B: Alex Salvini crashed out on the second lap and was taken to hospital having been well in the hunt for a top five result. Brad Freeman was riding still in pain from a severely injured hand (freshly out of a cast in the days before the GP) and took points for ninth in E3 class. Hard Enduro fans will note Billy Bolt down the running order but he too is riding with an injured wrist , is on his bike straight from Erzbergrodeo and didn't walk the tests.
GP of Italy day 1 results – EnduroGP scratch class: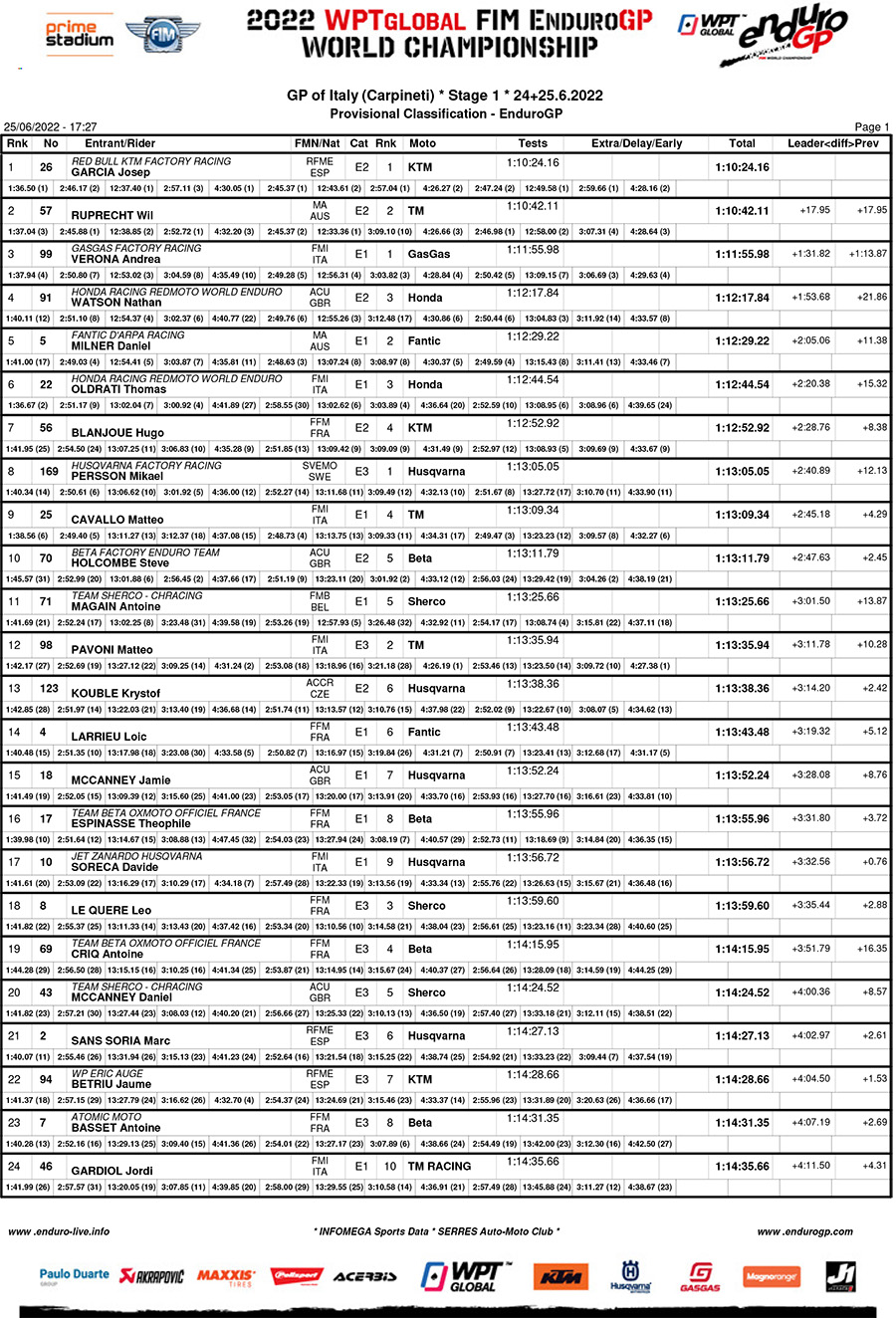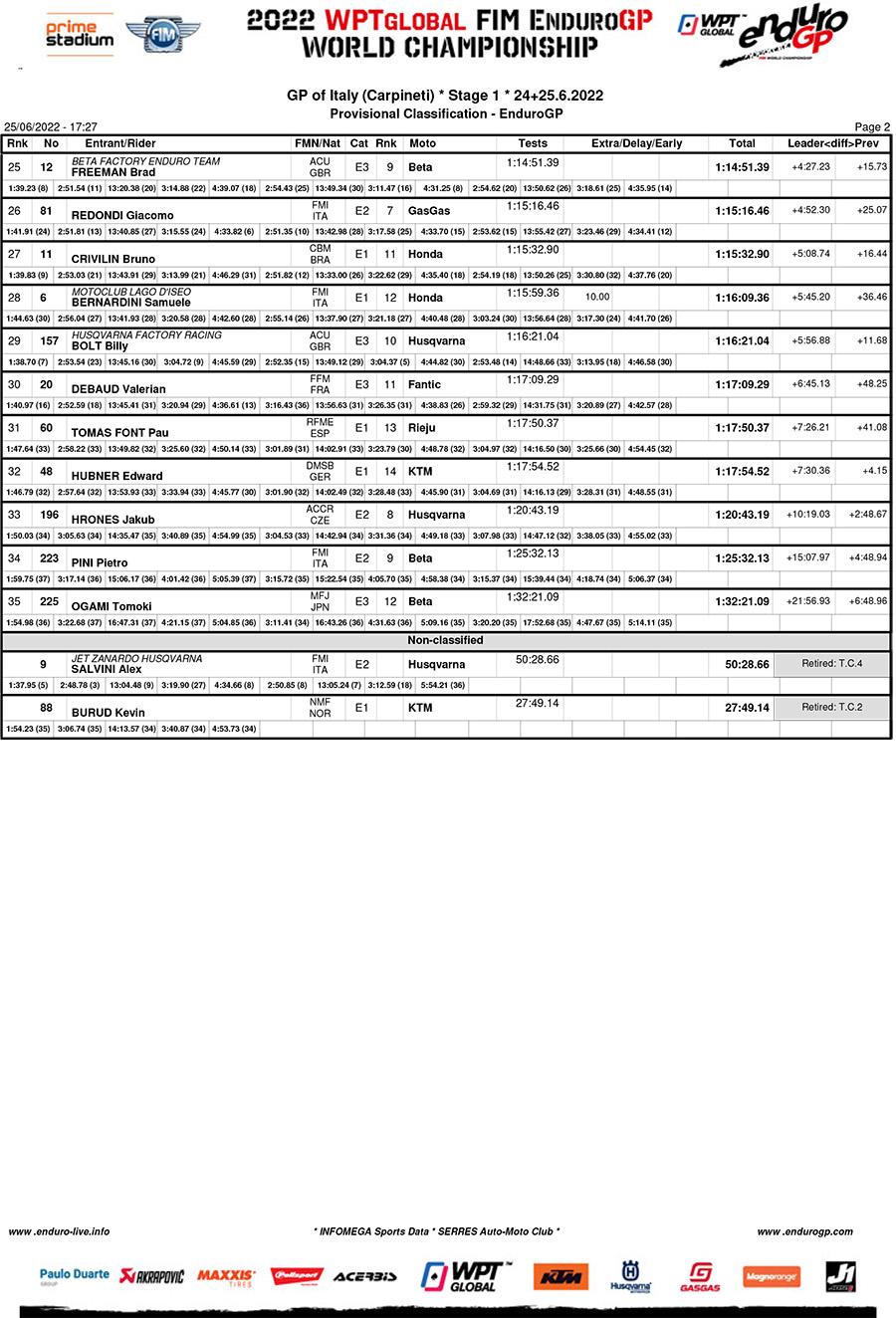 GP of Italy day 1 results – E1: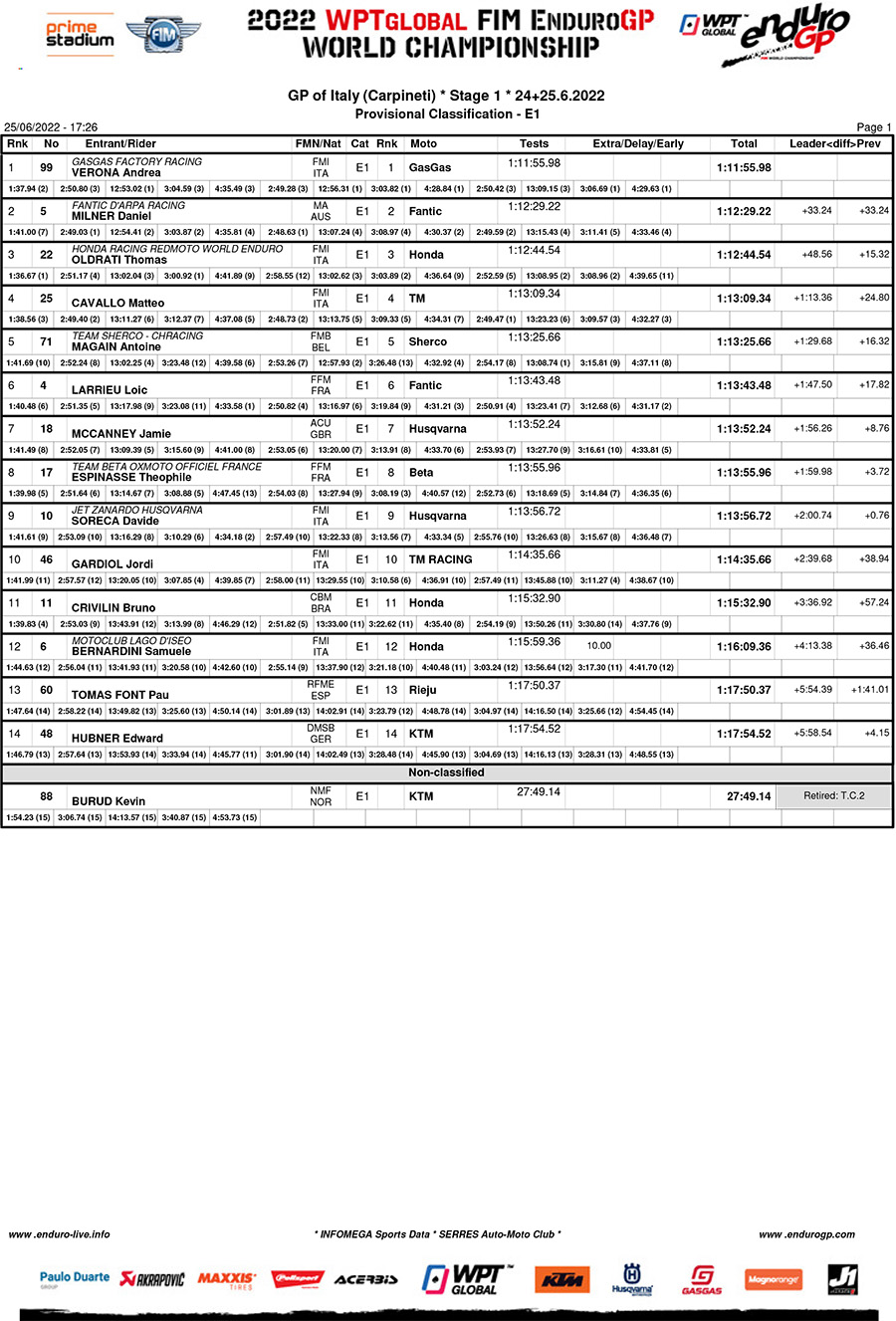 GP of Italy day 1 results – E2: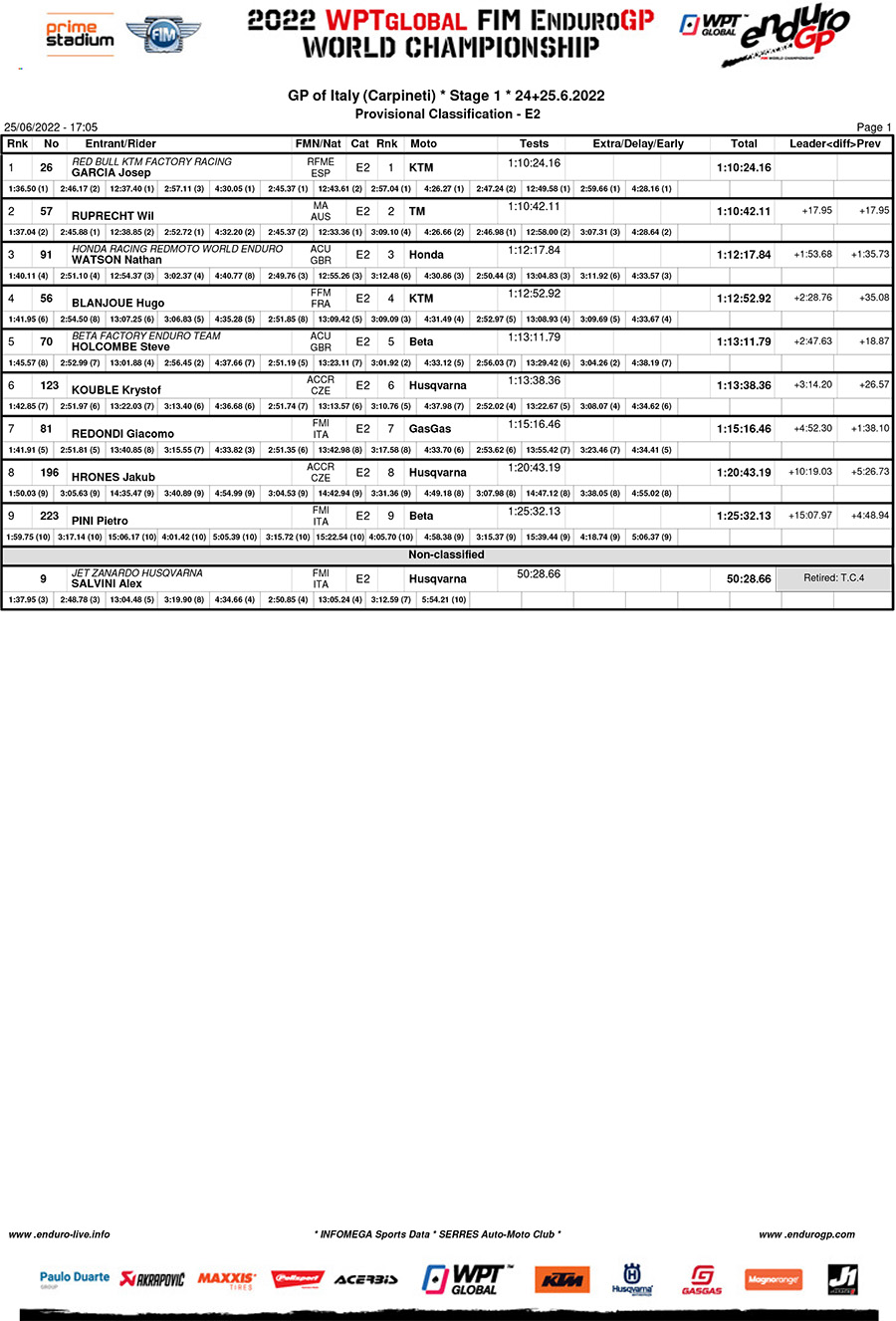 GP of Italy day 1 results – E3: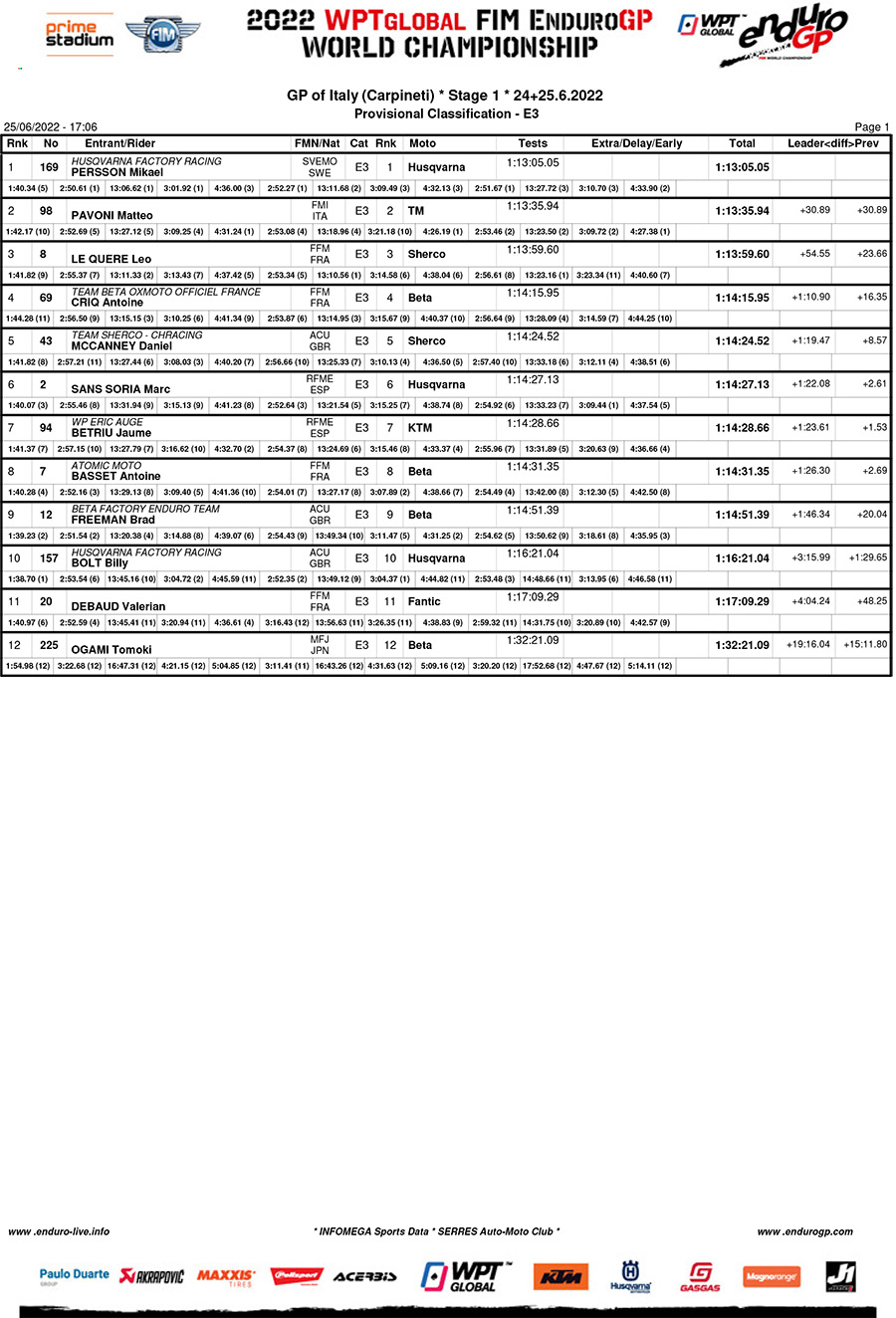 GP of Italy day 1 results – Junior: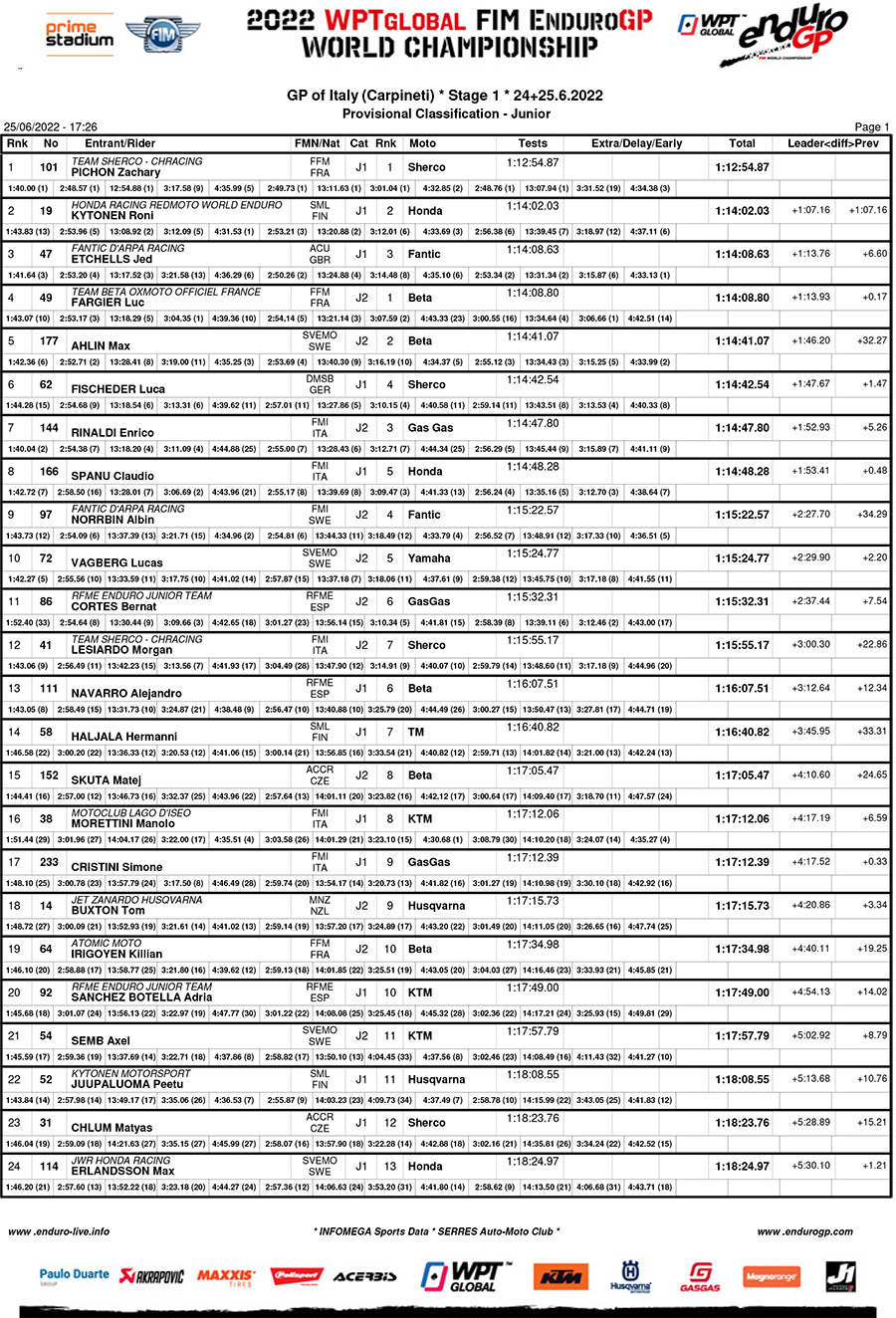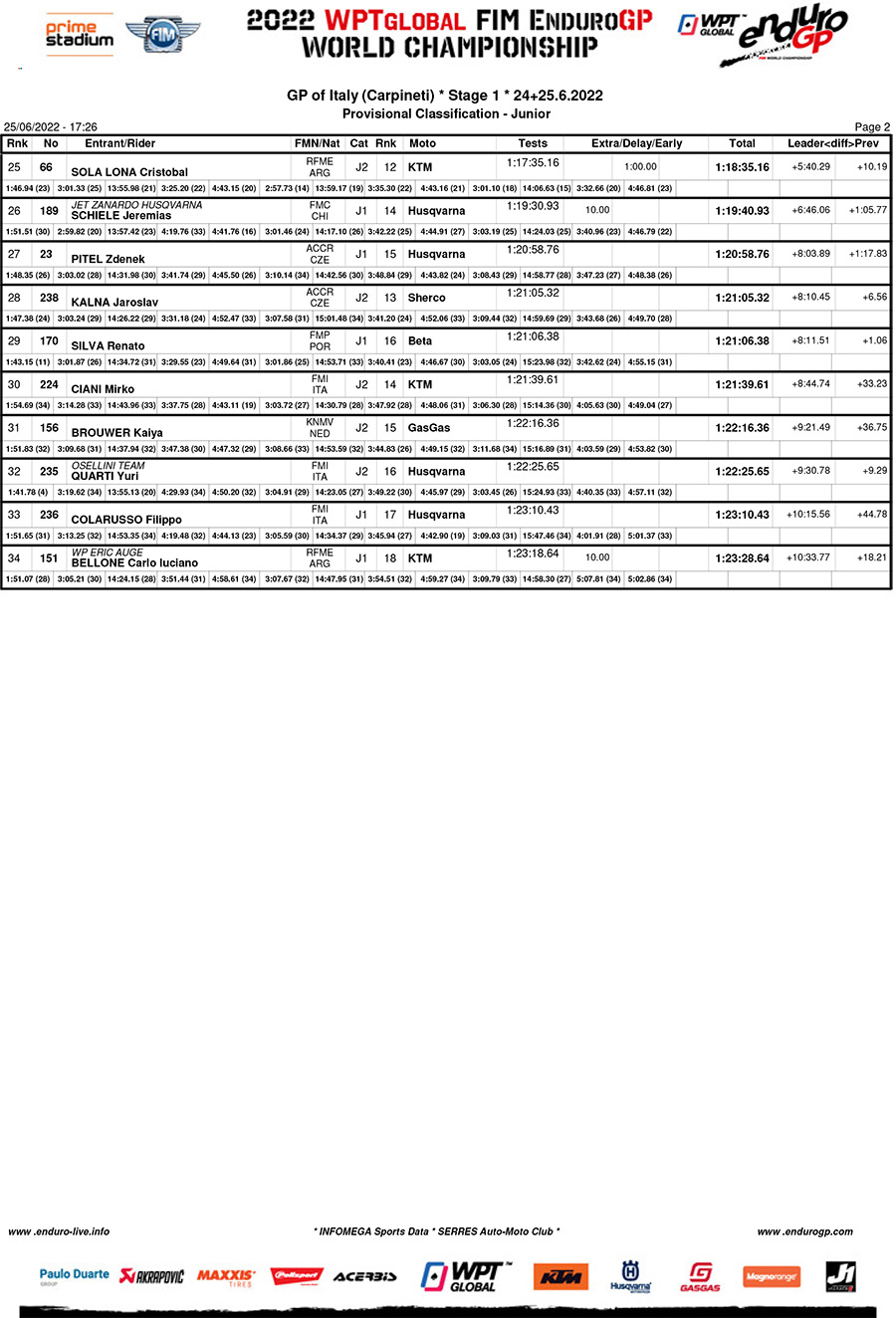 GP of Italy day 1 results – Youth: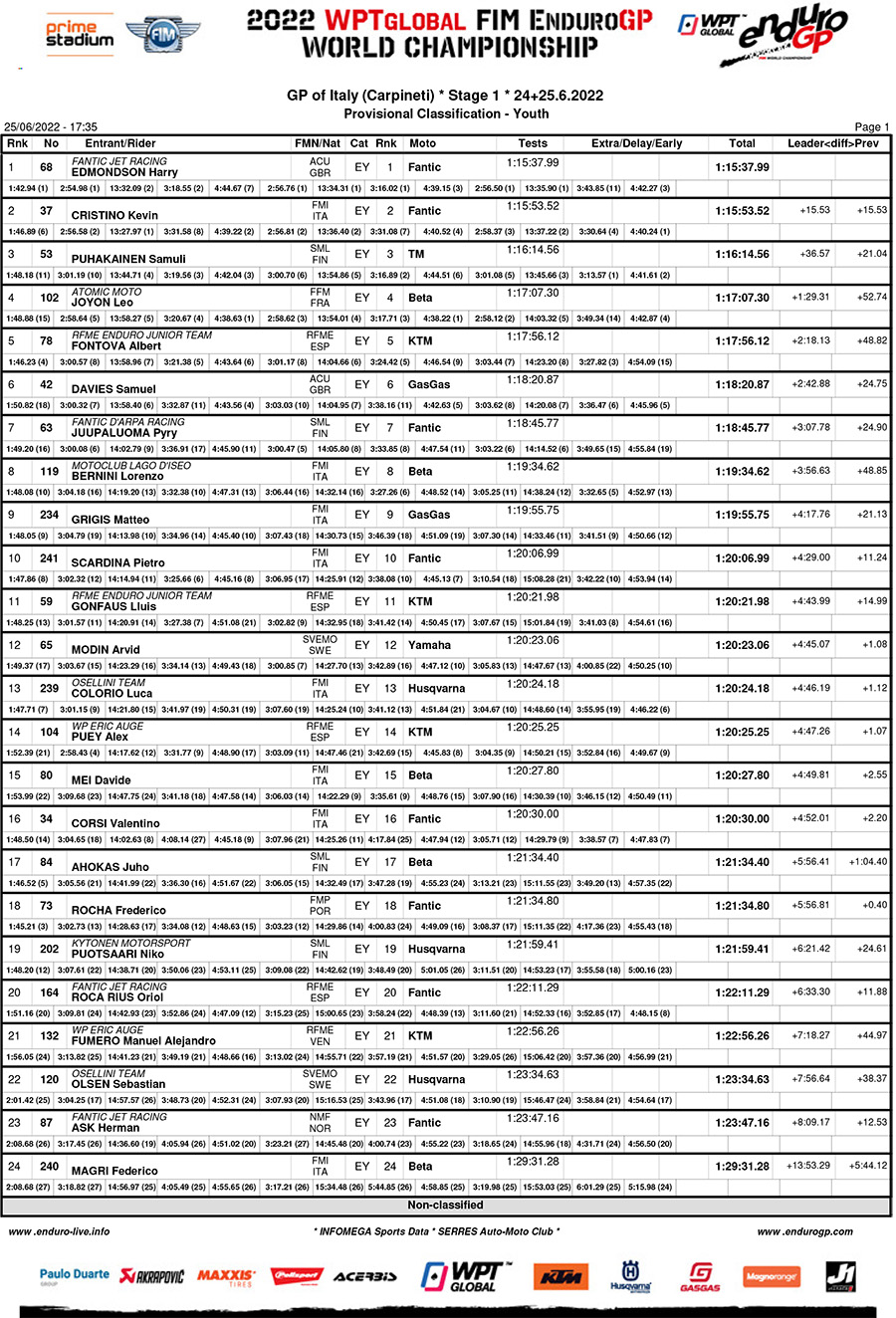 GP of Italy day 1 results – Open (scratch):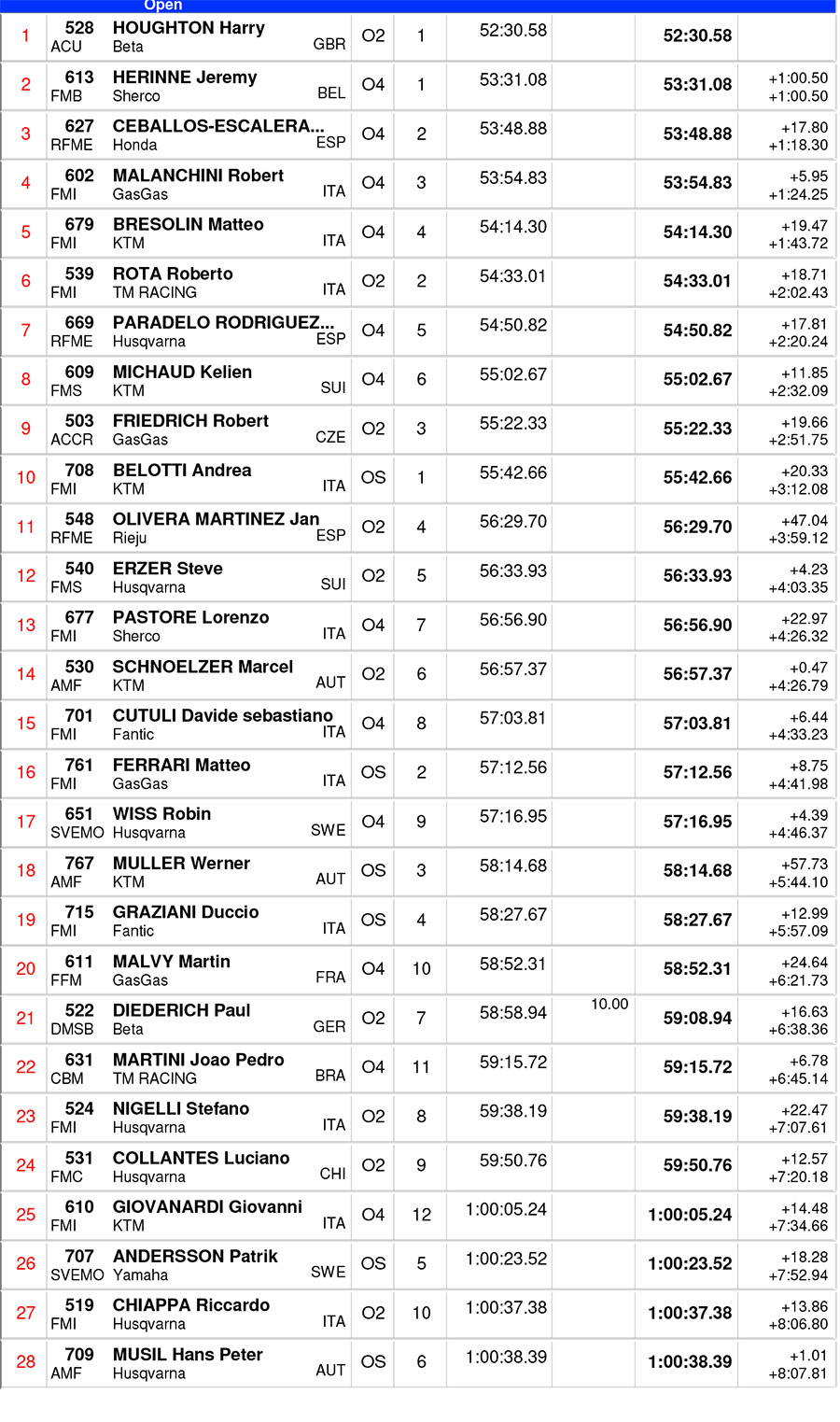 Photo Credit: Future7Media | Andrea Belluschi