EnduroGP notebook: the need for speed at the Italian GP
Enduro21's notebook direct from the 2022 Enduro World Championship, round three and the GP of Italy looks at the need for speed and the likelihood of crashing, how hard EnduroGP really is (using Billy Bolt as a measure) and the emerging French talent.
"It was that style of race where if you're not on the edge, you're not in the race really. It comes when you're pushing to that level." Said EnduroGP of Italy day two winner, Wil Ruprecht.
2021 saw a change of the order as more riders emerged who were capable of winning and 2022 has ramped it up again. But at the top of the pile three or four riders are pushing things to the limit and beyond, putting themselves on the line and forcing everyone behind to match them or look second best.
And as we all know, whatever our level might be, when you're "riding on the edge" crashes can happen. Unfortunately for many, most notably Josep Garcia this last weekend, that bare fact was very much a reality.
knockout blow for Garcia
If you didn't already know, the KTM rider crashed part way into the impressively long enduro test on the third and final visit of day two. Ruprecht had all-but won the day and this was Josep's last big chance to close the gap.
Rag doll doesn't do justice to the get-off the Spaniard had and he hit the deck hard, reportedly knocking himself out in the process. His crash caused the test to be cancelled as the next six or so riders were all held up by the bomb site the Spaniard and his bike created and which blocked the track.
Because Josep got himself back up on his battered bike and completed all the time checks correctly, everything still counts and remarkably he went on to finish the day in 16th place.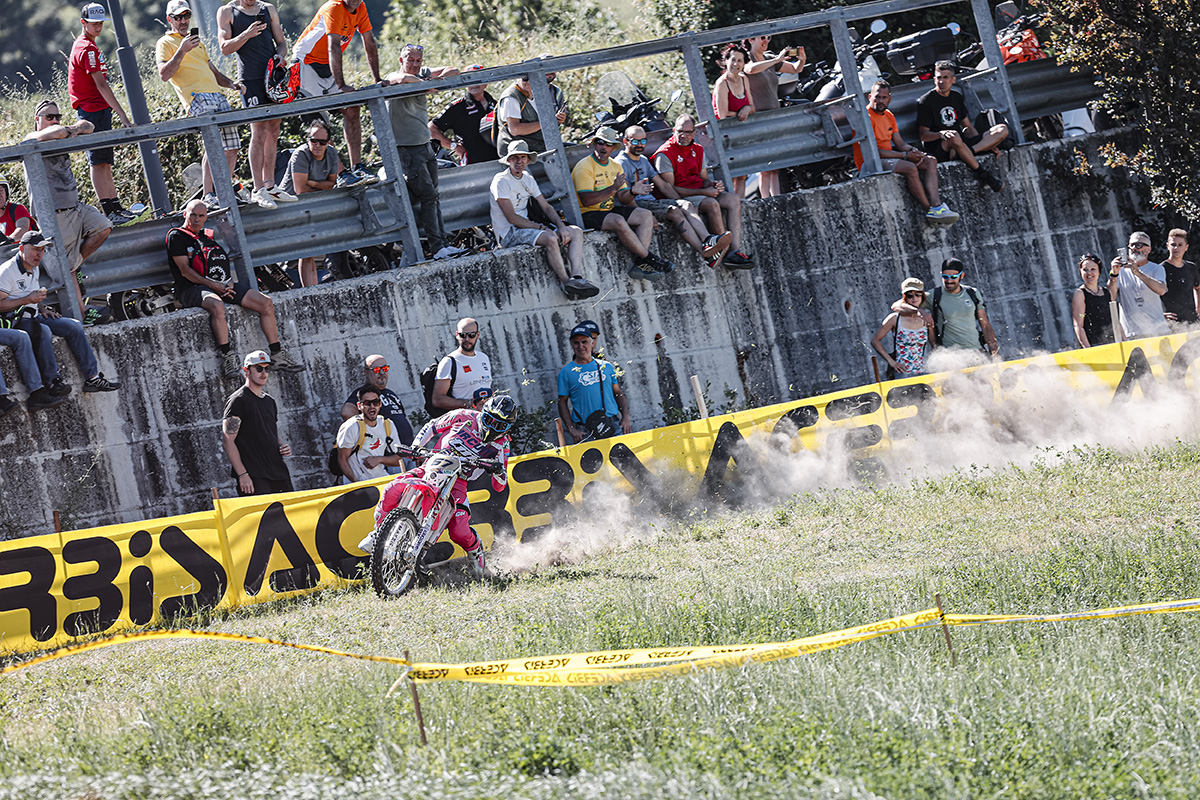 "It's not too nice to see a competitor go down, or anyone for that matter, so I hope Josep's ok and he can soldier on." Said Ruprecht (pictured above), mindful of the fact they are both running the ragged edge to beat each other.
In actual fact Josep crashed again the final cross test and battered himself some more. His team manager Fabio Farioli explained Josep was checked by medics twice on the course to be sure he was fit to continue and despite looking very secondhand, he finished just outside the points.
Like many riders last weekend including Steve Holcombe, Theo Espinasse and Alex Salvini (below in the cross test), the question is will they be fit for the Portuguese GP this coming weekend?
The level is high
'The level is so high right now' is a phrase you hear often across all sports but it is particularly true right now in EGP. After a few years of dominance by the British Beta duo of Steve Holcombe and most recently Brad Freeman, the tables have turned.
The select few fight to win overall – this weekend Ruprecht and Garcia on Saturday, plus Verona and Watson on day two – were a notch above the rest but there was an awesome scrap going on to inside the top 10 and on the different podiums.
Ever-green Thomas Oldrati, Daniel Milner shining brighter on the 250F Fantic, Hugo Blanjoue and Mikael Persson both coming good with the Swede taking his maiden E3 wins (did we mention already this was the first-ever world championship win for an Austrian fuel injected two-stroke?), Loic Larrieu getting back to form, his compatriot Leo Le Quere and Marc Sans on the big 500 Husky… they were all duking it out and in end the oddest thing was not to see more Italian riders in the top 10.
Take note of all the different nationalities too. It's the kind of drum the new promoters Prime Stadium are proud of, but it is a fact, we haven't seen such a diverse talent pool for some years in EGP. It is making the EnduroGP scratch points table fascinating to watch.
The EnduroGP World Championship is back at its best right now.
2022 EnduroGP championship standings after round 3: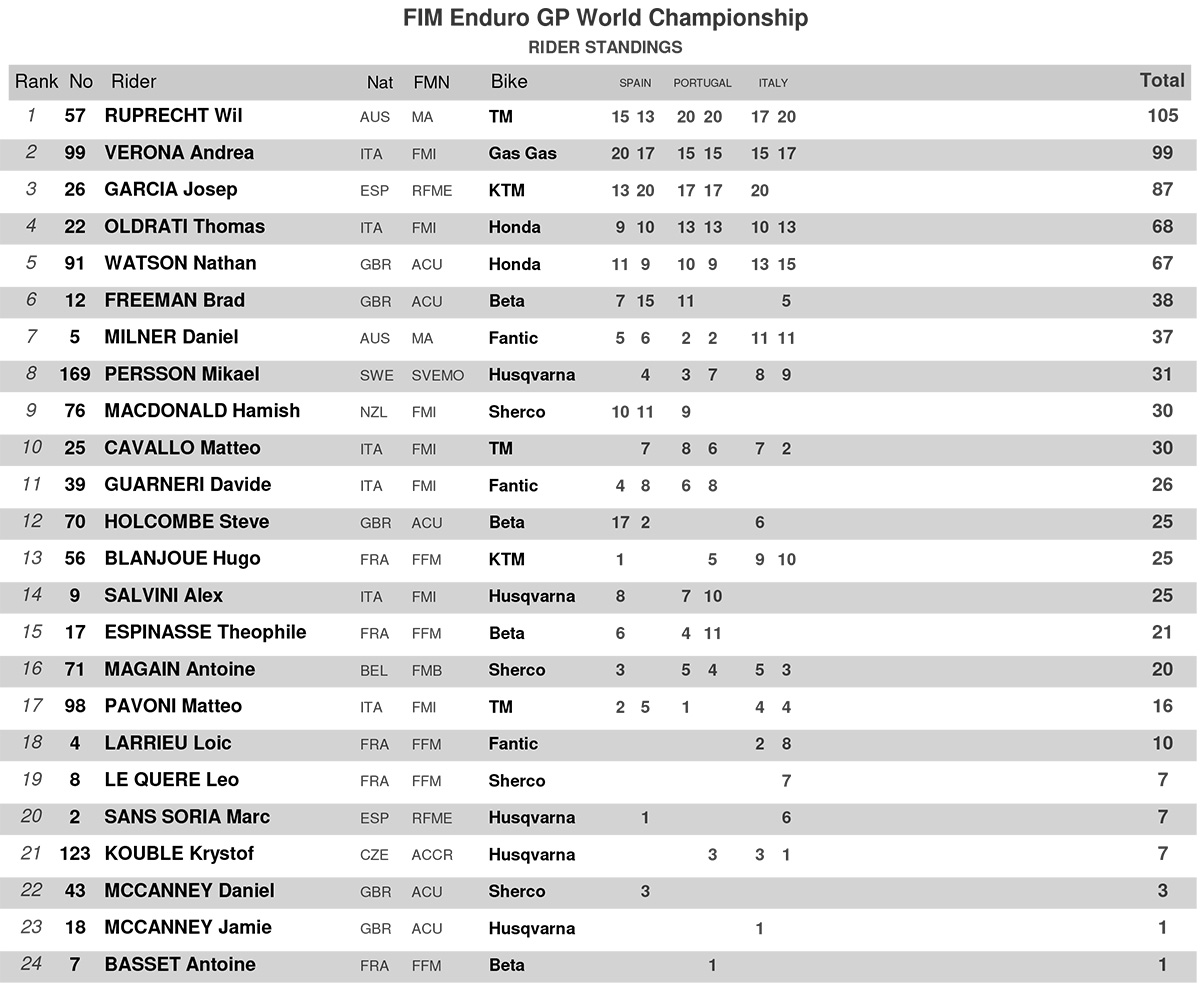 How hard is EnduroGP? Ask the Hard Enduro World Champion
"It was two, really long and difficult days. I think a lot pf people don't realise how hard these days are, not just in terms of the speed of the top boys but from an endurance point of view for everyone racing a GP." Explained Billy Bolt after the weekend.
It's a fact not always appreciated when you look at EnduroGP results or see a list of test times adding up to a total of one hour.
A typical GP is more than seven hours on the pegs and although riders stop at time checks along the way, or for a minute at each end of the tests, there's no question the days are relentless and this is physically and mentally demanding sport.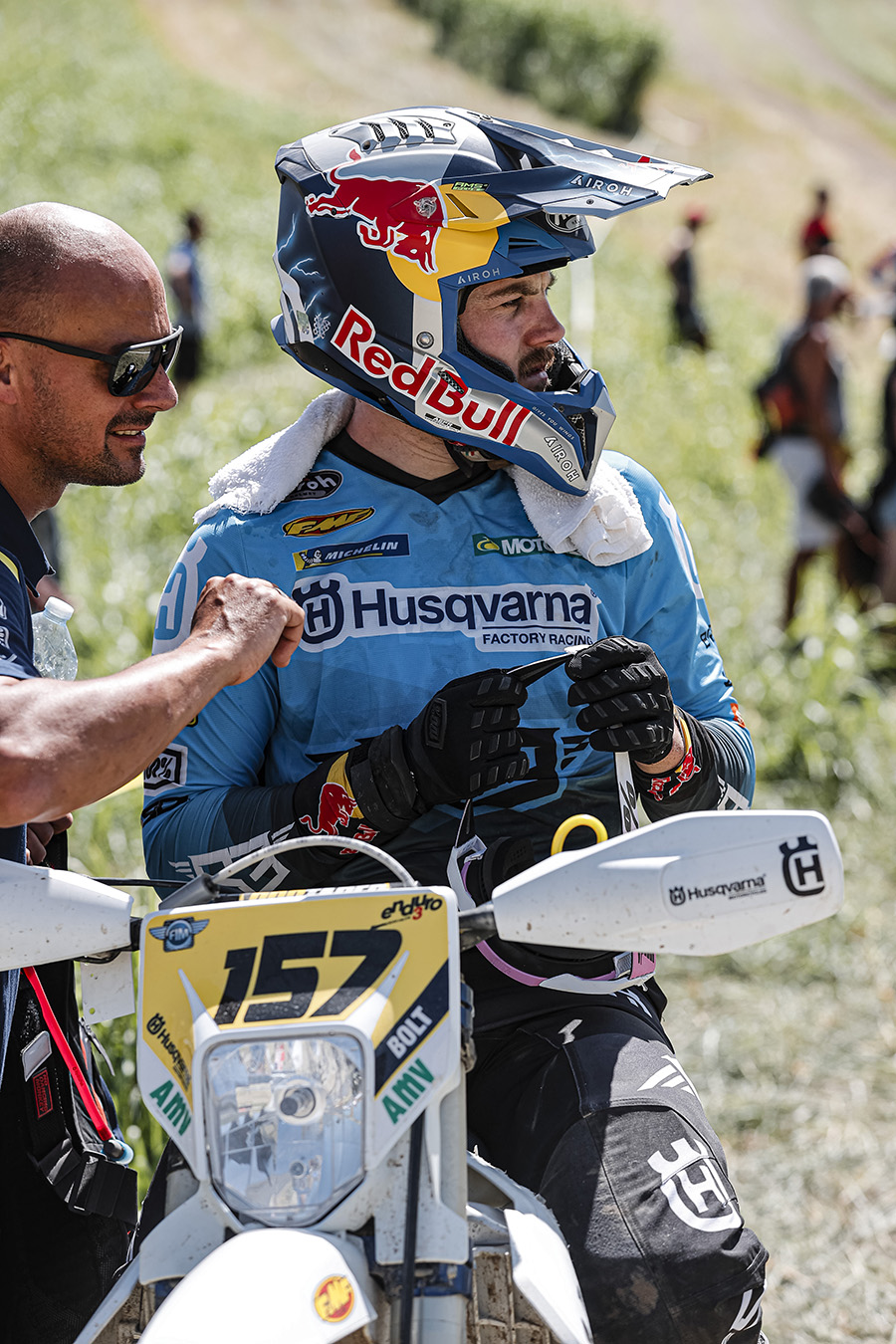 Don't believe us? Then get your entry in, try it and come back to us. Or listen to the Hard Enduro World Champion who did exactly that in Italy: "I think we did almost 400 kilometres in two days and most of it is off-road. Aside from the tests, there were some actually quite difficult transfers which when you face them in the first lap and think, 'that was a long ride', you're not even halfway." Billy explains. "So massive credit is due to all these guys, they are super-gnarly and they deserve a lot of respect. I underestimated how fast they really are going but I'm always happy to be humbled and put down a peg or too."
What about the idea of doing EnduroGP more in the future Billy? "I'd like to come back because I think with proper preparation, I can be pretty close." Billy continues. "In other areas I've got a lot of work to do but that's what's exciting for me. To come here and try and figure it out what these guys are doing.
"Big thanks to my team also because they had a bit of a mad rush from Wednesday morning when I arrived and said maybe I want to ride at the weekend."
Tough on a 250
Using a tried and tested method measure speed (eyes, ears and a stopwatch) it seemed unfair on Andrea Verona, Thomas Oldrati and Daniel Milner to be trying to match the speed of Ruprecht, Garcia and Watson (to name three). Why? Because those first three are little 250F engine bikes and the cross test this weekend was a horsepower-hungry one.
The classic Italian grass test looped up, down and around itself on a rolling hillside with a big crowd scattered along the top. It was an awesome test to watch as riders nailed it up through the gears.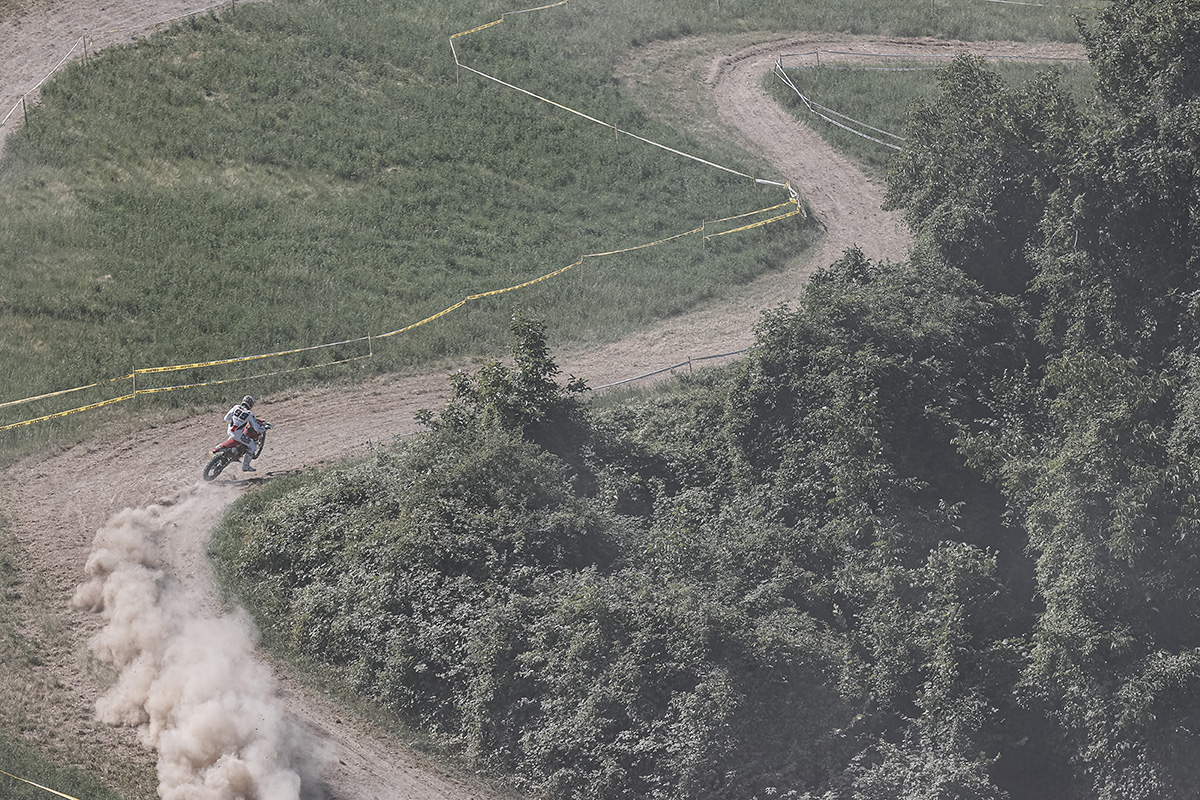 Those poor 250 engines took a beating six times at this test across the weekend and the best 250 F (usually either Verona, seen above, or Larrieu) were never closer than a couple of seconds of the fastest time which in turn was Matteo Pavoni the majority of the time on the 300 two-stroke TM – a well-known rocket ship of a bike.
A.O.B. French fast, young riders
The enduro world championship goes through periods of being dominated by different nationality riders: Finland, Sweden, Spain, France and most recently Britain at different times across the last couple of decades.
As we've mentioned earlier, right now not one nationality is holding fort but it could be there's a batch of young riders coming and in a year or two we could see another majority ruling.
Young French riders Zach Pichon, Hugo Blanjoue, Leo Le Quere, Luc Fargier, Thibault Giraudon and Leo Joyon are climbing the order. Pichon has won every Junior round this season with scratch times which would often put him inside the top 10 scratch. Fargier joined him on the Junior podium. Giraudon won the Youth class on Sunday and Joyon was P4. Blanjoue is getting faster and troubling the senior class podiums now also.
Standing there watching the entire entry hit a log jump deep in a narrow, twisting, gulley in what was the best test of the weekend, there was one clearly faster line. Naturally Ruprecht, Garcia and the top boys hit it but behind the top 15 or so, most riders were taking a slower, less committed approach. You could see the seconds being lost.
Most riders that is except virtually all these French riders listed. It can't be a coincidence that one of the old guard, Christophe Nambotin, is working behind the scenes with Zach Pichon at Sherco. The quality is shining and when they've all graduated to the senior classes in a couple of years, Le Bleu could be back as a dominant force.
Watch out world, France is host to the ISDE this year don't forget.
Photo Credit: Future7Media | Andrea Belluschi