EnduroGP results: Brad Freeman back in charge on day 2 in Sweden
Results feed from day two of the 2021 EnduroGP World Championship in Sweden which has seen points leader Brad Freeman back to winning ways ahead of an intense battle for the podium positions – among them Davide Guarneri takes Fantic's first-ever EnduroGP scratch podium.
2021 Swedish EnduroGP day 2 in a nutshell:
There are two main stories from the second day's action in Skovde. Firstly Brad Freeman was back to his best, fast and consistent. Secondly the season long E1 class fight between Andrea Verona and Davide Guarneri produced enough fireworks today to put them both on the overall podium.
After basically describing everything about day one as "shit" (despite taking third overall and winning E3), day two saw the championship leader Freeman turn things around for a start to finish win. "The biggest thing was not so much the win but to turn it around." Says Brad. "Yesterday I was struggling but a new day brings a new challenge and I started well and then maintained a gap all day. I'm stoked but I'm also a bit speechless about Verona's last test…!"
What about that last test? Some context: Davide Guarneri, Josep Garcia and Andrea Verona were fighting for fractions of seconds and as the day reached its climax, Guarneri was P2 and 0.10s ahead of Garcia with Verona 4.6s back.
Verona the proceeded to pull a time from the gods in the last Cross test. On a day which had seen riders separated by fractions, the GASGAS factory pilot pulled a magical 13 second faster time to leap frog into second overall pipping not just his E1 rival Guarneri but also Josep Garcia in the process. It was jaw-dropping.
"It was really close all day and in the last test I was fourth but really close." Explained Andrea. "I gave it everything, I had nothing to lose and I had to try. I am really, really happy about the result in E1 and overall."
Though Guarneri lost out in that last test and says he was "angry to lose out but in a good way", he added, "there's nothing you can do when it's like that, I gave it everything." Third overall is his best of the year and Fantic's first-ever EnduroGP scratch podium.
The TM teammates in the Juniors had another insanely close fight for the win. It too came down to the last test where Lorenzo Macoritto secured a 1.71s winning margin ahead of his teammate Matteo Pavoni. Leo Le Quere was third in the Juniors for Sherco.
We've run out of things to say about Albin Norrbin and his run of form in the Youth 125 class. The Swede stormed things again on day two finishing over one minute clear of Sami Puhakainen with Kevin Cristino third, narrowly ahead of Harry Edmondson.
Meanwhile Laia Sanz told us she was cautious ahead of day two in Sweden because, though she has been strong on day one at the GPs this year, she has found things harder on the second leg. The Spaniard well and truly put that behind her with a double day victory in Skovde. It wasn't without a fight mind you. Mireia Badia and Jane Daniels put in the test wins on their ways to second and third respectively but Sanz was consistent and won in the end by 25 second margin. Rosie Rowett repeated her solid day one performance in P4 with Marie Holt fifth.
Priit Biene was back on top of the Open class scratch results demoting day one winner, Belgian Max Warenghein to second with Goncalo Reis third again today.
2021 Swedish GP day two EnduroGP scratch results: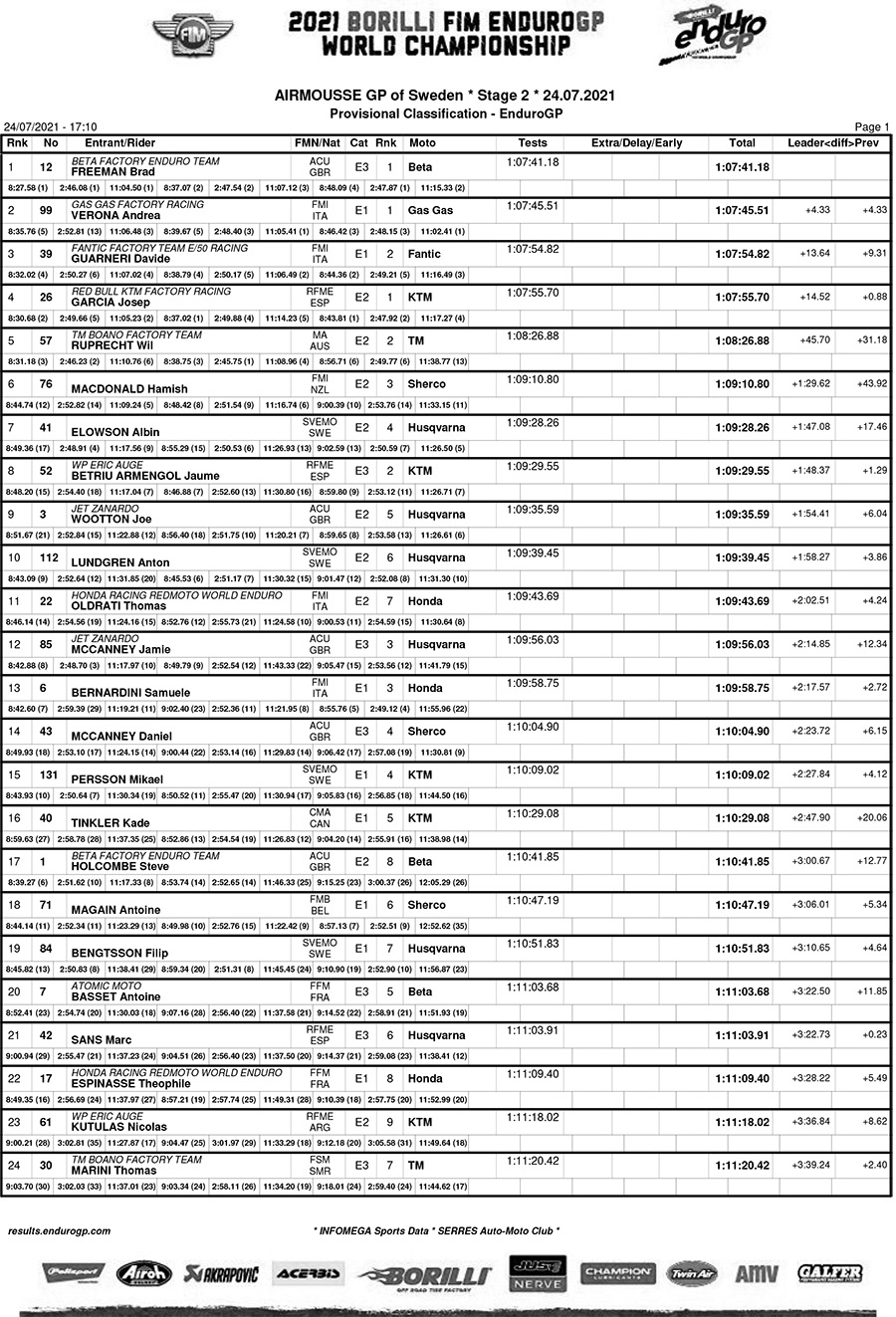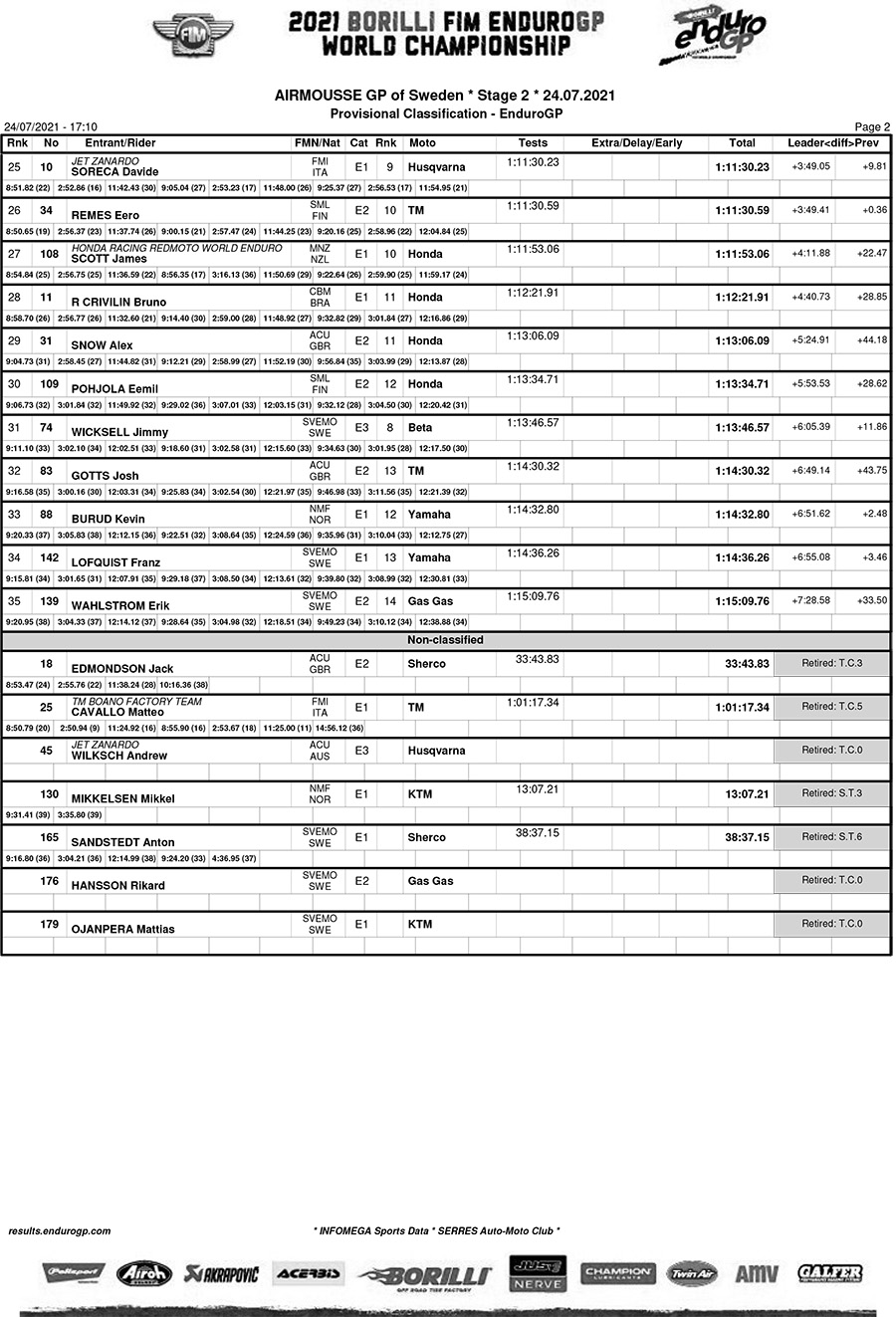 Junior scratch results: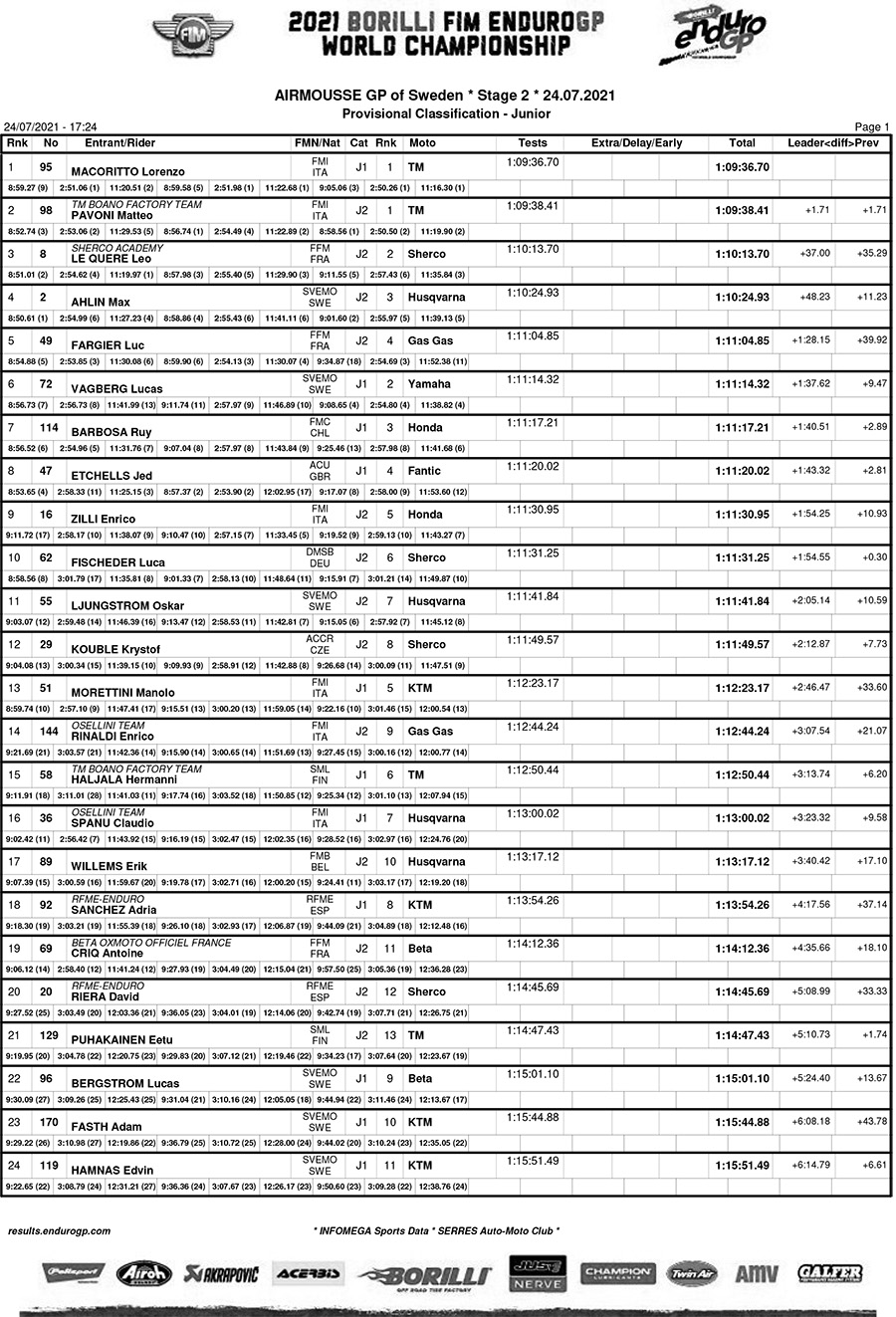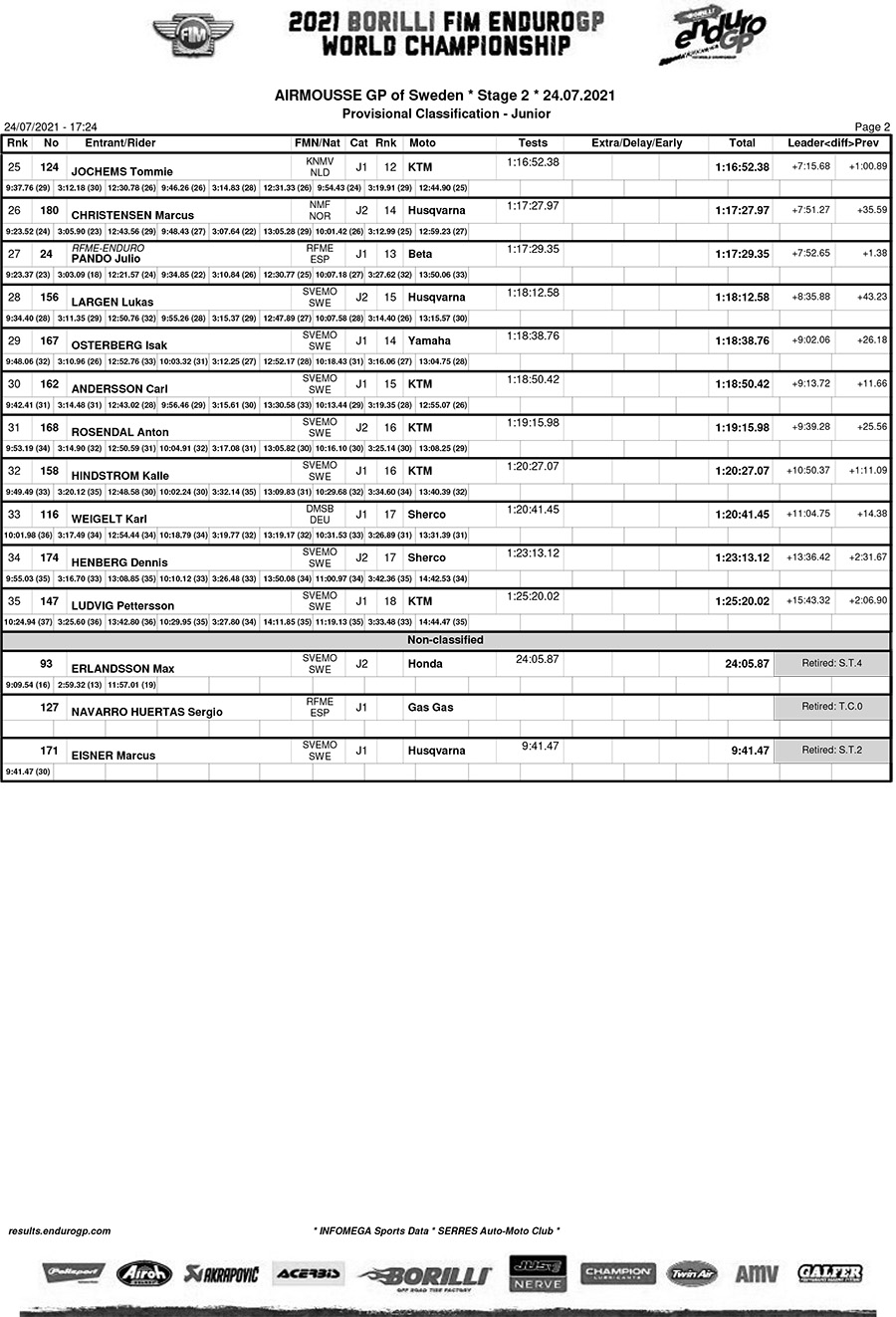 Youth 125 results: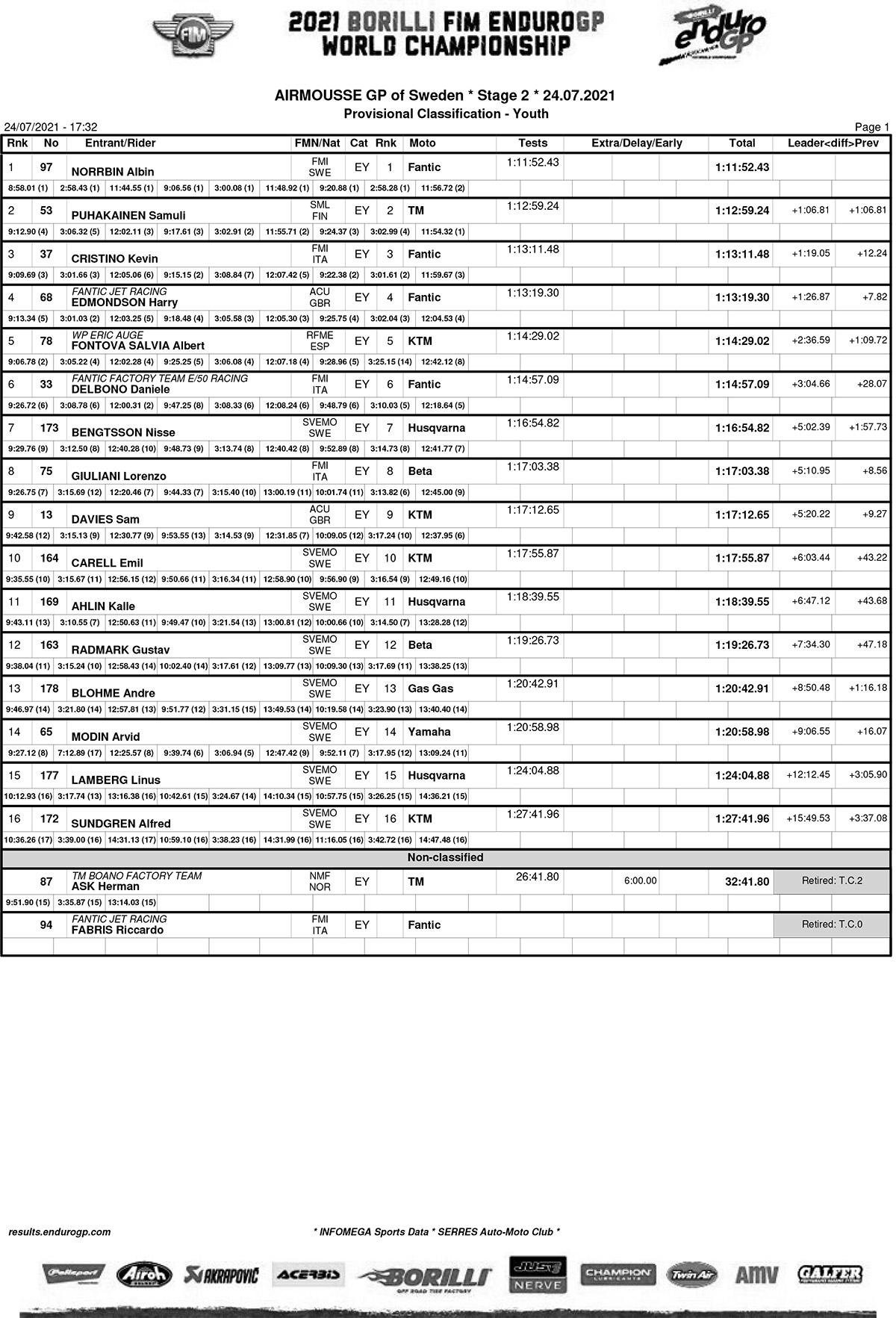 Womens class results: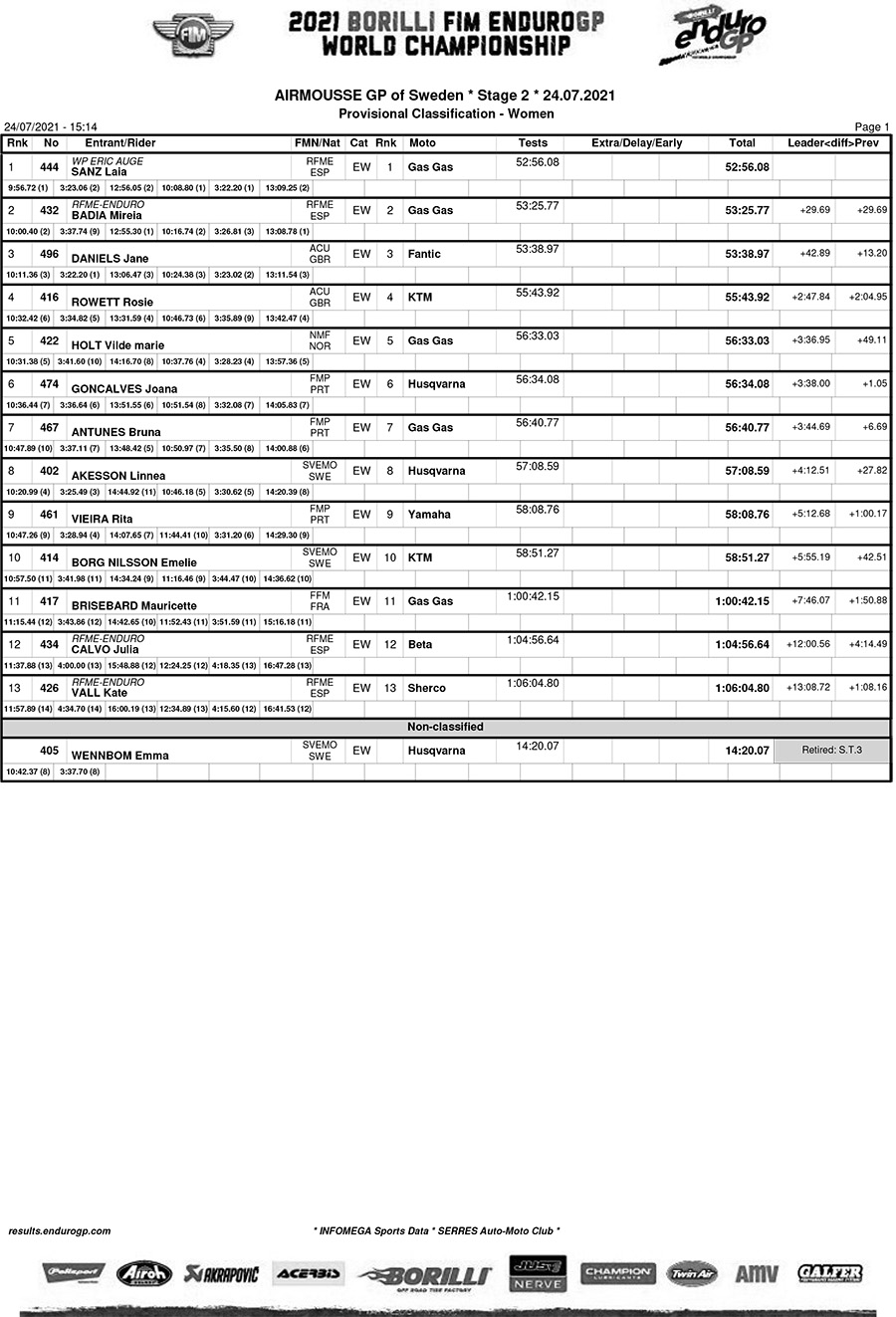 Open class scratch results: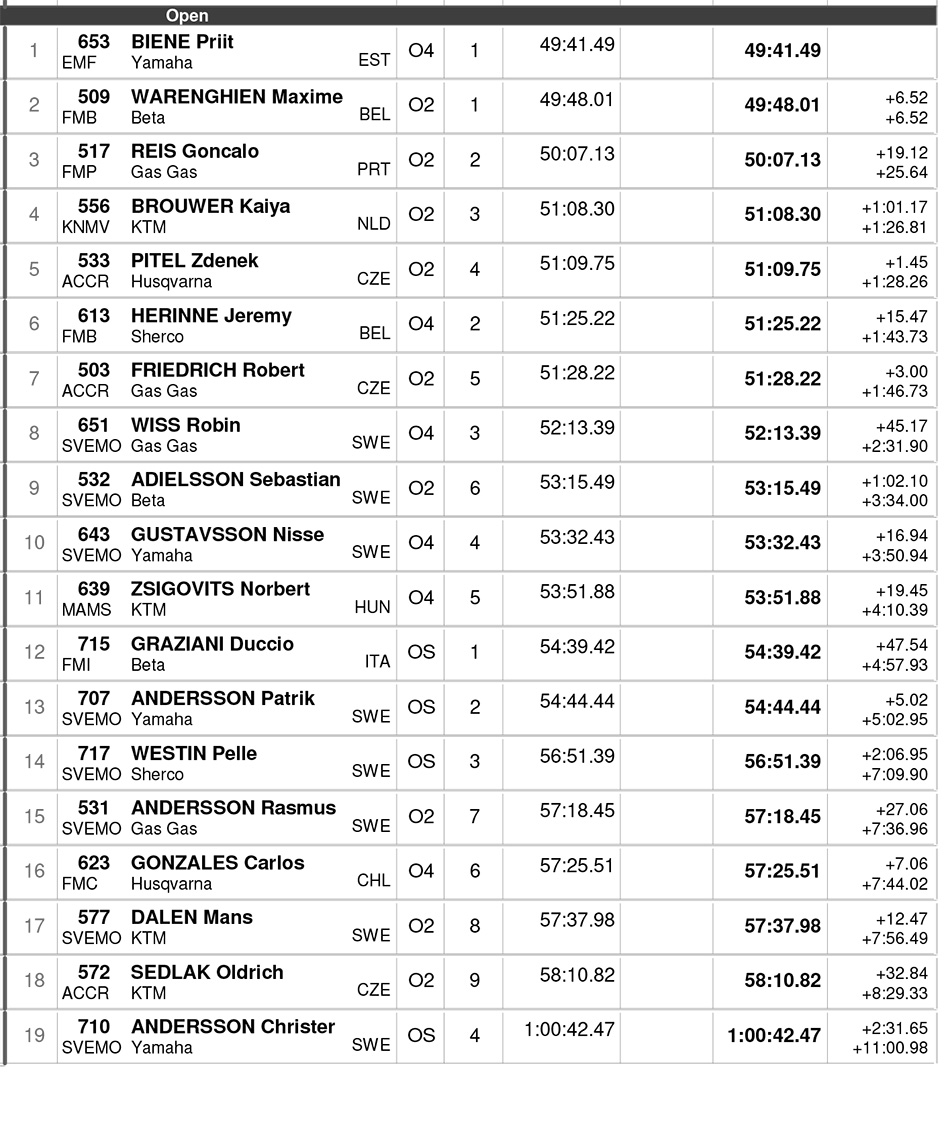 Photo Credit: Enduro21 | Nicki Martinez + FIM | Dario Agratti