EnduroGP Results: Freeman from Garcia and Holcombe in Super-tight Super Test  
Super Test results from 2023 EnduroGP World Championship round four in Sweden where riders posted incredibly close times on a sketchy track – Freeman from Garcia and Holcombe within half a second on the opening night in Skovde.
2023 EnduroGP of Sweden Super Test in a nutshell:
A mixture of grass, gravelly hard pack and littered with man-made obstacles treated the riders to a tricky, if not sketchy opening night in Skovde. The early riders got the worst of it as they cleared stones and dug some ruts for the later riders to at least find something to get a hold of for grip. But it remained a track easy to crash on and loose logs not fixed to the ground didn't help...
Alejandro Ceballos-Escalera Lopez was again the rider to watch as the Open class opened the show. A 1:35.2 put him just ahead of Swedish favourite in class, Robin Wiss.
It was a career first Super Test win for Rosie Rowett in the Women's class up next. The Rieju factory rider clocked a confidence-boosting near second faster time than Jane Daniels with Jessica Gardiner third.
Leo Joyon bagged the Youth class fastest time, the first time all season that anyone other than championship leader Kevin Cristino has topped the sheets. Thibault Giraudon was second with Cristino dropping it and losing five seconds for P9.
We had to wait until the Juniors hit the track for the first and only Swedish rider to make the crowd proud. Max Ahlin got the job done on a track by now defining some decent lines ahead of Manolo Morettini a second back with championship points leader Jed Etchells third.
Finally came the senior classes and it was unusual to see a bunch of E3 bikes sitting pretty for a while as torquey power looked like the recipe on the gravel.
In the end it was the fastest of the E3 riders and championship leader Brad Freeman who went quickest…but only just.
Around half a second separated the top three, the same overall top three as last weekend in Finland: Brad, Josep Garcia and Steve Holcombe.
Times were incredibly tight through the running order with small mistakes making big differences on the time sheets including an unlucky Andrea Verona outside the top 30. Not because of his fault btw, but one of those loose logs laying in the track kicked across from the other rider lane took him down.
Small gaps mean less on this first test of the weekend and it will be all to play for in the sand tomorrow, beginning at 9am.
Check out the test preview if you want to see what's instore: EnduroGP of Sweden: Rnd4 track preview
2023 EnduroGP of Sweden Super Test scratch results: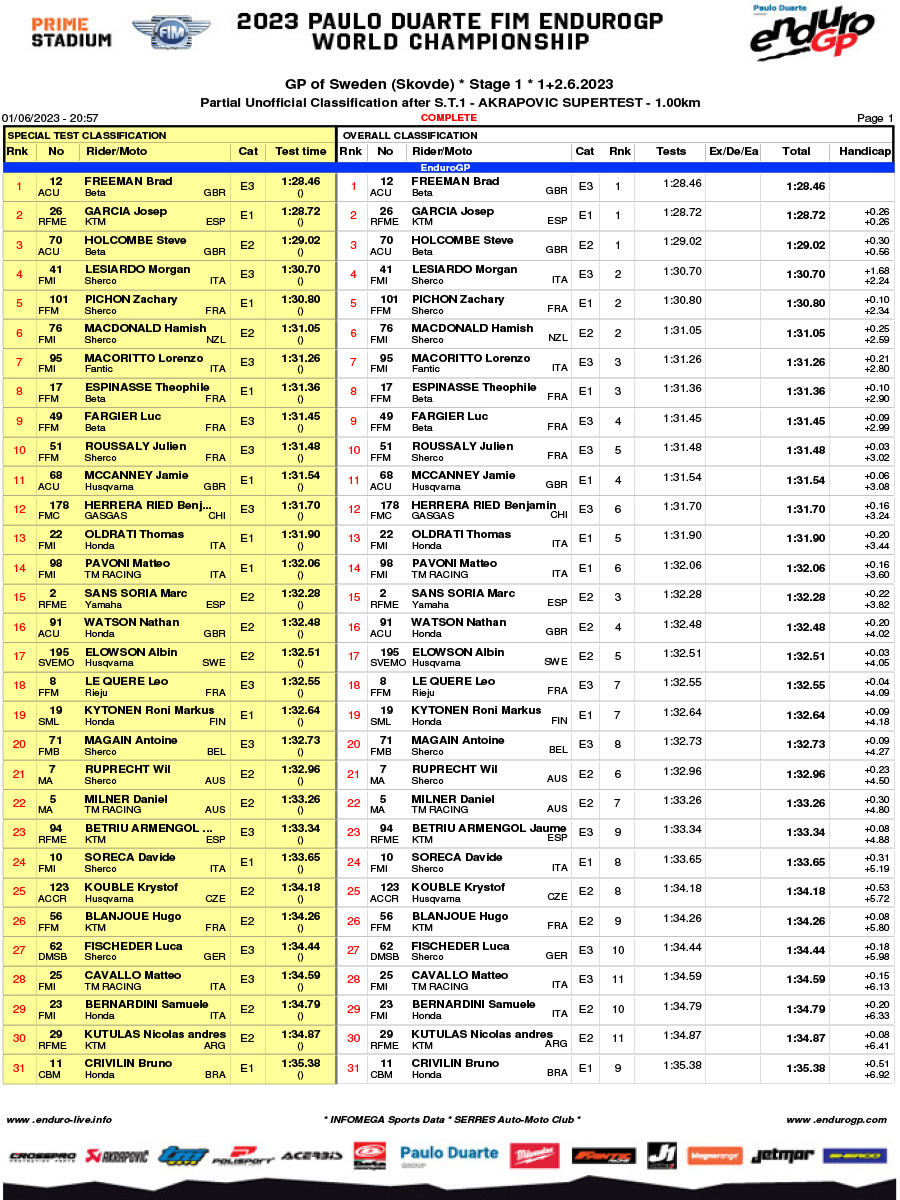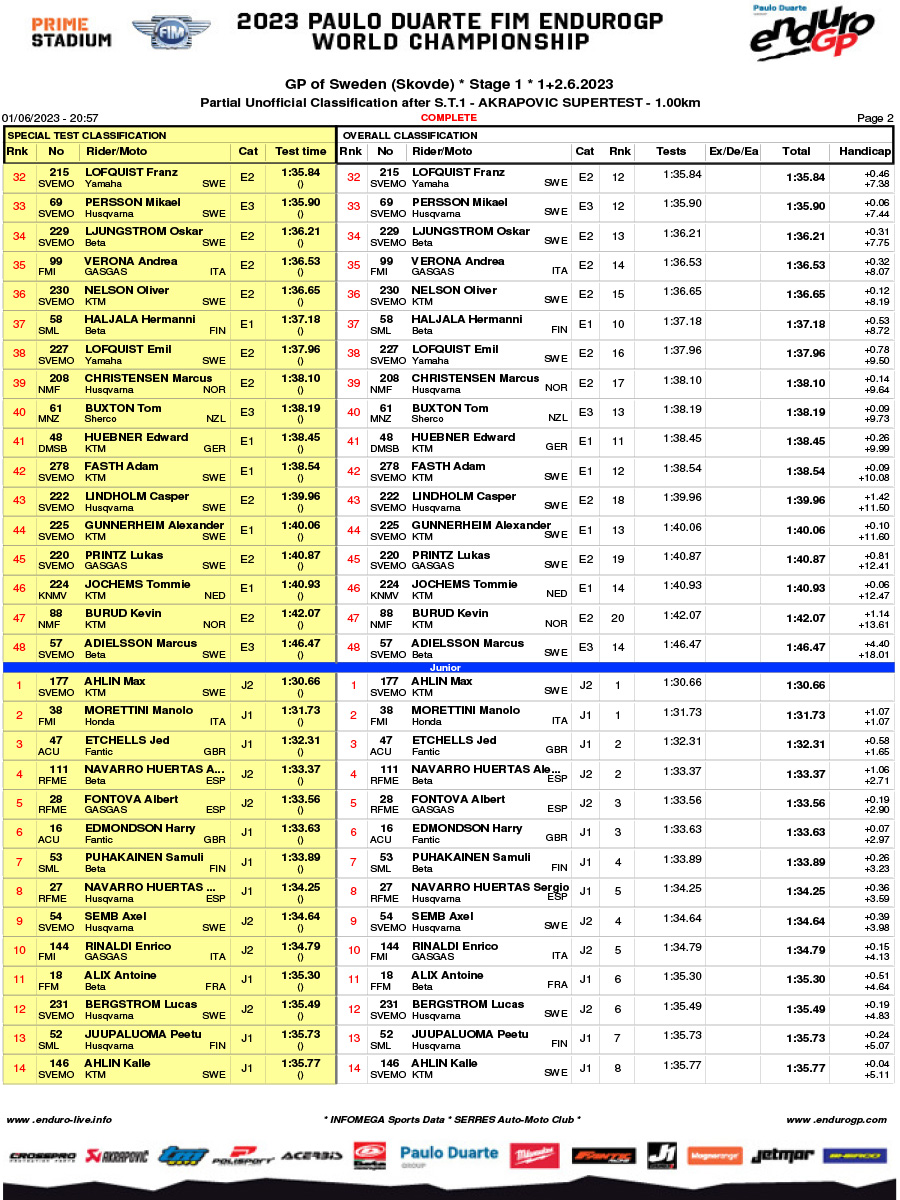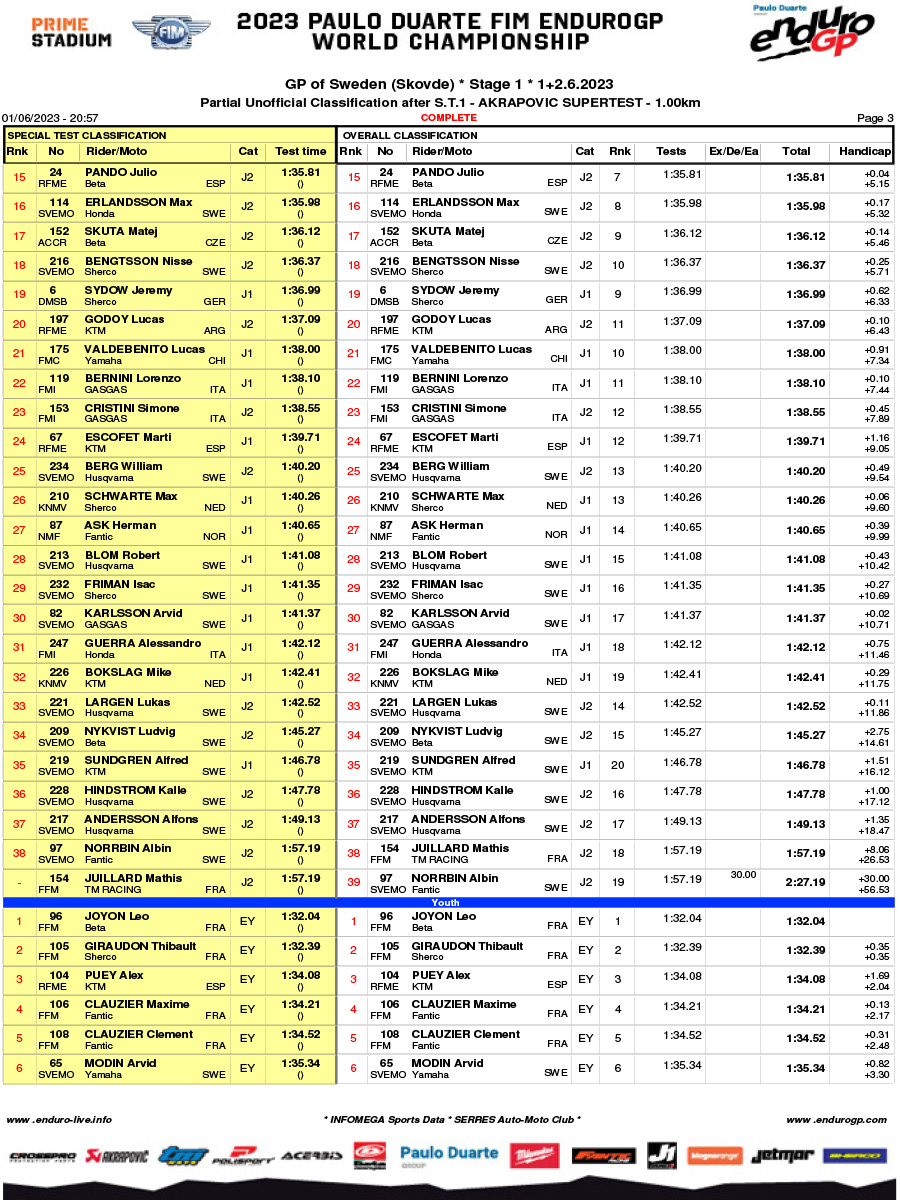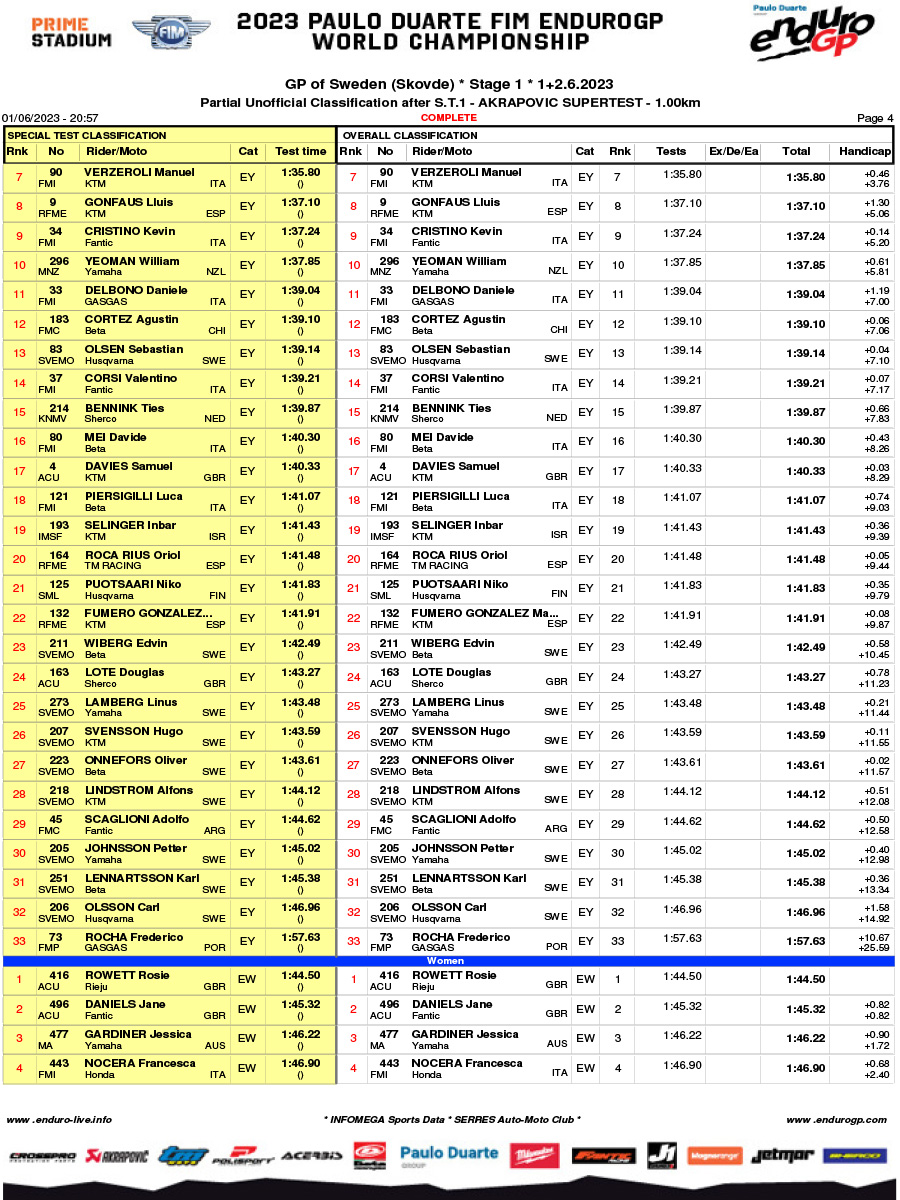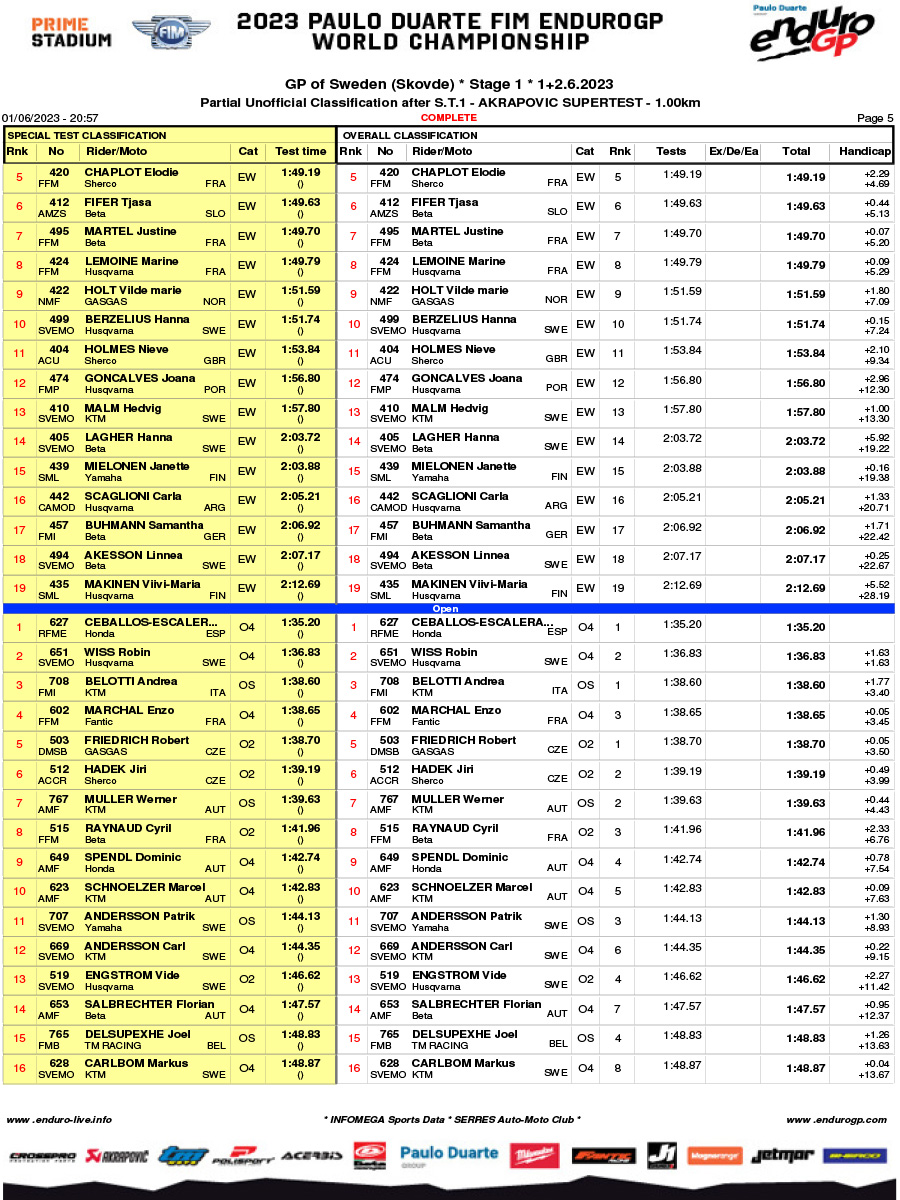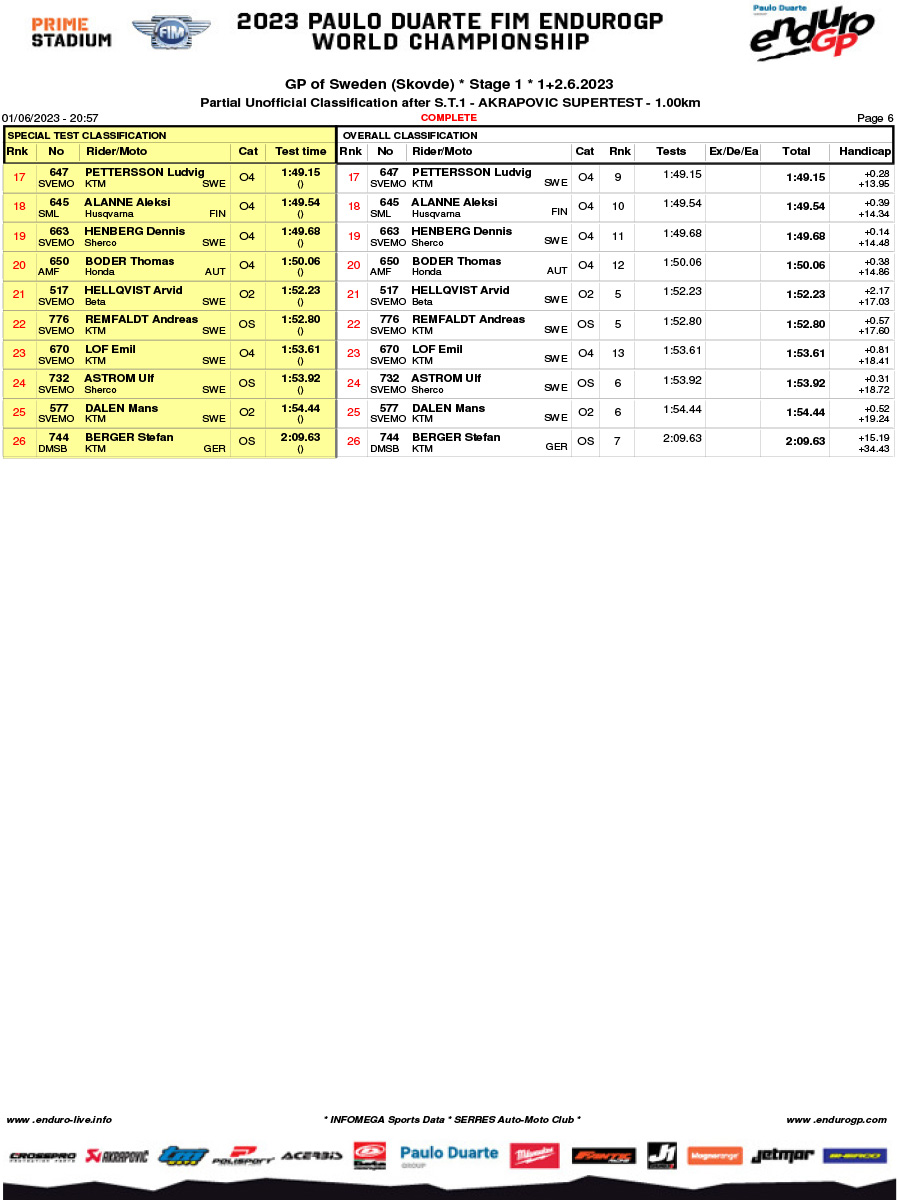 Photo Credit: Future7Media | Andrea Belluschi