GASGAS officially back in EnduroGP with Andrea Verona
GASGAS Factory Racing has announced it will officially return to the FIM Enduro World Championship in 2021 with reigning E1 World Champion, Andrea Verona onboard a GASGAS EC 250F.
It doesn't seem long ago that we reported Italian Andrea Verona was riding for KTM Italy in the Enduro World Championship this 2021 season. But the wheels have turned and the GASGAS Factory Racing team has moved the young Italian 'sideways' to form an all-new attack for the red bikes in the Enduro GP series.
"It's an amazing feeling to be a part of the GASGAS Factory Racing team in enduro." Says Andrea on the shock move. "To be chosen as the rider to lead the team in EnduroGP is a really good feeling, and it makes me really proud. I've been able to spend a little bit of time on the bike, and with the team, and I have a good feeling with everything already, which is really positive this early in the year.
"My main goal for 2021 is to retain my Enduro1 title but this won't be easy with so many good riders in the class. I'm also looking to challenge for the overall EnduroGP title as well. Last season was kind of like my rookie year in the EnduroGP class, so I now have a better understanding of what it takes to be successful in that class. I have some things to work on, to improve my riding and sharpen my skills, so that I'll be ready and fully prepared for round one."
GASGAS joining KTM officially back in the Enduro World Championship
It's a positive move for GASGAS which continues to expand its racing programme on the global stage with riders in all the major off-road competitions (MXGP, Rally, Supercross, Trials, Hard Enduro and now the EGP).
Verona will join Taddy Blazusiak in the two-rider GASGAS Factory Racing Enduro Team with each rider focused on his own, different discipline – Taddy will continue to represent the team in the new FIM Hard Enduro World Championship this season.
Andrea also joins Josep Garcia in the EnduroGP paddock after KTM announced it would return to the series this season. All that leaves is for Husqvarna to announce an official factory rider back in GPs and we'll have the complete set...
Who is Andrea Verona? Need you ask. Andrea is a former Youth and Junior World Champion who claimed the 2018 Junior ISDE Trophy along with the Italian team. In 2020, the 21-year-old claimed his first senior title, the E1 crown after winning five of the eight days of racing – when he wasn't victorious the Italian placed second each time to deliver a 100% podium record throughout the season. He also secured third overall in the EnduroGP category to impressively round off a memorable breakout season.
It won't stop there. As the GASGAS Factory Racing Team manager, Fabio Farioli, says: "With EnduroGP, the Italian Enduro Championship, and the ISDE being in Italy, Andrea will have a busy and exciting season of racing."
How good does Andrea's EC 250F look?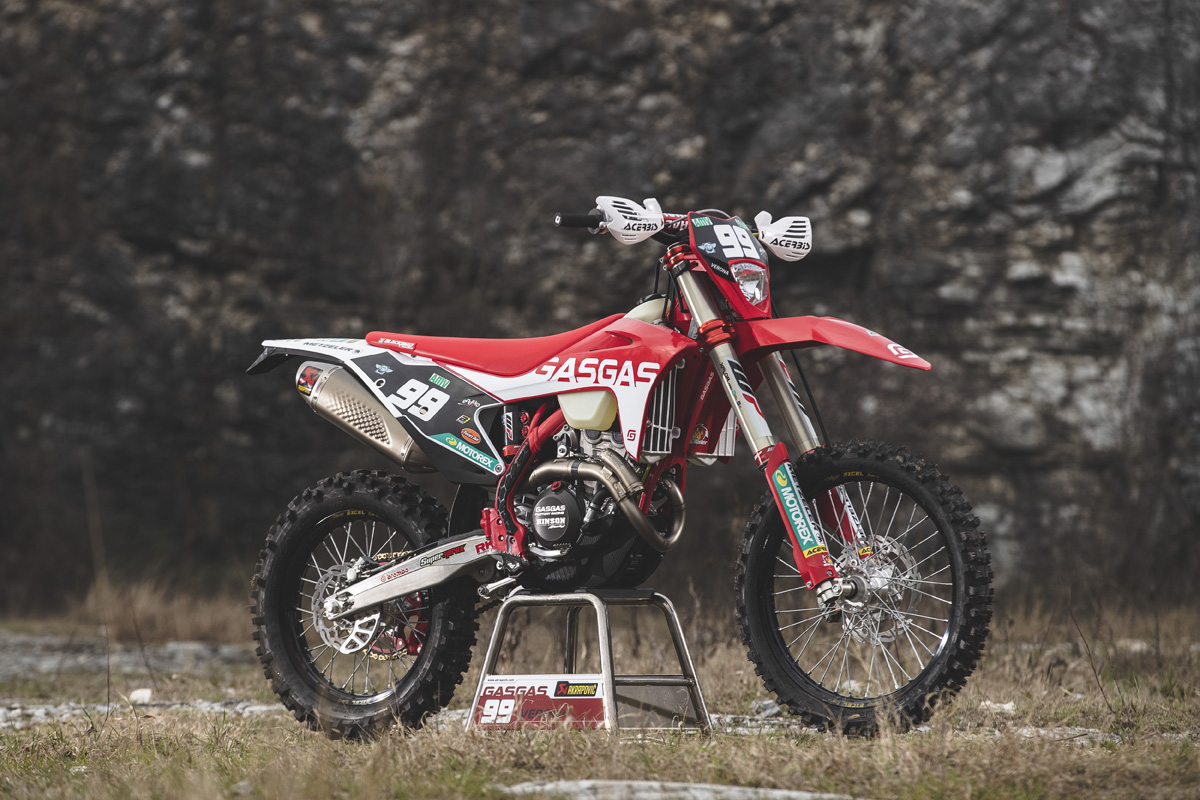 "2021 is going to be a really exciting season for both Andrea and GASGAS Factory Racing." Explains Fabio Farioli, GASGAS Factory Racing Enduro Team Manager. "Last year he really took a big step forwards and I believe that he can continue to improve at the highest level. With a little more time, I also believe he will consistently challenge for the EnduroGP podium, as well as the Enduro1 title.
"To be the official GASGAS rider in EnduroGP is a big honor for Andrea, I know that he is ready to give his all and has been training hard to be ready for the start of this season."
"Together with our participation in the FIM Hard Enduro World Championship, this is a really important and exciting progression for GASGAS." Says Robert Jonas – VP of GASGAS Motorsports Offroad. "Andrea is perfect fit for GASGAS and entering the FIM Enduro World Championship further expands the brand's enduro racing activities. Despite being only 21 he has shown his talents by winning the Enduro1 title and progressing to the very top of the Enduro World Championship, in just a few years.
"It's clear that Andrea has a very bright future in the Enduro World Championship and with the full support of GASGAS Factory Racing we believe he can improve further and also challenge for overall EnduroGP class honors. We are really pleased to welcome Andrea to GASGAS and look forward to the start of the Enduro World Championship later this year."
Photo Credit: Future7Media