Josep Garcia & KTM back in EnduroGPs for 2021
After tasting the Enduro World Championship for the final two rounds of 2020 – and taking two day wins while at it – Josep Garcia has confirmed he will challenge the likes of Steve Holcombe and Brad Freeman in the full 2021 EnduroGP season and herald the return of the KTM factory team to the series.
"Racing the last two EnduroGPs in 2020 confirmed that I still have the speed", says Josep Garcia as Enduro21 catches up with the 24-year-old Spaniard who is resetting the hard-drive and returning to GPs for the first time since he won the E2 world title in 2017.
Since then, and famously after the Red Bull KTM team left the FIM Enduro World Championship in favour of the WESS championship, Garcia has impressively adapted his skill-set at events like Erzbergrodeo and Romaniacs. The mixed WESS calendar offered up some chances to shine for the Spaniard which he duly snatched taking wins at races like the Trefle Lozerien, Hawkstone Park Cross-Country and Solsona Enduros.
But there was always the sense that Josep was a square peg in a round hole, not best employed to race extreme enduros in a team which already housed specialists in that area of our sport. Crucially, the chance to add to his FIM World Championship medal count was just not on the cards and in recent years the place we've seen Josep's talent shine brightest has been at the ISDE.
In a scaled-down version of the official KTM factory squad which used to be such a dominant sight in the GP paddocks, KT has announced Garcia will return and race basically out the back of a KTM Sprinter van with an easy-up.
Enduro21 checks in with fired-up Garcia facing a return to the tests and timecards of traditional enduros.
Enduro21: Josep, at last you're back in the EnduroGP World Championship…
Josep Garcia: "Everyone knew I was eager to come back. I'm really pleased to be back at the EnduroGP World Championship after a three-year absence. I was able to race the last two races of the championship in 2020. Now I'll be able to race the full championship and fight for the title, which has always been my motivation and what makes me happy."
"WESS has helped me a lot. It has improved my technique and I have learned a lot" – Josep Garcia
During three years racing in the WESS you were only able to race against the world's best at traditional enduro in the ISDE.
"Yes, it was tough for me because I didn't have the speed from my previous years when I was racing the world championship. The International Six Days Enduro has always been a really important race for me but it has nothing to do with the world championship. There have always been riders that are really fast at the ISDE and not in the world championship and vice versa. So, when I was able to race the last two races in EnduroGP in Portugal it confirmed that I still have the speed."
What you learned in the Hard Enduro races must have helped you become a better rider, are we right?
"The WESS has helped me a lot. It has improved my technique and I have learned a lot racing new disciplines. It has also given me the chance to race some events that I would never imagine I would do like Erzberg, Romaniacs…
"Being able to finish those races is also a dream that I have been able to accomplish. That's why I think that the WESS gave me so many things and I have always been there fighting for the win when I had the chance."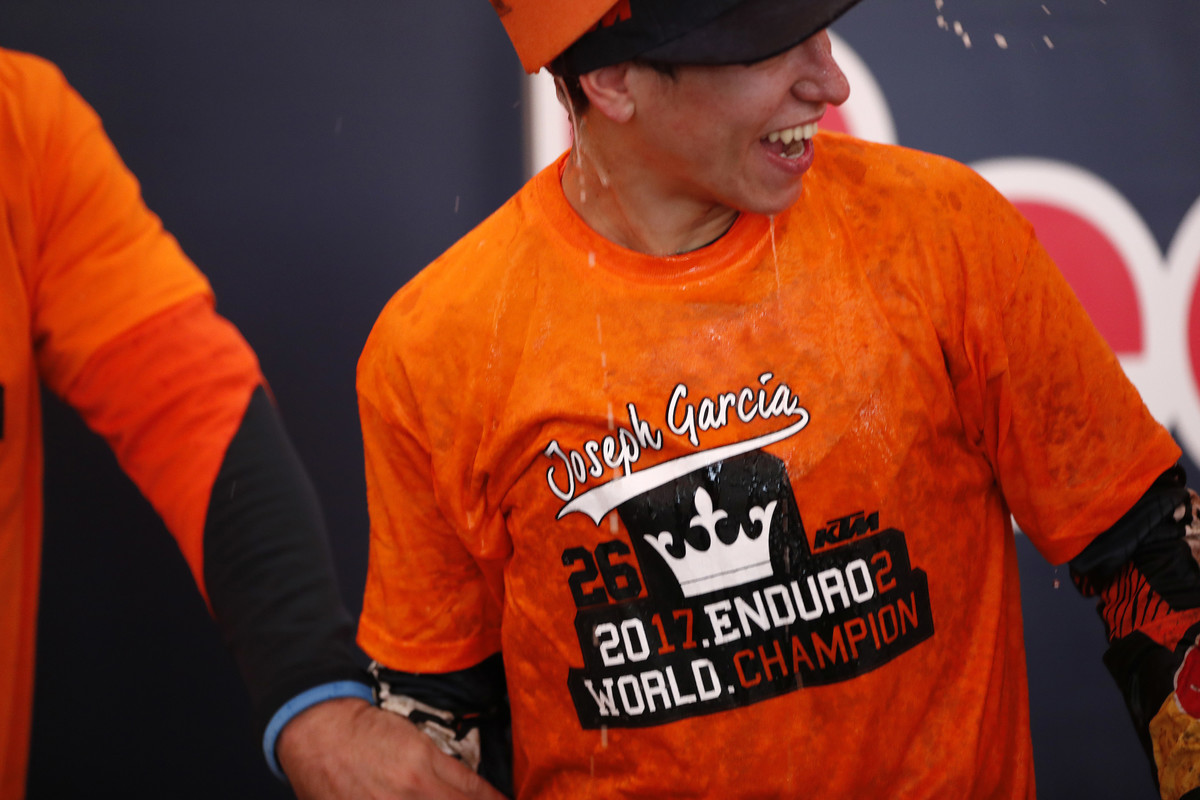 Racing the last two GPs and winning two days in Marco de Canaveses confirmed, as you said, that you still at the top level.
"You always doubt if you have lost any speed when you get injured and you have to stop for one or two months, or when you start a new season… so imagine after three years!
"For sure I was nervous, but I was eager to do the best I can. I tried to transform those nerves in motivation and show that I was the same guy that won the E2 championship in 2017, or even a better one."
Has the championship changed a lot since then? In 2017 you won in E2, Steve Holcombe did the same in EnduroGP and other classes didn't exist…
"It has changed quite a lot, the rivals and the championship. Everything evolves, time never stops. When I won the title there were only two classes and now there are three again and the overall title: E1, E2 and E3, as well as EnduroGP, now in the best case scenario you can win two titles.
"Steve Holcombe was already a number one in that year and we knew that Brad Freeman would be challenging for the title, as it happened with Andrea Verona and other riders. I think that when you look at the riders in the Youth class you can see which ones will challenge the senior titles in the future. Anyway, there are still some older riders in the World Championship like Alex Salvini and Thomas Oldrati."
*Enduro21 note: 2017 was an odd year in EGP with just the two classes, E2 and EnduroGP. E2 that year also included bike capacities which would normally be E1.
The EnduroGP class must be an extra motivation for you.
"Yes, if you win the EnduroGP class it means that you're the best rider in the paddock. With a class like that one you don't have to just focus on your own class you have to keep the scratch in mind also."
Has your pre-season training changed this year?
"All the championships will start later due to Covid, so now I'm training without burning myself too much and to be able to arrive to June in a good shape.
"I think that this year it will be a beautiful championship because every race will be in an enduro heartland and that's what we need, countries where enduro has a big heritage. I also think that it'll be a heavily contested one… (laughs)."
You'll be racing the KTM 350 EXC-F a bike which seems to suit you well.
"Yes, I'll come back with the 350. I have been riding the 250 for some years but at the beginning of 2020 we decided to change. I really like this bike, it's something between the 250 and the 450. It has nearly the power of the 450 but with the handling of the 250, it's a bike that has the complete package for enduro.
"I'm still adapting to the bike and we have to try more things with the team so we can have it ready for the season and have the best bike in the paddock, but I think that we already have something close."
You'll race with a smaller team set-up, we won't see the big KTM truck?
"We still have to decide that, but when we went to Portugal last year we went with a van, my two mechanics and my uncle Rafa and it worked. I think that if we do it right that's enough.
"In the end you don't need anything else to win a championship…a good bike, a good structure and the spare parts that you might need. If I'm the only rider we don't need a big team behind, so we'll see."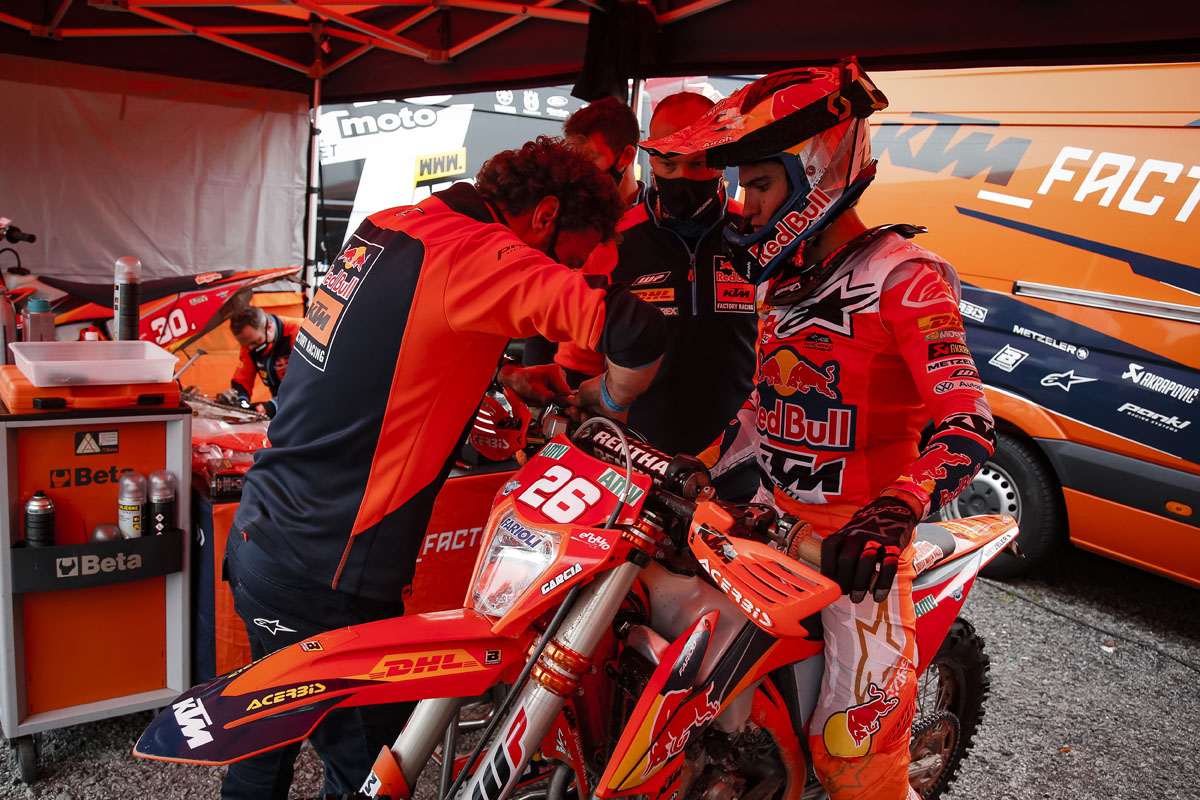 Photo Credit: Enduro21 | Andrea Belluschi, Robert Lynn + Nicki Martinez