Preview: EnduroGP of Italy – Walking wounded heading for round 5 in Rovetta
Battered title contenders heading to round five of the 2019 EnduroGP World Championship in Rovetta, Northern Italy with Bradley Freeman and Steve Holcombe heading the list of wounded riders this weekend.

Brad Freeman won both days at the GP of Greece, making it five EnduroGP wins on the bounce just last weekend but the Beta Boano Racing rider crashed hard at the start of the final lap and sustained a shoulder injury which he will carry over to this weekend. We await to see if the injury, thought to a be a broken collar bone, will hamper the championship leader's speed.
An ongoing viral issue for Steve Holcombe has plagued his previous three Enduro GPs now – the recovery time simply not being long enough between races and though he took a runner-up result on day one in Greece, the second day saw him down in P7 overall and very much out of sorts.
Among the riders carrying injuries also from the previous round are Italians Alex Salvini and Giacomo Redondi. Salvini dislocated his shoulder on day one in Greece going out of GP only to return and collect points on day two.
As for Redondi, who has been on a good run of form taking E2 class wins in recent rounds, he will race at his home GP with suspected broken ribs after a crash early on day two in Greece.
Time to step up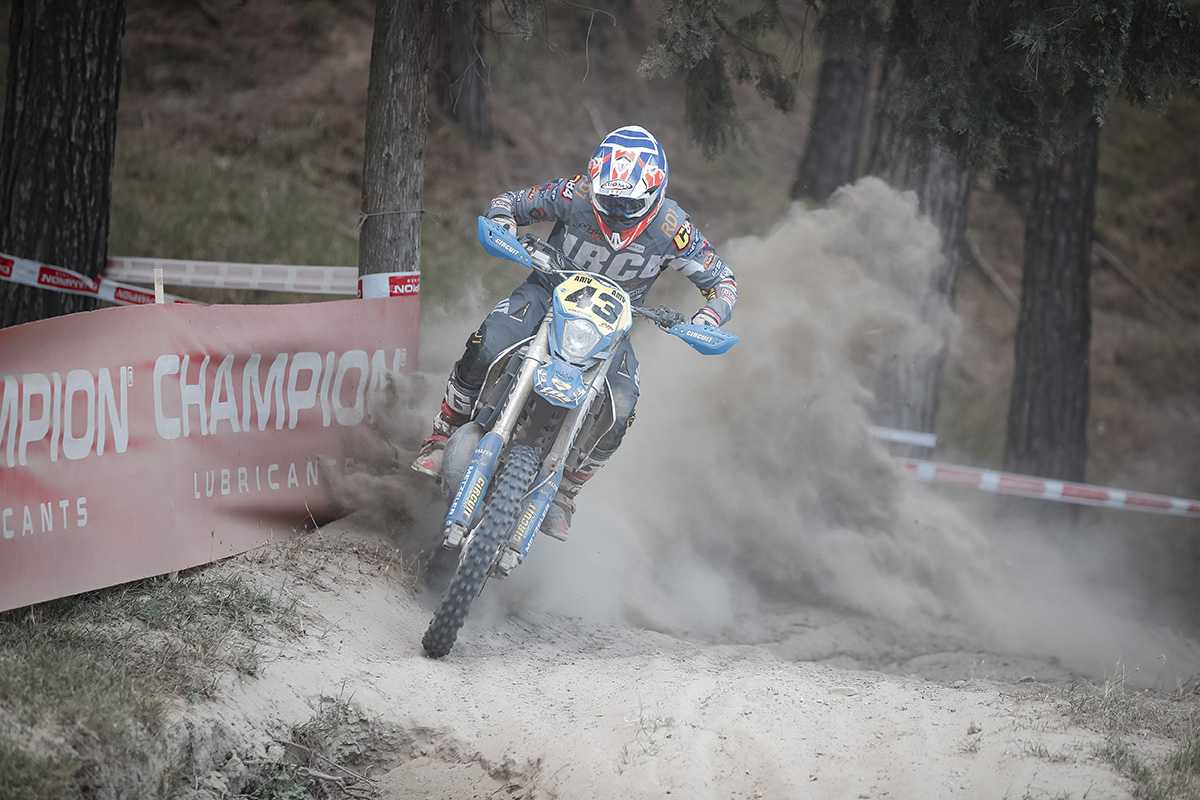 The Italian GP therefore could be a big opportunity for riders like Danny McCanney who has been chasing since the start of the championship to get his first overall win. With his two major rivals not being at their best for this round, the Manxman has the chance this weekend.
Watch out also for Thomas Oldrati, the Italian collected a very close runner-up overall result on day two in Greece and he will be looking to go one step further in front of his home crowd.
Similarly Matteo Cavallo also clocked two more podium spots in Greece, a trend he is growing as the season continues. With the fifth round running also being on his home soil he is surely a contender. Oldrati, Cavallo also have compatriot Davide Guarneri for company in E1 class this weekend also.
Salvini holding on to E2 red plate
Alex Salvini currently holds the E2 class red plate but will have it tough with Christophe Charlier, Loic Larrieu, Eero Remes and Benjamin Herrera all getting a taste of podium pie recently.
All four are easily contenders for the overall podium as well as class honours – Herrera having taken his first World Championship podium in Greece last weekend.
The Italian round will also see another appearance from Antoine Meo who races for the RedMoto Honda Team on their home soil this weekend.
On fire Kytönen and Francisco ready to stop Verona once more in Juniors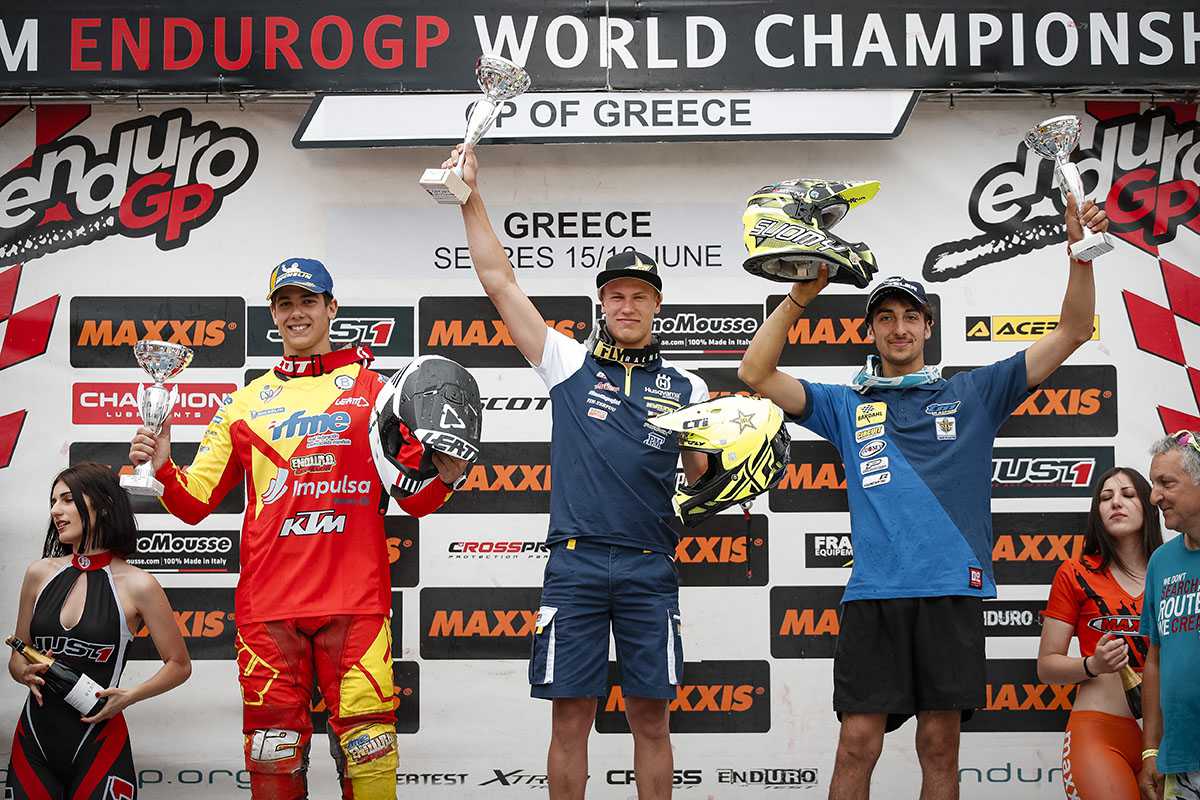 Andrea Verona saw his winning strike put to an end on day two in Greece by a blistering battle between Roni Kytönen and Enric Francisco. A stellar ride from both for first and second respectively relegated the championship leader to third. Verona, however, will be a tough nut to crack in front of his home crowd and his record of .
Apart from Francisco and Kytönen, Theo Espinasse, Ruy Barbosa, Antoine Magain and Jack Edmondson are all podium contenders in this super-competitive class in 2019.
In Junior 1 Verona still has a good advantage in the points while Enric Francisco will look to open a bigger gap on the points in Junior 2 but he has no room for error as his rivals, Jack Edmondson and Ruy Barbosa are close behind.
Spanu leads the pack in the Youth 125cc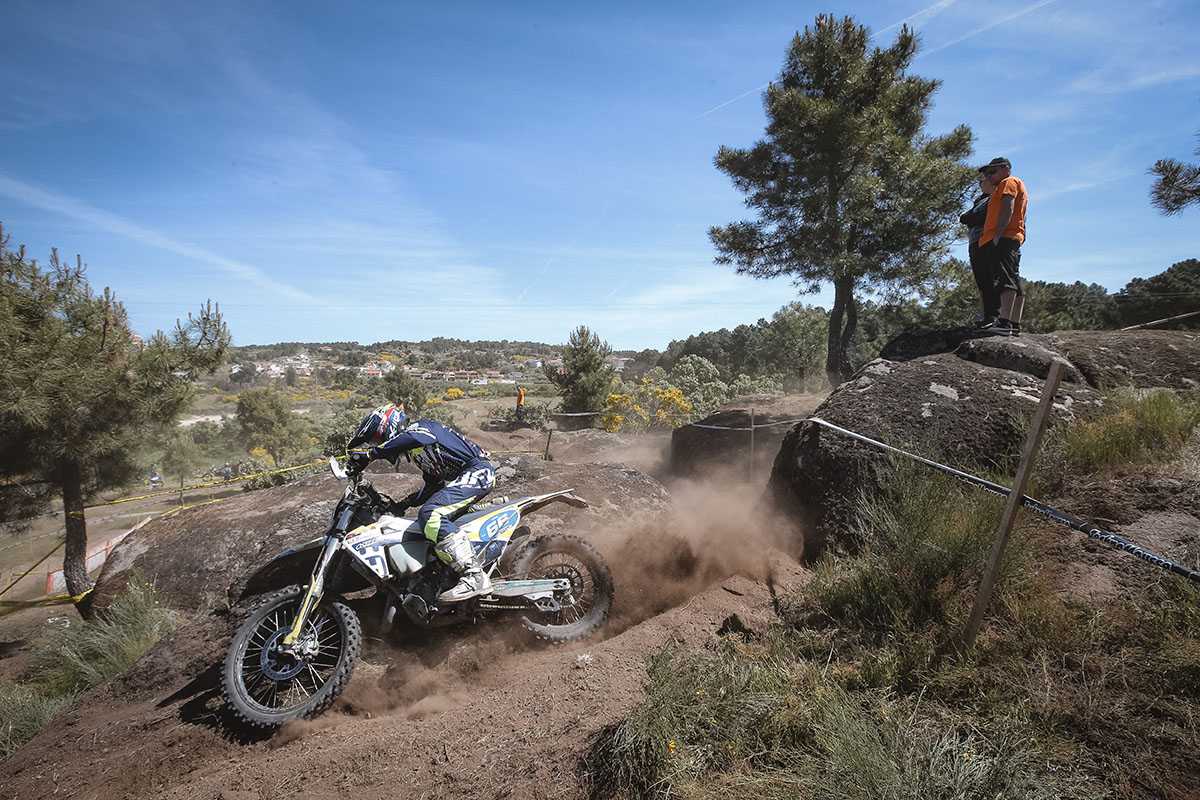 After not racing in the previous round in Greece the Youth 125cc class is back in business at the Italian round. Claudio Spanu leads the points but previous runaway leader, Hamish MacDonald will make his return after a collarbone injury picked up in Spain, round three.
Italian Enduro GP in Rovetta details:
For the fifth round of the 2019 World Championship the Moto Club Bergamo has laid on a 50km course that the riders will complete four times around the small town of Rovetta, north of Milan in the Bergamo region and in sight of the Alps.
Riders face a long and technical Champion Enduro Test located in the nearby town of Culsone plus an all-natural Technomousse Xtreme Test in nearby Cerete. There are two Maxxis Cross tests at this round, one in Onore and another one in Fino del Monte.
The action will kick off on Friday, as ever, with the Akrapovic Super Test from 18:00 CET.
Photo Credit: Future7Media/Andrea Belluschi