2021 European Enduro: Enrico Rinaldi shines in Polish wash out
Juniors riders shone brightest at a rain soaked round three of the 2021 European Enduro Championship in Poland – "typical Kielce" super-wet conditions saw Italian Enrico Rinaldi take overall victory and the championship lead from Kristof Kouble.
Continuous rain from Friday through to Sunday morning made conditions "difficult" at the penultimate weekend of the 2021 European Enduro Championship. It meant riders logged-jammed where the transfers were causing problems, some course changes on the second day and in the end the last extreme test was taken out to ease the pain.
For many it was more a fight against the track than their competitors.
Kielce EEC round 3 in a nutshell:
Three Junior riders, Italian Enrico Rinaldi, Czech Republican Krystof Kouble and the Finland's Peetu Juupaluoma stood out in the mud though and topped of the overall podium come Sunday night.
At this penultimate round of the 2021 series, previous championship points leader Krystof Kouble had to take a back seat despite revelling in similar muddy conditions at the previous round.
Instead, it was Italian Enrico Rinaldi who took victory overall on both days, overtaking early leader Kouble in the scratch and Junior class on day one and taking victory on both days. Both are separated by a narrow margin of only three points before the final round in Hellendorn, the Netherlands – these boys had better get practising in the sand.
In third place in the overall behind the two juniors, and winner of the 250 2T class, veteran Maurizio Micheluz admitted,"I don't like it when it rains."
In the Junior U21 class Pyry Juupaluoma was in charge and leads the championship from Lorenzo Bernini who had a tough time in the mud on day one in Poland.
In the Women's category Justine Martel from France won both days ahead of Nieve Holmes. Audrey Rossat was third on day one and compatriot Marine Lemoine on day two.
Holmes held the day lead on Sunday but suffered rear brake issues in the final tests and lost out to her French rival. Martel has a 117 points to 97 points lead after three rounds.
Diego Nicoletti led the way in the 250 4T class, Jaromir Romancik won the big four-stroke class on both days ahead of Tom Ellwood while the Senior category saw Arne Domeyer claim the overall victory.
The final round of the 2021 Eurpoean Enduro Championship heads north for a Dutch triple-header at Hellendoorn in The Netherlands on September 30-October 2 (www.mcnh.nl)
Kielce EEC 2021 results: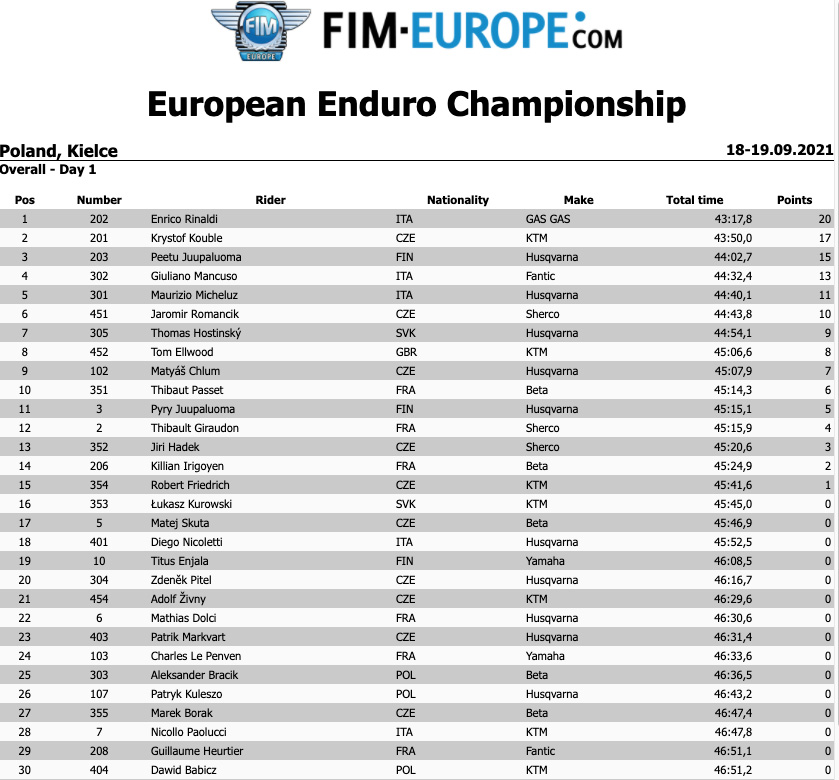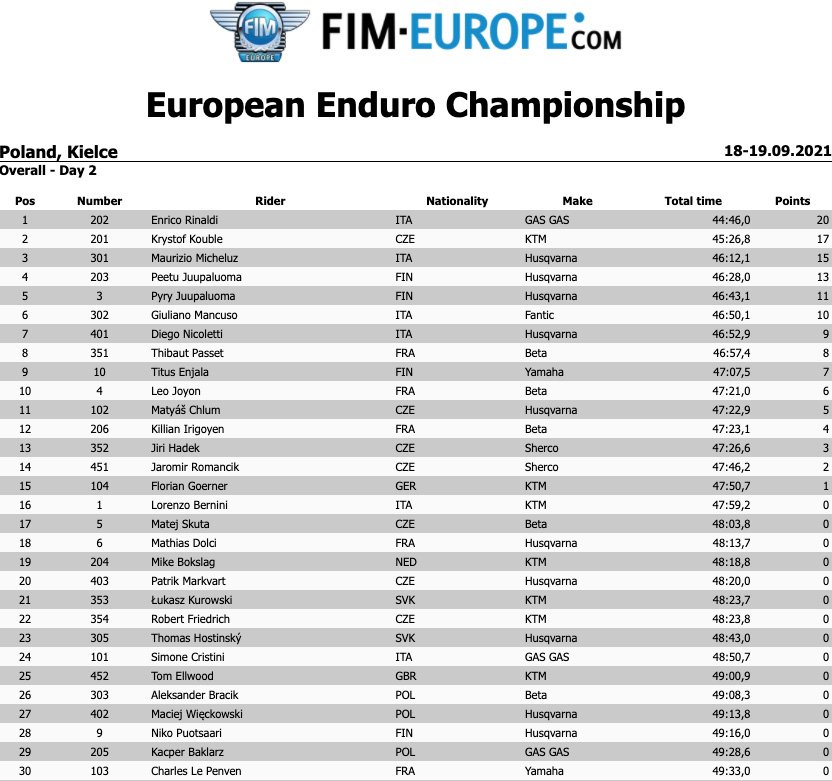 Full results and championship-Standings: www.fim-europe.com
More information: www.european-enduro.com
Photo Credit: Robert Pairan