European Enduro: Willems and Damiaens share round two wins in Hungary
Results from round two of the 2022 European Enduro Championship where Erik Willems retains the series points lead but Dietgar Damiaens shares the glory in typically tough conditions at round two, Hungary.
Tamasi in Hungary dished-up some typical European Enduro conditions – wet, muddy and even snowy conditions – which have become the norm for the series no matter which part of the continent it races.
What hasn't changed is the 2022 overall leader with three wins from four days racing now, Willems has the points lead although Dietgar Damiaens arrived and took a maiden overall win on day two.
Day 1 in Tomasi
Track Inspector, Gionni Fossati, had a busy weekend checking the changes made to the Tamasi tests for the 99 riders. "Difficult and fun race" was the aim for the organisers but the weather across both days made it difficult and inevitably some changes had to be made to tests, and number of laps on day two.
Belgian Erik Willems and British rider Daniel Mundell have bossed this European season so far and it was a familiar pair of names at the top on day one in Hungary – although day two would be a different story.
The European Championship is typically tough, one of the reasons why riders rate the series so highly and label it "real enduro". Overall winner Willems was feeling it, suffering with cramps at the end of the opening day: "We rode for more than eight hours, I'm not used to that. I still have to find the right balance." Said the championship leader and day one winner in Hungary.
His nearest rival Mundell could not match the Belgian's pace in the Cross tests and after 12 special tests in total, the gap was half a minute to second. A technical problem with his bike didn't help Mundell's challenger however.
Dietger Damiaens signalled his intent for the weekend by recording his first overall podium, narrowly taking third position behind Mundell on day one.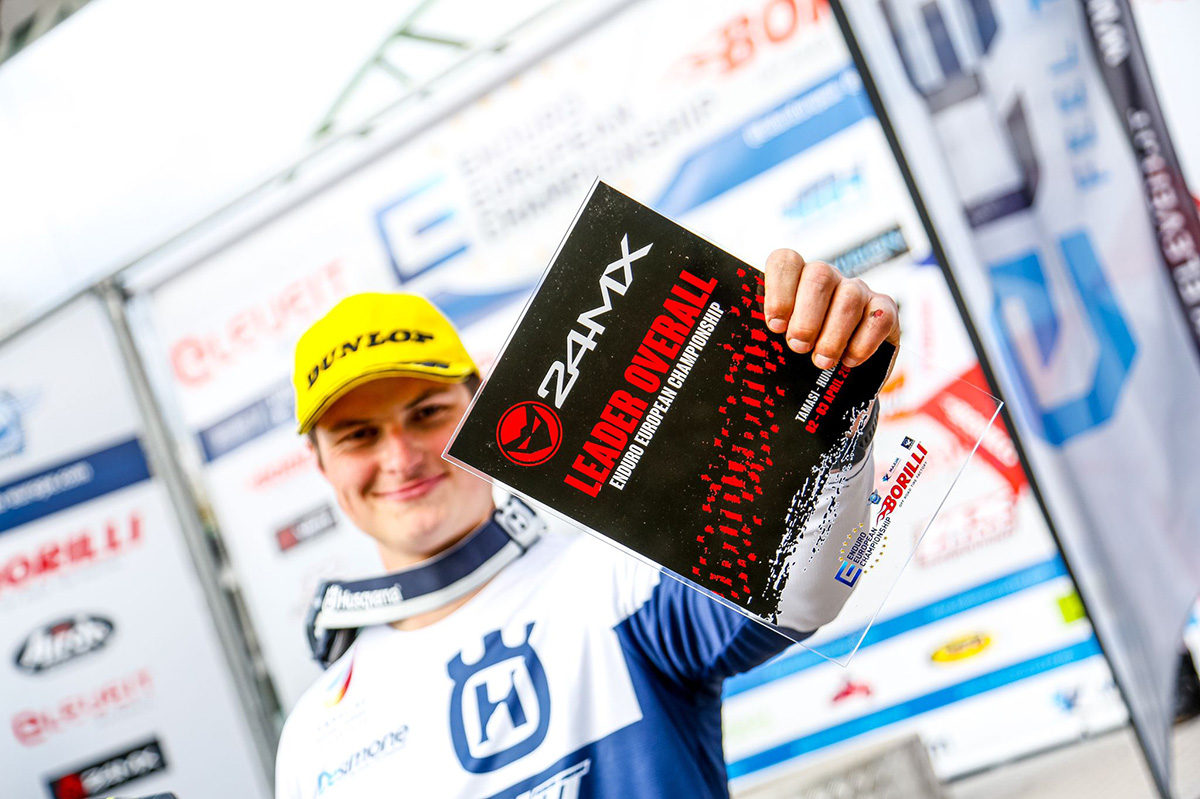 Day 2
With worse weather and a long day one under rider's belts, organisers dropped day two to three laps, shortening the event to 'just' five hours rather than eight.
Dietger Damiaens turned it up a notch on day two, converting third scratch to the overall win, his first-ever in the series.
"It was a positive day," said Dietgar, "I'm used to trials and mud, in fact, these conditions are common in Belgium. I managed to take home consistent times in every single special and I avoided mistakes and this regularity rewarded me with the absolute victory."
French rider David Abgrall was another rider jumping on the scratch podium for the first time. Consistent performances in the Cross tests were key says David, "I wasn't very fast in the enduro test but in the cross test I managed to be consistent. It was a positive day anyway".
Nicola Recchia converted a fifth place on day one to third overall on the second day, bumping both Mundell and Willems down the order to fifth and sixth respectively behind Federico Aresi was fourth overall.
Killian Lunier took the Junior victory over Carlo Minot on day two. Minot, had been the winner on day one taking P4 scratch, bagged a 10 seconds penalty off the start on day two but finished second class ahead of his compatriot Simone Cristini.
Alessandro Rizza is unstoppable in the Seniors on his 125 two-stroke with four wins out of four for the Italian. Martin Gottvald was second ahead of German Arne Domeyer on both days.
Another win for Nieve Holmes in Women's class
"I fell down and had to fight my way back up there" explained British rider Nieve Holmes on her second double victory in the European series this season. Enduro tests were her making with times sometimes minutes faster than her rivals – although Nieve was not alone in losing time on day two's transfers which were badly affected by the weather conditions.
Norwegian Vilde Holt finished second for the first time in her career on day one and put up the biggest fight for Holmes over the weekend. But a crash early on day two saw Vilde dealing with a bent bike until she reached service point, and dropping a huge 28 minutes.
Zuzana Novackova stepped into the second place on day two but almost five minutes behind Holmes with Marine Lemoine third on the podium on both days.
European Enduro Rnd2, day 1 overall results (top 30):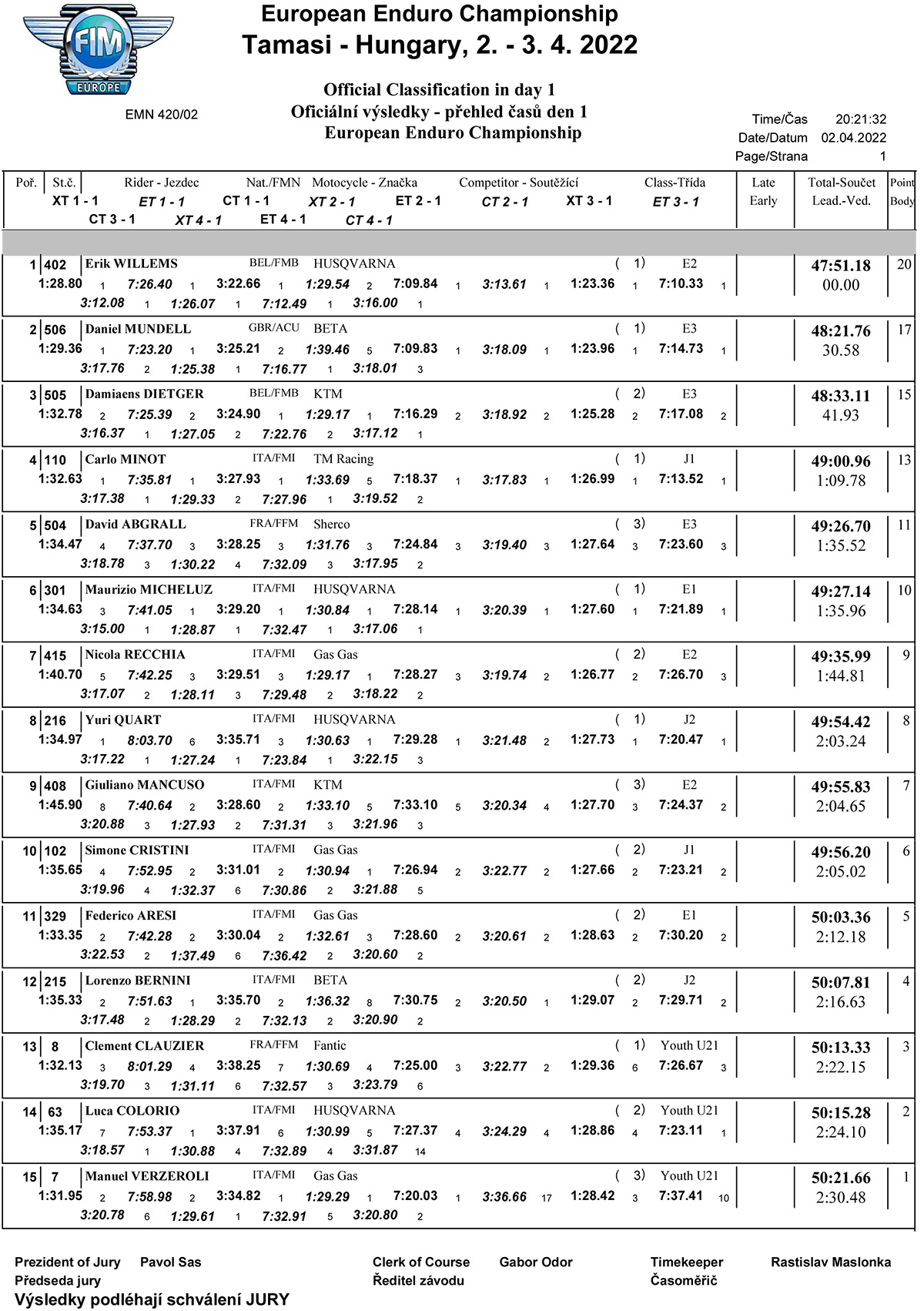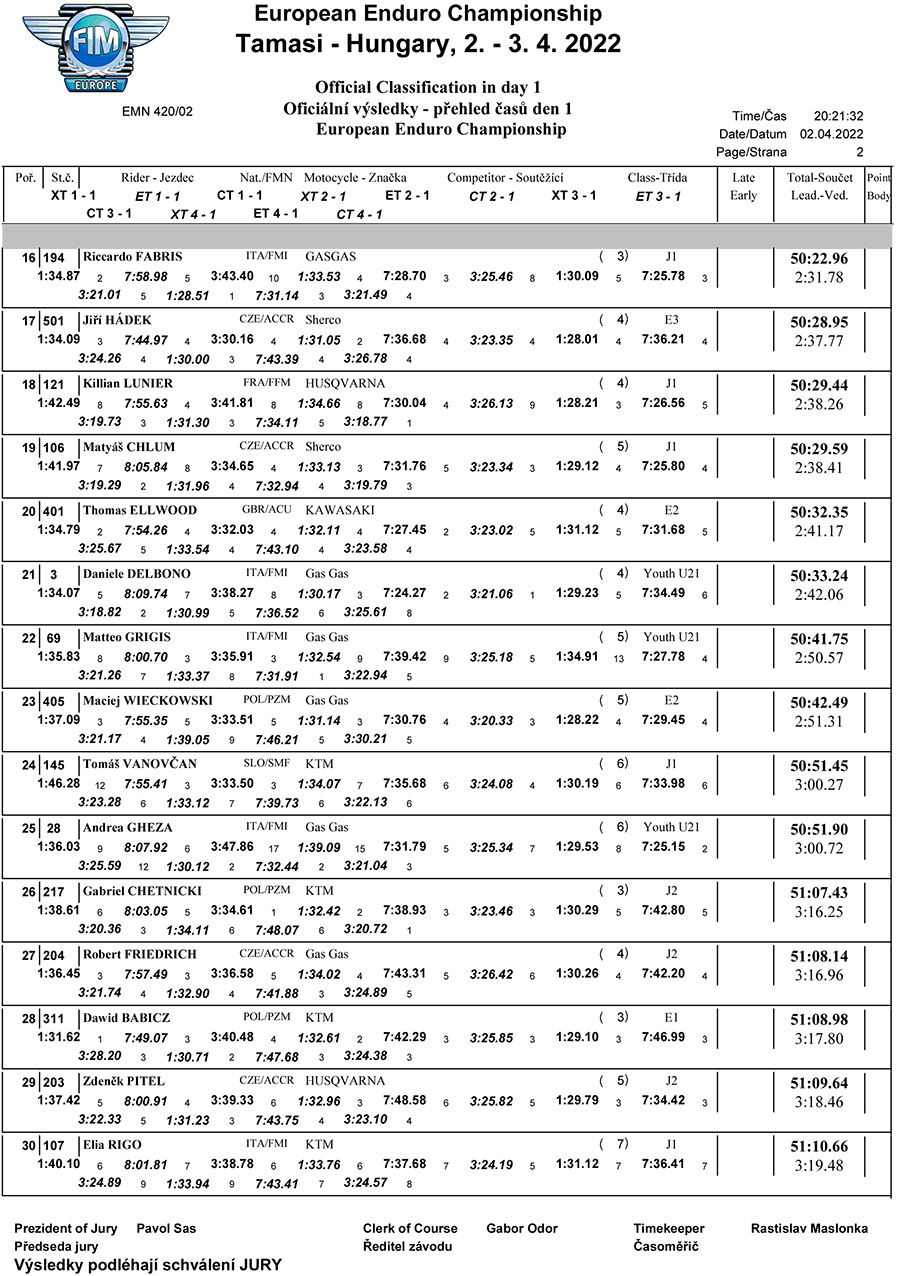 European Enduro Rnd2, day 2 overall results (top 30):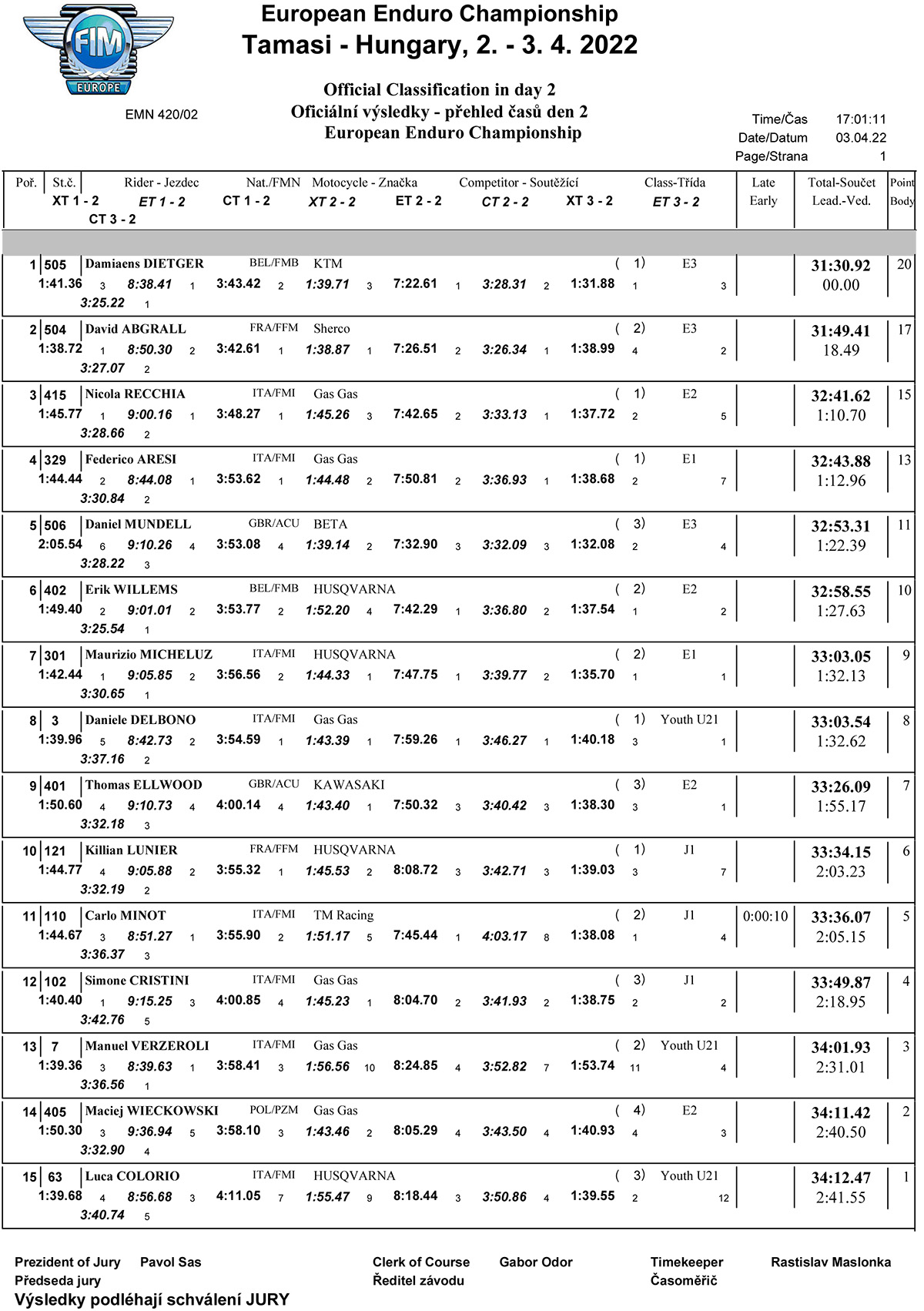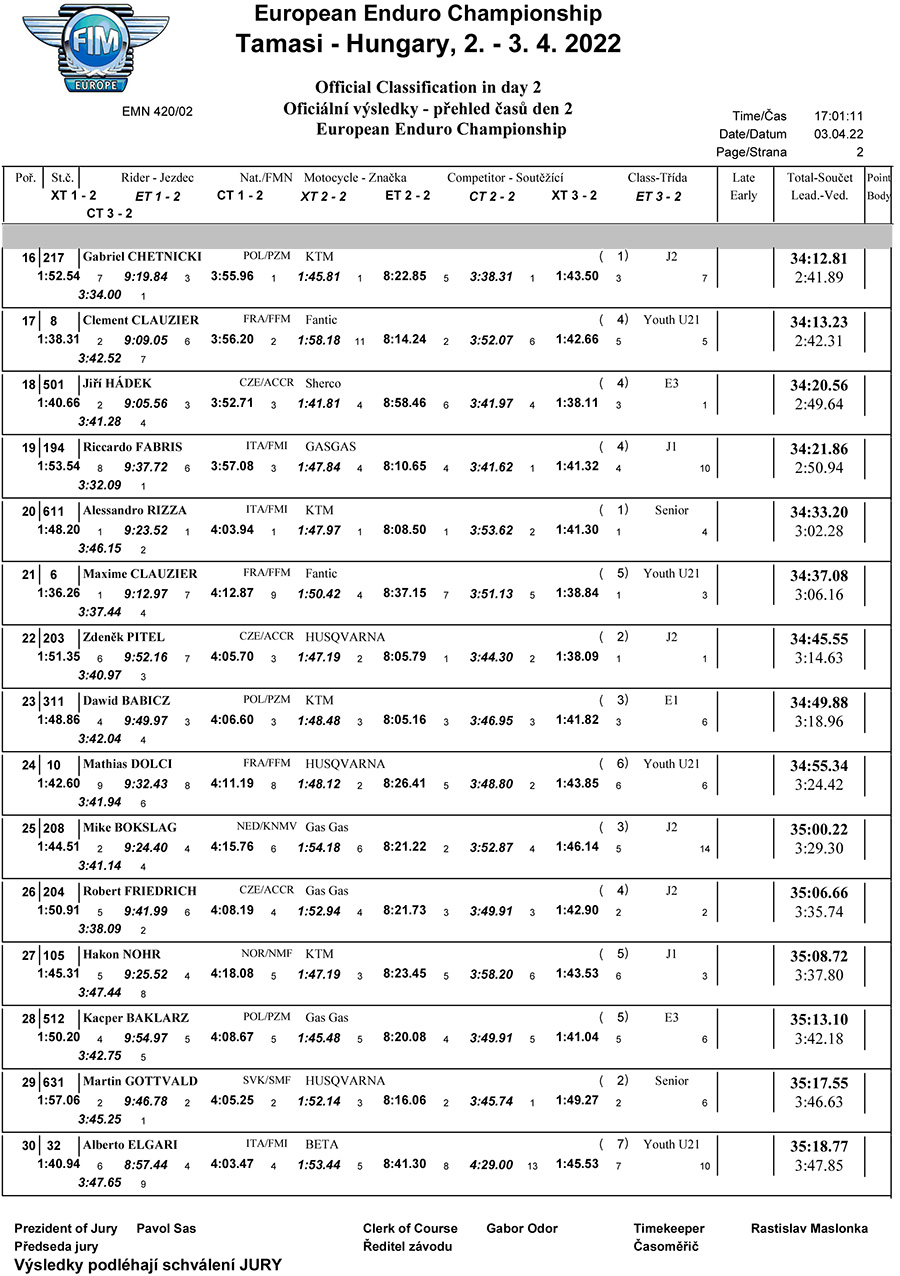 Round three of the 2022 European Enduro Championship takes place in Finland on July 23-24.
More information: www.enduroeuropean.com
Photo: Vision Media and Maxim Pubblicita