2021 AMA Extreme Enduro: Cody Webb wins RevLimiter Extreme Enduro
Cody Webb has conquered round two of the 2021 AMA West Extreme Championship, the RevLimiter Extreme Enduro after battling with Trystan Hart across three hard motos in Texas.
The RevLimiter Extreme Enduro has established itself as a major event in the North American Hard Enduro calendar with the 2021 event forming round two of the AMA West Extreme Championship and round one of the East (EEC) series' making it the East vs West showdown.
RevLimiter's knock-out style race format across the two days of racing saw amateurs, Women and Pro Women racing on Saturday. The top 150 from the amateur race progress through to the "hot laps" prologue with Pro riders also lined up to set a qualification time.
Cody Webb started the way he meant to continue by setting the fastest time 21 seconds ahead of Ryder LeBlond who is on a rich run of form at the moment having won the SEER events over Easter. Trystan Hart was third just ahead of a gaggle of riders separated by just seconds on the tight and rocky four-mile course.
Webb dominates Sunday's three races
RevLimiter's three-race format dished-up different length and duration motos across the day – race one was two hours, race two dropped to 100 riders and went to one hour 30 minutes on a harder course before race three drops to 35 riders, and a one hour time limit.
In a nutshell the three motos were a battle for the win between Cody Webb and Trystan Hart – although the final moto race rowed start nearly caused an upset. Conditions were dry and grippy and by all accounts suited riders with strong trials skills including Pat Smadge.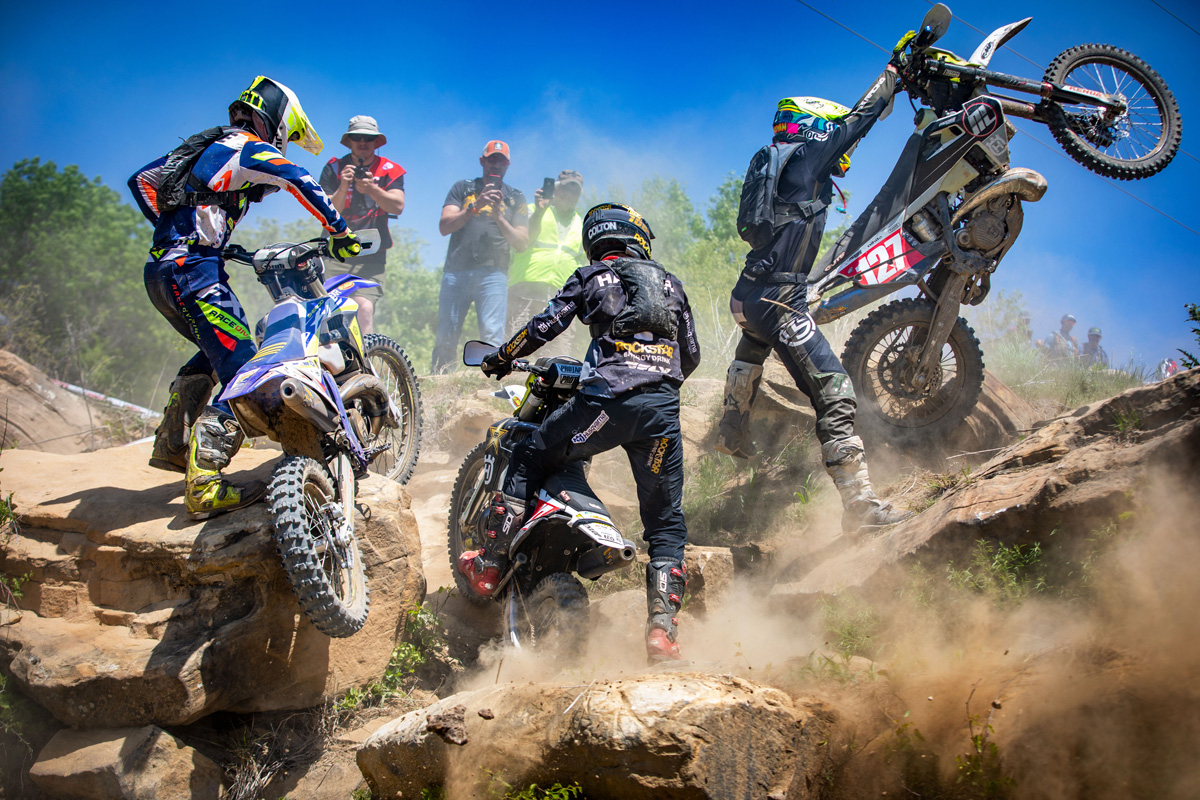 Webb was right at home and posted the winning result in each of the three motos finishing three minutes ahead of Hart. Hart halved the gap for moto two but still had to concede to Webb. Colton Haaker was the best of the rest taking third place in the opening two motos with Jordan Ashburn and Ryder LeBlond trading fourth places.
The third and final moto saw the same one-two double act out front but it wasn't as easy as it seemed with Webb down in 10th early on after bashing bars with Cooper Abbott off that mass start.
The hardest obstacles from across the weekend featured in the last race with sections named Big Bertha, Mount Rushmore, Pucker Hill, Red Bull Rollercoaster. Jordan Ashburn held an early lead in the first lap ahead of Hart, Haaker, LeBlond, Webb and Smage.
Cody Webb moved to the front as the riders re-entered the main quarry for the second time and never looked back, despite having to ghost his bike up faced a near impossible hill climb just before the finish…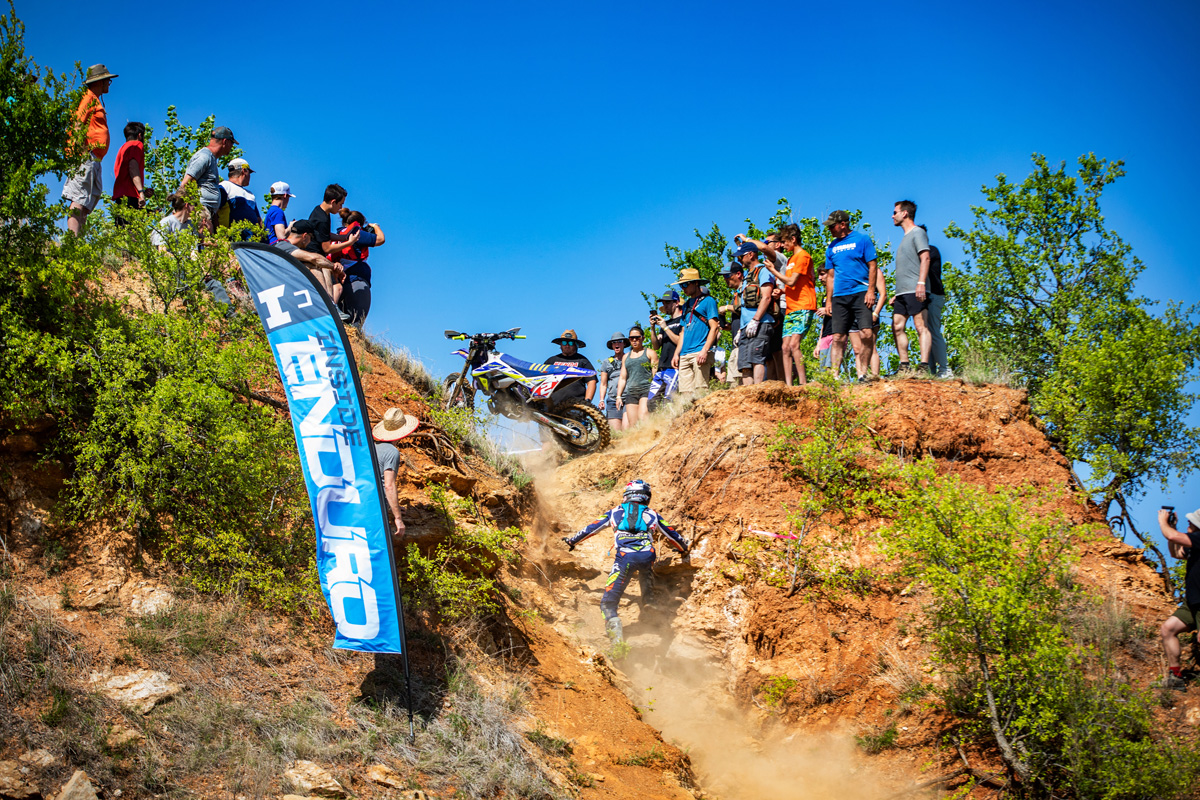 It was a final showpiece but ultimately didn't affect the winning result for Webb who took race three by a margin of 1m:42s over Hart. Ryder LeBlond pulled it back to take third overall to bring him in contention for the podium but Haaker was consistent in fourth to secure third overall on the podium.
How was their weekend? Some of the leading Pro riders explain…
Shelby Turner takes Pro Women's win
The Pro Women race took place on Saturday morning during the amateur qualifier and saw FactoryONE Sherco's Louise Forsley take the hole-shot. Forsely, Shelby Turner and Rachel Gutish were the standout performers in this one until Louise got a fence caught in her rear brake rotor and sprocket.
That left Shelby Turner free to take the win ahead of Gutish with Forsely recovering to finish five minutes down.
2021 RevLimiter Extreme Moto 1 results: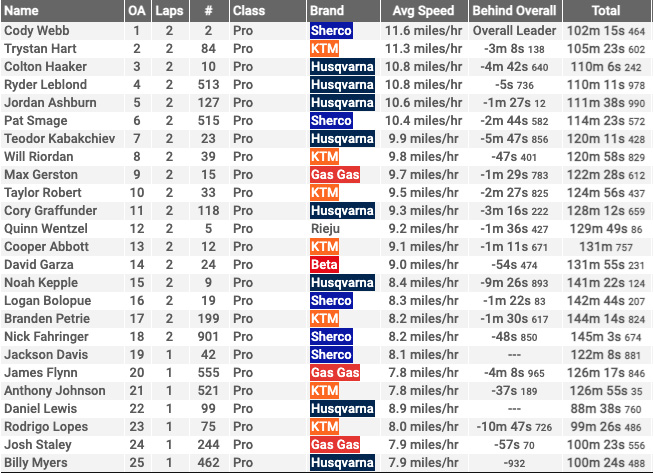 2021 RevLimiter Extreme Moto 2 results: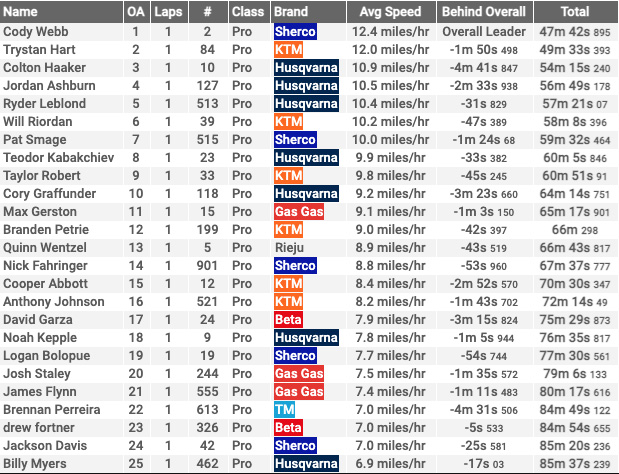 2021 RevLimiter Extreme Moto 3 results: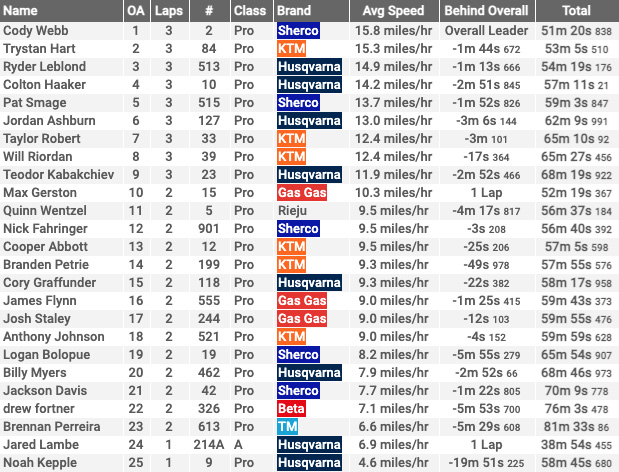 Full results on Live Laps.
More information: www.amaextremechampionship.com
Photo Credit: MJS MotoPhotos | Mary Rinell