2023 Spanish Hard Enduro Championship: Easy streets for Teodor Kabakchiev at Rnd2
Hard Enduro World Championship contender Teodor Kabakchiev ran out an easy winner at round two of the 2023 Spanish Hard Enduro Championship, lack of HEWC rivals lets the Bulgarian stretch his legs for the win in Almeria.
Spanish Hard Enduro round two in a nutshell:
Alfredo Gomez laid on a promised long and hard course in Cantiora, Almeria for the second test of the 2023 Spanish series – Alfredo's onboard video preview showed it…
In timed practice, SuperEnduro World Championship Junior, Raul Guimera, was the surprise fastest rider by less than one hundredth of a second over Frances Moret with Teo Kabakchiev in third.
In the dual lane qualification finals, ex-trials rider Marc Riba showed his skills on the artificial obstacles (thought about tyring SuperEnduro Marc?) to take the victory ahead of the Kabakchiev and Moret.
Street prologue onboard...
Guimera put everything he learned from the SuperEnduro starts into practice to take a holeshot in the main race and lead the first meters which began on the main street of Cantoria.
But the glory didn't last for the Sherco as Kabakchiev got in front and was quick to drop the Spanish armada.
The absence of Mario Roman and some other World Cup driver made things easier for Teo who simply concentrated on his own riding and was the only driver capable of less than 30 minutes per lap and the only one to complete six laps in total.
Moret took second place for Rieju with Riba occupying the last step of the podium and Eloi Salsench fourth and Eric Miguel fifth and first in Junior.
Dakar rider Lorenzo Santolino traded his rally bike for a Sherco SE 250 two-stroke this weekend to try Hard Enduro and he was not bad this either. He finished in a creditable 11th position despite saying "the last 30 minutes" were too much.
Yet another Spanish trials rider turning to extreme, Miquel Gelabert didn't have a good debut with Rieju and was disqualified for not continuing or abandoning the course at some point. It's a shame because his fastest lap put him among the top five.
Spanish Hard Enduro round 3 results: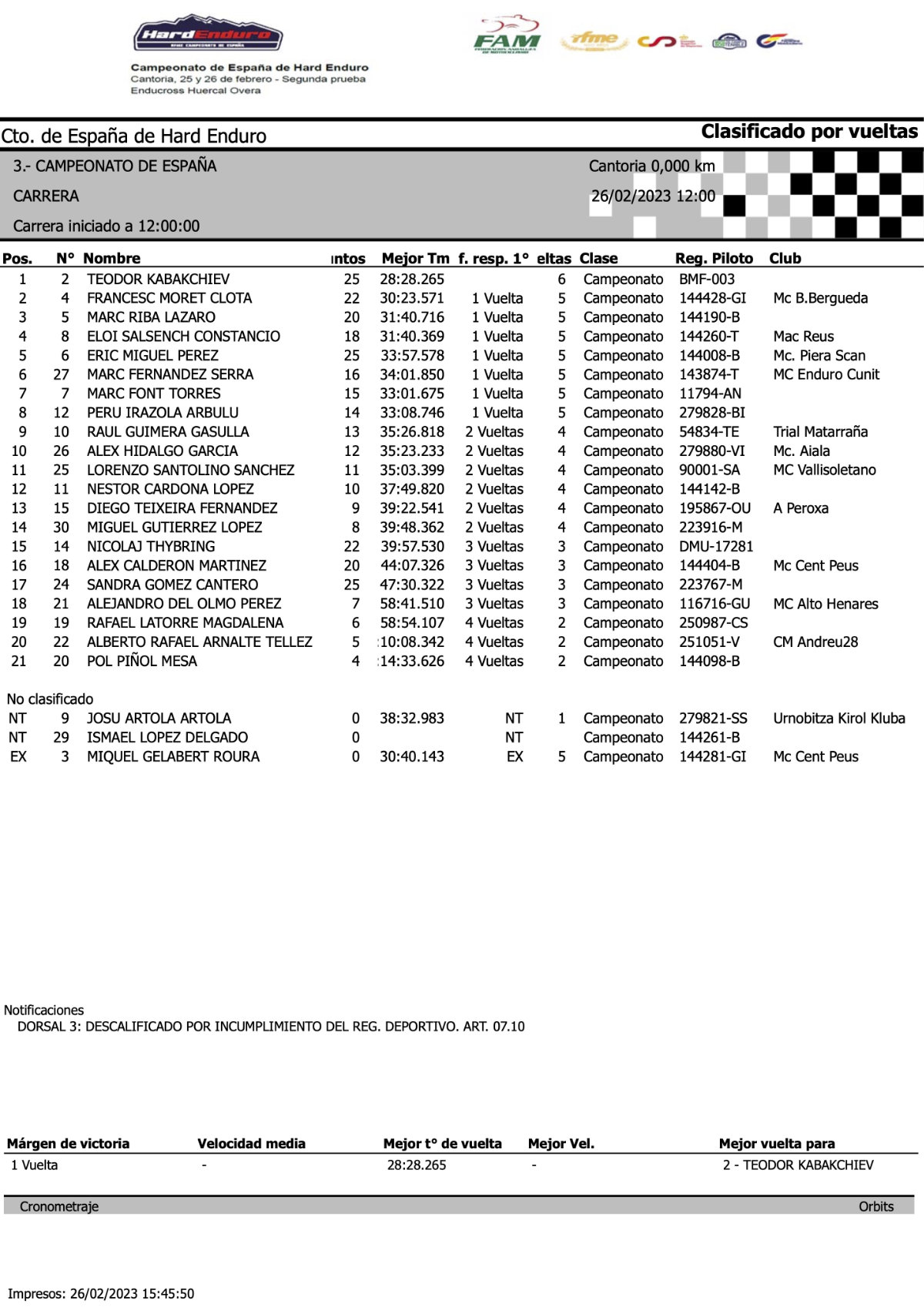 Photo Credit: