Alfredo Gomez wins the 2022 Hard Enduro Arsenal
After three days of racing, Alfredo Gomez claimed victory at the 2022 Hard Enduro Arsenal - the first round of the Romanian Hard Enduro Championship with Teodor Kabakchiev and David Cyprian rounding out the podium.
2022 Hard Enduro Arsenal in a nutshell:
David Cyprian got to a strong start at the first round of the 2022 Romanian Hard Enduro Championship. The Czech posted the fastest time on the 10-kilometre prologue with Teodor Kabakchiev second and Alfredo Gomez third.
On the second day, riders faced 80 kilometres of pure extreme enduro. Gomez took advantage of his starting position and went into full attack mode to reach the finish line first – despite losing nearly four minutes when his bike got stuck in a root.
Kabakchiev maintained his second position 3m 43s behind Alfredo with local rider Kozsa Norbert in third, 40 minutes down from the winner. Cyprian had a day to forget and as he said on his social media, as he spent more time pushing the bike than riding it.
The third day brought an easier track and it didn't go so well for Alfredo who chose a soft tyre and mousse combo. Despite that, the AG Racing Team rider finished second, just 15 seconds behind Kabakchiev which was enough to claim the overall win.
Kabakchiev took silver 3m 2s behind Alfredo in the added time with Cyprian jumping up to third place, but he was nearly 50 minutes down by the end.
"On the first day of the race I felt great on the bike! I had the perfect grip all day, and at one point I think I had almost eight-minute advantage, until I hooked the bike under a root with the foot-peg." Said Alfredo.
"I lost about 3-4 minutes trying to unlock the bike and move on. This is where Teo caught up with me. I saw him at the bottom of the climb, and I knew I had to push hard again so as not to lose the advantage. From there until the finish I was wide open, even on the sections where theoretically we could relax a little.
"The last day of the race at Arsenal was very fast. I chose a very soft tyre, soft mousse, and I couldn't give everything on the speed sections. Yet I finished second, just 15 seconds from Kabakchiev to secure first overall."
Sandra Gomez also raced in Romania and placed a respectable 15th.
2022 Hard Enduro Arsenal results: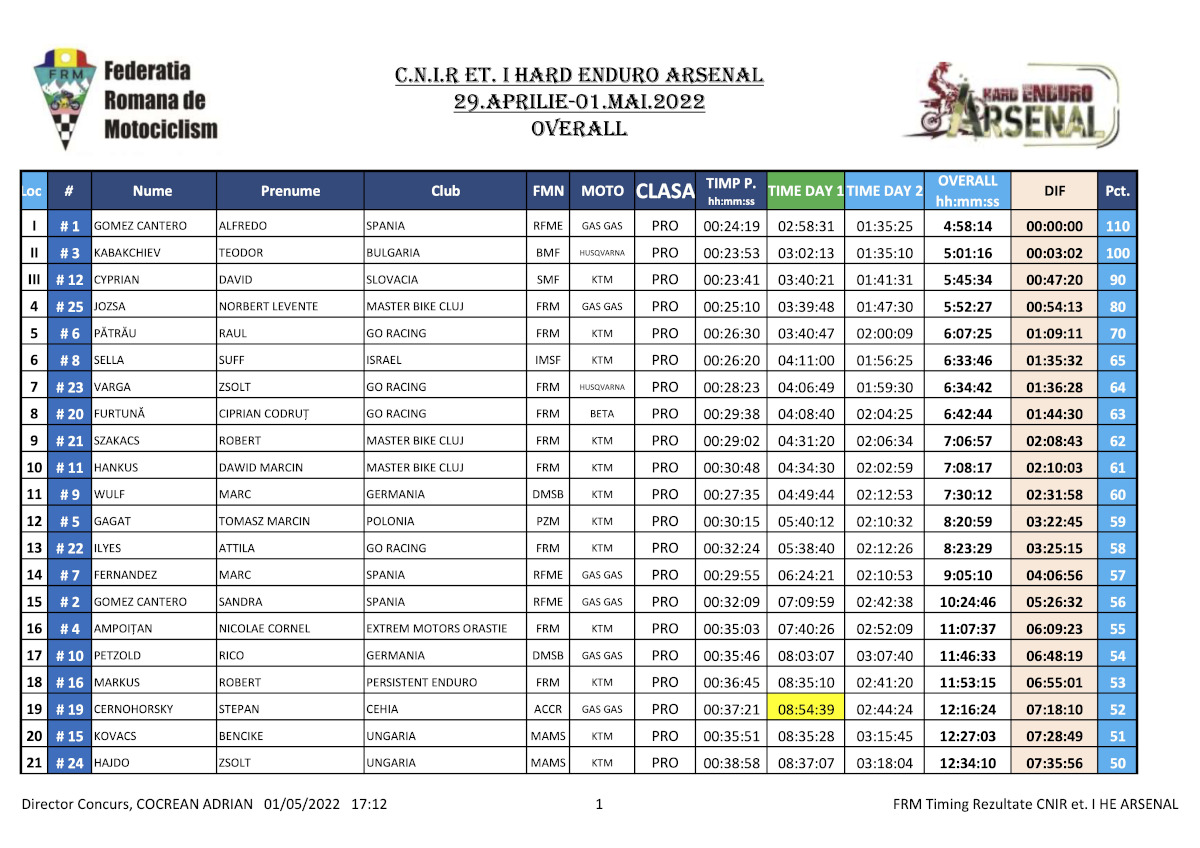 Photo Credit: Mihai Birca