New-look AMA Extreme Enduro Championship 2021 calendar announced
The Kenda AMA Extreme Championship presented by XC Gear – previously the Sherco AMA Off-Road Extreme Championship (east and west) – has announced calendar dates for a new-look a 10-round series consisting of six East, and five West rounds in 2021.
Amalgamated AMA Extreme Championship (EXC) 2021 schedule announced
New races including the Grinding Stone and Donner Hard Enduros in the West and Iowan Hard Enduro in the East
Addition of a Women's Pro Class
New series sponsors
RevLimiter Extreme Enduro again doubles up as the east vs west event
The 'EXC' Team is pretty buoyant about the progression of the North American-based Extreme Enduro series. It has grown year-on-year and the addition of three new rounds to the 2021 season, plus a dedicated seeding system for Pro Women riders, shows the organisers are forward thinking.
An all-new venue in Page, Arizona plus the west side of the series will see a hard enduro hosted by well-known off-road legend Brian Garrahan, located at the notorious ski slopes of Donner California. The east coast side of the championship has added what was already a popular and well-run event, the Iowan Hard Enduro to that schedule.
"Our objective is to elevate the AMA Extreme Championship series via a partnership with AMA clubs across the United States, while promoting the prestige of the toughest #1 AMA plate to earn in the sport of extreme off-road motorcycle racing." Says Mark Koch, AMA Extreme Championship President.
Seeding for Pro Women riders
In addition to the new rounds, Koch and his team are pleased to announce the all-new Pro Women's class to the 2021 series. Working hard behind the scenes, and already a popular figure at the races, EXC Media Director Mary Rinnell says the new Pro Women's class, "will allow our female Factory riders the starting position they deserve, among many other much needed improvements.
"We are thrilled to be at the forefront of women in extreme enduro and are thankful for all the sponsors and individuals who have collaborated, donating their time and efforts to make this happen."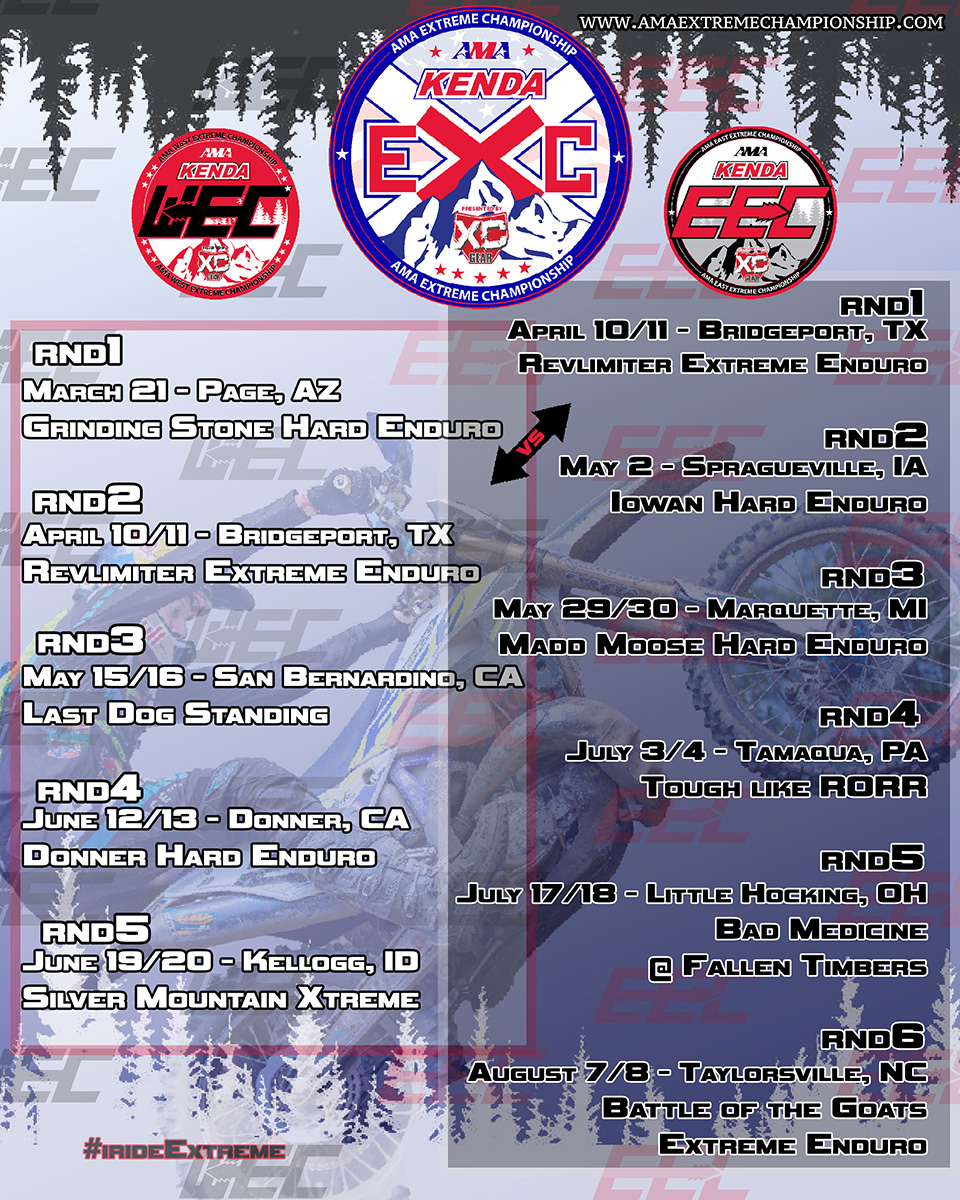 A new website has been launched which brings all the information for both East and West rounds together, and hopefully end some of the previous confusion some riders and fans found between the two.
More information: www.amaextremechampionship.com