Snake Bite US Hard Enduro: Will Riordan ahead of Cody Webb for maiden win in Texas
Will Riordan takes first Pro US Hard Enduro race win at the inaugural Snake Bite Hard Enduro near Post, Texas, round four of the AMA West Hard Enduro Series – derailed chain sets Cody Webb up for epic last to second place finish.
Lubbock Trail Riders brought a new race toe US Hard Enduro series at the 14,000 acre ranch which has hosted the NHHA and NEPG in past years but never a extreme event of this calibre.
It proved an impressive debut with a long, 25+ mile loop on faster, technical single track, which led into a shorter, four mile hard enduro section named "Nine Hills". The hard part in this hard enduro took on steep and rocky hills near the campgrounds which riders tackled riders four times around Nine Hills, following one long lap, in a four-hour time limit.
You'll have seen the headline already and be asking, "where's Trystan Hart?" The USHE Champion and current points leader is focusing on the main championship (this was an AMA West round only) and FIM Hard Enduro World Championship so ducked this one.
New name on top of the sheets
That left the door open at this race for a fresh winner and as the race started in waves by class, it was Danny Lewis of Beta USA taking the holeshot and early lead through the first couple of miles.
Will Riordan of FMF RPM KTM was close behind and eventually pulled ahead of Lewis, gapping the field by a few minutes at the 90-minute mark when they entered the Nine Hills section of the course.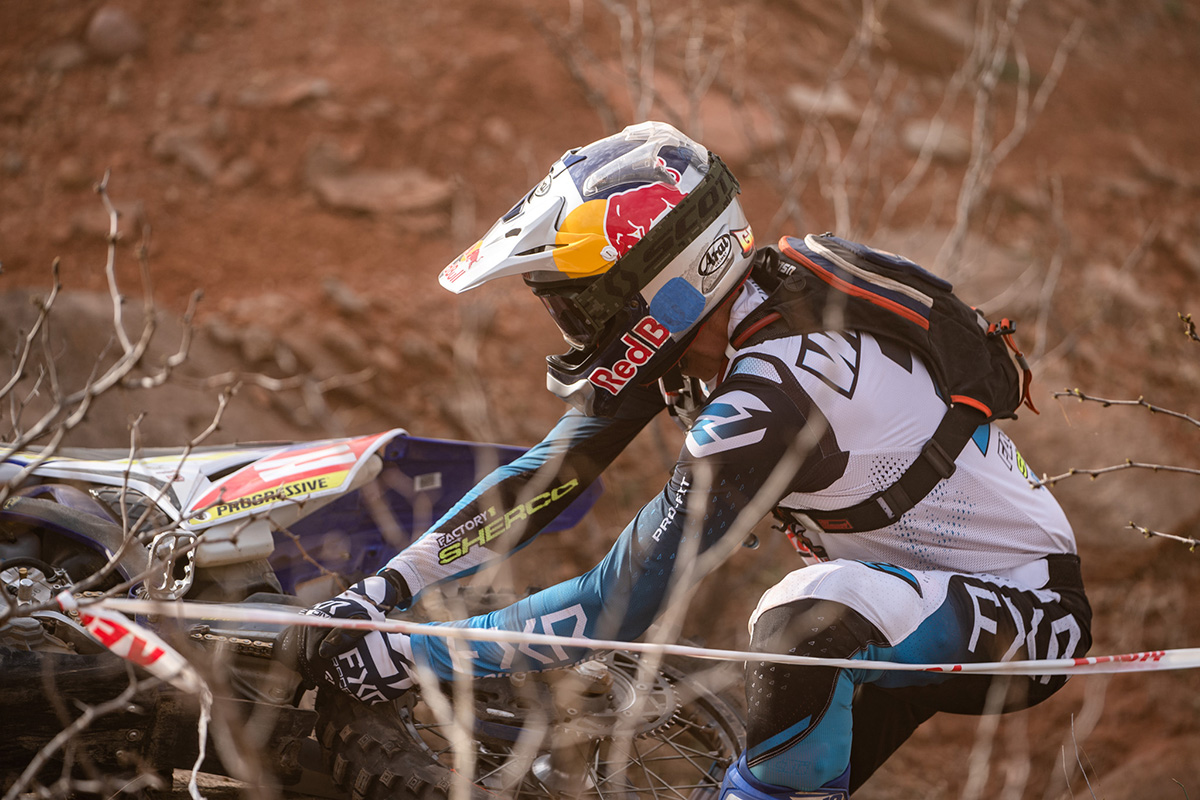 Riordan said the Texas terrain reminded him of riding back home in Australia, and it definitely helped him in the faster sections. Cody Webb of Factory1 Sherco had a rough start, when he derailed his chain within a few minutes on the first rocky hill. Webb pushed his bike back to the pit, made repairs, and went back out nearly last, impressively passing the majority of the field on the long loop.
Which tyre to use?
The unique combination of a fast loop and multiple laps on the harder sections made for some interesting tyre strategies: some opting for a harder combination for the long, fast loop, others going soft for the extreme hills. Some even did both and swapped wheels after the first lap. Riordan committed to the last option, which cost him about a minute going into the Nine Hills for a second time.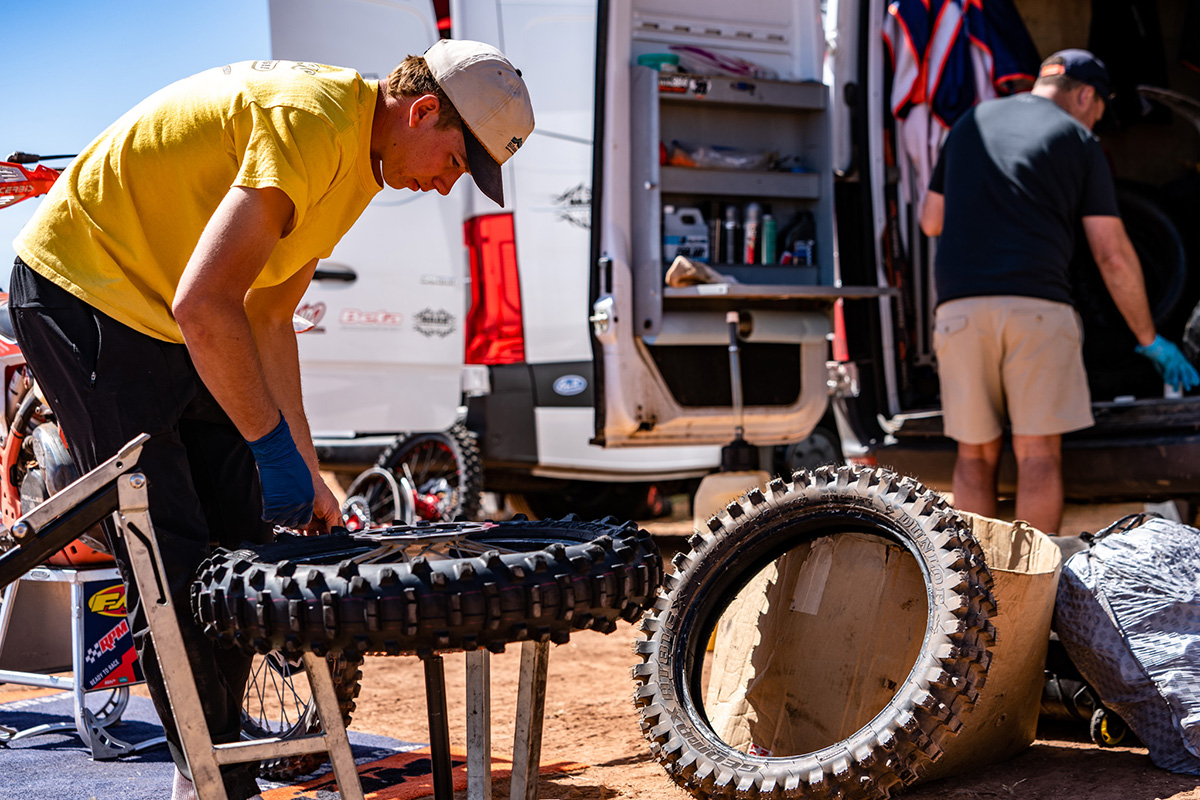 Rockstar Husqvarna's Colton Haaker was pushing with the lead pack in third, with teammate Ryder LeBlond and Danny Lewis not far behind although Haaker had something hit his eye early in the race, and was riding with one eye closed nearly the entire race.
Riordan's three-minute lead after lap one over LeBlond and Haaker dwindled to only about 30 seconds on lap two, making for a tight battle for the top spots through the very rocky and loose hills.
But Riordan retained his lead through the final Nine Hills loop and took a total of 3 hours and 24 minutes, winning the Snake Bite Hard Enduro and the USHE Pro Class for the first time.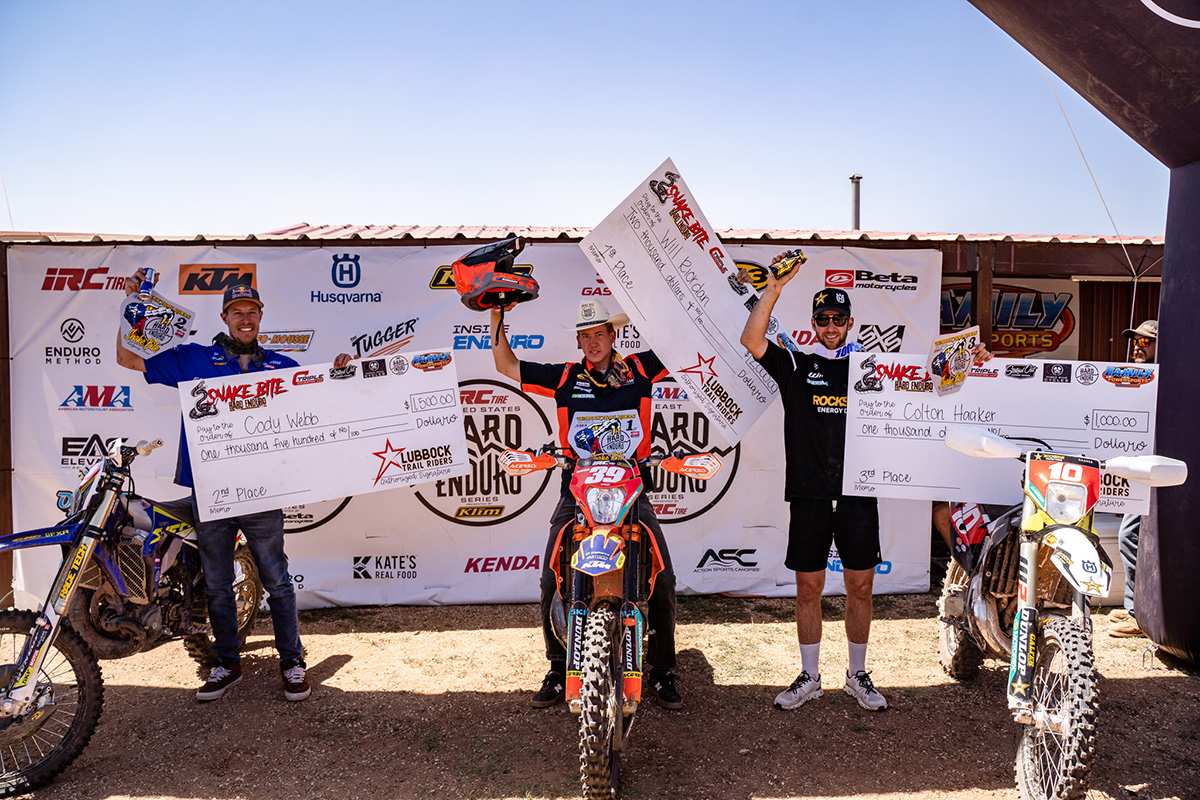 Webb kept picking his way through to an eventual second place only six minutes behind Riordan and putting on a show for the spectators with many spectacular passes around lappers on Nine Hills. It left the question what he could have done if it wasn't for the chain issue.
Haaker, struggling with his vision, still finished in third for his best finish of the 2023 season ahead of a back and forth battle for the top five between Lewis, James Flynn, and Brandon Petrie. The three were switching positions multiple times due to the lappers and their pit strategies. Petrie pulled ahead, taking his best-ever finish in the USHE Pro Class with a fourth place, only 10 seconds ahead of Lewis, in fifth.
Shoutout for LeBlond who had mechanical issues when his radiator was damaged, which ended his race a lap before the finish.
Snake Bite US Hard Enduro Pro Class results (top 25):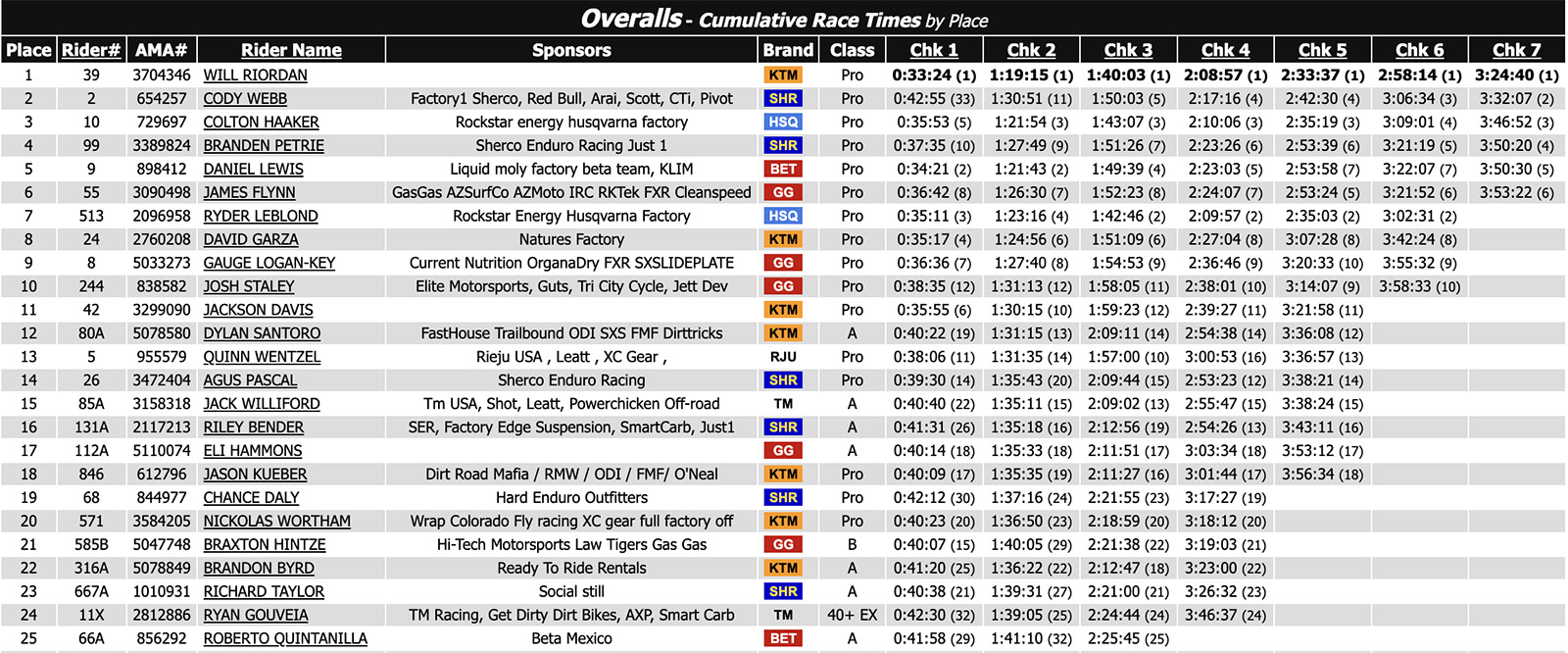 The Lubbock Trail Riders hosted a great event at a new venue for the USHE, and are looking forward to more in the future. The AMA USHE Series continues on April 22-23 at the Battle of the Goats in Taylorsville, North Carolina.
More information: www.ushardenduro.com
Words: Matt Musgrove | US Hard Enduro
Photo Credit: Andrew Nguyen | WinPic Photography