US Hard Enduro results: Trystan Hart grinds out Grinding Stone victory
Results from the 2023 AMA US Hard Enduro series round three, Grinding Stone in the impressive Arizona rocks formations where Trystan Hart took his third win of the season, this time ahead of Cody Webb.
After winning the opening two rounds of the 2023 season, defending champion Trystan Hart was again the rider to beat as USHE series headed to in Page, Arizona and the unreal sand stone rocks.
Resurgent Cody Webb on the FactoryOne Sherco took the Saturday moto one win after jumping back across the Atlantic from the final SueprEnduro World Championship round in Poland just a few days earlier. It was some comeback in the race after Webb fluffed the off-bike start process and ended up last pro rider away from his line (see the off-bike start below).
Hart turns it up a gear
Sunday saw the two-day format increase in difficulty and Hart stepped up with a 1-1 result across both the shorter morning race and the main feature event. Combined, that was enough to seal a second consecutive Grinding Stone title for Hart and maintain his '23 record.
"The Grinding Stone was a really good weekend for me!" Said hart. "Cody [Webb] kept me honest pretty much the whole time, but I ended up getting the win in the end, and I'm really happy with that.
"It was absolute carnage out there – I think everyone would agree. This place never lets up, you have to keep going and every time you wander off, you're cartwheeling down a hill. But overall, it was a super-good day, and I'm excited to win another round."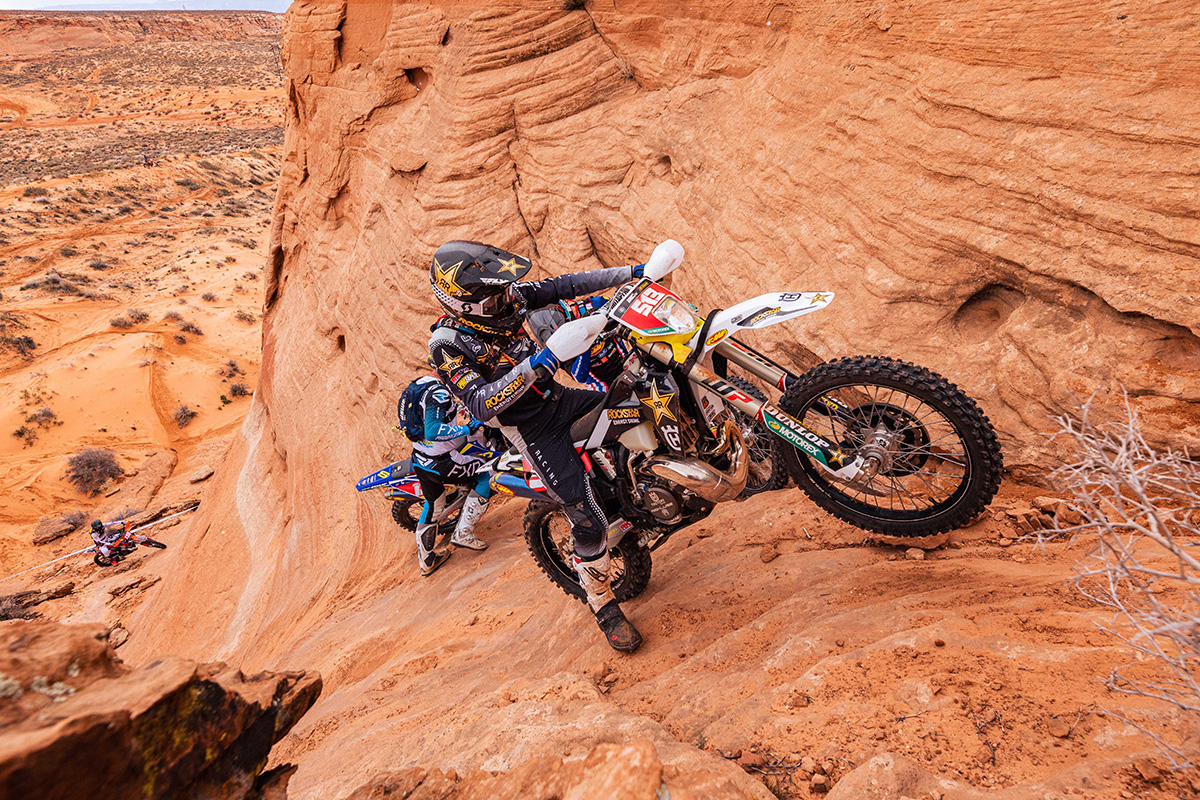 The podium for Ryder LeBlond continued with consistent front running across the twop days, challenging Webb and Hart. "I ended up third and it was a good result," LeBlond reflected. "I've had a lot of thirds this year, and last year as well, so definitely want to improve on that, but we're happy.
"In terms of the race, it went pretty smooth for the most part, I had a couple of tumbles back down the stone... that's why it's called Grinding Stone! But, I got some help from lapped riders and held it together for third. I'm looking forward to what's next and to keeping on working hard."
Round 3 resulted in another fifth-place result for Rockstar Energy Husqvarna Factory Racing Colton Haaker, making his third-consecutive P5 finish this season. "It was a challenging day today," commented Haaker. "The consistency is there in terms of results, for sure, but we want to finish higher than fifth and that's definitely the aim. We will look to improve from here and keep climbing the order next time out."
2023 Grinding Stone US Hard Enduro Pro Results: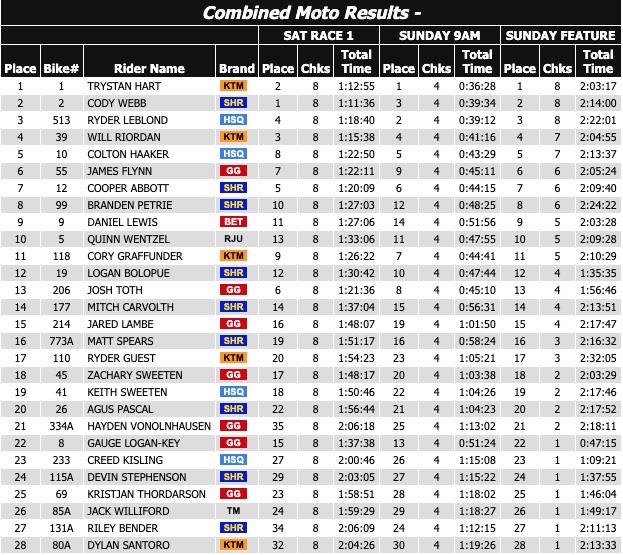 Photo Credit: Ryan McCasland + Banta Visuals