2021 GNCC results: Tiger Run win for Stew Baylor – "3 in a row means we're gaining"
GNCC round five of 2021 saw Steward Baylor taking the Tiger Run trophy ahead of comeback kid Ricky Russell – drama behind sees Strang and Duvall hit mechanical problems and championship leader Ben Kelley struggle in the dust.
It wasn't quite a start to finish win for Steward Baylor at round five of the 2021 Grand National Cross Country (GNCC) racing series, but it might as well have been. Baylor got off the line well, "tapping a few wheels" in the first turns, and along with his mate Ricky Russell proceeded to gap the field within the first lap.
The dust was heavy in places around the Big Buck Farm (home to round one of the series back in February) which helped but once Baylor passed Ricky on lap two, his lead grew to half minute and he was never troubled. In fact it proved to be one of the least eventful, dare we say boring (!) races of the season.
"I got a decent jump off the start and I think hit a few people there but I tried to make a push early on and got in a good position behind Ricky." Explains Steward after taking his third successive win this season. "He was riding well and we worked a pretty good gap before I got out front and pulled a decent lead.
"In the middle of the race I saw Ben was in third and Ricky started to close the gap and I knew then it was time to drop the hammer.
"It was a bit of redemption and winning three in a row means we are gaining traction, moving in the right direction and will be there soon enough." Added the AmPro Yamaha rider who now sits just 10 points off the championship points lead.
Tiger Run GNCC overall results:

Kailub's training techniques pay off for Ricky Russell
"I needed this," said Ricky Russell after a solid second-placed result at Big Buck Farm despite pressure from Ben Kelley late in the race. His comeback from serious injury has been a long one, almost a year to the day in fact and the relief was all over his face at the finish.
"I didn't win but it felt like a win," says Ricky, "I was trying to close the gap but Stew was maintaining the gap and riding really well the whole race. It feels like we've just been a little bit off getting this kind of result and it means a lot to finally pull it off."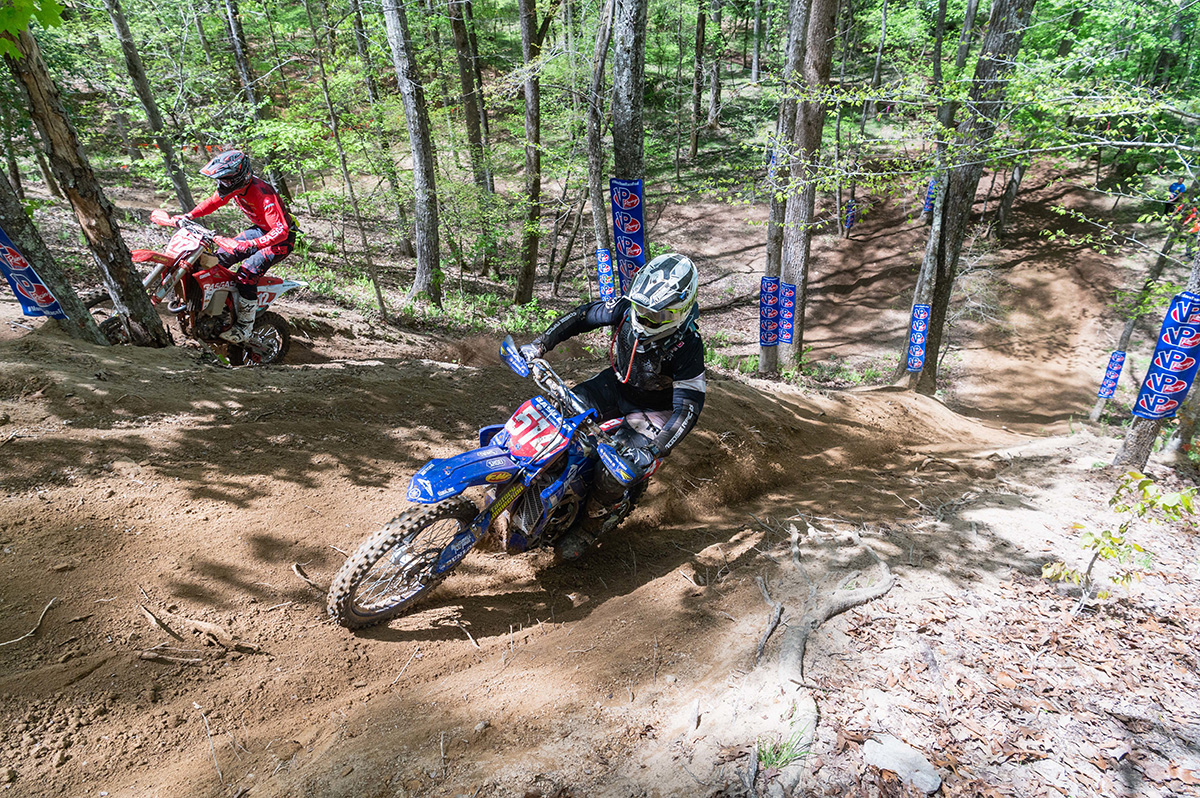 Late race problems with his Coastal Racing GASGAS rear brake didn't affect the result in the end and he says it was down to eight-time GNCC champion Kailub Russell's training programme: "I had a problem with my rear brake, I lost it a few times towards the end of the race but Kailub's been having us doing some no-brake drills in training and it paid off. I was able to keep a pace and the brake came back."
Kelley not a dust devil
The championship leader, Ben Kelley, might have finished round five with a greater points lead but the shark music is looming for the FMF KTM Factory Racing rider, Steward Baylor is coming.
"I definitely wanted to win that one but in the end it was the best I could do in the circumstances." Explains Kelley. "The dust was so bad the second I got in the woods it was a white-out in places and it made it really difficult.
"I got away well off the start and was with Ricky [Russell] but the dust was treacherous in the woods and Stew [Baylor] got by me.
"After that it kinda felt like I rode on my own all day. I closed in on Ricky in the second half and we yo-yo'd with him but it felt like every time I got close he pulled a gap again. I was riding strong all day and the feeling is strong on the bike but just wasn't my day."
Round one winner at this same venue, Grant Baylor, worked his way up to fourth by lap six but he was over one minute down on the lead it was not to be a repeat performance for the younger Baylor brother. Layne Michael was fifth on the back of his US Sprint Enduro win the previous weekend.
It was a bad day for…
Biggest losers on the day were the Australian Babbitts Online Kawasaki duo Josh Strang and Lyndon Snodgrass, plus Thad Duvall on his comeback ride for Rockstar Husqvarna.
Strang should be very much in the mix this season but twice now has front-end issues have robbed a potential better result. This time out it was a suspected rock which badly damaged the front hub and rotor which meant a complete wheel change in the pits and too much work to do once he was back out.
The Babbitts Kawasaki team were busy at the end of the first lap as their main riders in XC1 and XC2 were in the pits at the same time. For his part Snodgrass had clutch issues from the start, his team attempted to bleed the hydraulic system but it cost a stack of time and Snodgrass would finish in 13th.
Thad Duvall had his first ride back after injury (incurred just before round two of the 2021 season) and promptly grabbed the holeshot but not long after collected a stick which ripped off part of his 450 Husky fuel line. Duvall got going again but finished in 12, one place behind Strang in XC1 class.
Championship points getting interesting
The current championship leader is Ben Kelley but the shark music is looming. In fact the KTM rider extended his points lead but his face at the end of the race said it all. He knew he needed to win this one to stop the rot.
Big Buck Farm was the site of a DNS for Steward Baylor earlier in the season and chief reason why he has been playing catch-up ever since. It was also the location for his and his brother Grant's first-ever GNCC wins and the pair now sit second and third in the points.
Overall championship points after round five: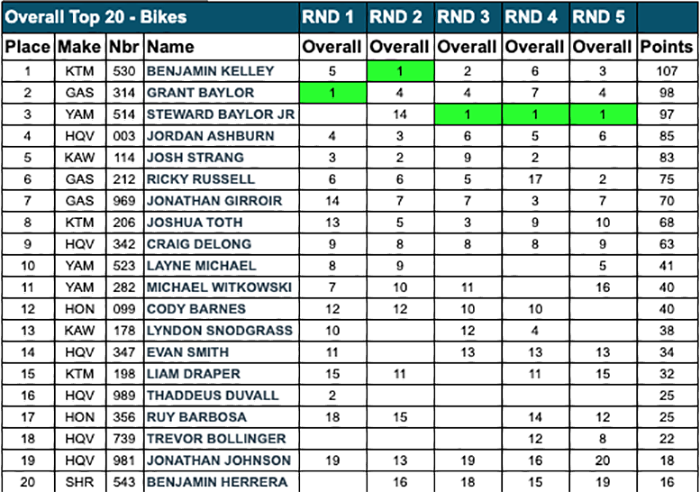 XC2 domination continues for Girroir
In stark contrast to last season, the 2021 XC2 class is being dominated by just one rider, Jonathan Girroir. Five GNCC starts this season and five wins on the Coastal Racing GASGAS 250.
But this was far from an easy result as Girroir explains, "I had to work hard for that one. I had a couple of crashes early on and made it seems like a long way off. But I knew I was fit enough to do it and just got it done."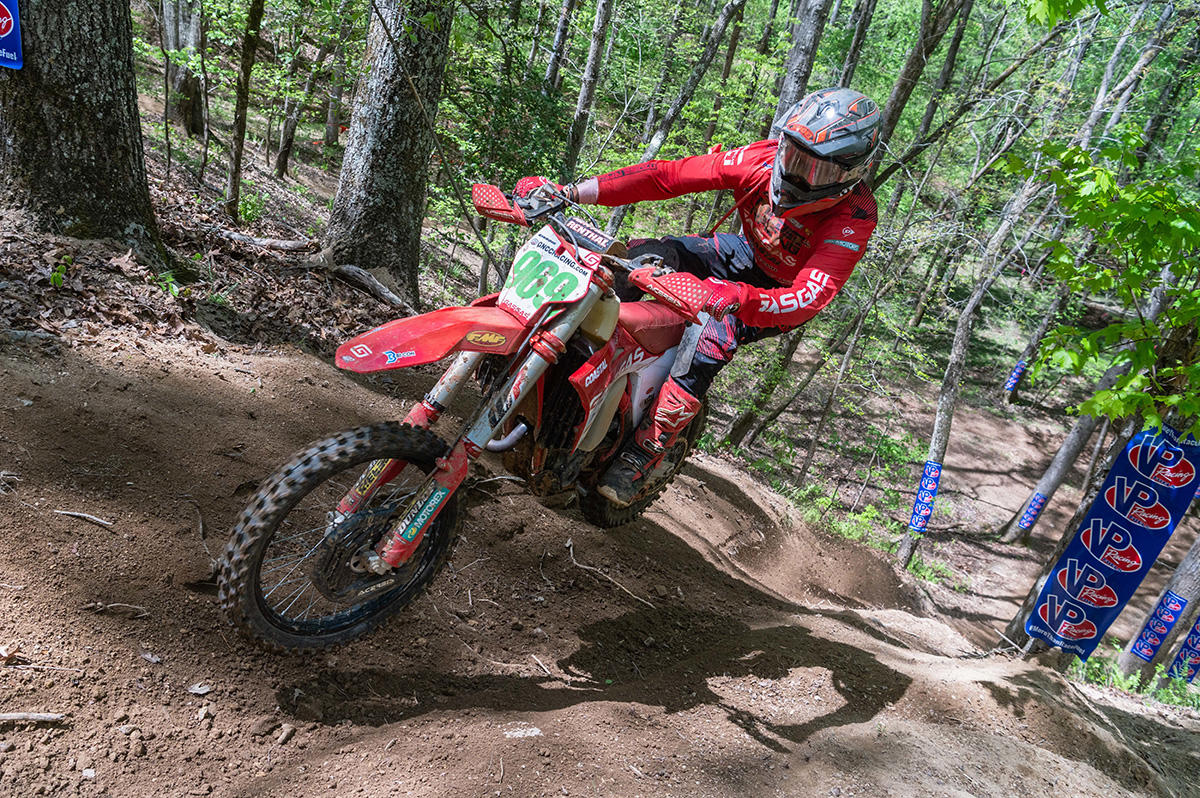 It was an understated response after what was a race-long fight to get to the front and ahead of his rival Craig DeLong. The Rockstar Husky rider was up to second place and in the mix for the win but complained of stomach issues later in the race and had to concede.
Factory Beta USA's Thorn Devlin completed the podium after running fifth at the halfway point. With two laps remaining Devlin went from fourth and then third finally within a few miles of the finish for his best XC2 result of the season.
Sheets stretches WXC championship lead
Becca Sheets and Rachel Archer continue to trade places in the races this season and ultimately are making it a two-horse race for the WXC championship. The Yamaha riding pairing – Sheets on the AmPro Yamaha, Archer on the BABs Racing Yamaha – have taken all of the wins this season.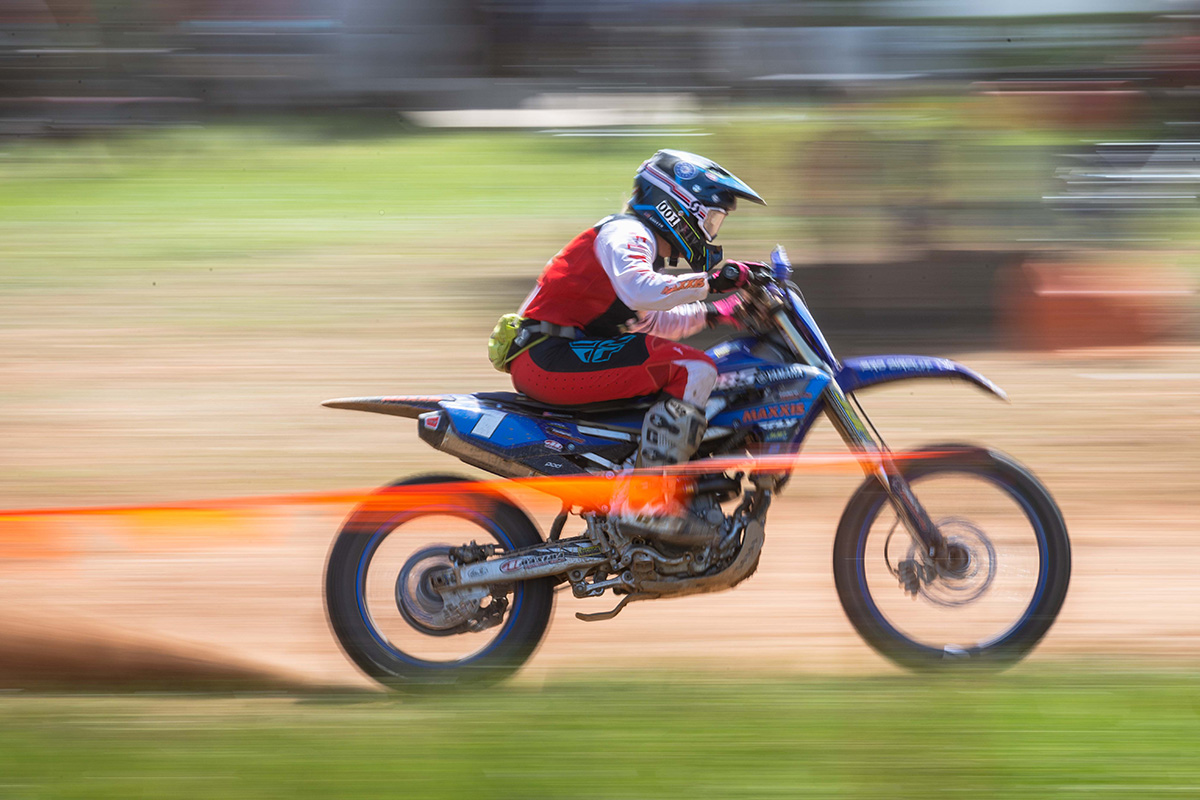 "It was another really hard battle with Rachel today." Said Sheets. "For two laps I was on her tail and I knew third place was far behind. It was an awesome little battle, I was riding thinking, 'we are ripping!'
"There were spots where I literally couldn't see because of the dust and others where it was not so bad, the dust was just hanging in the air in places."
Rachel Archer held P2 for the second half of the morning race behind Sheets but had an off during the last lap which allowed both Kawasaki Team Green's Korie Steede and Magna1 Motorsports/Husqvarna/Rockstar Energy's Tayla Jones to get by to complete the WXC podium.
Tiger Run GNCC WXC results: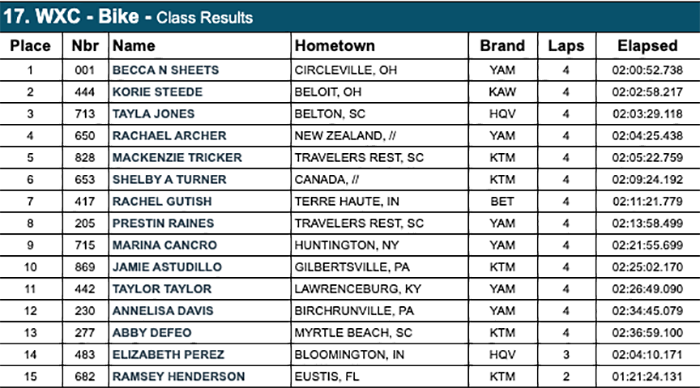 The Tiger Run GNCC was the last of the southern rounds and series now moves north to Crawfordsville, Indiana on May 2.
Photo Credit: Mack Faint