GNCC results: Baylor handed Buckwheat 100 victory after Kelley is docked a place
Steward Baylor has taken his fourth GNCC win of the 2020 season with victory at the season-closing Buckwheat 100 in Newburg, West Virginia ahead, or rather behind, Ben Kelley who saw the flag first but was docked a position post-race – Craig DeLong takes XC2 National Championship.
Maybe it was the low afternoon sunlight in West Virginia but it was a fittingly dramatic last race of the GNCC season which saw no shortage of riders lose overall positions after the flag due to some slight course transgressions, and we mean slight.
The XC1 Pro race saw Jordan Ashburn take an early lead before Steward Baylor took over and then Ben Kelley push to the front mid-race to build a comfortable lead. Crossing the finish line for the white flag lap with a 21-second gap, Kelley looked like he had it sewn-up but Baylor put in a stellar last 20 miles or so of racing to close right down and the pair pushed hard in the closing miles.
The lead exchanged a few times before Kelley made another pass stick and crossed the line, 1.4s ahead of Baylor. But the reality hit home soon after as race officials docked him one place because he'd taken a line just outside a double arrowed section which his technically out of bounds – although by all accounts it actually made no difference in time.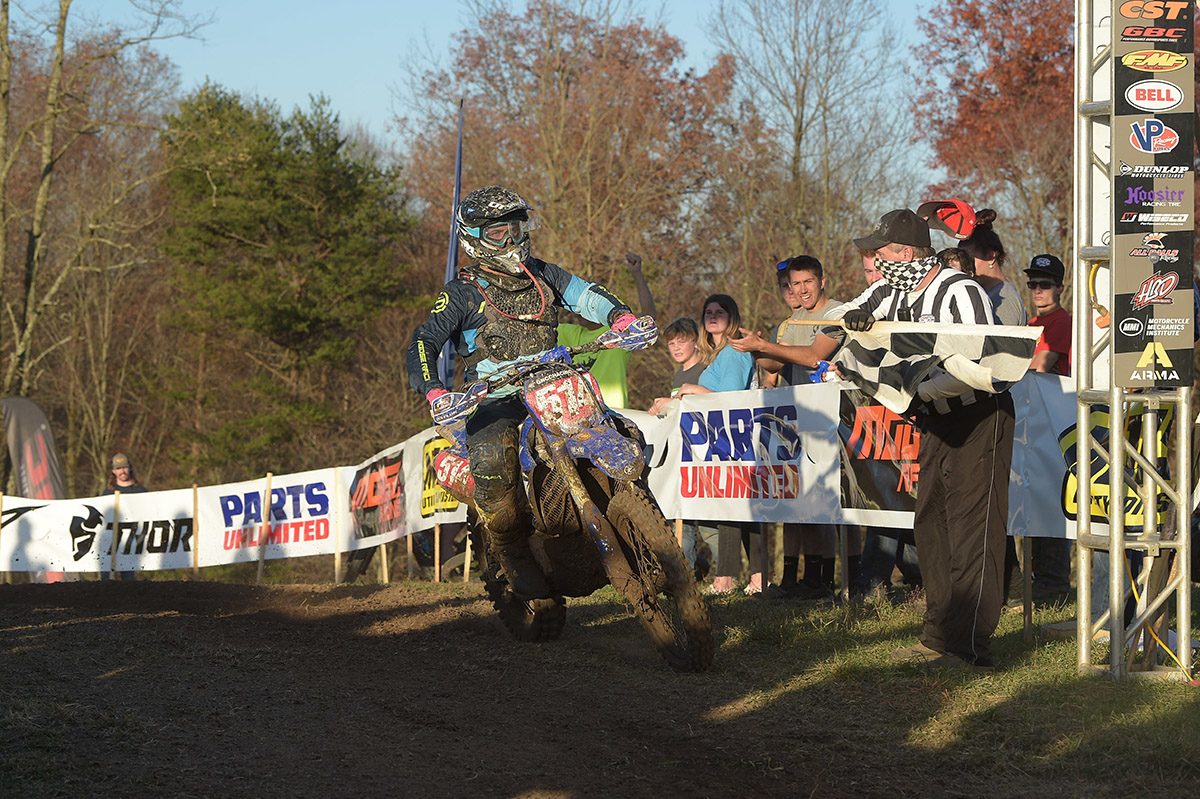 "I never want to win like this," Said Baylor. "Ben rode a hell of a race and it was an intense race those last seven or eight miles. Hats off to him. I got out ridden today and he was really smart, he stalked his prey all day and he was the fastest rider at the end. It sucks that he got a penalty there are a lot of lines out there and it and none of these guys means to do that.
"Overall this season I've got to thank these guys (AmPro Yamaha team) who put together a hell of a programme for me. They way they put it together for me last minute and how we have developed since then and the results we've had, I can't thank them enough."
Cruel finish for Kelley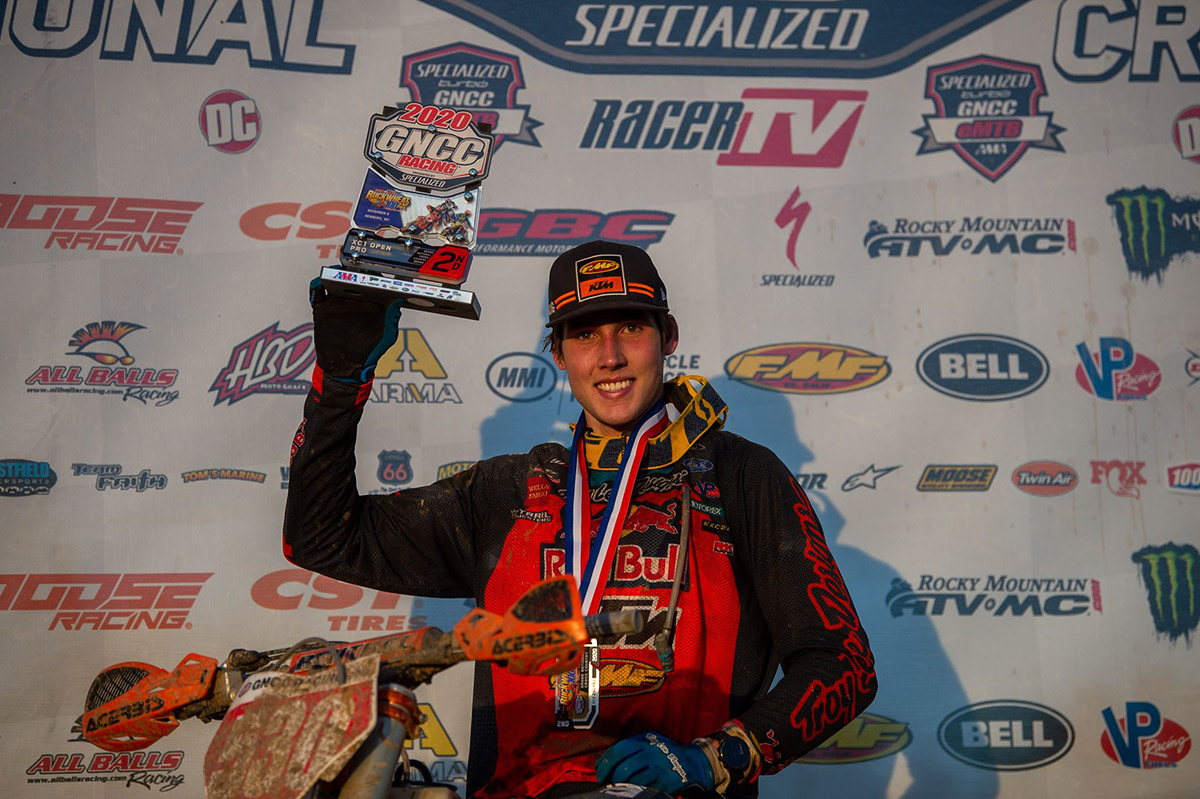 After after such a determined race and especially the closing 26 minutes of racing on the final lap, to cross the line first only to have what would have been his only win of 2020 taken away did seem cruel.
"It was a crazy race down to the wire and I came through ahead of Stew but a penalty is a penalty." Said Ben. "I don't think it had anything to do with how the race ended up – so in my mind I think I won straight up – but rules are rules and I understand. I'm mad at myself for making a poor decision but it happens in the heat of the moment, I guess. I'm happy with my fitness and the speed is definitely coming back so we'll be ready for 2021."
Shout out to Babbitts Online Kawasaki boys
Third on the podium and quietly doing a solid job all season was Jordan Ashburn. Jordan grabbed the holeshot and the race lead for the early laps before Baylor and then Kelley demoted him to third but he held fast and took a deserving podium.
Despite Ashburn's teammate Josh Strang having rear brake issues mid-way through the Buckwheat race, which dropped him from a potential podium, collectively the Babbitts Online Kawasaki team finished the year with their Pro XC1 riders second and third overall in the standings. Both the team effort and Ashburn's P3 overall for the season is to be underestimated given the teams and riders in this paddock.
Buckwheat 100 GNCC race results: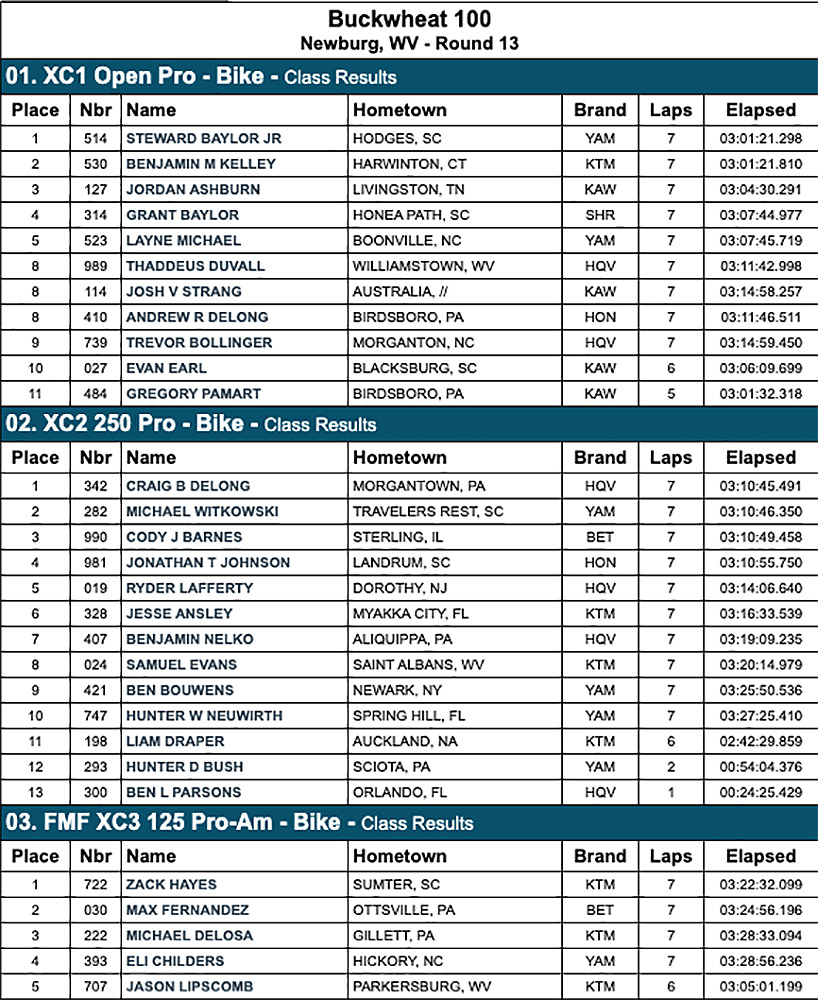 Fourth overall on the day and admittedly riding with one eye on next weekend's NEPG crown was FactoryONE Sherco's Grant Baylor. Grant did his familiar battle through the pack three hours racing to make his way up front to cross the line in fifth but was credited with fourth after Layne Michael was another rider to be penalised for track infringements.
American history was not made in quite the same way as we expected at the Buckwheat 100 after eight-time champion Kailub Russell was a non-starter. After he elected to not race due to an impending knee operation, Kailub fans will just have to hope the champ drops a one-off race next season to cap his GNCC career off in fitting style.
Final 2020 XC1 Pro Championship points: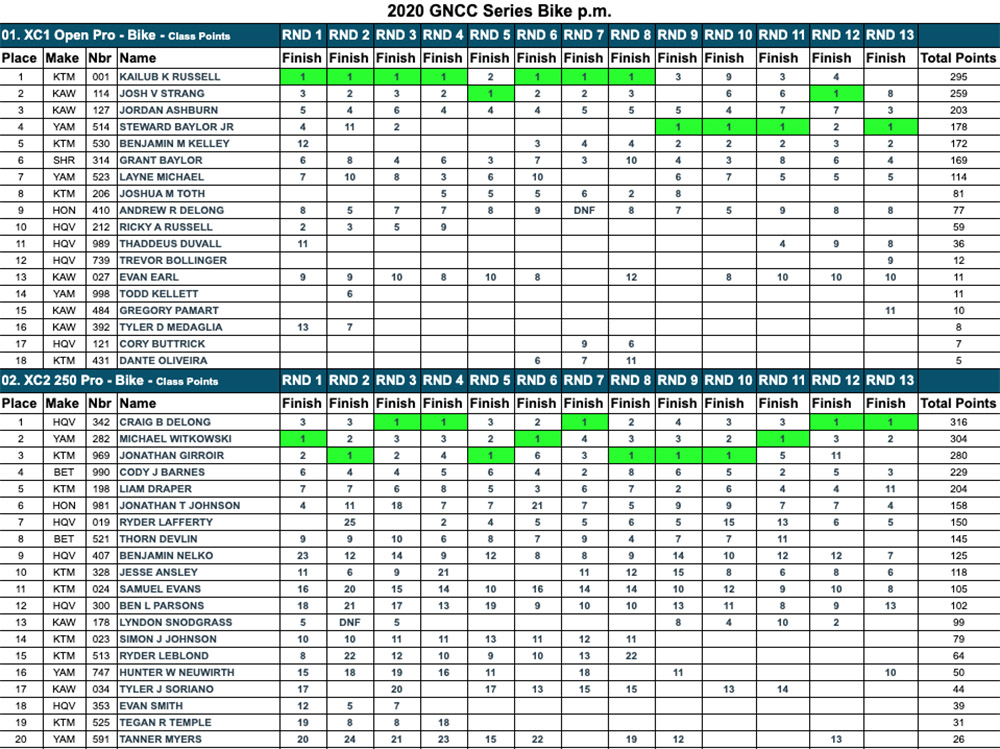 XC2 class battle to the finish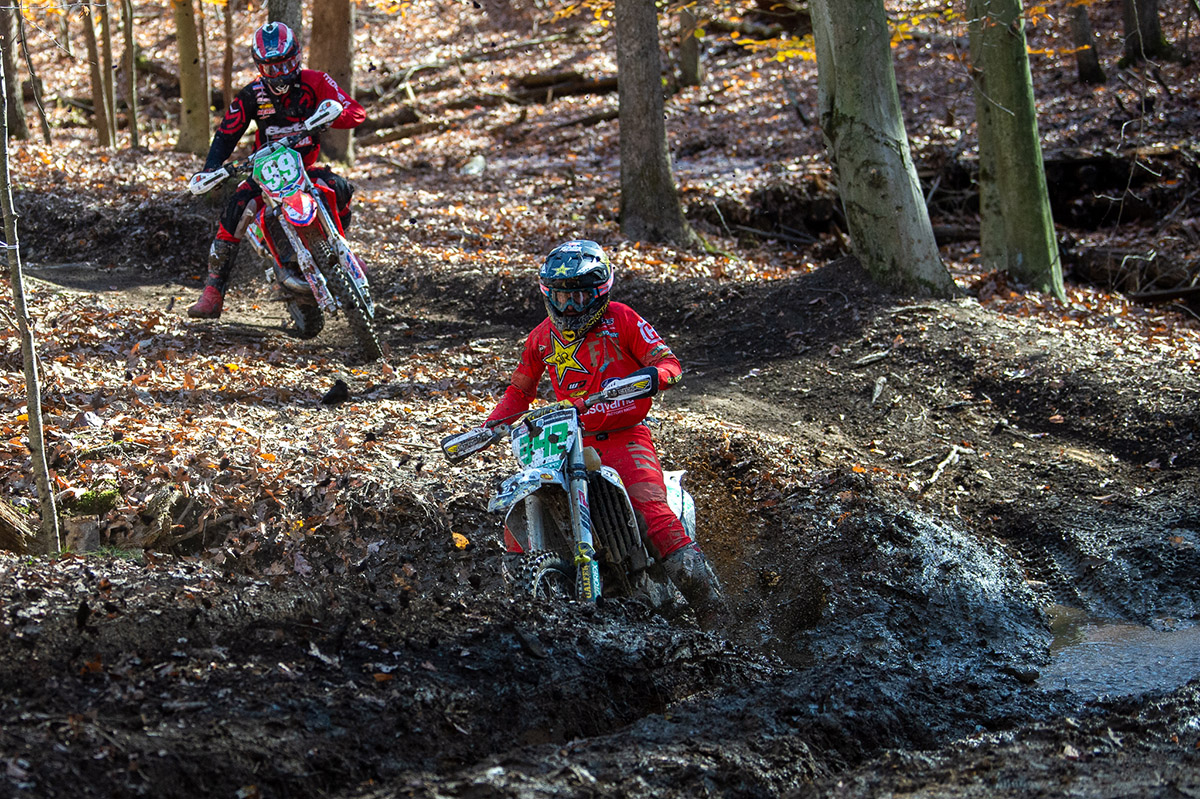 The quarter litre class has been anything but predictable all 2020 season with Craig DeLong, Jonathan Girroir and Mike Witkowski all at the sharp end come the final rounds. Coming into the Buckwheat 100, the XC2 250 Pro title was still up for grabs with DeLong and Witkowski separated by 11 points with Girroir sadly out injured and unable to continue his fight.
After Sam Evans grabbed the holeshot, Witkowski lead and was doing all he could to take the maximum points. DeLong meanwhile was making hard work of it after getting tangled up in the usual race start tussle and then sitting at the back of a four-rider battle for the early part of the race.
With three laps remaining DeLong moved into second position and with that secured the points needed to claim the XC2 National Championship. In the end Witkowski physically crossed the line first, but like so many, was given a one position penalty for straying the wrong side of a tree marker.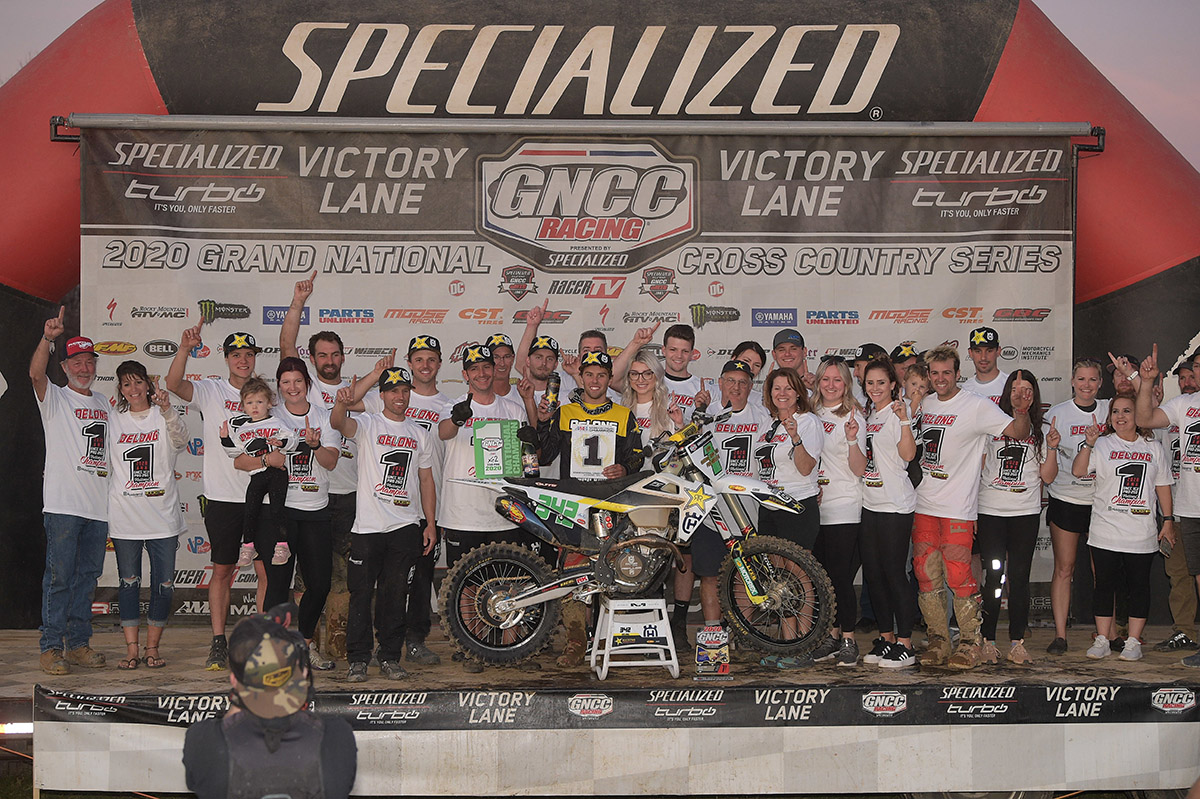 "I'm at a loss for words. This is awesome," DeLong said. "The day didn't go very easily for me. I was just trying to stay clean and make my way towards the front. There was like a five-rider battle for the lead and I just played it cool and tried to salvage a podium. I have to give a huge thanks to the Rockstar Energy Husqvarna Factory Racing Team. The whole crew was really good, they kept me calm when I needed to be and really kept me on-track this season."
Factory Beta USA's Cody Barnes rounded out the XC2 class podium after falling back to fifth at one point in the race but pulled back in that tight battle to do enough to grab fourth in the points standings.
Zack Hayes nails final XC3 win
In the FMF XC3 125cc Pro-Am class it was National Champion, Moose Racing/Carolina KTM/XC Gear's Zack Hayes taking his seventh win of the season after leading all seven laps of racing. Beta USA's Max Fernandez came through to take second with Canyon Motorsports/FXR/Enduro Engineering's Michael Delosa, jumping up a class after already taking the 150 A P2 spot, rounding out the podium.
WXC win for Rachel Gutish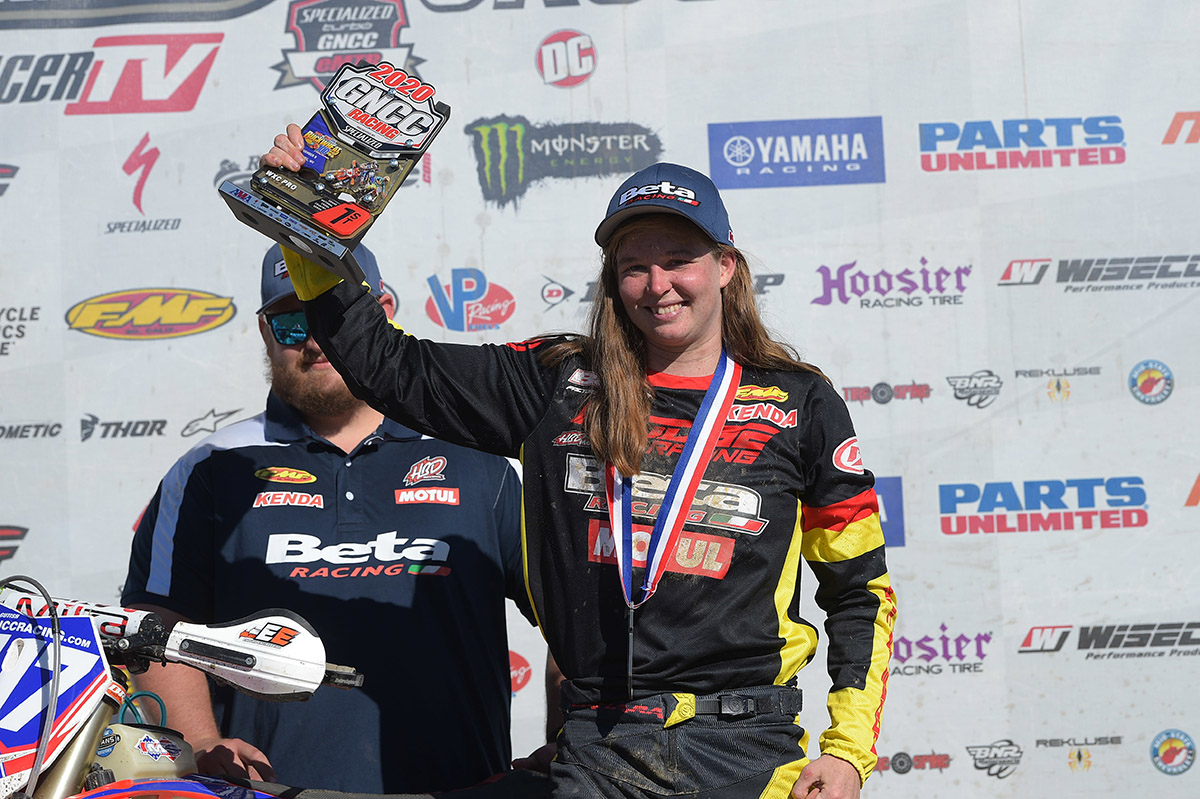 Rachel Gutish clinched her first-ever WXC win at this final GNCC round of 2020 capping off an amazing year for the Beta USA rider who has mixed disciplines and taken wins in everything from AMA Extremes to GNCC. To cap it off she also grabbed the WXC holeshot award.
After starting out the day third in WXC, BABS Racing Yamaha/Maxxis' Becca Sheets made the pass for second and set her sights on Gutish but the already crowned champ ultimately run out of time and crossed the line second. Factory TM's Korie Steede battled back after falling to fourth at one point in the race to round out the WXC top three in West Virginia.
Overall WXC championship points: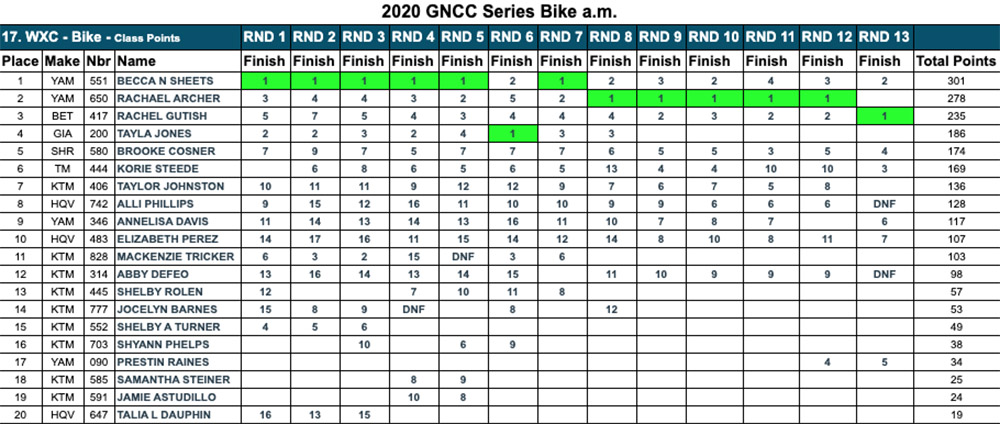 More information: www.GNCCRacing.com
Photo Credit: Ken Hill + Shan Moore