GNCC results: Strang wins from Baylor at epic Ironman GNCC
Josh Strang has taken a hard-fought victory ahead of Steward Baylor (just) at round 12 of the 2020 Grand National Cross Country (GNCC) at Ironman Raceway in Crawfordsville, Indiana. Fans at the popular venue witnessed the top four Pro class riders separated by less than 15 seconds after three hours racing...
After an injury laid him up in the summer, Babbitt's Online/Monster Energy/Kawasaki's Josh Strang would be excused for thinking the 2020 season wasn't going to get any better than his round five win at Camp Coker GNCC.
But Strang has bounced back with form which sees him as one of just two riders to take race wins away from the already crowned GNCC champion, Kailub Russell.
The 2020 Ironman GNCC lived up to its reputation providing some awesome racing which saw a relentless pace out front of the Pro classes. Though Strang took until lap four to hit the front, the truth is the lead riders were never separated by much all race. That stat about the top four finishing within 15 seconds says it all.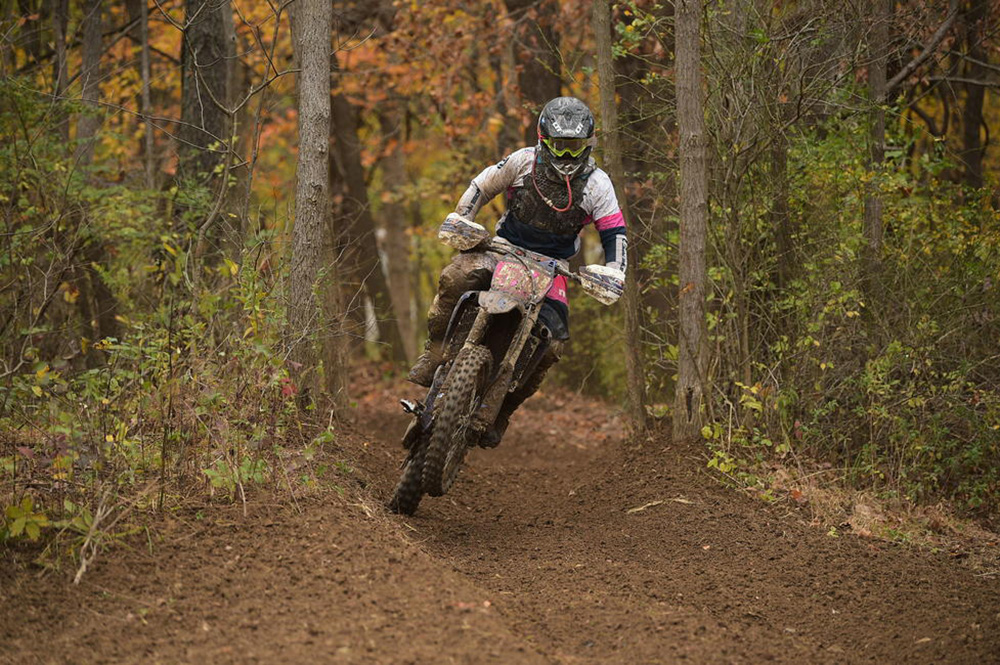 The other rider in that short list of two riders taking wins this season is Steward Baylor (above) who again set relentless race pace on the AM Pro Yamaha to take runner-up spot ahead of Ben Kelly with Russell off the podium in fourth.
Ben Kelley had to work hard to move up into a podium place from his P7 early position but summed up the race for most of the fast riders: "Today was crazy, the track was super-fast and the whole XC1 pack was all together and going really fast."
Ironman GNCC results: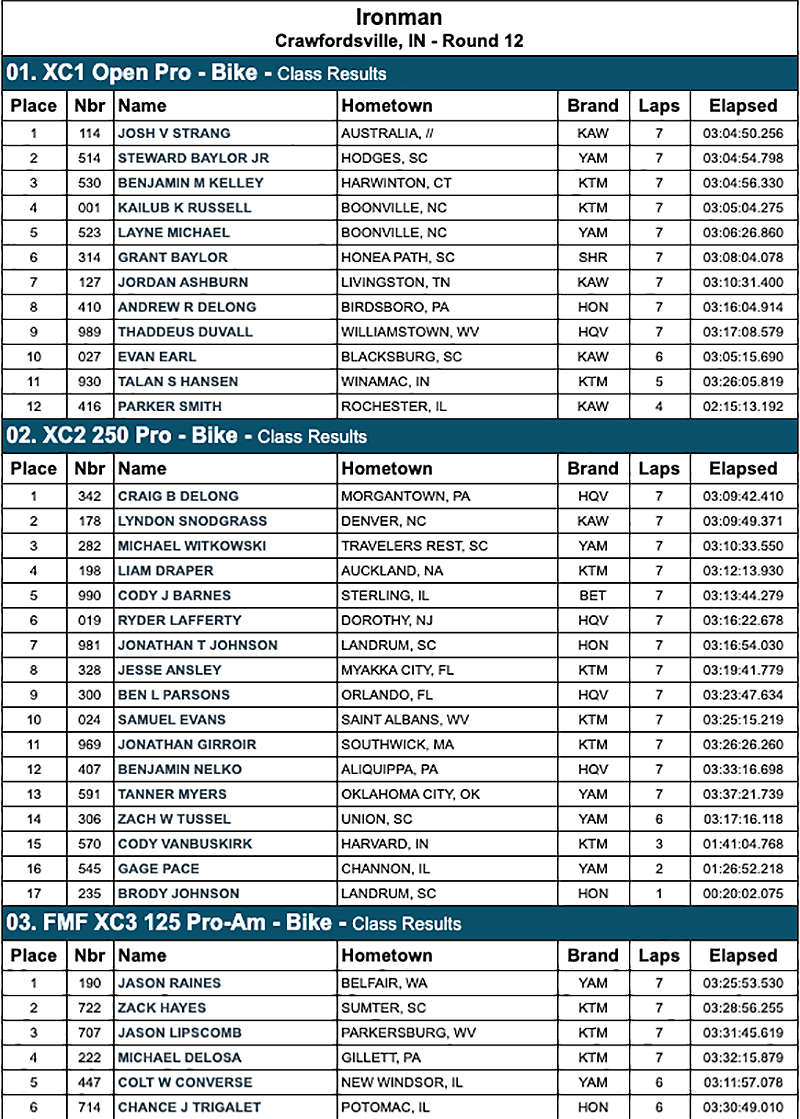 Russell off the podium, say what?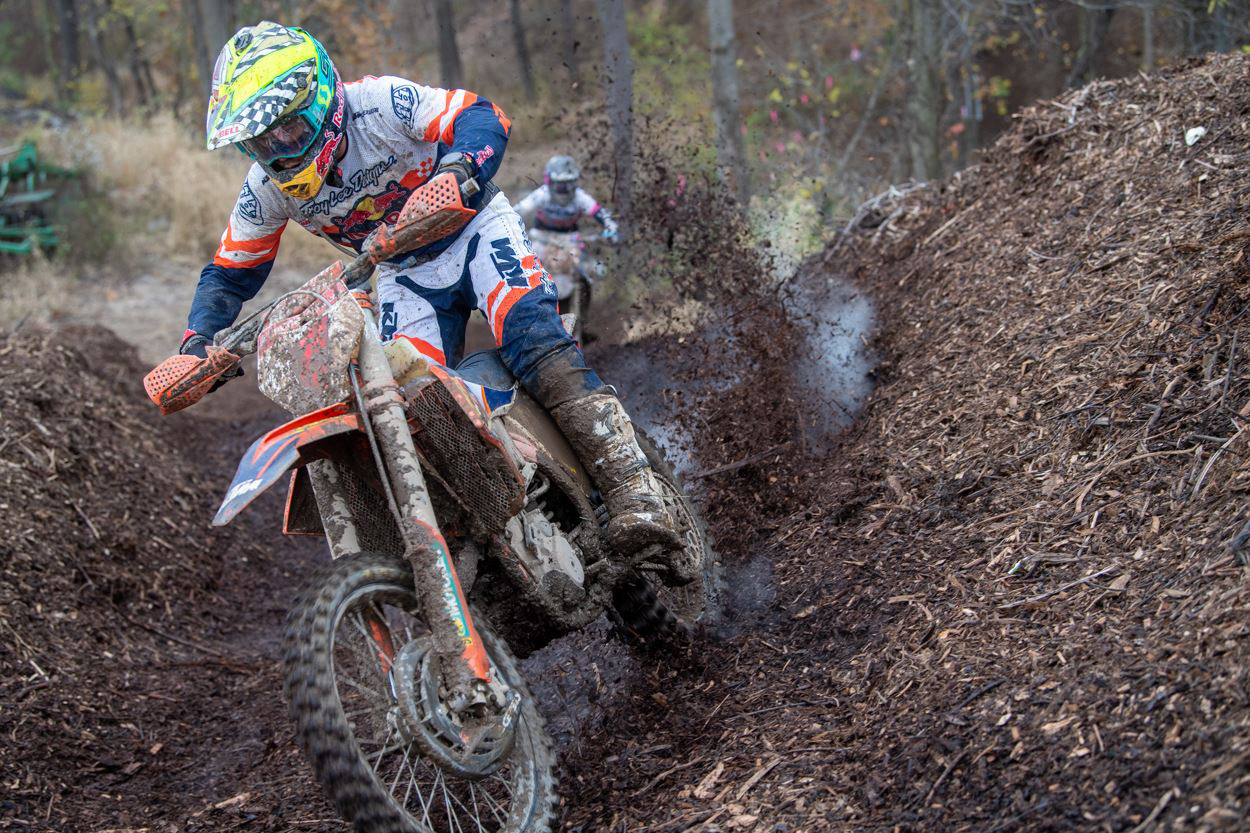 For only the second time this season (after his DNF at round 10) Kailub Russell did not make it onto the XC1 podium. After mixing it up front early on, Russell caught a lapper hit the deck stuffed his throttle in the ground in the process. The lost time fixing the twistgrip left Russell playing catch-up but even by his own standards it was gap too big to haul back.
"We caught lappers on the second lap and I got tangled up with the first guy we came up to," explained Russell. "I went down, jammed my throttle tube and my throttle was hanging up a little bit so I had to ride with it a lap and half before we pitted. It was tough to ride with that. I lost my mojo a little bit."
XC2 Pro Championship in Delong's hands?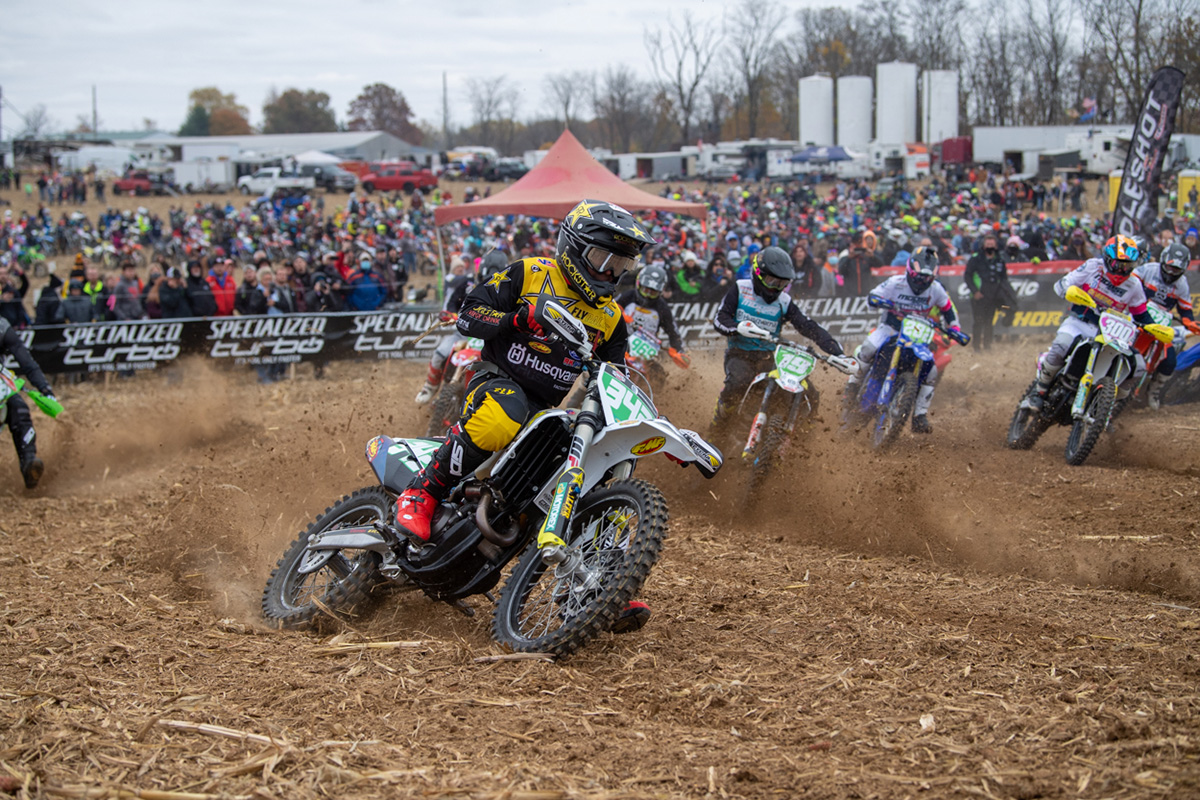 It's been a season-long battle for the XC2 Championship and, with one round remaining, Craig DeLong has some breathing room after a victory while championship rival Johnny Girroir crashed hard and came home dazed in 11th place.
Delong took the holeshot but then dropped to fifth before working his way back the lead to add to his four race-win tally for the season and a consistent string of podium finishes throughout the first 12 rounds.
The XC2 250 Pro Championship standings with one round remaining:
1. Craig DeLong – 296 points
2. Mike Witkowski – 285 points
3. Jonathan Girroir – 280 points
"It was a wild day," DeLong said. "I was fifth for ¾ of the race and then with an hour to go, I made it happen. It was an all-out sprint all day and the guys were riding awesome, it's tough to make up time so you had to block everything out and just go for it. I'm definitely happy to get it done, it's a lot of pressure but it feels good and now I just need to go out and do it all over again next weekend."
Snodgrass finally nails XC2 podium
Babbitt's Online/Monster Energy/Kawasaki's Lyndon Snodgrass held the early lead and battled with championship leader, Johnny Girroir before his knocked himself out of contention. AmPro Yamaha's Mike Witkowski was also in the mix throughout the three-hour race battling with Snodgrass right to the last lap when the Aussie stole the P2 position from Witkowski who will take consolation from his second position in the points standings.
Rachel Archer wins WXC despite broken foot
In the 10 a.m. race, AmPro Yamaha's Rachael Archer earned her fifth overall win of the season despite an incident with a lapper which left her with a suspected broken foot. Factory Beta USA's Rachel Gutish came through to take second in the WXC class followed by BABS Racing Yamaha/Maxxis' Becca Sheets rounding out the WXC podium.
WXC results: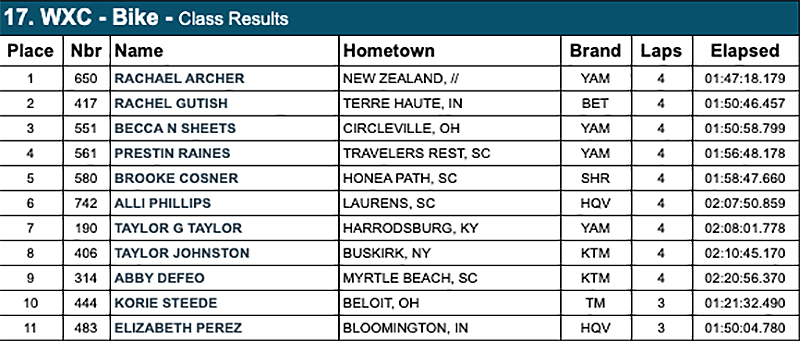 More information and full results: www.gnccracing.com
Photo Credit: Ken Hill + Shan Moore