GNCC Results: Baylor's triple at Mason-Dixon – Russell is champ
Results from the Mason-Dixon GNCC, round eleven of the 2020 Grand National Cross Country (GNCC) Series where Steward Baylor scored his third win in succession and Kailub Russell sealed a historic eighth championship title.
Mount Morris, Pennsylvania will go down in history as the GNCC round where FMF KTM Factory Racing's Kailub Russell wrapped up his eighth-straight GNCC National Championship.
Baylor's triple treat
Almost overshadowed by Kailub's crown, Steward Baylor deserves at least some of the limelight for what was arguably his hardest fought race win of the season. Baylor's AmPro Yamaha teammate Layne Michael took the XC1 holeshot ahead Babbitt's Online/Monster Energy/Kawasaki teammates Jordan Ashburn and Josh Strang as they headed into the woods for the first time – Baylor at this point was down in mid-pack.
Michael impressively held the lead for the first four laps as dusty conditions featured heavily and air filter changes were part of the pit stop routines for many teams. Ultimately though the relentless pace of both Baylor and FMF/KTM Factory Racing's Ben Kelley had relegated Michael to third as they came through timing on the fifth lap.
Baylor held the advantage on Kelley by 13 seconds as the white flag flew having opted for one less air filter swap. Michael meanwhile went down at the end of pro row and allowed Russell into the podium place with Thad Duvall, back racing GNCC for the first time this season, pushing hard in fourth.
Out front the battle was intense for the final lap and 30 minutes of racing which ultimately saw Baylor cross the line just 1.8 second in front of Kelley – no time for backflips over the line this week though Stew…
Mason-Dixon GNCC results: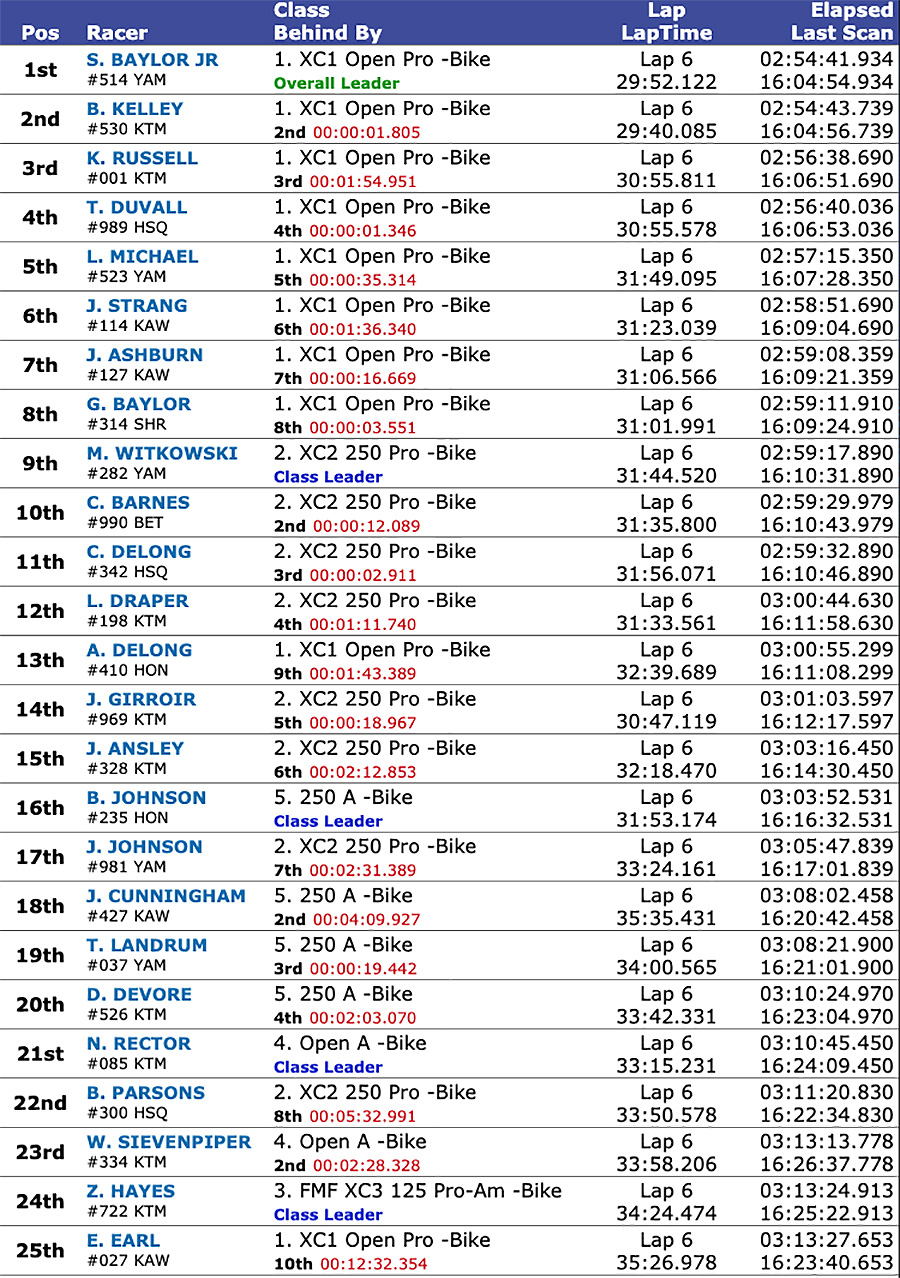 Trigger-happy Kelley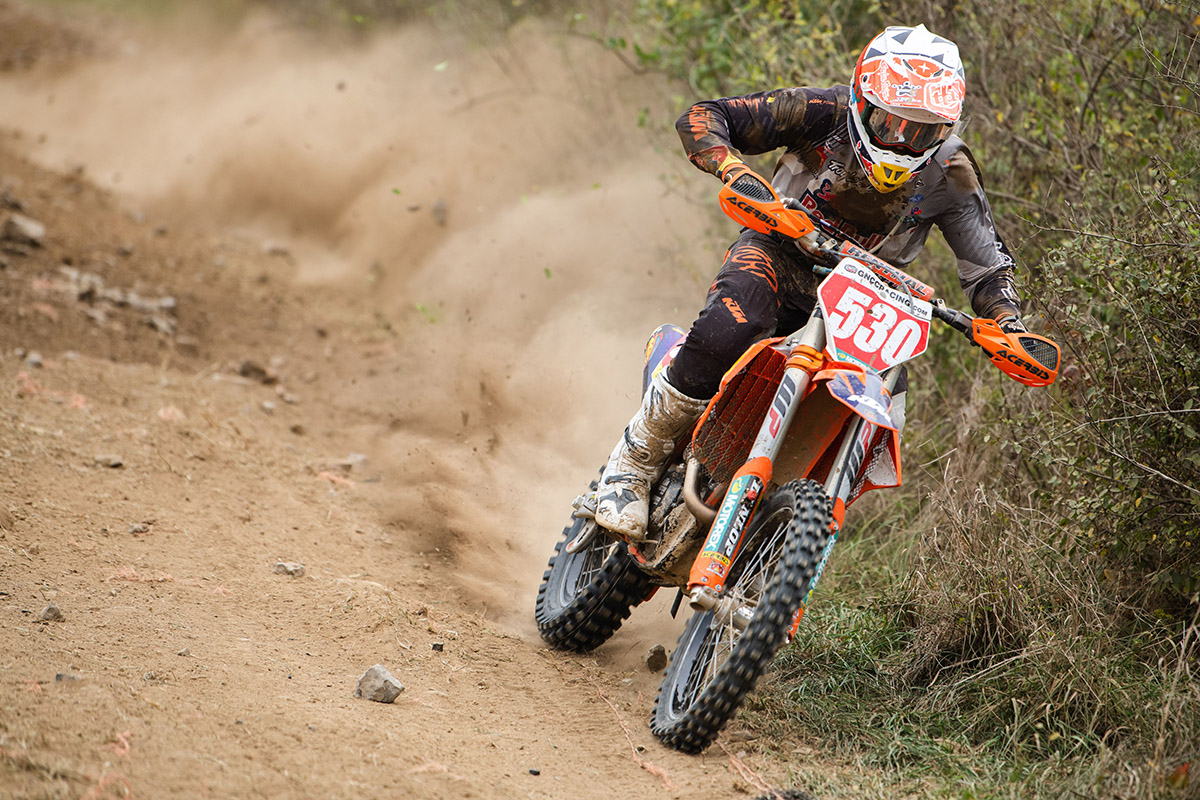 Ben Kelley will curse himself for an over-eager thumb on the Mason-Dixon start line. The KTM rider fired up his bike too early and although he shut it down immediately and was then last away, was still forced to take a 15-second penalty on the opening lap.
Kelley worked his way through the dust and up to third at the halfway point before moving to second with two laps to go. The last lap was epic but in the end the dust (and a wide Baylor) made a pass on the last lap a step too far.
"Today was tough," said Kelley. "It seemed like everything was going wrong. I started my bike too early and shut it off trying to do the right thing but I ended up with a dead last start and I got stopped for 15 seconds on the first lap.
"I was able to reel in Stu but it was like a mile from the finish and when I caught him there was nothing I could do with that dust. I'm happy with second but this one hurts a little."
Injury? What injury?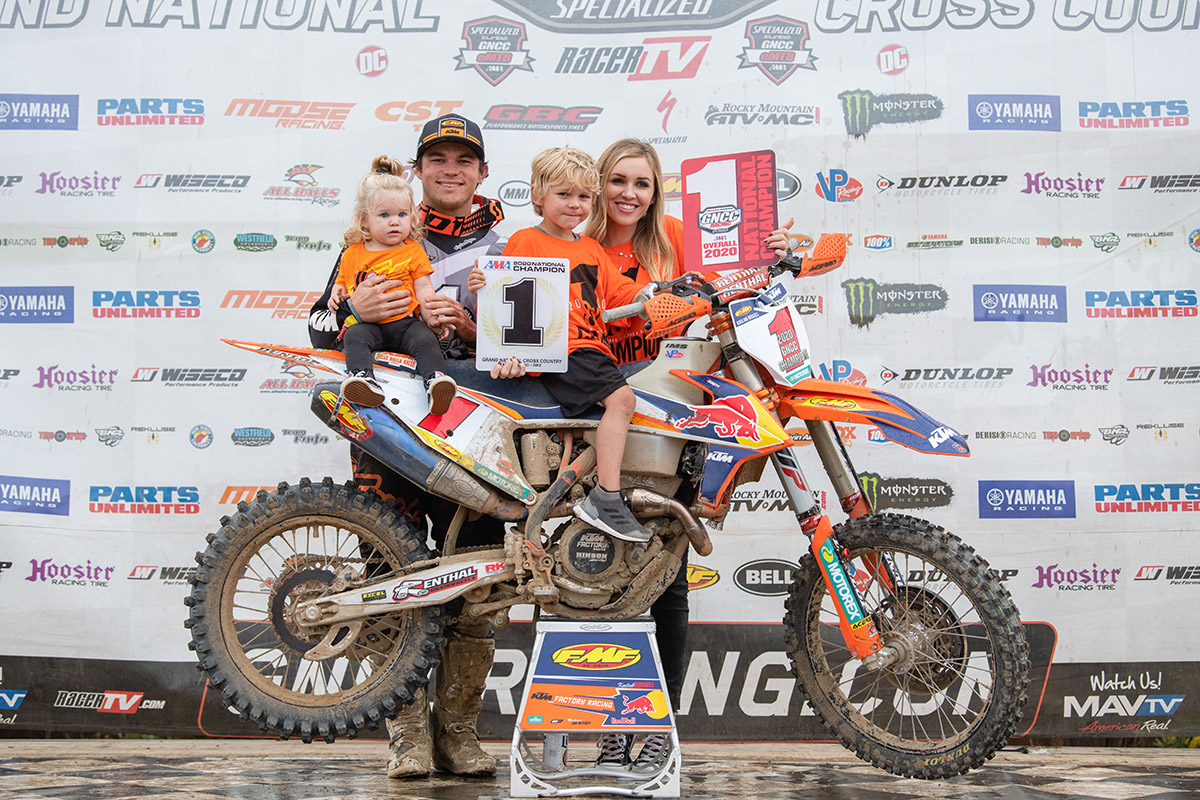 Kailub Russell, who came into the race after sustaining a PCL and lateral meniscus tear two weeks ago in Ohio, had to dig deep through the three-hour race. Russell was among the many pitting twice for fresh air filters and had ground to make up if he wanted to score enough points to take the title at this race but when Michael went down it was enough and the championship was his.
"Today, the track today was completely brutal." Said Russell. "If we hadn't done two filter swaps there's no way we would have made it – it was pure silt from the drop of the gate. I banged myself up a couple weeks ago and I was a little unsure of how it was going to go. I really just wanted to get this thing out of the way so I just kept my nose to the ground today and we were able to make it happen."
Duvall's return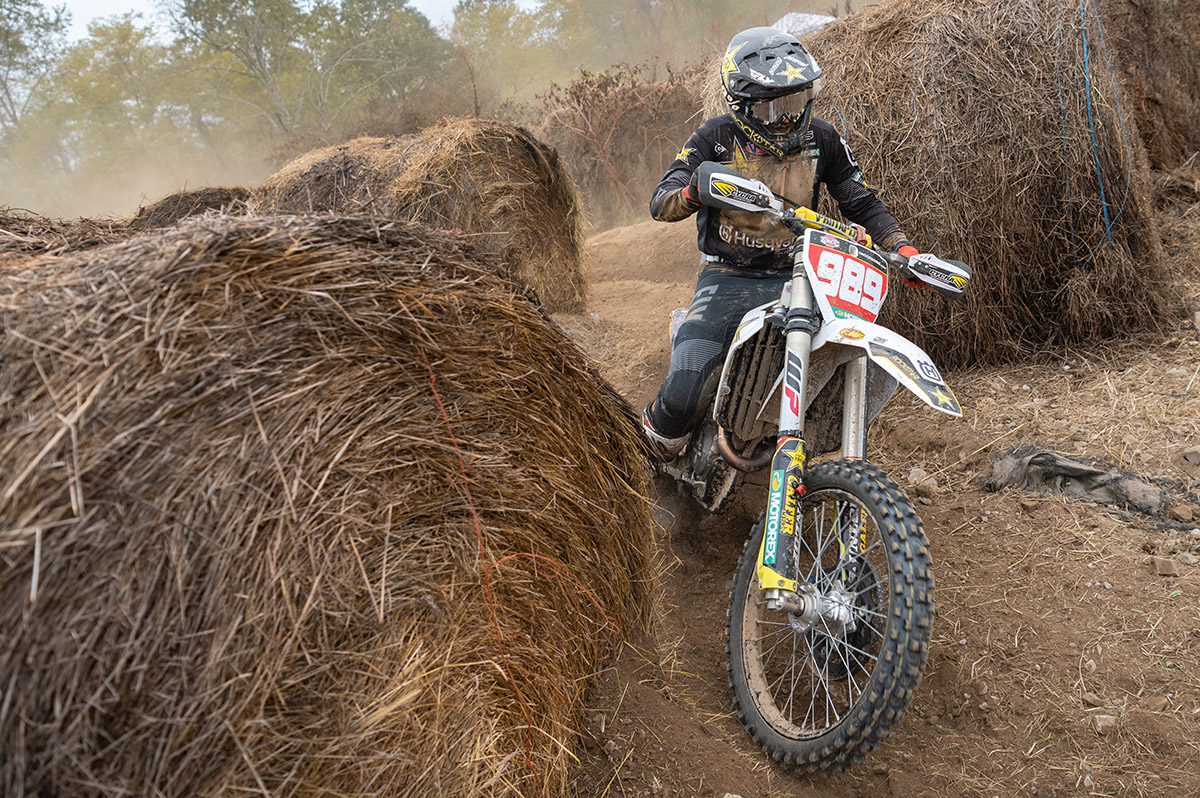 Thad DuVall also put in a solid performance on his return to GNCC racing from his pre-season injury. The Rockstar Husqvarna rider was solid in fact to the point of nearly bagging a podium after battling for a top three spot all race he finished up 1.3 seconds behind Russell at the flag. "I wasn't sure where my fitness would be for a whole three hours," explained Thad, "I paced myself and I felt good the whole race. I gave it my all in those last two laps and I'm happy with fourth."
Layne Micheal held on to that fifth place after his pit row get-off ahead of Josh Strang who had been running up front for the first three laps but his pit stop and filter change was a lengthy one which cost him places and ultimately contributed to Russell podium and championship.
2020 GNCC Racing championship positions after round 11 of 13: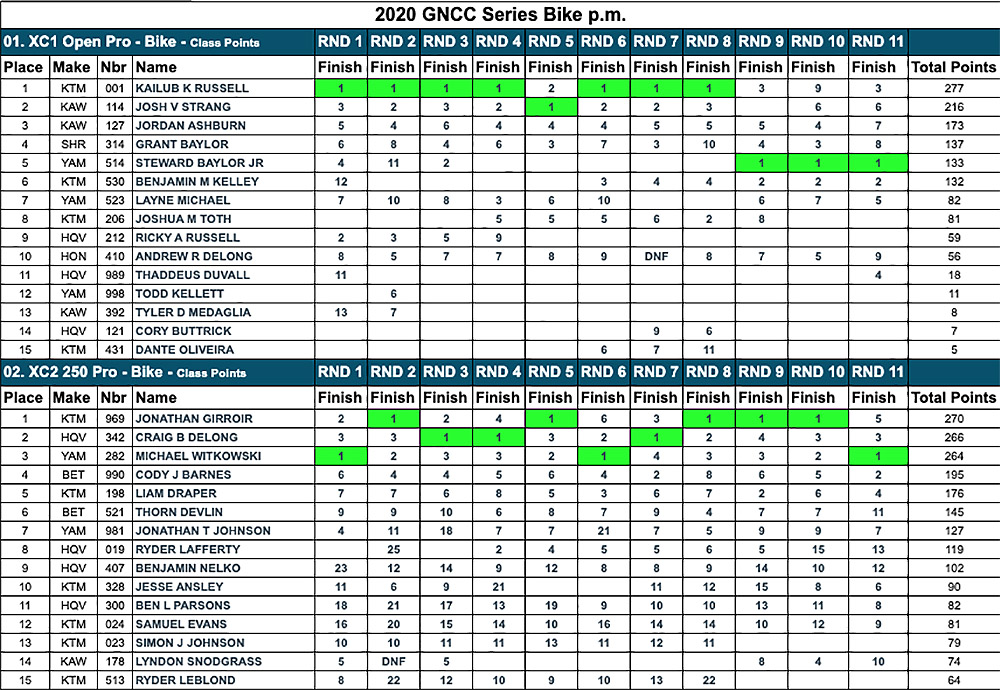 Witkowski adds to AmPro Yamaha's haul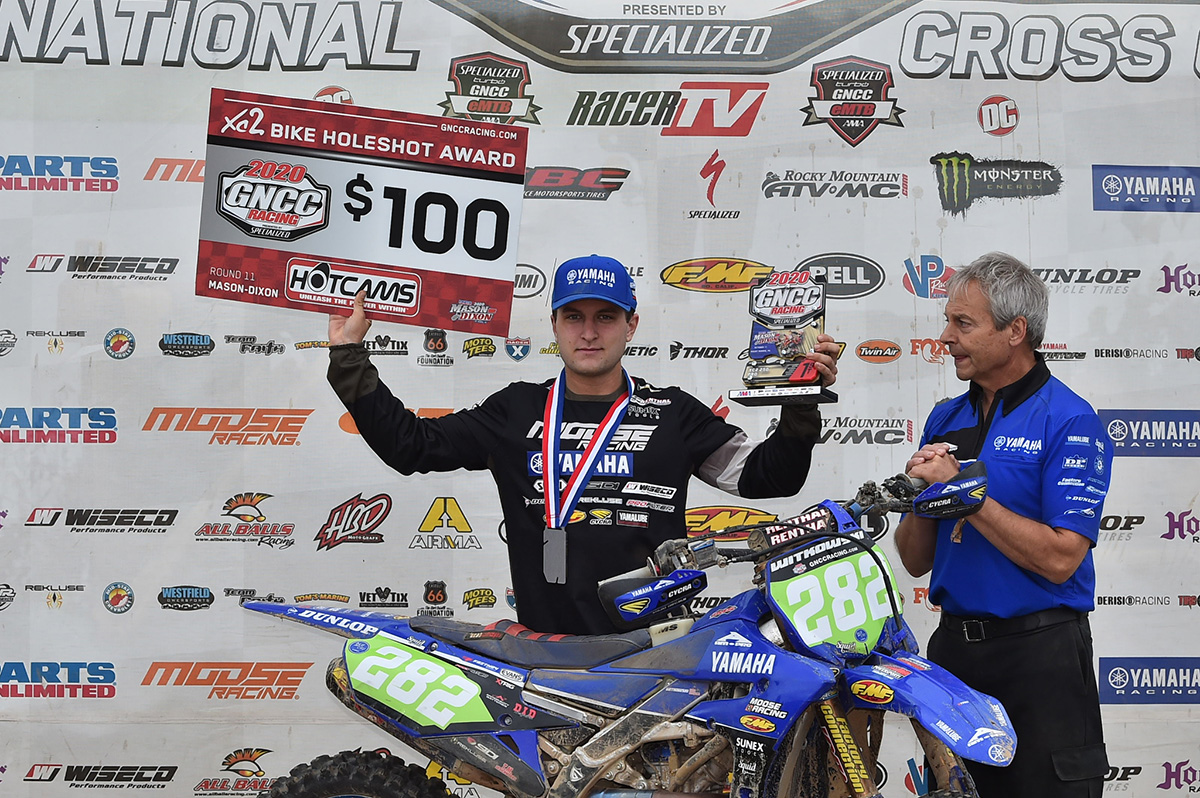 In the XC2 250 Pro class AmPro Yamaha's Mike Witkowski got a great jump off the line and lead throughout six laps of racing to finish 12 seconds in front of Factory Beta USA's Cody Barnes (you'd think he would look happier though!).
Barnes ran second for all but one lap of racing and as the white flag came out he had Craig Delong for company. Delong, fighting for the XC2 championship with Jonathan Girroir, didn't have the best of starts but made his way to fourth and then third before passing for second as the white flag came out. The pair battled through the last lap with Barnes taking it and Delong rounding out the XC2 podium.
Liam Draper crossed the line fourth ahead of points leader Jonathan Girroir who's bad start cost him dearly and meant a race long struggle through the dust to salvage fifth.
WXC win for Archer as Sheets takes the title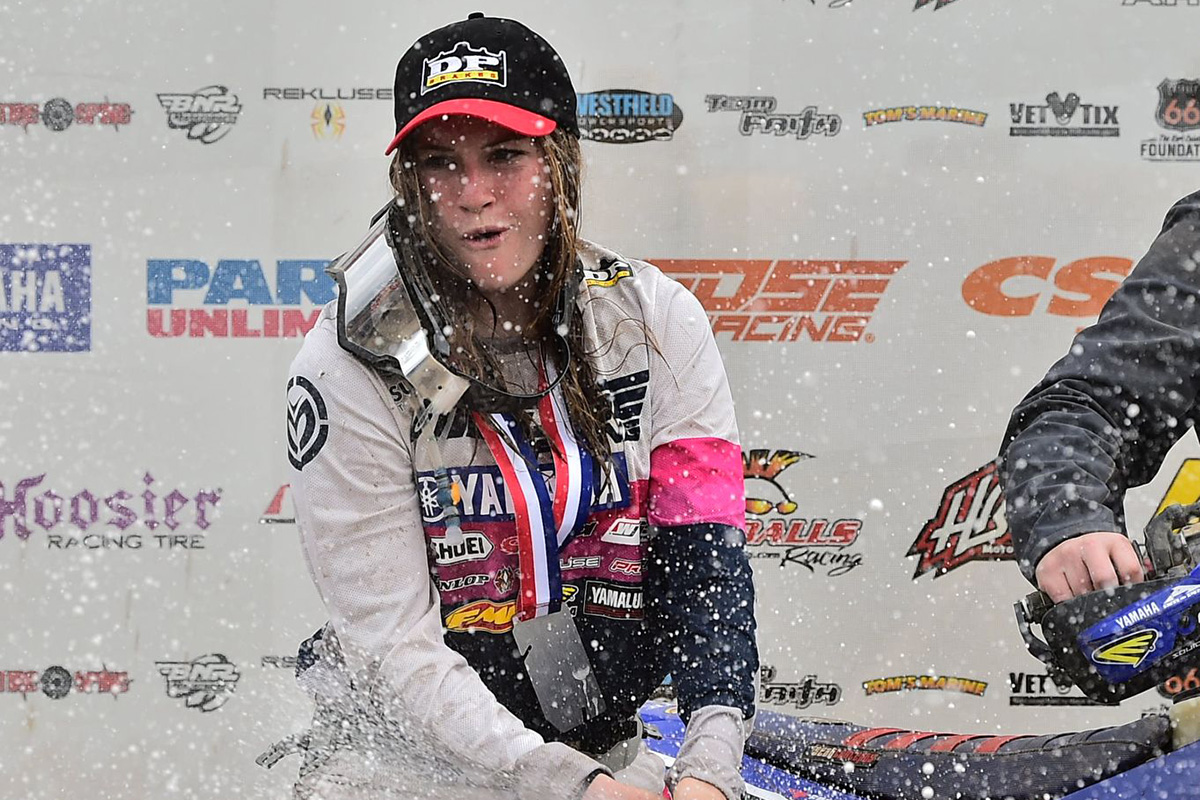 AmPro Yamaha sure had a great Mason-Dixon weekend after Rachael Archer took the overall WXC win – bettering Baylor in the blue trailer with a fourth-straight class win of the season.
Beta USA's Rachel Gutish held the early lead before Archer made a pass stick on Gutish with FactoryONE Sherco's Brooke Cosner moving to third to make her first podium appearance of the season.
Fourth place on the day was enough for Becca Sheets to take her BABS Racing Yamaha to a second WXC GNCC National Championship.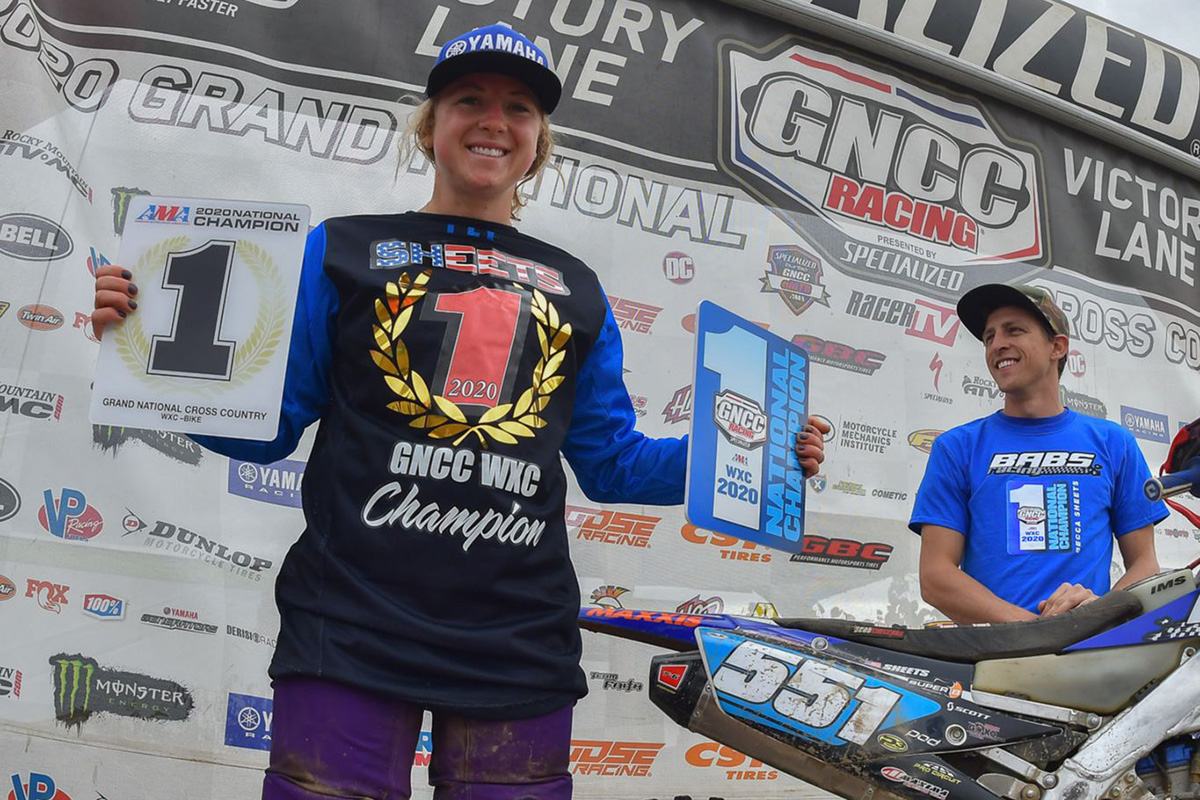 WXC Mason-Dixon results:

Next Race: Round 12 – Ironman GNCC – October 25, 2020
More information: www.gnccracing.com
Photo Credit: Ken Hill + Mack Faint