High Point GNCC: Kailub Russell wins despite drama
Kailub Russell takes another 2020 victory trophy at the High Point GNCC in a drama-filled race which saw Josh Strang runner-up and Ben Kelley back onto the podium…
As we approach round seven of 14 and the halfway point this GNCC Racing season, the gap between Kailub Russell and his most realistic challenger (and the only other XC1 Pro class rider to finish on the podium in every round) Josh Strang has grown to 28 points already. Five wins and one second place are a familiar pattern and don't even talk about the gap back to third place in the 2020 Championship.
https://www.instagram.com/p/CBbM5Wjg7pZ/
As challengers take turns to put it to the man Kailub Russell and fall by the wayside trying – only Strang, who won at Camp Coker, has bucked the five-win run from Russell this season. At High Point this weekend, round six, it was basically a flag-to-flag victory again for the FMF KTM Factory racing rider but it wasn't all plane sailing.
The champ had another crash and complained about lappers getting in the way late in the race, plus he had to deal with a charging Josh Strang putting the pressure on him once more as the race concluded. "I got a pretty good start and felt good straight away." Said Kailub. "I've been struggling a little bit so I did a little warm-up routine before the race and I felt better the first half of that lap. I was able to stretch it out and then we got into lappers and I kind of tanked myself, it's just frustrating. I'm glad to win but I'm not really happy with the ride today."
High Point GNCC XC1 Pro class results: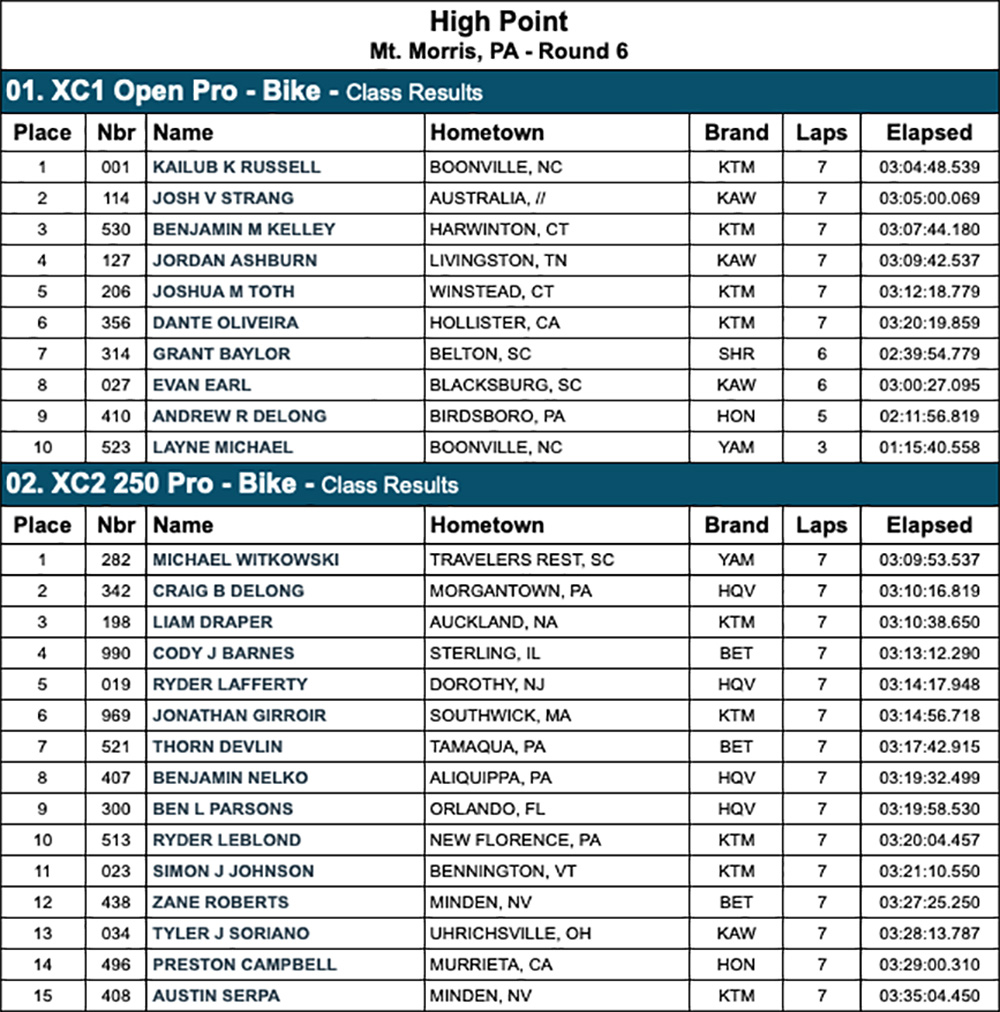 Strang 100% podium record in 2020
High Point saw Layne Michael on Kailub's tail for half the race before a crash on lap four put the Yamaha rider out with a dislocated shoulder. With Michael going out on lap four that gave Josh Strang one less rider to pass and a step up from third to second for another podium slot this season. Again, it was not the best of starts for the Babbitt's Online Kawasaki rider – he started out down in ninth – but fastest lap times overall from lap three onwards closed the gap to keep Russell honest.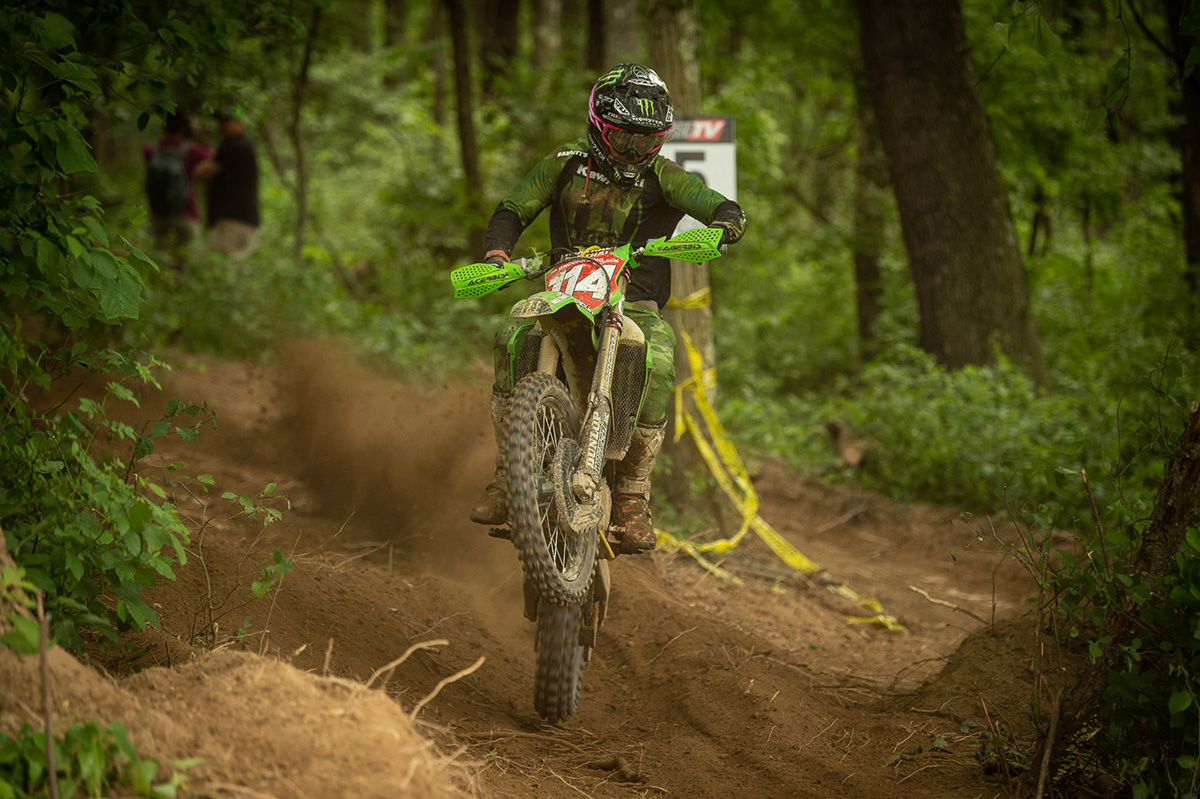 Speaking on social media, Strang said, "A lap in the dust wasn't ideal, but we made the best of it and enjoyed the race. Every track this year has had something a little different so it's been fun! Got almost close enough to the front with a 2nd! Keep on plugging away and having fun! Once again fans and family were going mad yesterday, I love it!"
Strang's teammate, Jordan Ashburn, holds onto third in the points table with fourth overall at High Point.
Kelley withstands pressure
Ben Kelley rounded out the High Point XC1 Pro podium. Things were fast and furious in the pack but Kelley kept consistent to hold a hard-charging Grant Baylor at bay in the final laps. When Baylor's Sherco expired with a mechanical, the third podium spot was Kelly's.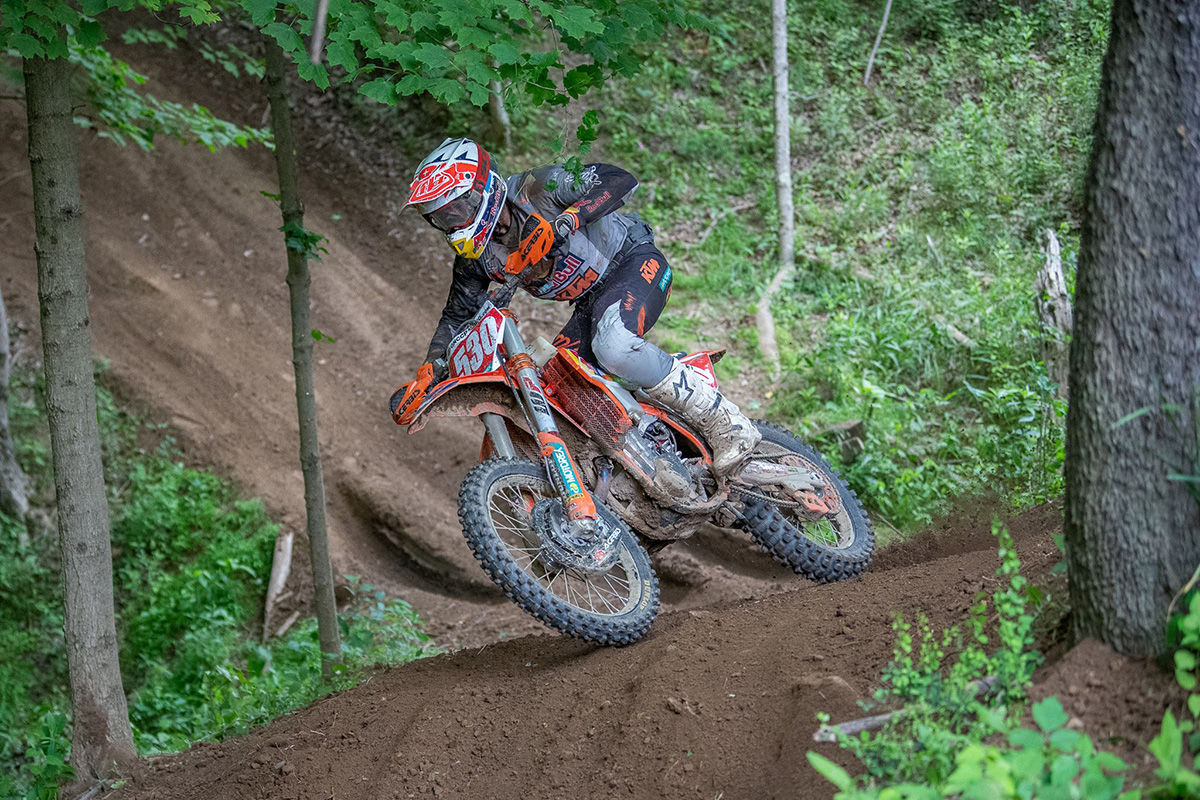 "It's been a long time since I've raced for three-hours," explained Ben, "I got back on the bike three weeks ago and man, it was hard out there! Grant was making me work for it but I put in a good final lap and I'm stoked to be on the podium."
Badass XC2 Pro 250 class
The battle rages strong in the XC2 class this season and High Point was no exception. With a handful of riders taking turns to lead it wasn't until mid-race that Mike Witkowski stole the march and put himself clear. The winning result that sees Witkowski take over this super-competitive class points at this stage. Fighting hard after a poor start, Craig Delong pulled back to take second place ahead of Liam Draper.
Tayla Jones breaks Becca Sheets' WXC stranglehold
For the first time all season the morning race on Sunday saw a different winner in Tayla Jones. The Australian worked her way up to the lead from a third place start but it was only on the dramatic last lap that she took the honours after Rachel Gutish, the leader for the majority of the race, fell foul of the lappers.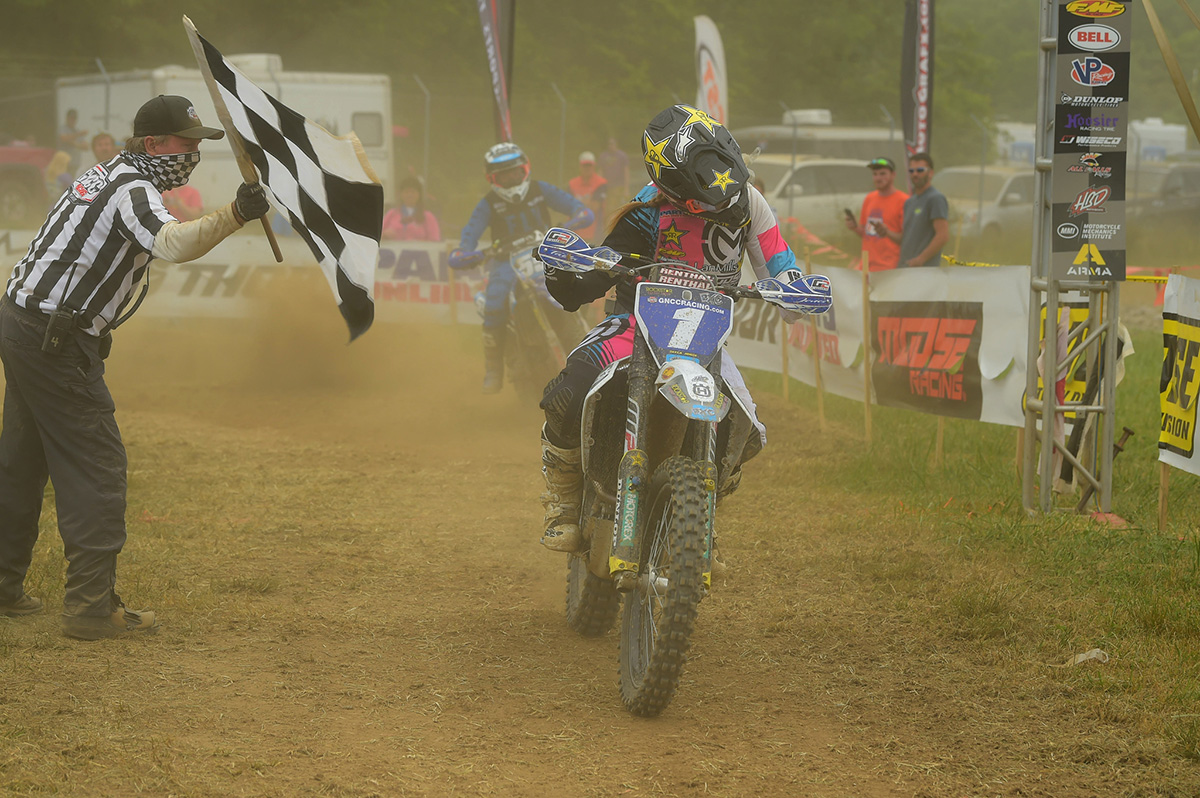 Championship leader Becca Sheets and Mackenzie Tricker also capitalised on the luckless Gutish to steal second and third in the WXC class. Sheets remains in the points lead after earning the first five WXC class wins of the season.
2020 GNCC XC1 championship after round six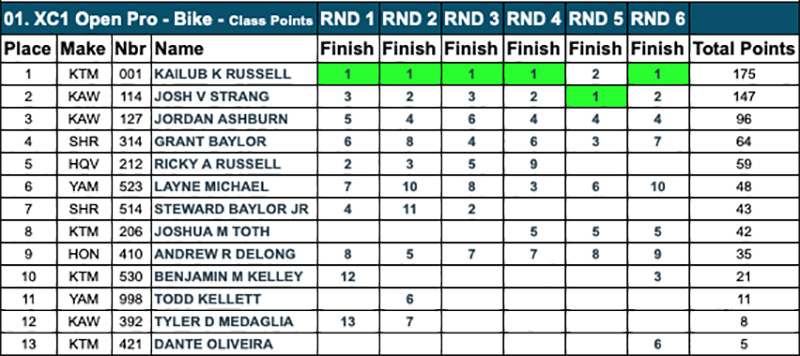 2020 GNCC XC2 250 championship after round six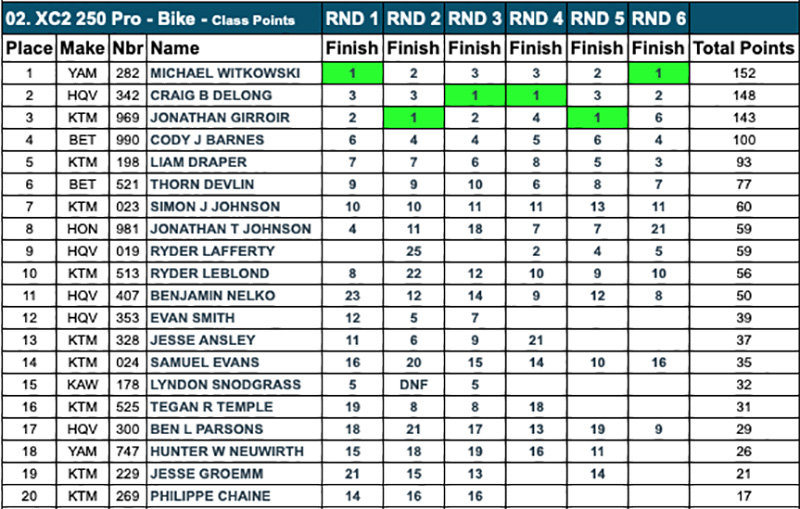 2020 GNCC WXC championship after round six