Historic GASGAS one-two finish at Mason Dixon GNCC
Victory for Ricky Russell and a runner-up finish for Grant Baylor at the Mason Dixon GNCC has delivered GASGAS a historic Grand National Cross Country podium one-two.
After the opening six races of the the 2022 GNCC season were all won by the same guy, Ben Kelley, things have turned a lot less predictable as we roll through round round eight of 12. Kelley got injured and hasn't raced these last two rounds and since then, predicting who will finish, not get injured, and indeed win is far from easy.
At the 2022 Mason Dixon GNCC at Mount Morris, Pennsylvania the win went to one of the good guys. The fight for the overall was in fact between Ricky Russell and Trevor Bollinger for much of the race, with the pair taking it in turns to lead. Bollinger held the advantage for the thick of the three hours and was looking favourite until he collected a lapped rider and badly hurt his hand.
That handed (no pun intended) an overdue victory after a five year drought to Russell who has earned it with good form in other US enduro series recently. After placing second to Josh Strang last time out at the John Penton, the Coastal Racing GASGAS rider made it stick on the tight Mount Morris track:
"About time, that's all I can say." Said Russell after the race. "We rode good all day. Trevor was riding good and putting in heater laps. I was trying to stalk him down and he made a little mistake with a lap to go and I just knew I needed to do a one lap sprint and put it all together on the last lap.
"I had a big crash and I was worried but I got pit boards with the gap so I knew, and, man, it feels good."
Second overall after yet another typical from behind ride was REV Motorsports GASGAS team's Grant Baylor who had to make passes in the small XC1 field while keeping the flying XC2 lead riders at bay.
After Bollinger faded with his hand injury, the fight for the podium saw Baylor just edge Jordan Ashburn on the final lap: "I think I was two riders from the back of the start so I didn't make it easy on myself and definitely had my work cut out." Grant explains. "It wasn't one of the easiest of tracks to pass on but I was just steadily clicking off positions as the day went on. I wish I could have got a better start and be up there with Ricky but I'm pumped to be second, finish the day second and stay off the ground all day."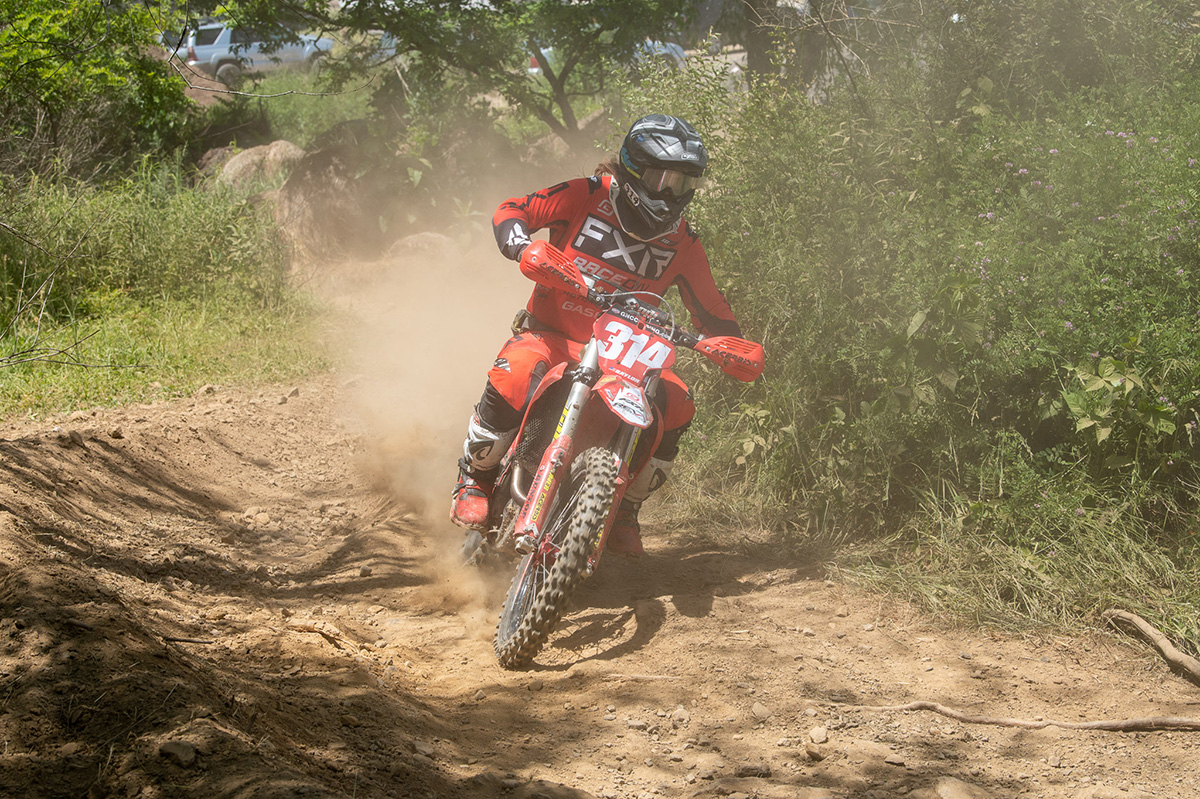 Perennial podium finisher Jordan Ashburn took yet another step onto the box with third place and Ashburn remains the closest challenger to points leader Kelley – but for a slower line choice it could have been P2: "The track was brutal, skaty and sketchy and real hard to pass on. Virtually there was nowhere to pass on unless they made a mistake.
"But I managed to get up into second but chose the wrong line trying to get around a lapper and Grant got by me. And that was all she rode, I was beat. It was a tough day at the office."
2022 Mason Dixon race results: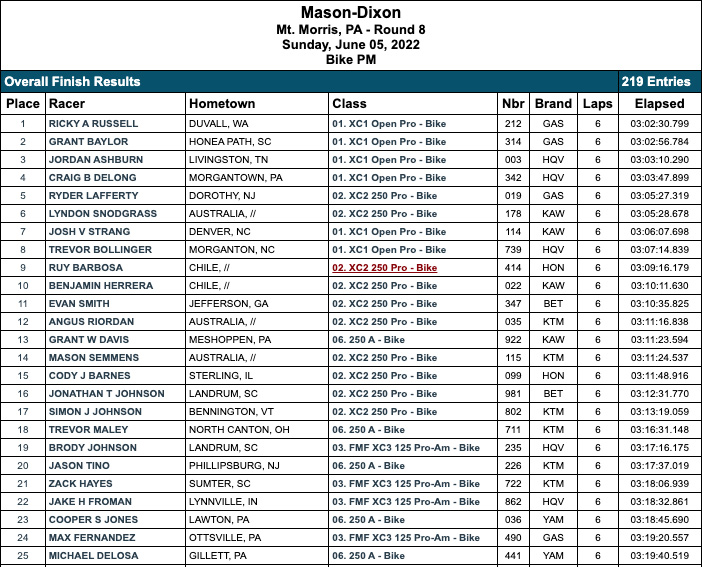 In a season which is increasingly feeling like no other, just seven riders completed the XC1 class at the Mason Dixon. We need some riders back!
Of those, only the top four behind Craig Delong are fully fit. Josh Strang was fifth in class and seventh overall (behind the fastest XC2 riders Ryder Lafferty and Lyndon Snodgrass) and is still recovering from a shoulder injury. Trevor Bollinger managed to limp home in eighth, Josh Toth was seventh in class but 134th overall after wrenching his leg which forced him to pull out after four laps. Plus of course we're missing Ben Kelley, Steward Baylor, Thad Duvall…
Remarkably Kelley still leads the series standings despite missing two rounds and, with Snowshoe next up before the summer break, things could change by the time we pick up again for the final four rounds.
2022 points standings after round 8: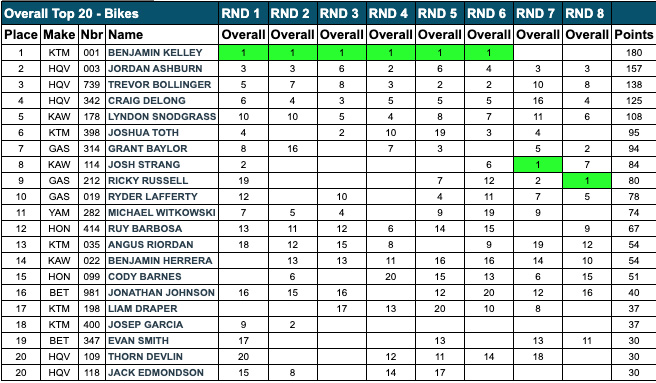 Second XC2 250 win for Lafferty
The fastest XC2 riders were once again among the fastest overall at the Mason Dixon GNCC with Lyndon Snodgrass and Ryder Lafferty's battle for the win taking them to fifth and sixth overall and right to the wire in class.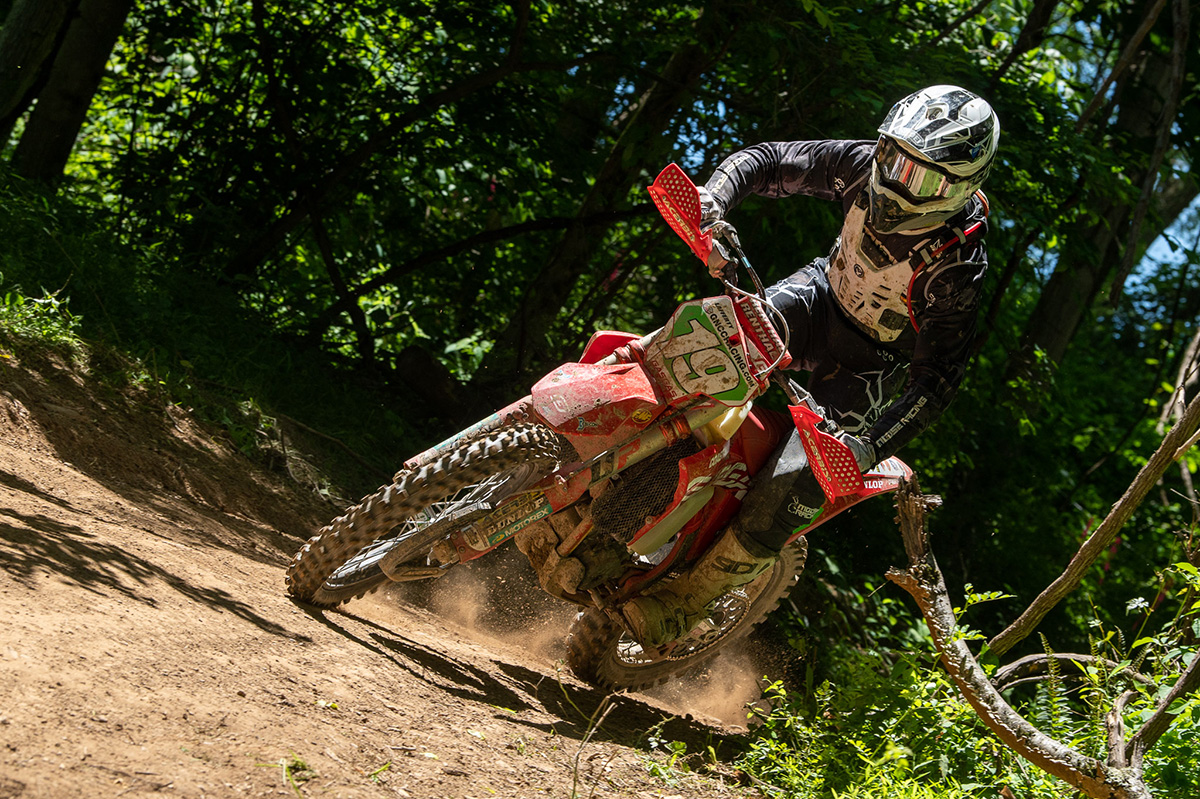 Liam Draper was also fighting for the XC2 win but a mechanical on the last lap ruled him out and allowed Snodgrass back onto Lafferty's tail. It went right to the wire on the final lap but in the end Ryder won out and made it very a good day for Coastal Racing. Snodgrass maintains his championship lead with 192 points to Lafferty's 157 and Mike Witkowski third.
Chilean duo Ruy Barbosa and Benjamin Herrera completed their own private battle for national honours and for the final step on the podium. Rounding out the top 10 overall respectively, Barbosa took third in XC2.
Jones running clear in WXC points chase
Tayla Jones keeps on keeping on this last month or so and took another WXC win in the Sunday AM race. The Australian had to fight off Brandy Richards once again with the pair lapping closely until the fourth circuit when Jones managed a gap and took the victory.
Richards finished P2 and clear of third-placed Korie Steede. Jones now leads the points standings on 195, with Steede on 188 and Rachael Archer third on 172.
Archer deserves mention after revealing she was suffering from Epstein Barr during the week leading up to Mason Dixon. Rachel still raced but was another rider who got caught out by the trees…
Mason Dixon AM race results: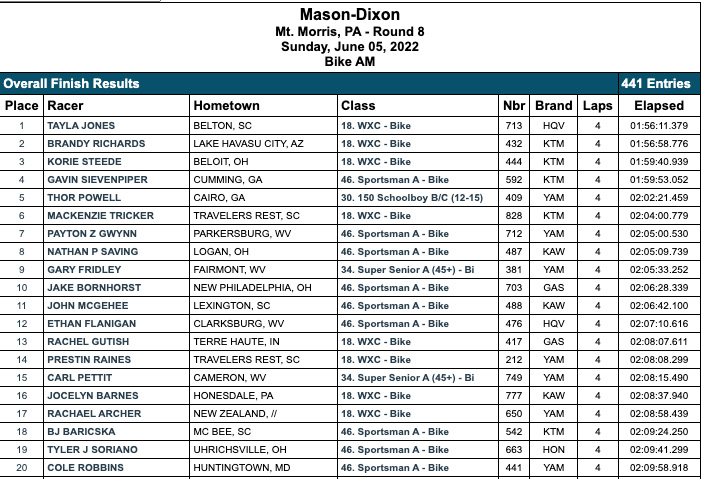 Photo Credit: Ken Hill + Coastal Racing