Victory for Ben Kelley at "brutal" Wild Boar GNCC
FMF KTM Factory Racing's Ben Kelley claimed his first overall victory of the 2021 AMA Grand National Cross Country (GNCC) season after a gruelling battle with Josh Strang in the "insane" Florida sand at the Wild Boar GNCC.
Known for its physically demanding course, the 14-mile course at Palatka in Florida the 2021 Wild Boar GNCC was rougher than usual after rain fell in the days leading up to the event. The results for the Pro classes, who hit the course for their three-hour race at the very end of the GNCC weekend, was a very beaten-up course which the overall winner described as "insane".
Kelley makes amends for round one
After round one of the 2021 GNCC season saw an entirely orange-free podium, Ben Kelley made amends with a clear victory at Wild Boar this weekend. The Factory KTM rider found himself on the ground within the first five miles of the race but was on a mission after two months of training in the Florida sand and got himself into the lead by lap three.
The most impressive element to Kelley's win was to hold it apparently comfortably for the second half the three-hour race and finish almost a minute and a half clear.
"It feels really good to put in a solid ride and get a win after a frustrating first round." Said Kelley after taking his third-ever career XC1 victory. "Three hours of sand whoops is insane and it's been two years since I've done it so I just wanted to play it smart.
"I got into a rhythm and I feel like I just rode steady the whole race. My bike was awesome and I felt like I was in really good shape, just blitzing the whoops. I felt super strong, I've been down in Florida for two months training at Ranch Russell with Charlie Mullins and the boys and it feels good. I'm looking forward to battling this season."
Strang fights back for second
Jordan Ashburn got the holeshot in the feature race before Coastal GASGAS Factory Racing's Ricky Russell took the lead for the first two laps of racing before Kelley took the lead heading into lap three.
Meanwhile, coming through from fifth on the opening lap, Babbitt's Online Kawasaki's Josh Strang worked his way through the pack to be in podium contention at the half way point to set-up a battle with Jordan Ashburn for P2. Strang duly made the pass stick and came through 28 seconds ahead of Ashburn at the flag.
Ashburn held on for a strong third overall ahead of round one winner, KLM Milwaukee GASGAS' Grant Baylor who went from eighth to fifth before a last lap push to take fourth overall and retain the points lead as the series heads to Georgia next weekend.
Wild Boar GNCC 2021 Results: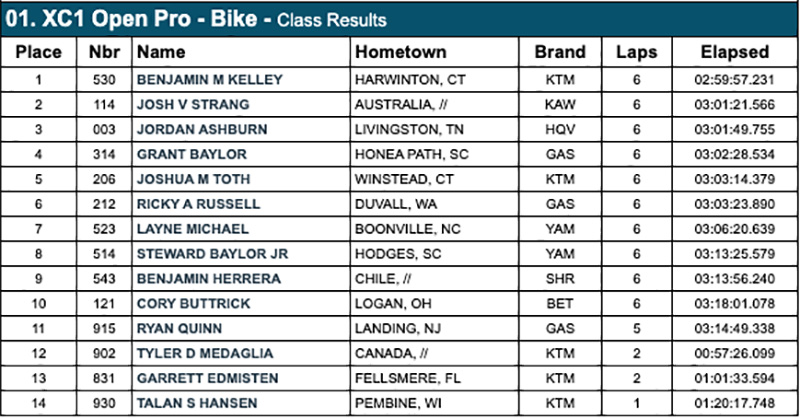 A.O.B. in the XC1 Pro class
Josh Toth was among a gaggle of riders swapping positions during the race but settled into fifth place by the finish. Ricky Russell went from leading to as low as eighth at one point, after a fall in the woods, before put his head down again for the last couple of laps and claiming sixth overall.
Another rider swapping positions throughout the race were the AmPro Yamaha duo of Layne Michael and Steward Baylor Jr. who was back in action after missing round one with a hole in his side. Michael finished seventh behind Russell.
Baylor came through in third for the first three laps, then fourth with only one lap remaining in the race. Unfortunately for Baylor, bike issues plagued him throughout the race and saw him pushed back to eighth in the class, 14th overall on the day.
Shout out to RedBull/MCS Racing Sherco's Benjamin Herrera who finished ninth overall in the XC1 class, and 16th overall in just his second GNCC race ever.
Girroir puts the GASGAS in XC2 top spot
Coastal GASGAS Factory Racing's Jonathan Girroir grabbed the early lead in the XC2 250 Pro class and never looked back to finish in seventh place overall and earn his first win of 2021.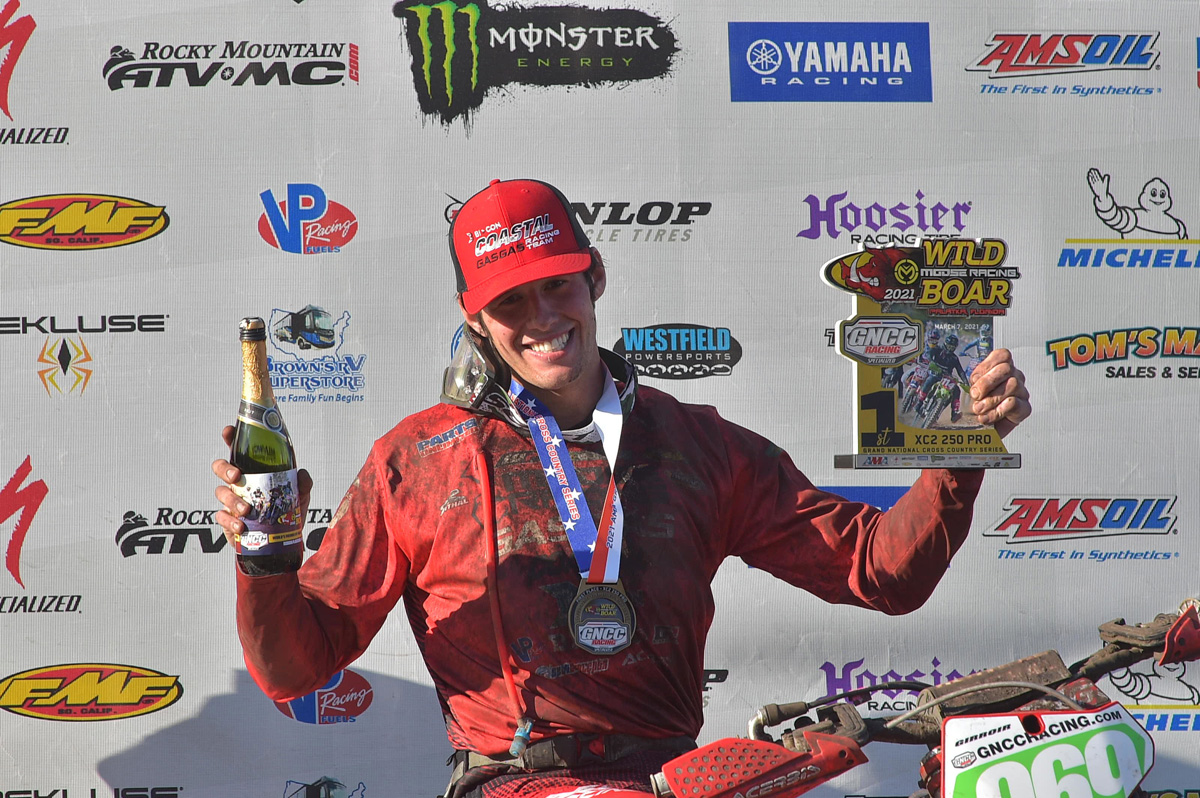 Rockstar Energy Factory Husqvarna Racing's Craig DeLong was another rider making life hard with a slight detour on the opening lap. The defending XC2 champion had to work hard and only got into second in class just a few miles from the finish line.
"It was a good day, definitely a long one that's for sure," DeLong said. "There were a lot of ups and downs, a lot of playing catch-up, crashing and getting back up and then crashing again. I was able to stay upright the last two laps and put in a good charge. All-in-all, it was a good day. Mike and I were together the whole race, we raced clean and it was a lot of fun."
Rounding out the XC2 class podium, AmPro Yamaha's Mike Witkowski swapped back-and-forth between second and third for the majority of the day. Third on the day wasn't quite where Witkowski was aiming but he leaves round two with the XC2 class points lead.
Wild Board GNCC XC2 class results: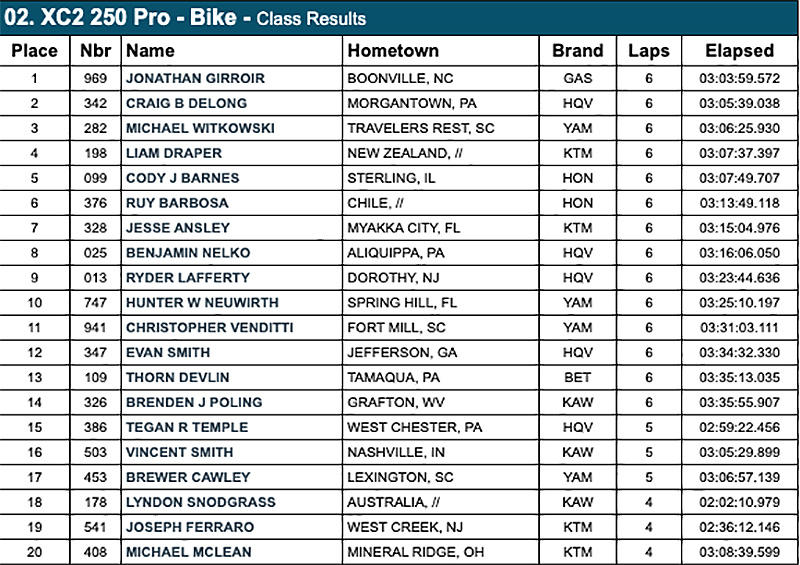 Sheets to the win in WXC
In the WXC class, BABS Racing Yamaha's Becca Sheets went from a fifth place start into the lead on lap two and held firm until the finish line for the victory and a share of the points lead with second placed Rachael Archer.
Archer in fact held second place position throughout all four laps of the race ahead of Tayla Jones who continues to make her climb back up the results sheets and took third in WXC.
Wild Board GNCC Women's class results: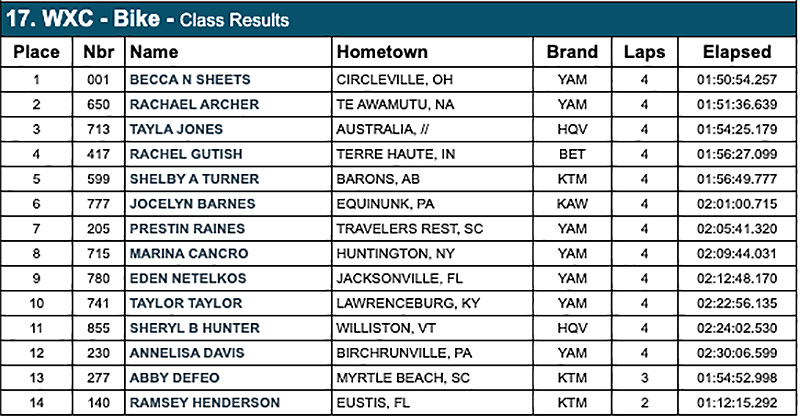 Photo Credit: Shan Moore + Ken Hill