3-from-3 at GNCC as Steward Baylor takes victory at The General
Steward Baylor gets his 2021 GNCC Racing season back on track with victory at The General GNCC, round three of the 2021 Grand National Cross Country series which brought the third winner in as many rounds this season.
After sitting out the opening round of the series with an injury, then suffering bike issues at round two just one week ago in the Florida sand, Steward Baylor had little choice but to make amends at round three this weekend in Georgia.
The AM Pro Yamaha rider ended his 2020 season with a string of race wins and entered 2021 as arguably the lead title contender. But Stew hadn't delivered the results he or the fans wanted after an injury and then mechanical problems left him with just seven points heading to the hard-packed Aonia Pass track in Washington.
But the South Carolina rider delivered a dominant performance on the day, settling into a lead by lap two and then pulling a gap to leave him comfortable in the closing stages – this at the same venue where Kailub Russell stole the race win from Steward at the final turn 12 months previous.
After sinking a beer on the finish line, Baylor said he didn't get paid not to win races and this one had gone to plan: "It was one of those days where you wanted to control the race. I dropped the hammer in the first lap, put a gap on everyone and tried to keep pushing and controlling the race to bring it home with a good margin."
The 2021 General GNCC results: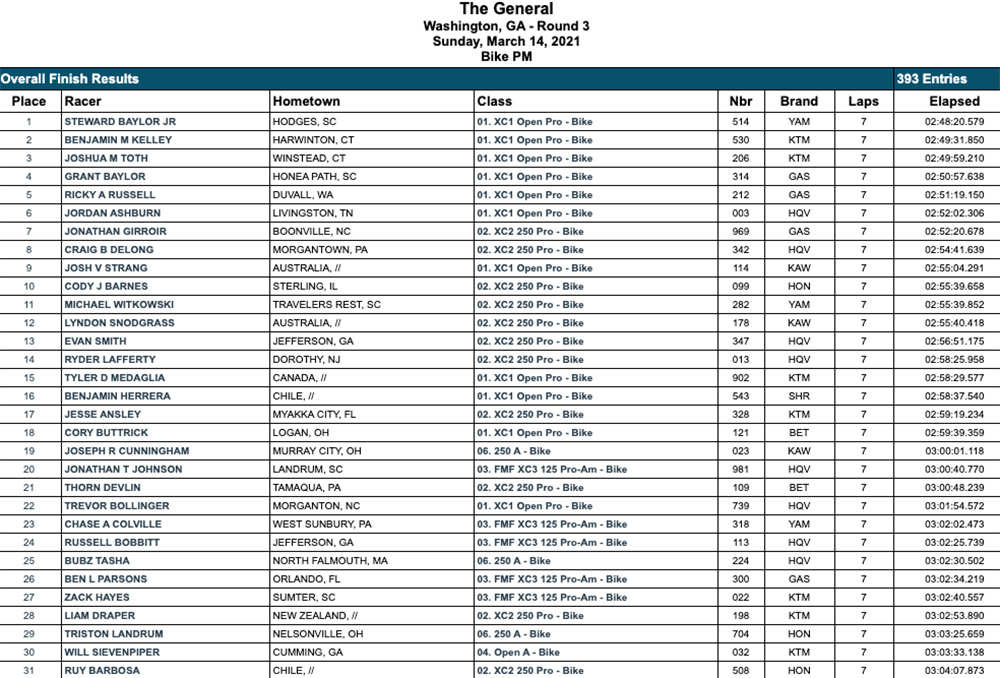 Points lead for Ben Kelley
Round three of 2021 came just seven days after the physically demanding Wild Boar GNCC in the Florida sand. Winner that time out was Ben Kelley who worked his way second place by lap three at the General. Like Baylor, Kelley put enough distance between himself and the next placed rider to be in control but was never able to close the gap down on the leader. Ben finished over one minute down on Stew who spent the last lap waving to fans and the TV cameras.
Kelley's second place though gives him a GNCC XC1 points lead on 71 ahead of round one winner Grant Baylor on 66 with Josh Strang on 59 – Stew Baylor is seventh on 37 points.
"Coming into here, I wanted to repeat with another win and I did the best I could." Said Kelley. "I had a decent start but these conditions don't suit me so I knew it was going to be a tough day and everyone would be close. Stu got around me and yarded me on the first lap but I just soldiered on. It was hard but I gave it all I could. Second place is cool, I'm just happy to have a solid ride and come away with a podium."
Josh Toth made it two FMF KTMs on the overall podium with third place. After undergoing hand surgery just prior to the opening round of the season this was solid progress for Toth who kept a strong pace through the three hours on hard-packed ground.
"It was a brutal day, that was actually tougher than Florida." Said Josh. "I felt a little better coming into it and I gave it 100 percent and left it all on the track. Everyone was riding so good, there are so many fast guys out there. It was a great battle at the beginning, I just kept my head down and charged it right to the checkers. I'm ready to get back up here and be a regular on the podium."
A.O.B. What happened to Josh Strang?
The Babbitt's Online Kawasaki rider came into round three second in the points but had to pit early in the race and change out an entire front brake system after being hit by another rider.
The Australian's team were super-hot changing the brake in just a few minutes and got back Strangy back out quick enough for him to haul ninth place overall (seventh in XC1) but it was a big points loss for Josh.
Back-to-back wins for Girroir in XC2
Johnny Girroir delivered his second win on the bounce in XC2 Pro class and takes the points lead in the championship after this result which wasn't an easy one for the Coastal Racing GASGAS rider. Girroir says Mike Witkowski pushed him all the way: "It feels good to get back-to-back wins but this was not easy. Mike [Witkowski] was on it today and kept me honest the whole race – I needed to keep focused."
For his part Witkowski was also well inside the top 10 overall and finished in second place in class behind Girroir but "an on track violation" led to a time penalty that left him down in fourth place in the results.
That promoted Craig DeLong to second come Monday morning. The Rockstar Husqvarna rider admitted he'd lost touch with the leading two right after the pitstop and ended up a minute and a half down on the winner by the flag.
Pro XC2 results: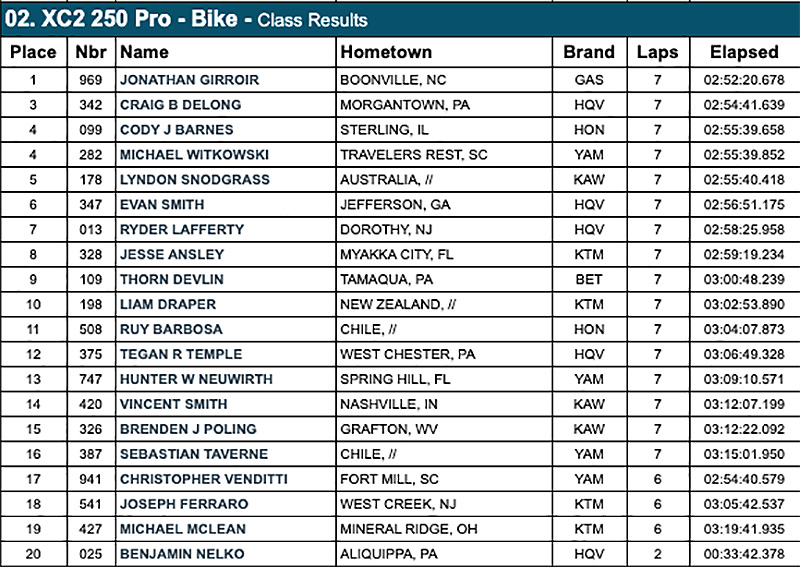 It was a good day for…Yamaha in WXC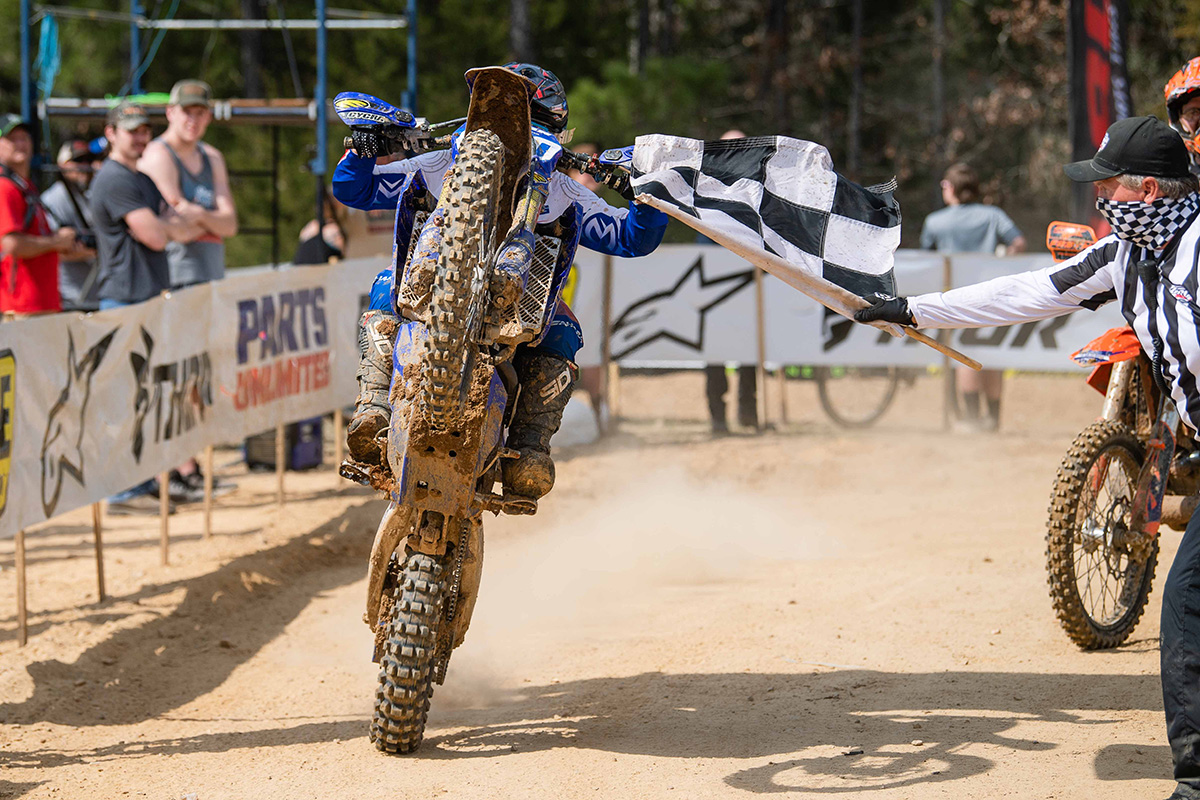 The top three Women's (WXC) Pro racers topped the morning race, with Rachel Archer, Becca Sheets and Korie Steede coming home ahead of over 600 riders all starting at 10am.
For Am Pro Yamaha's Archer it was the second win of the season after she took victory at round one. P2 behind defending champ, BABS Racing Yamaha's Sheets at round two means the fast blue two now sit five points apart at the top of the points (Archer on 85, Sheets on 80) and are already pulling clear of the WXC field.
Beta's Rachel Gutish is third in the points after her fourth at The General. Third on the day, and making good on her switch to the Babbitt's Online Kawasaki squad during the off season, was Korie Steede. Steede missed round two with a broken thumb (only last week don't forget!) but pulled third overall after challenging her Yamaha rivals for much of the four laps.
WXC results: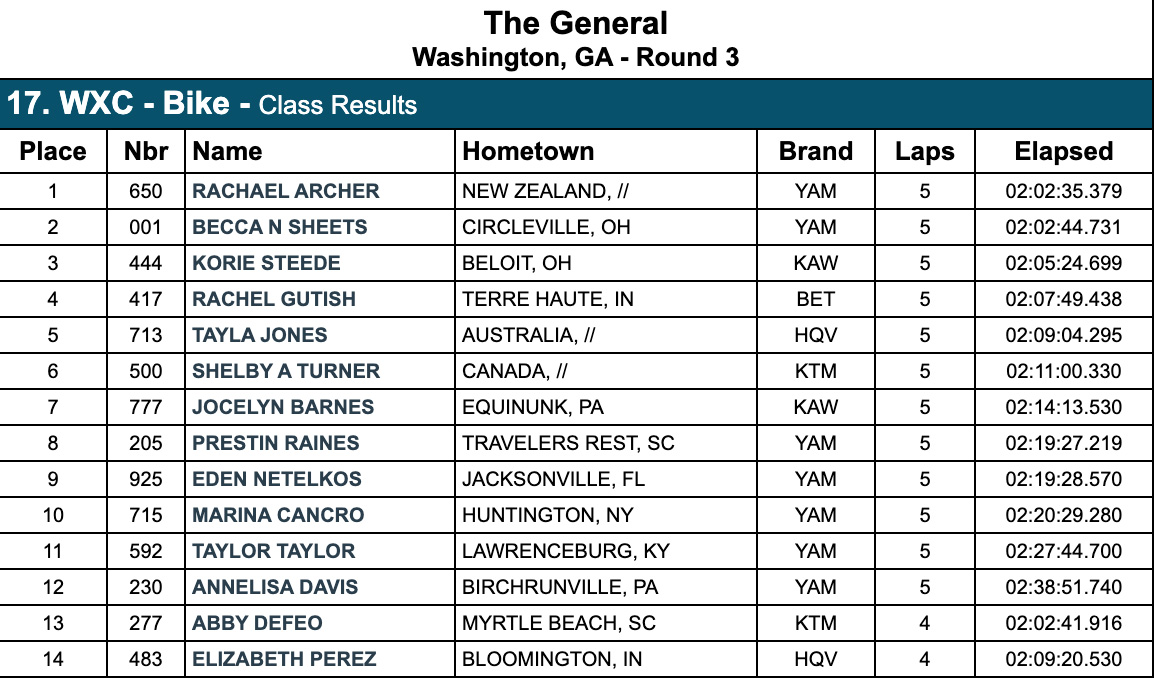 Round four of the 2021 GNCC Racing season is the Camp Coker Bullet on March 28.
Photo Credit: Mack Faint + Shan Moore