2022 Erzbergrodeo results: Lettenbichler wins "toughest ever" Hare Scramble
2022 Red Bull Erzbergerodeo Hare Scramble – Mani Lettenbichler takes a maiden victory in what proved to be the toughest Erzberg in years at round three of the 2022 Hard Enduro World Championship with Mario Roman a close second and Trystan Hart third.
2022 Erzbergrodeo Hare Scramble race in a nutshell:
As the flag raised at 2:30pm at the bottom of the Iron Giant, Teo Kabakchiev bagged the holeshot with Billy Bolt and Mani Lettenbichler in hot pursuit. An early course marking fail caught the front row out (they looped up and down the Rocket Ride hill for no purpose) which that held row two up for around 10 minutes off the start.
As the dust began to settle (it was nuts early on the course) Billy and Mani assumed their familiar place out front, much like we saw so often in the 2021 HEWC, with Kabakchiev and Michael Walkner in tow.
Lettenbichler set a blistering pace out front to pull a gap and arrived at CP10, the rocky uphill slog at "Machine" leading of Walkner, Mario Roman third, Kabakchiev and Bolt.
With an hour gone they reached a new section called Udo's Playground (basically a trials section), and Walkner was within touching distance of Mani with Mario closing.
In the three-plus kilometres of the infamous Carl's Dinner, Mario used trials-like skills to get into P2 as Walkner hit a wall. Hart also worked his way ahead of the chasing pack and settled his claim on a podium.
Rumour had it they would be around two hours riding the course this year but the new sections, plus a long slog through Carl's, meant the race headed deep into a third hour – the longest it has taken the winner and certainly "the toughest ever" Erzberg according to Mario Roman.
Another new section, the Motorex Highway, proved a hard one in the trees and here, plus a savagely hard Dynamite, proved being first can be a nightmare and Mani had to make lines other followed.
But Lettenbichler stayed strong and went onto take his first Erzberg career win, becoming the third German to win after his father and the late Chris Pfeiffer. Two races and two wins this season puts him right in the championship mix.
Mario Roman was close and put a lot of pressure on Mani with solid rides through the hardest sections of this hard race. But the Spaniard had to settle for second, three and a half minutes behind.
Trystan Hart also put his and Canada's name on the HEWC map with a very respectable third place in his second attempt at Erzberg. Next year Hart is rumoured to be racing the full season, watch out boys.
The fight for next best went the way of Billy Bolt who got the better of Alfredo Gomez in the final stages and maintains his championship points lead at least on a day when he (and the rest of us) expected more.
Michael Walkner took P6 and became the first Austrian official finisher of the event.
The final kilometres got the better of Wade Young's bike after he was running in fourth. Some serious mechanical issues on the Sherco saw him struggle to limp home in seventh just ahead of the final official finisher and compatriot Matty Green in eighth and best-placed Junior World Cup finisher.
Graham Jarvis gets ride of the day? After bike problems right off the start, Graham started the race one hour late effectively. From 500th and last, he was inside the top 50 by checkpoint 13, by Udo's (CP18) he was top 30, after Carl's he was top 20, the Motorex hill (CP22 of 27) was as far as Graham could manage, knocking on the door of a top 10 finish as the four-hour cut-off arrived. Sadly, after organisers deemed him to have received outside assistance, he was later disqualified.
CP 17, Stony Party is as far as Kailub Russell, Pol Tarres and highest-placed female rider Sandra Gomez got this year.
2022 Red Bull Erzbergrodeo official results (8 official finishers):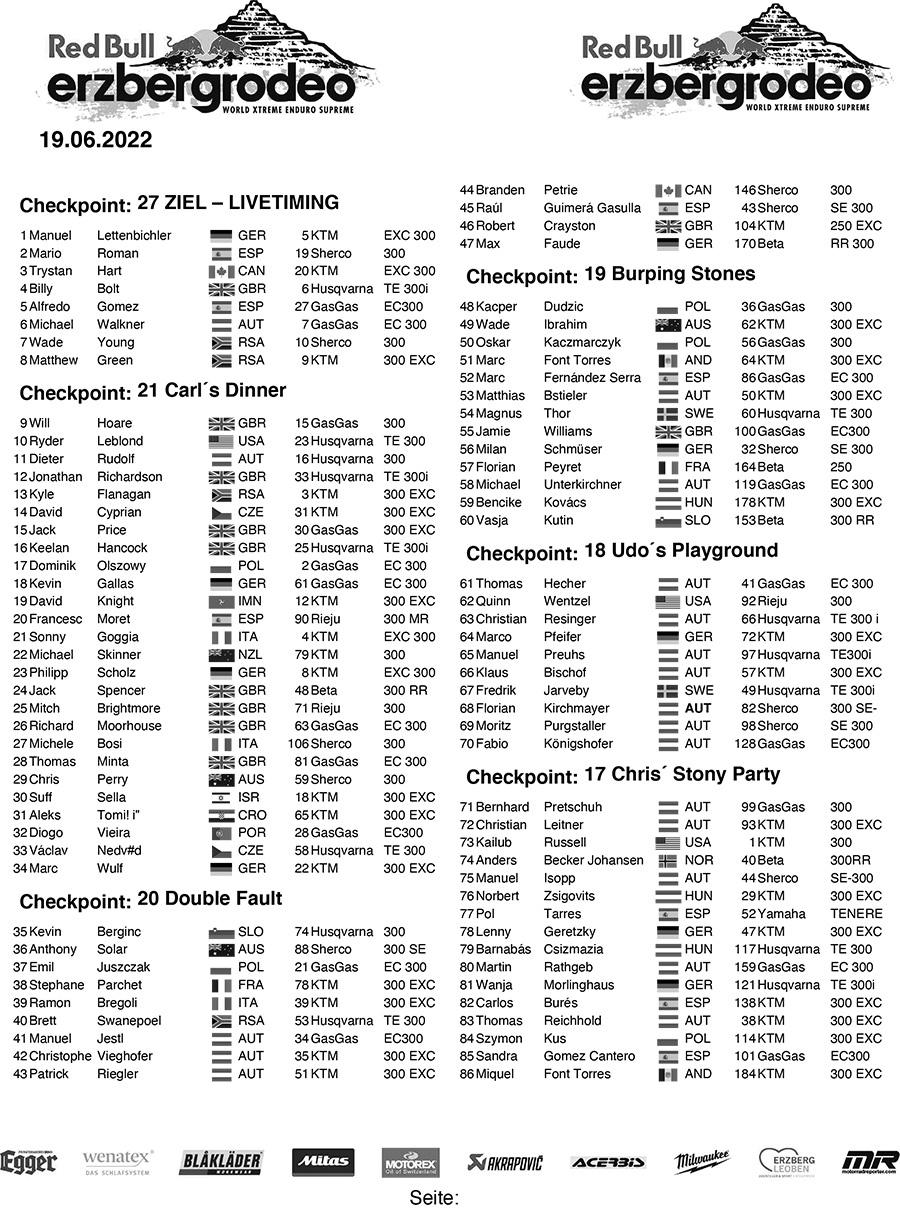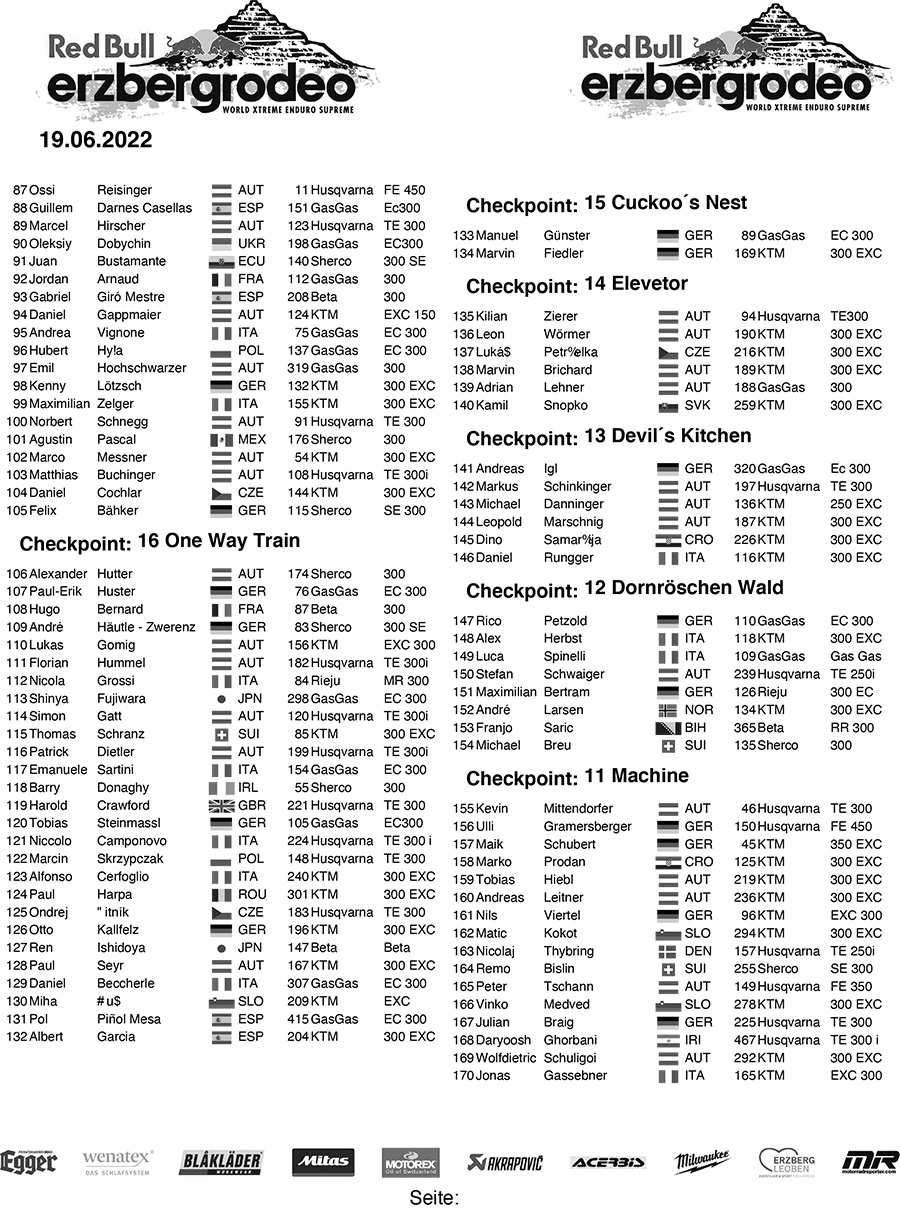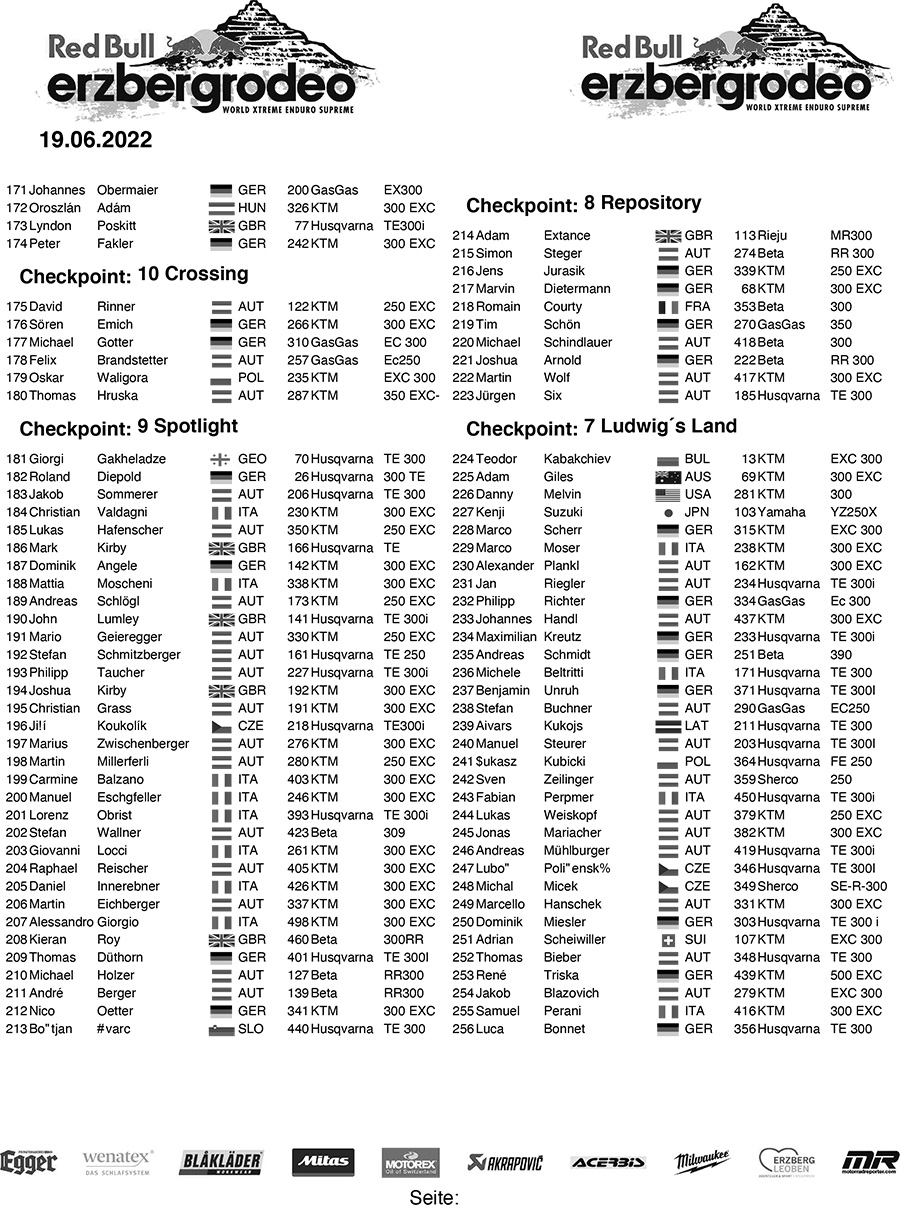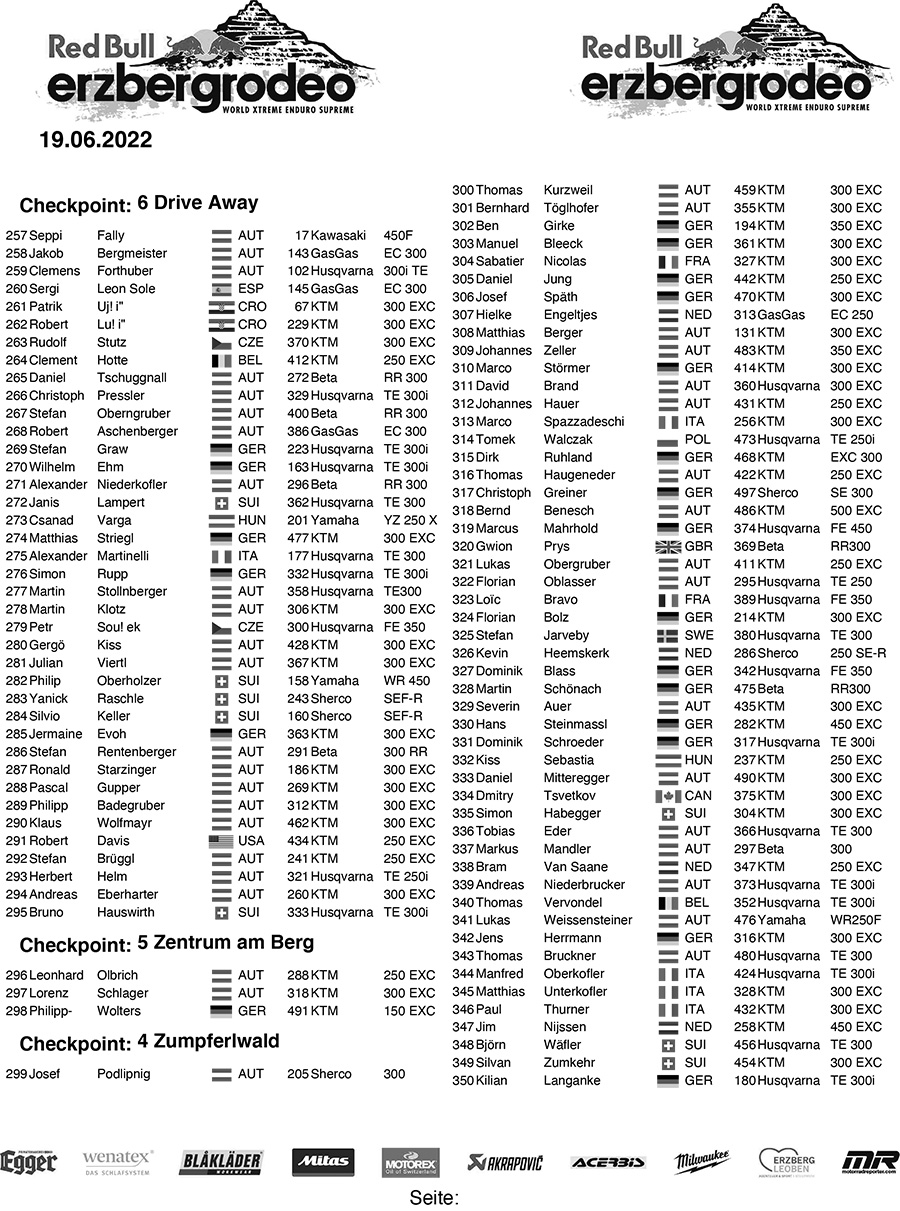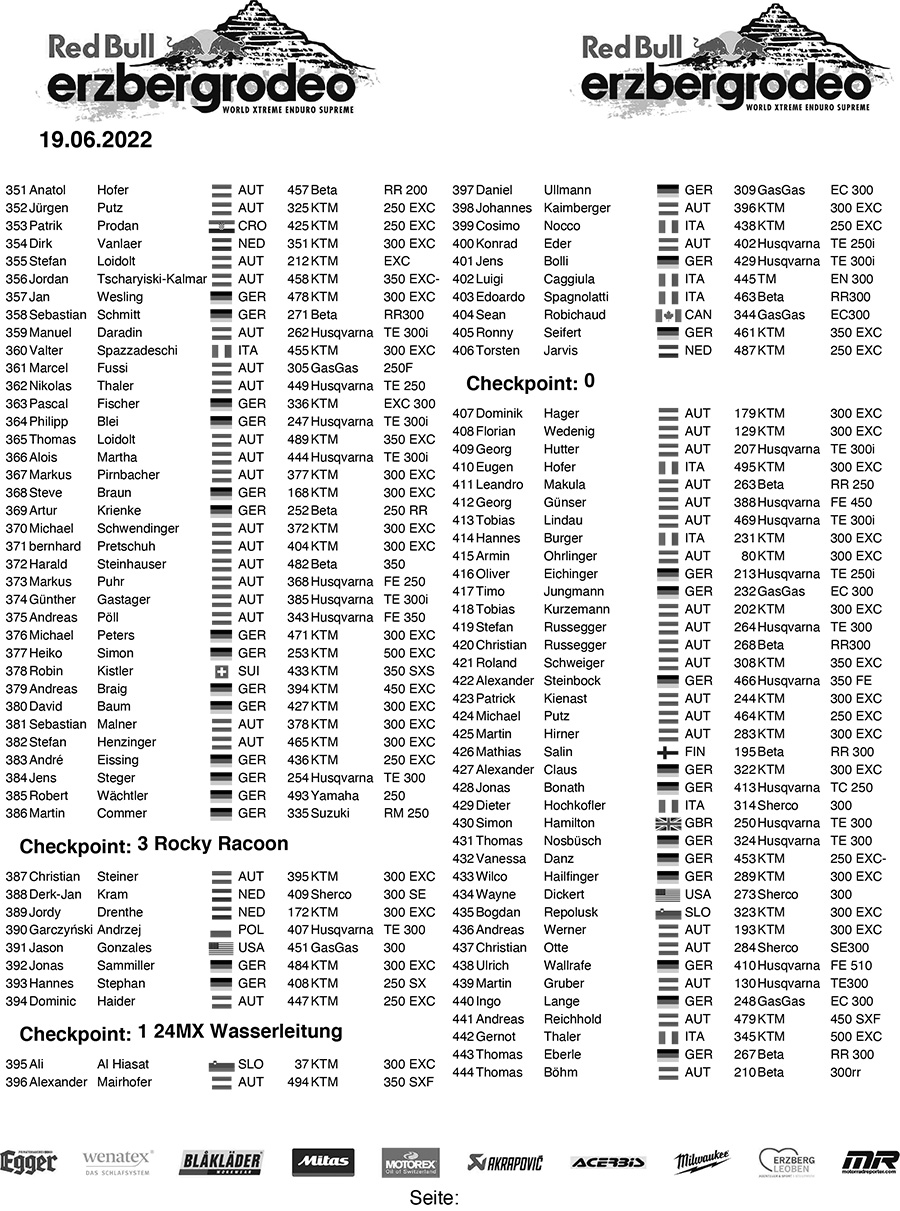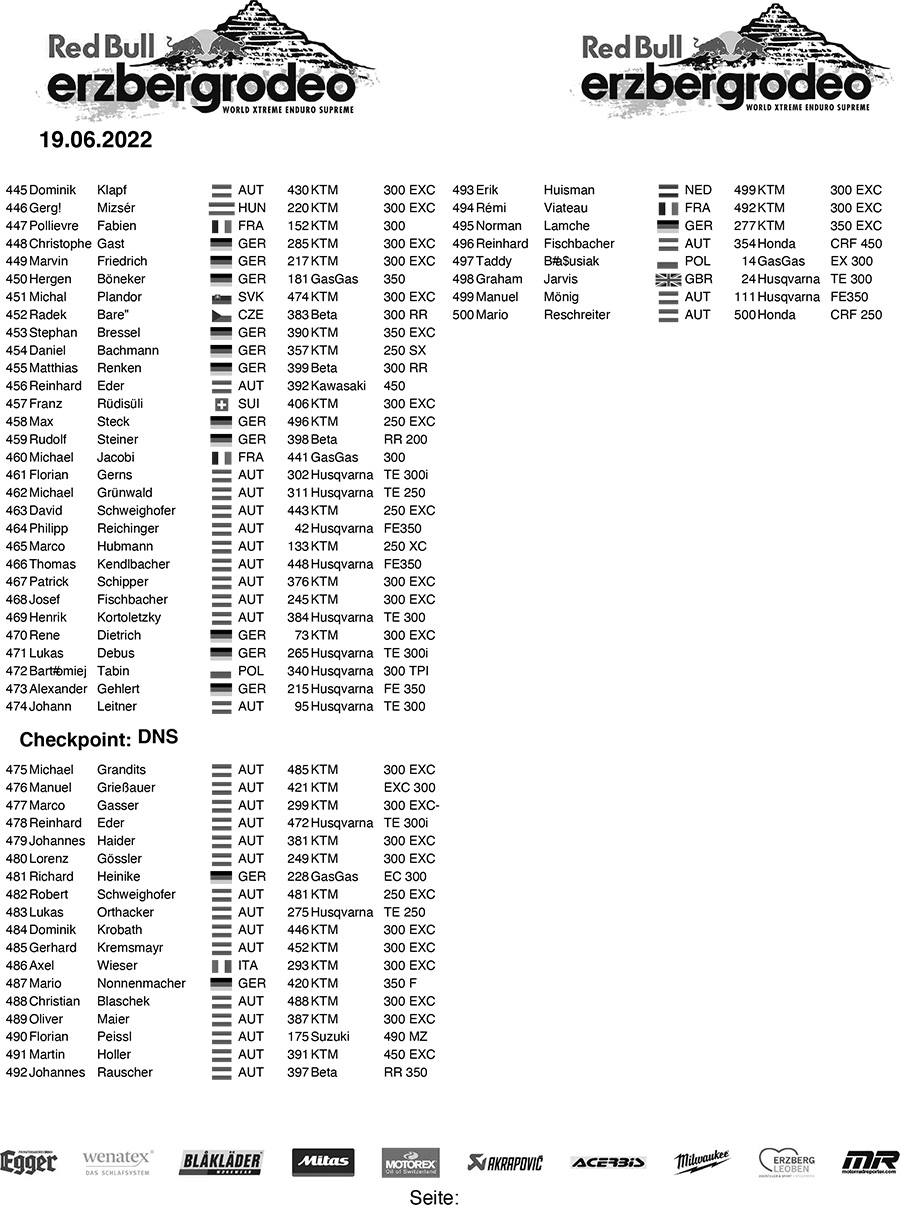 Photo Credit: Future7Media | Andrea Belluschi + Red Bull | Joerg Mitter + Philip Platzer