Enduro21 notebook: Say What? Top riders explain their 2022 Erzbergrodeo
How was your Sunday? The top finishers at the 2022 Erzbergrodeo Hare Scramble, round three of the 2022 Hard Enduro World Championship, explain their races and we take a look at the championship points table.
"This year's race will go down as one of the hardest in history" – Manuel Lettenbichler, KTM, first place
When he'd finished throwing up next to the podium, Mani wiped a tear from his eye as he spoke about having a hell of a task forging the lines out front after an almost flag-to-flag win. Particularly in the trees at a new section called Motorex Highway where life got brutal.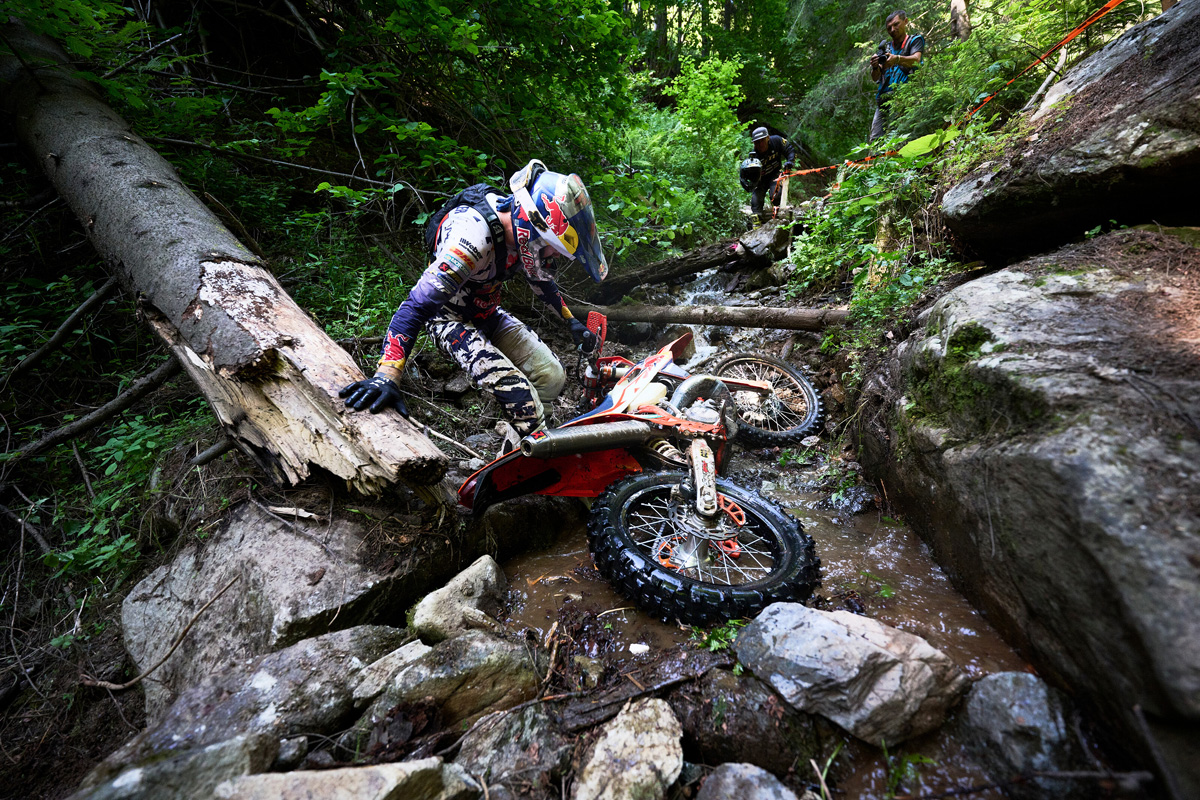 Manuel Lettenbichler: "The Highway almost killed me. I was the first guy in there and there were literally no lines, I had to pull some trees up…I made it a little bit easier for the rest I think. The race almost killed me in this point, I was so done afterwards." Lettenbichler added adding that he felt the pressure from Mario behind as he battled with the mountain.
"I think this year's race will definitely go down as one of the hardest editions in history, especially the sections that they changed overnight – none of us really knew what to expect and the organisers certainly delivered.
"To take the win means so much to me. After my dad did it in 2015, I always said I wanted to bring another winner's trophy back to the house and now I have done it! Another one ticked off the bucket list, that's for sure."
Full results from the main race: 2022 Erzbergrodeo results: Lettenbichler wins "toughest ever" Hare Scramble
"The toughest thing was finding surprises" – Mario Roman, Sherco, second place
Mario Roman had to dig deep and follow the Jarvis school of race tactic: keeping calm and trusting yourself. The Sherco rider didn't get the best of starts and fell foul of the huge dust clouds kicked up in the lower part of the quarry.
But having picked off many of the top 20 in teh early woods sections, the fightback was on for Mario by the time they arrived at Carl's Dinner. In the later hard sections, he was even within touching distance of Mani as they opened the tracks.
Spaniard drew within meters of Lettenbichler in the closing stages but couldn't overhaul his rival in a race he described as the "hardest edition ever".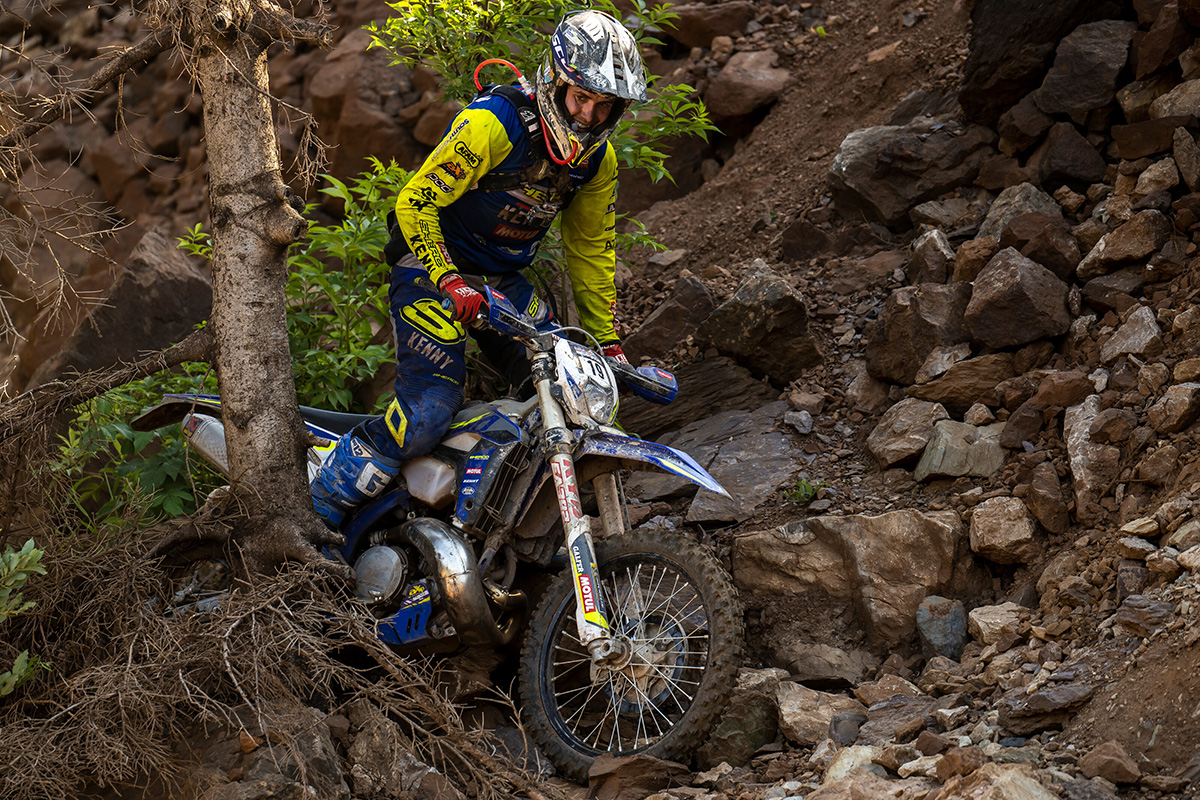 Mario Roman: "It was super tough, I had a miss at the start with crazy dust and I started to lose a lot of positions, about 20 or so. Then I tried to take it easy and do my own pace and I started to overtake one-by-one. Then I was watching the leader, who was maybe 10 metres away, but second place was all I could do.
"The toughest thing today was finding surprises because we walked the track, we thought that we knew all the sections, but then when we were riding, we didn't recognize some new sections. That was hard because we couldn't find the good lines and that was difficult for the first riders.
"I think for sure this was the hardest edition ever, even if only one year there were only five people that finished."
"I set out to put Canada on the map" – Trystan Hart, KTM, third place
Third place went to US Hard Enduro champion rider Trystan Hart who ducked out the fifth round of the AMA series (he's won every round to date this year) to compete on the world stage. The FMF KTM rider did not let his North American side down with an impressive haul through the middle part of the race to catch and pass the likes of Alfredo Gomez, Billy Bolt and Wade Young.
Making it a two factory KTMs on the podium, Hart will also race HEWC rounds Red Bull Romaniacs, Red Bull TKO, and Red Bull Outliers this season and is rumoured to be lining up a full season in 2023.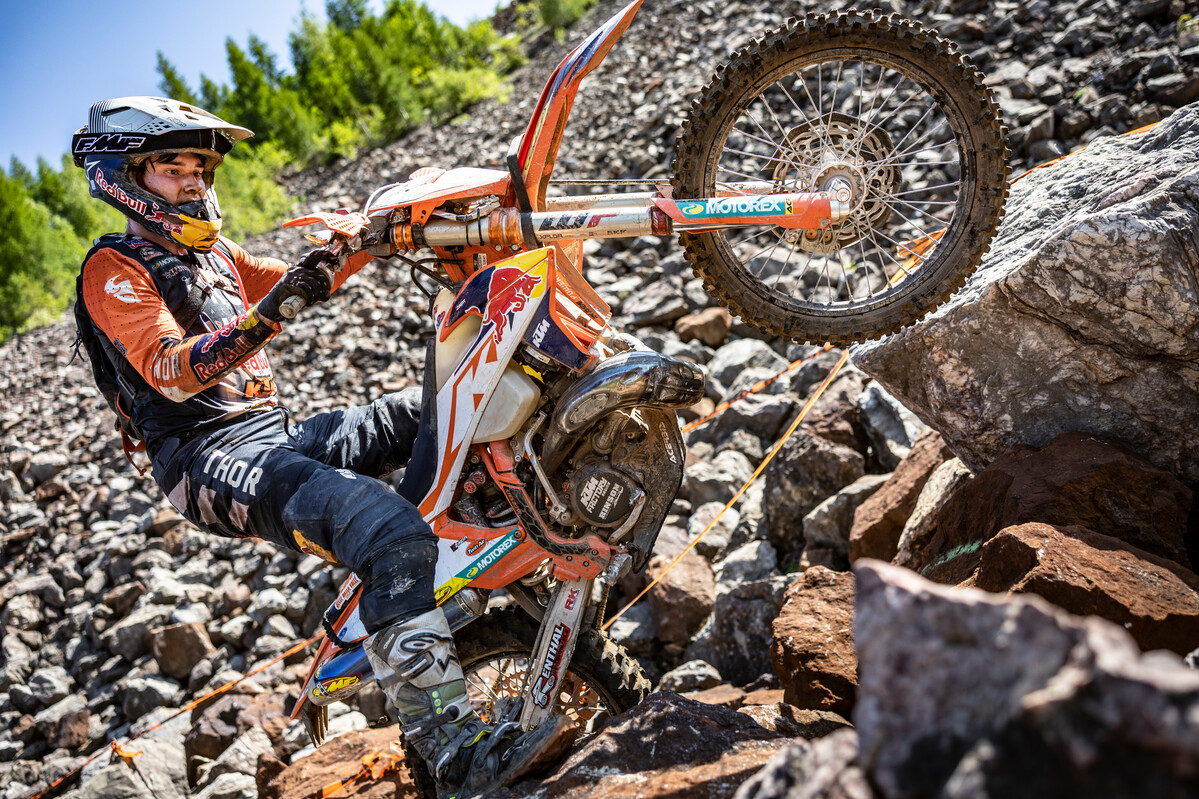 Trystan Hart: "I set out to put Canada on the map and I think I managed to do that in style. They definitely stepped things up this year, we had walked a lot of the new sections, but as always, they changed them for the race, and some were near impossible.
"On the section before Carl's Dinner I made a huge mistake and dropped to about eighth. I thought my chances were done. When I got to Carl's Dinner I knew I had to make a run for it there if I wanted a good result. But that took a lot out of me and I was exhausted coming out of it. I wasn't crazy tired, but I was cramping so bad in my legs. Getting on the podium is a huge result for me."
"I'm happy with fourth considering my fitness" – Billy Bolt, Husqvarna, fourth place
Fitness is a problem for Billy Bolt who took his second fourth place finish of the season at Erzberg, despite looking at one point deep in Carl's Dinner like he was ready to throw in the towel.
Billy's been carrying a wrist injury all year since the SuperEnduro World Championship concluded and recently also damaged ligaments in his ankle in a crash in a British Hard Enduro.
Injured or not, the big guy turned it around and importantly was able to dig in for the hard final hills and climb back to fourth after being down in seventh (we think). He also still leads the world championship...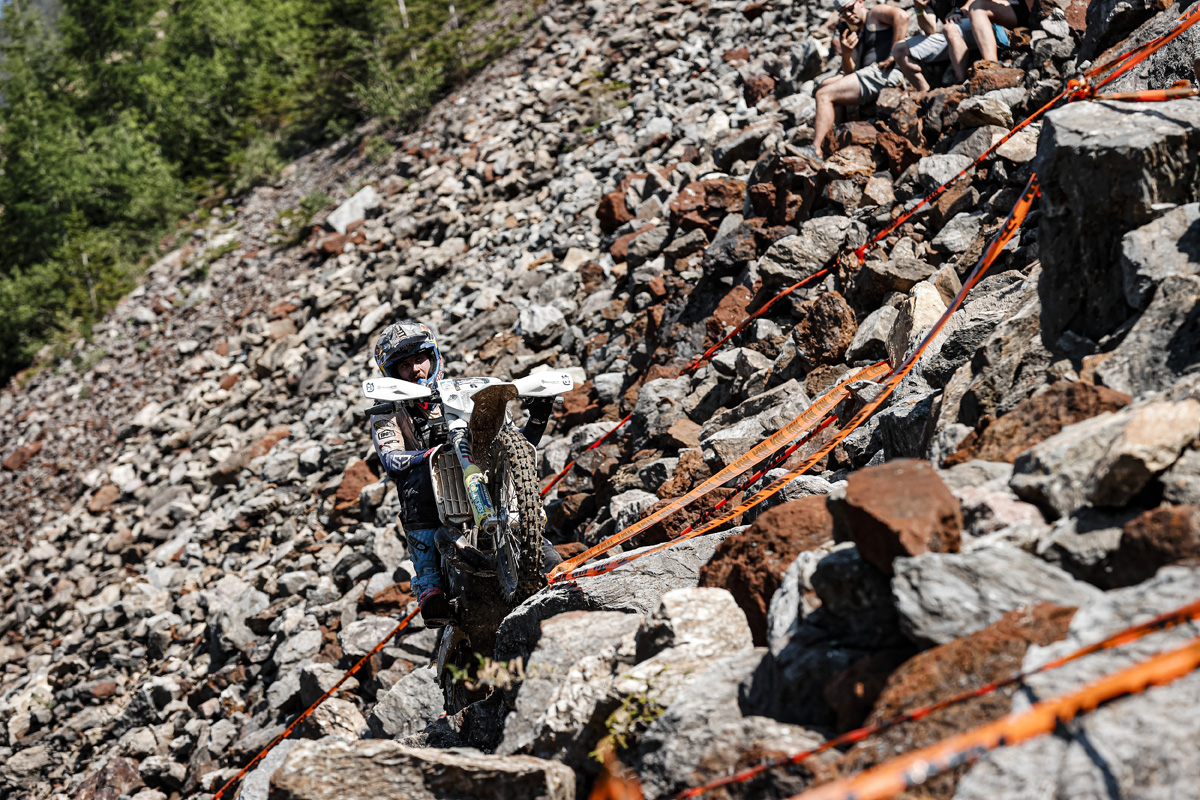 Billy Bolt: "That was hard, probably the hardest Erzbergrodeo I've ever done so I'm happy with fourth considering my fitness and the injuries I've got.
"I was struggling a little at Machine, but I just kept plugging away and taking things section by section. I managed to pass two riders in the closing stages to get fourth, so I'm happy for that and to also extend my lead in the championship is sweet too."
Crazy championship points table
The interesting and slightly crazy thing about the '22 HEWC series is how the points standings are changing. After missing the first round due to injury, Mani's double dose of 20 points puts him in contention.
The top eight are realistically all within shouting distance as the table closes right up. The next round, Abestone Hard Enduro in Italy on July 8-10, could potentially be a pivotal round.
2022 HEWC standings (after round 3):
1. Billy Bolt (Husqvarna) 45pts
2. Mario Roman (Sherco) 43pts
3. Manuel Lettenbichler (KTM) 40pts
4. Alfredo Gomez (GASGAS) 34pts
5. Wade Young (Sherco) 32pts
6. Graham Jarvis (Husqvarna) 30pts
7. Michael Walkner (GASGAS) 29pts
8. Teodor Kabakchiev (KTM) 27pts
9. David Cyprian (KTM) 24pts
10. Dominik Olszowy (GASGAS) 21pts
A.O.B
Alfredo Gomez was the first 'privateer' rider to finish in fifth place. Helping each other seems to be a theme this year with Alfredo who isn't afraid of buddying-up with the next nearest rider when things get tough.
When things got too tough in the unreal loose rocks of the penultimate section, Dynamite, Alfredo and Billy helped haul each other up and round the impossible tree.
Young Austrian and the only official GASGAS pilot in the main race, Michael Walkner, started the Hare Scramble like he was still on the prologue, at least he was matching Mani. Until they reached Carl's Dinner and he "ran out of steam that is: "I gave it my all from the very start. I wanted to push hard to stay near the front as much as possible. To ride in second for so long was amazing, but at Carl's Dinner I was running out of steam."
Wade Young suffered some bike problems in the second half of the race which disappointingly cost him huge amounts of time. In the end a bit of South African brawn saw him become one of the very few to reach the finish but Wade was naturally dejected on the podium, pondering what could have been, again.
Popular Junior World Cup winner
Last official finisher and the best placed HEWC Junior Cup rider was Matthew Green. The young South African is a popular guy among fellow riders and spends a lot of time with the top boys training and travelling across Europe chasing the dream. It seems to be rubbing off.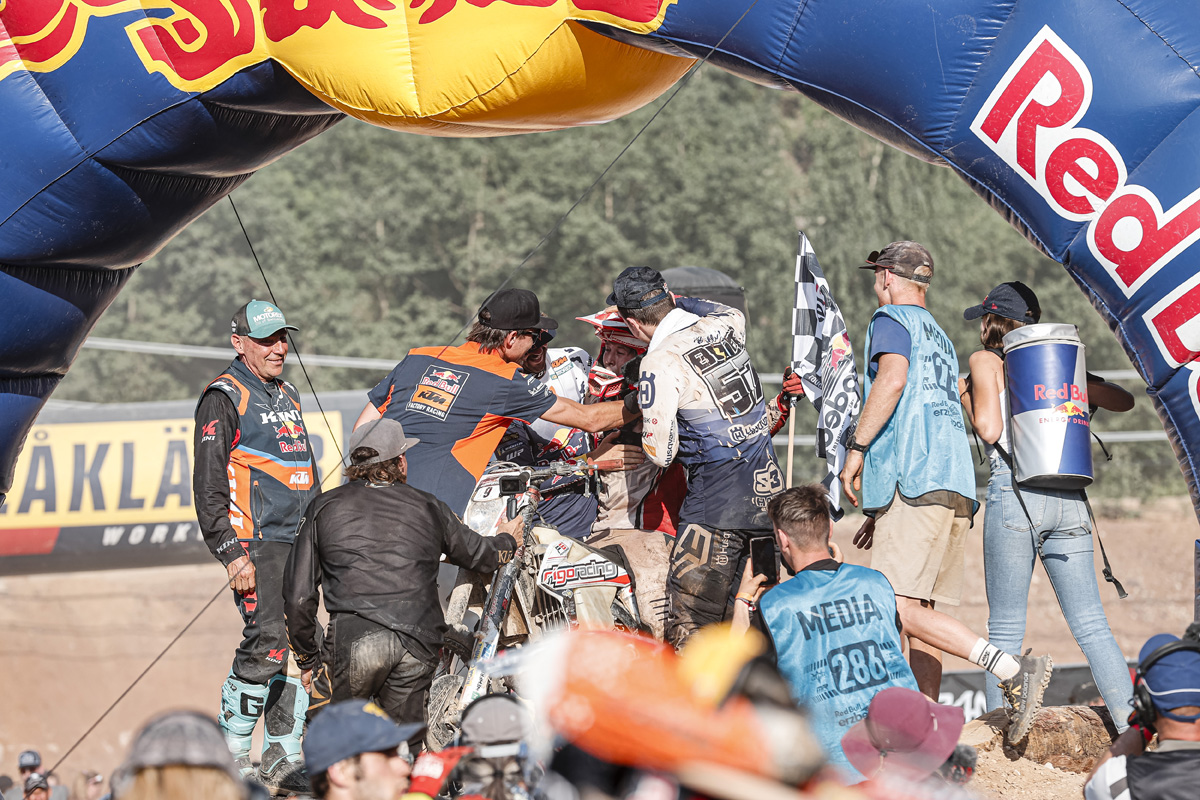 Behind all these boys there are, as always at Erzberg, a mountain of stories are floating around of riders finding some sections impossible and so many are left pondering what might hav ebeen. The new Motorex Highway section was the final resting place for quite a list of riders who might have otherwise expected to reach the finishline – massive queues, crashes, bike problems and more. This is hard enduro.
In the end, the best rider won. It was ever the same. It was a blast Iron Giant and good to have you back. See you next year.
Photo Credit: Future7Media | Andrea Belluschi + Red Bull Content Pool | Joerg Mitter + Philipp Carl Riedl + Philip Platzer