2022 Red Bull Abestone results: Day 1, qualification win for Billy Bolt
Results from day one of the Red Bull Abestone, 2022 Hard Enduro World Championship round four in Italy where Billy Bolt sets the fastest qualification time and won the Straight Rhythm shoot-out.
Abestone Hard Enduro, day 1 in a nutshell:
Round four of the '22 Hard Enduro World Championship kicked into life today with riders tackling a 20-minute enduro test four times, with fastest times to count.
Running down the valley and back, it was a loamy run between the trees with a few rock sections and which took the top boys around 20 minutes to complete. In reality it was a long, traditional enduro test rather than 'hard enduro' but it's designed that way to be hard enough to sift out the top 30 riders for the main race tomorrow afternoon – with the rest going through to a B race bright and early tomorrow morning.
With most the HEWC regulars taking the first run as a sighting lap, the fast times on the whole came in the second and third attempts. Just like last year at the inaugural Abestone race, Billy Bolt went fastest with the only sub-19 minutes run as the benchmark – despite crashing twice on his fastest run.
Billy's 18:45.6 was 20 seconds faster than Mani Lettenbichler with Dominik Olszowy 25 seconds further back in third.
With only two runs being mandatory, most of the contenders opted out of a final, fourth run except privateer Dieter Rudolf and the Sherco boy's Wade Young and Mario Roman also took that last run and the South African ended up P4 ahead of Eddie Karlsson making his long trip from Sweden worthwhile in fifth.
The top 16 riders later faced a short, sharp Straight Rhythm shoot-out for the fans in the main Val di Luce ski resort (just up the road from Abetone town itself) which counted big-time to determine start order for tomorrow's main race.
The shootout was a spectacle for the crowds but honestly, we were watching through our fingers, fearful of the risk ahead of tomorrow's race as ever rider knew they could start first or 16th depending on tonight's result.
Those 16 riders will start in 30 second intervals tomorrow (17 onwards go every 10 seconds) meaning tonight's duel counted big time. Some gained but many lost out for example Wade Young who qualified fourth but was pipped by Graham Jarvis in the first round(where did that come from BTW Graham?!). Wade will now start 10th and four minutes 30 behind Bolt. Even Mani who finished third will now start one minute behind Billy. It doesn't seem reasonable.
The ways they could hurt themselves in this dual-lane shootout were many and Michael Walkner came off worst with a wrist injury. Billy and Mani were among the riders who went over the bars too. Imagine if three or four of the leading riders had injured themselves here? For what? A public spectacle? They'd already put in the hard work and qualified earlier in the day...
So, in actual fact, Billy will still start first tomorrow but ahead of Alfredo Gomez, Manuel Lettenbichler and guest rider this weekend Eddie Karlsson who shone today.
Results show qualifying combined, plus both Q1 and Q2 best times and the straight rhythm shootout-determined start order for Sunday below.
2022 Abestone Hard Enduro qualification results: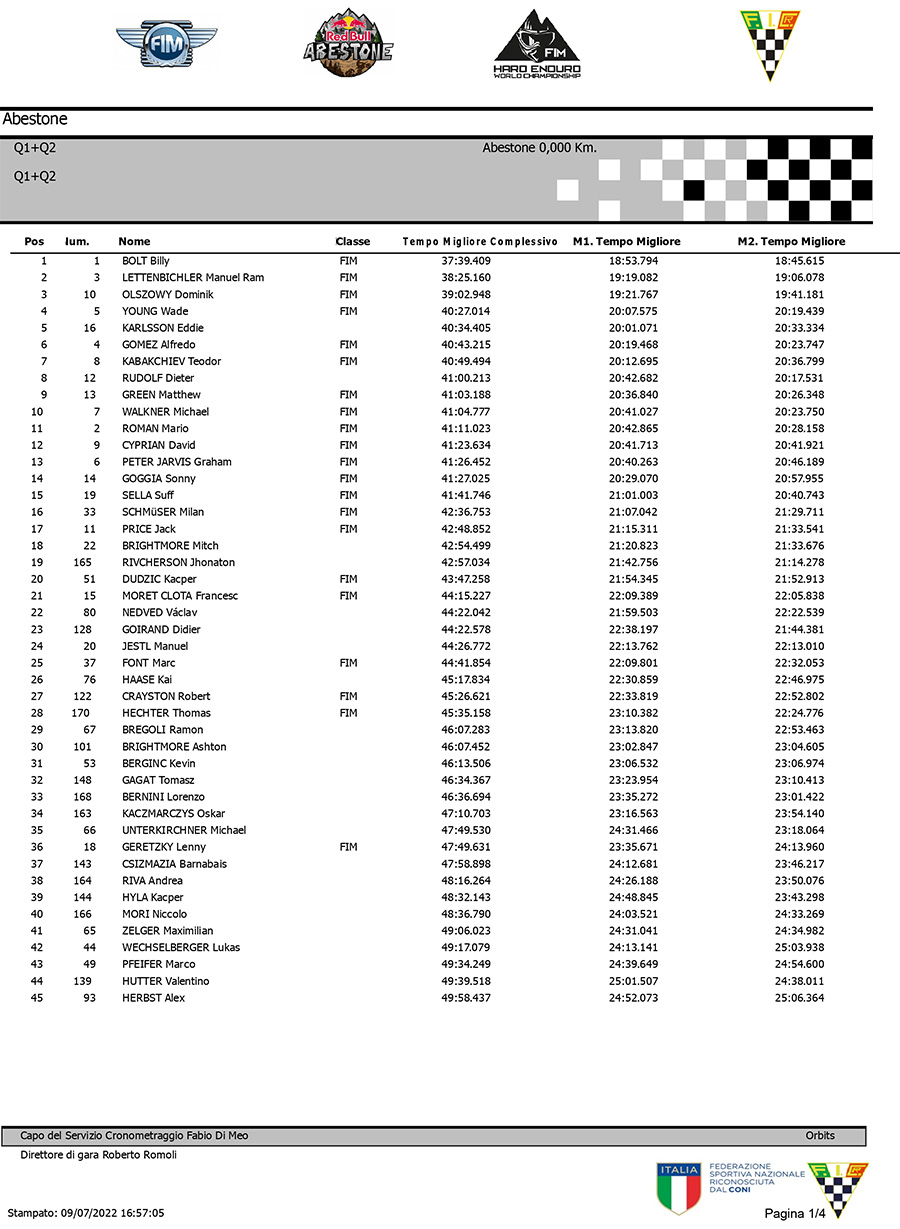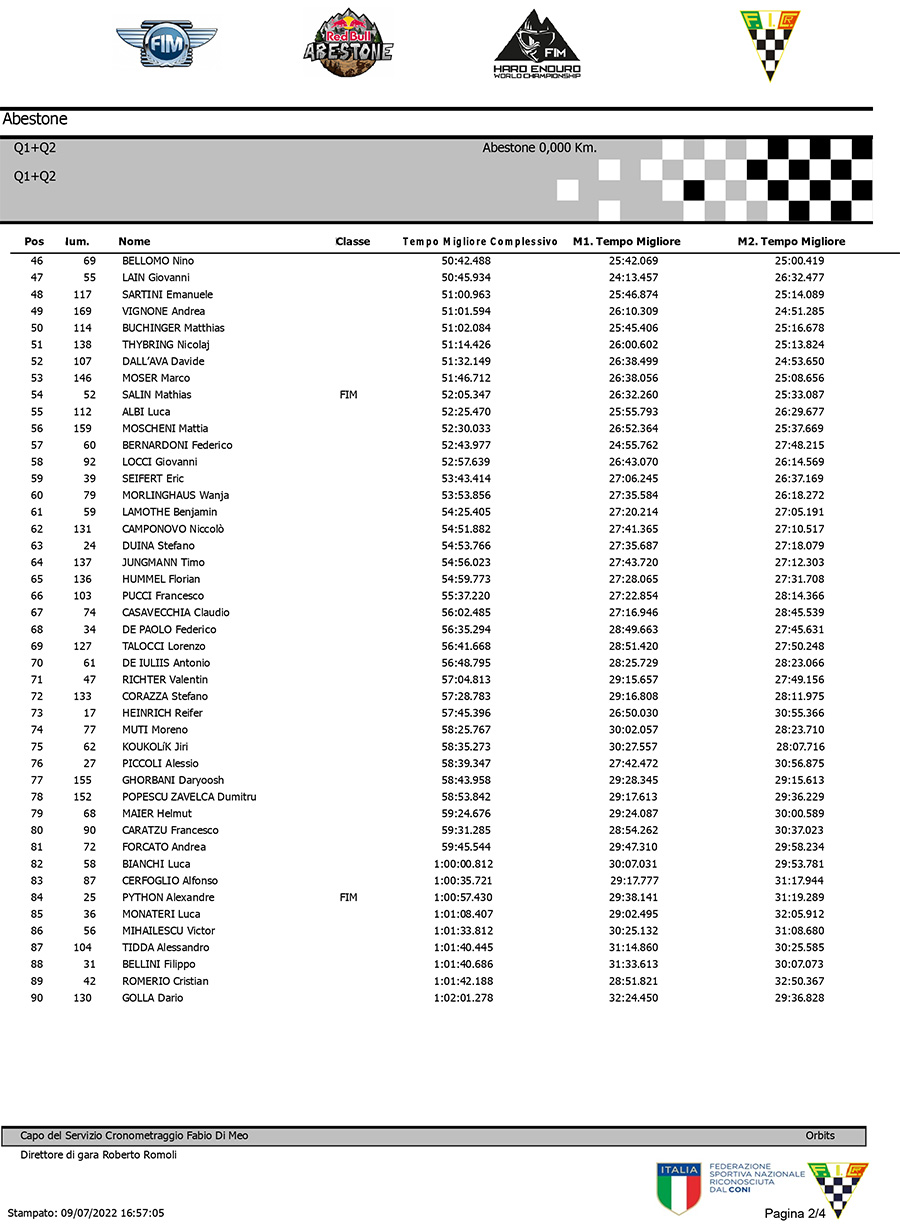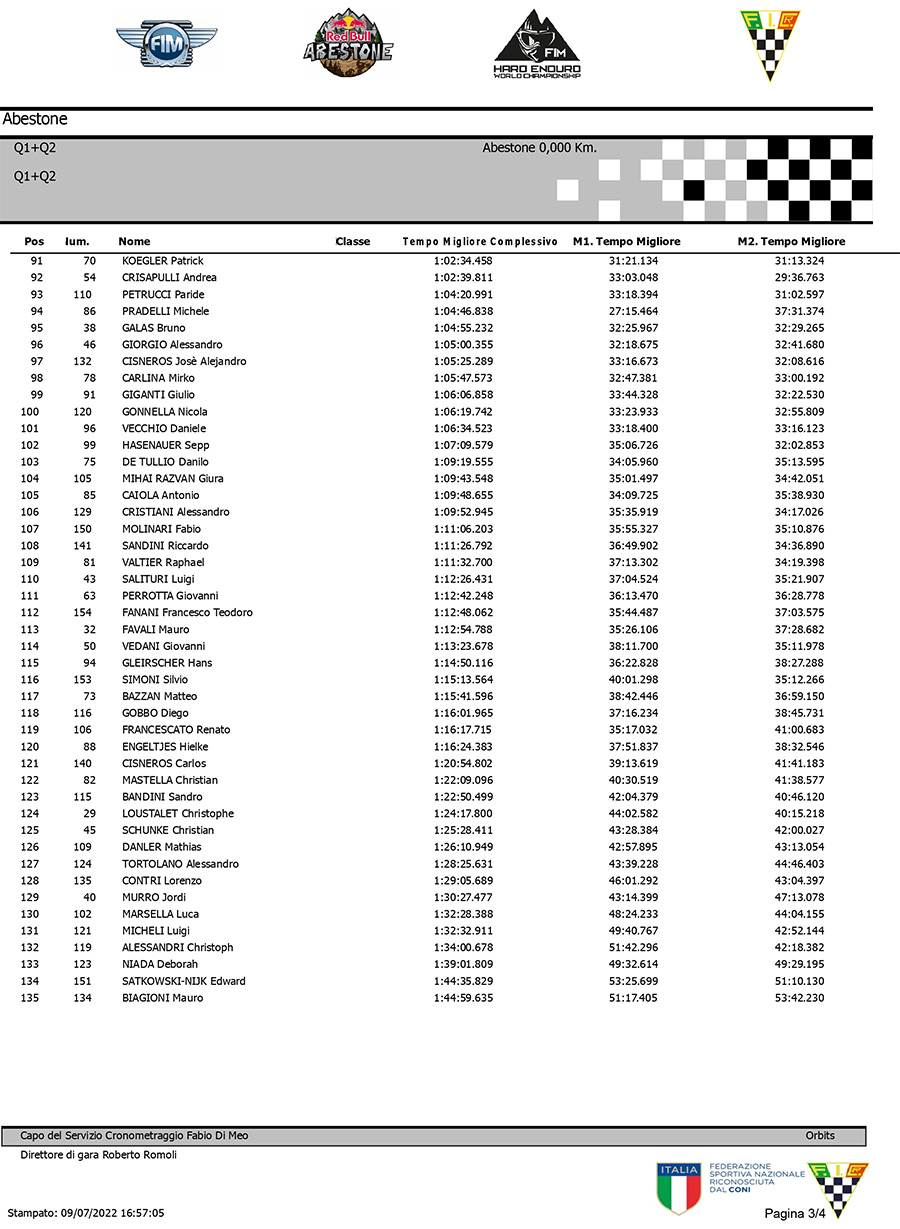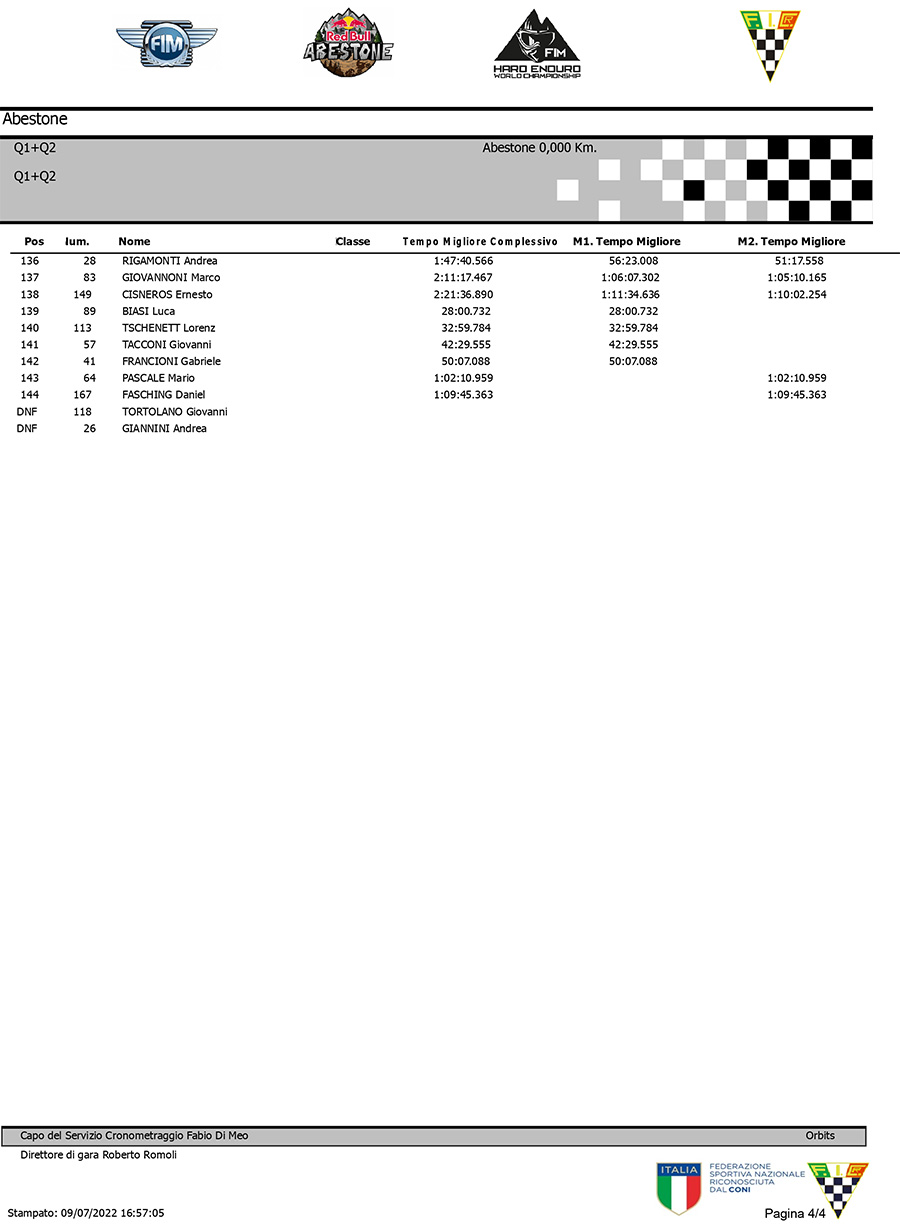 Main A-final start order (based on Straight Rhythm shootout results for top 16):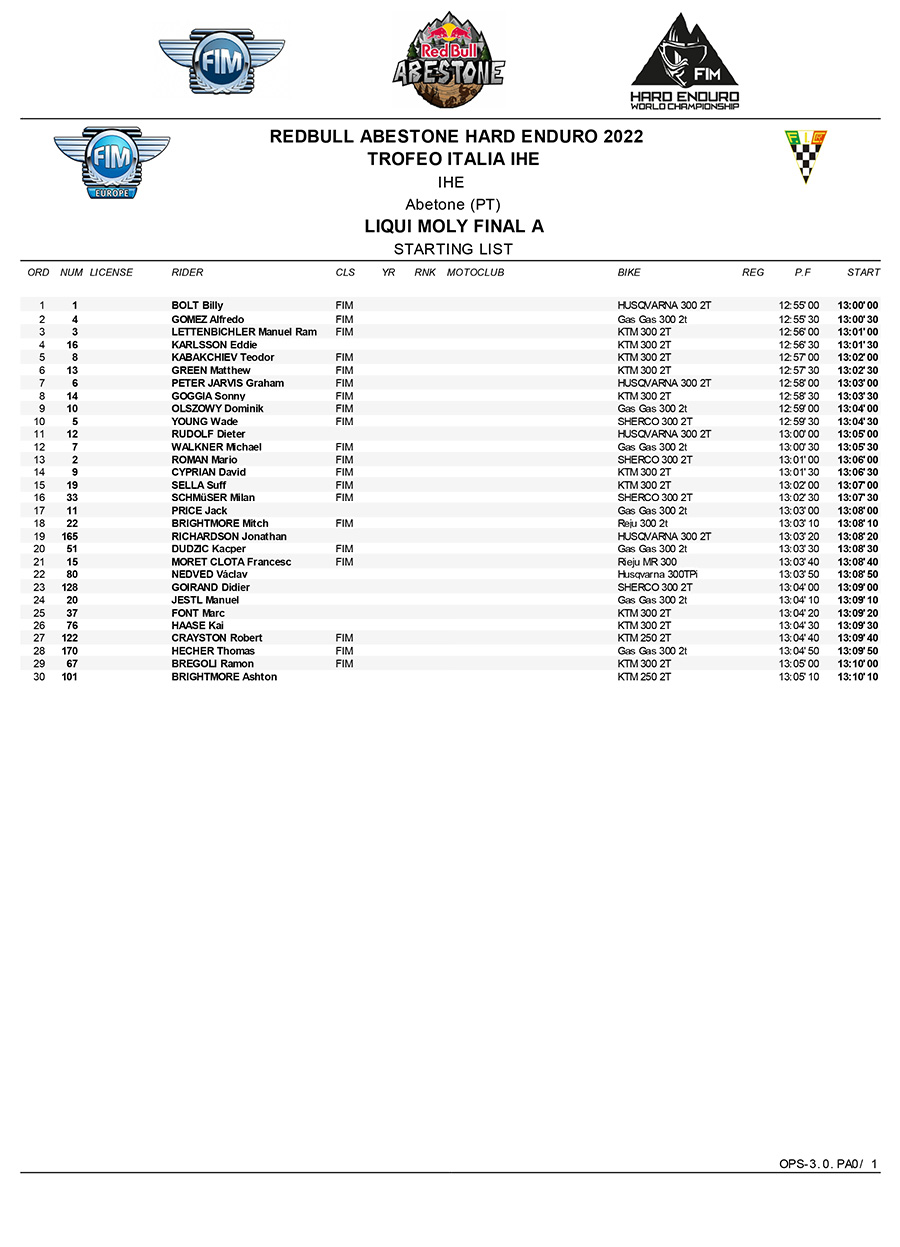 Photo Credit: Future7Media | Andrea Belluschi