Minus 400: Day 1 results from Israel – Bolt wins SuperEnduro race
Results from day one of the 2022 FIM Hard Enduro World Championship round one in Israel, the Minus 400 Urban Street Race – Billy Bolt tops the SuperEnduro shootout.
Minus 400, HEWC round 1, day one in a nutshell:
No accessible live timing to fans, no live TV feed, patchy updates via social media, no official results published hours after the event and a "sketchy", some said "dangerous" course not befitting an FIM world championship…it wasn't the best of starts to the 2022 season.
Riders faced a dry and dusty opening day of three on the banks of the Dead Sea with today's Leonardo Urban Race featuring timed runs through the streets and in nearby terrain in the morning. Fastest qualifiers then progressed to a multi-lap, SuperEnduro semi-final and finally a final in the afternoon/evening (you keeping up here?).
Local participation was strong with around 90% of the near 200 riders being Israeli nationals and it was great to see some young riders tackling the course on smaller capacity bikes.
Predictably the reigning HEWC champ and two-times SuperEnduro World Champion Billy Bolt was in charge of the time sheets having elected to not do his second run – his first timed run was fast enough although Wade Young set the fastest heat run time on hsi second attempt.
Bolt stepped back up to take the semi win on the man-made, short course and then comfortably took top spot in the final and with it a couple of grand prize money.
Spanish duo Mario Roman and Alfredo Gomez joined Bolt on the podium, in second and third places respectively and were the only two riders not to be lapped.
It's fair to say not everyone was trying their hardest in the SuperEnduro show races. Three days in the baking heat will be tough for riders and the main event on Thursday promises to be long and hard. No-one wanted to risk too much on the dry and dusty man-made track, not least Graham Jarvis who pulled out after one lap of the final.
Day two, Wednesday April 6, is labelled the Yochananof Desert Prologue and is an 18-kilometre, head-to-head, cross-country race with extreme elements. The results will determine the starting order for the final day's main event.
Minus 400 day one results, SuperEnduro final:

Heat races (top 30) combined times: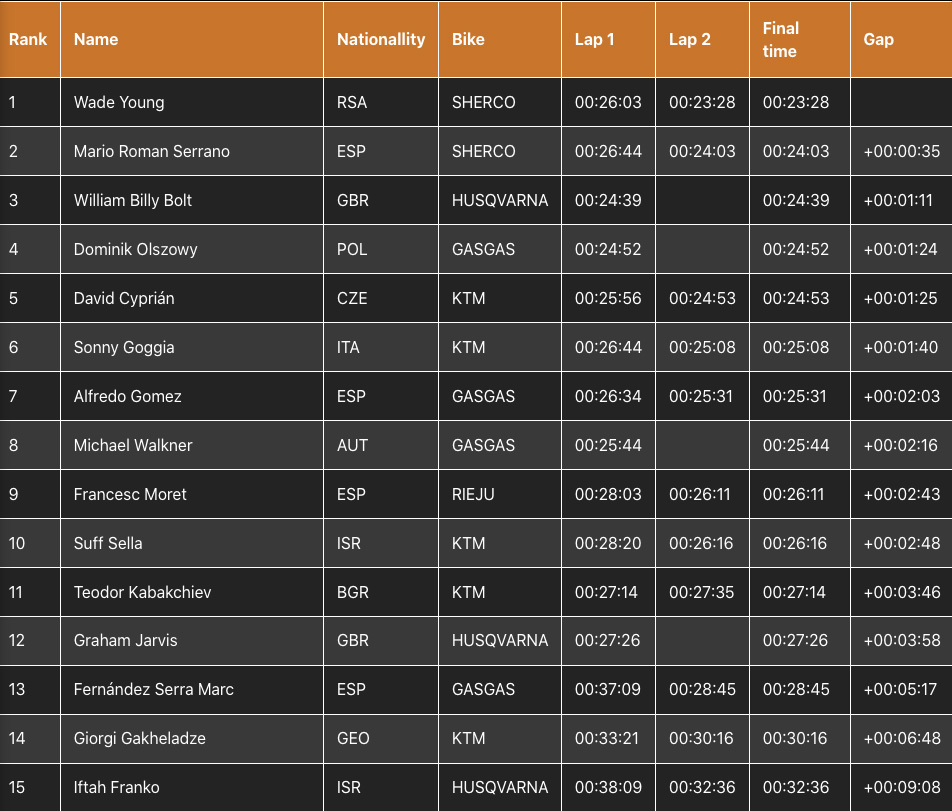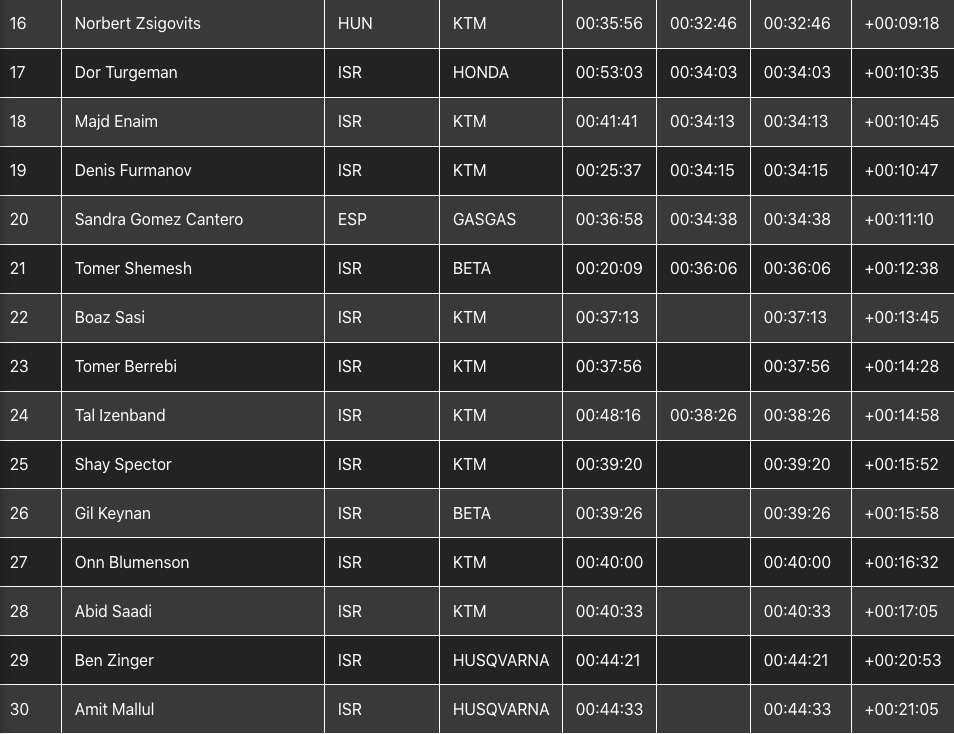 Photo Credit: Future7Media | Nir Amos