2021 ISDE: Day 5 results – Italy on the brink, French riders crash out
Results from day five at the 2021 International Six Days Enduro where the host nation Italy's World Trophy and Junior Trophy, plus the USA Women's teams stand on the edge of a victory – Team France suffers the highs and lows of Six Days racing.
ISDE day five in a nutshell:
Day five is the traditional day for riders to breathe a sigh of relief. The five hard days of enduro are over and they just have a single MX test tomorrow. That's all.
Big crowds on the tests made a good atmosphere, predictably and understandably they were behind the boys in blue.
Test one of the day, Stellara Cross Test, was cancelled due to dust – the air was so still it was deemed too dangerous. When the wind picked up later things we good for the remaining tests including the last test back to Stellara.
Josep Garcia stormed the day scratch, taking four of the five tests with yet another convincing performance – although he admits he still crashed a couple of times.
Josep finished 22 seconds ahead of Andrea Verona second and Mikael Persson.
Team USA's Taylor Robert was fourth with his teammate Dante Oliveira taking his best scratch day result in fifth – no doubt loosened up after his Junior team went out the competition yesterday after Austin Walton crashed and broke his shoulder.
Italy's World and Junior Trophy teams are on the brink of victories at the ISDE thanks to their 5:22'85 and 7:10'36 advantages respectively.
Similarly the USA Women are nearly across the line, although their 13:55'43 lead means they could probably use some Italian scooters tomorrow and still win.
Brandy Richards maintained her 100% record in winning all tests and finishing 1:31 ahead of Spain's Mireia Badia. GB's Jane Daniels was third fastest scratch but overall Spain gained some time on Britain after Sandra Gomez found some speed today to beat Rosie Rowett.
It was a bad day for the French World Trophy squad as first Theo Espinasse and then Hugo Blanjoue ended their day in hospital. Both took fast crashes, Theo in the wooded Enduro test and Blanjoue in the Vineyard test. Hugo's incident caused a delay in time for riders behind while he was helped off the special. (Get well soon too all who've injured themselves in the last five days.)
It was a good day for the French Juniors however who challenged for the day win with Italy and Swedish Juniors. It's a tight contest.
In the Junior standings the French are second, 7:10'36 down on Italy, with Sweden third, 9:38'38 behind the leader.
Day 5 results – World Trophy: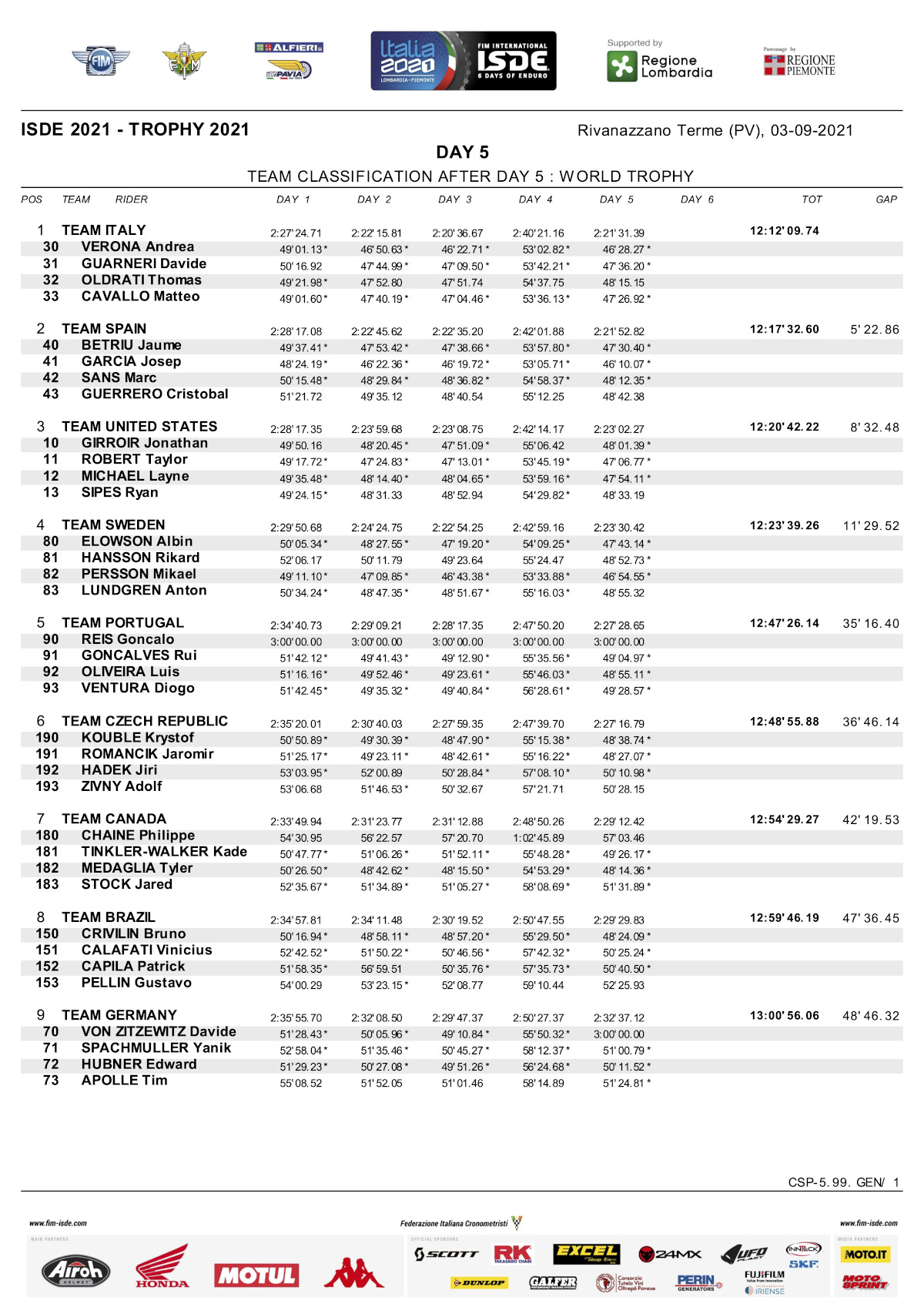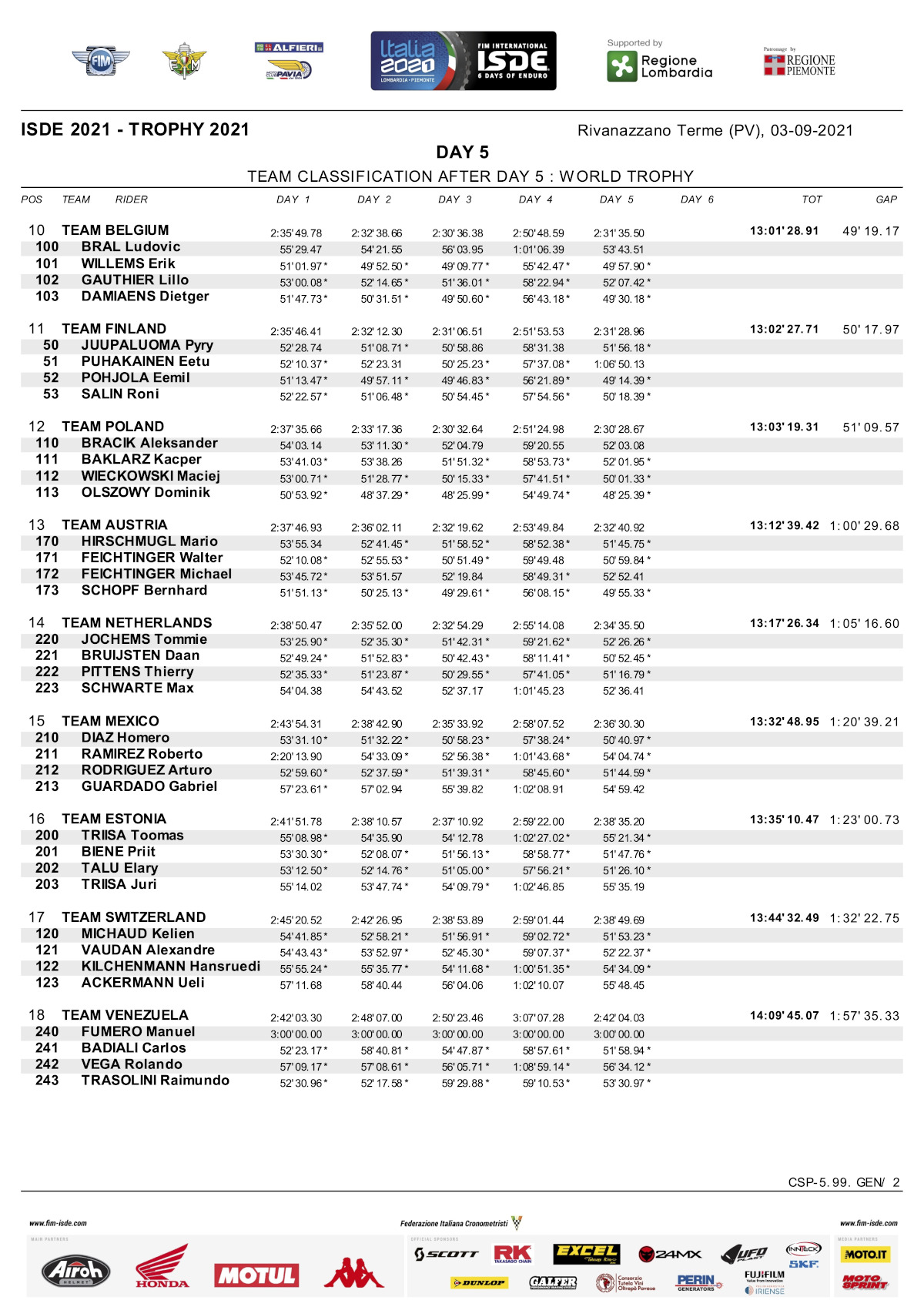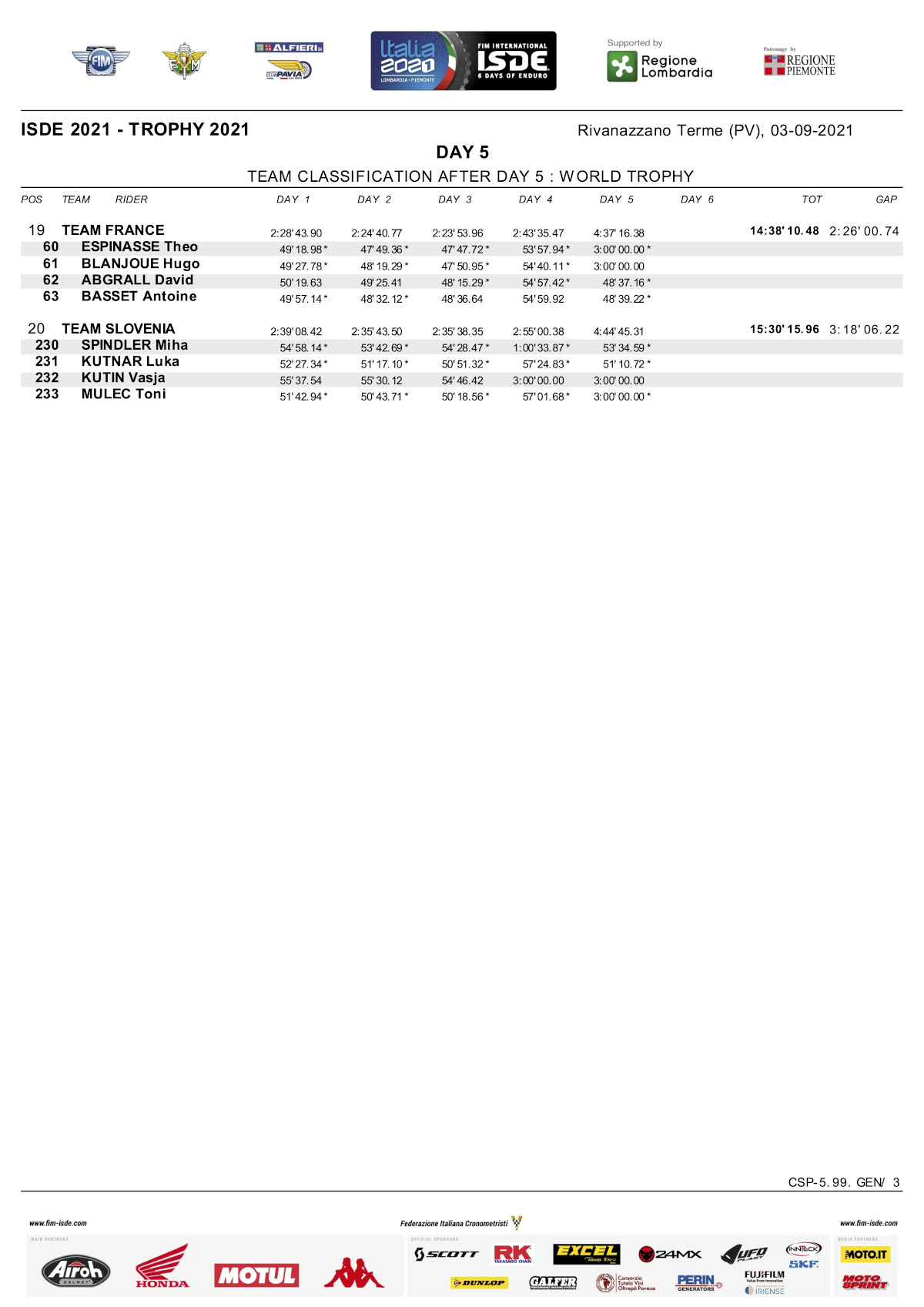 Day 5 results – Junior World Trophy: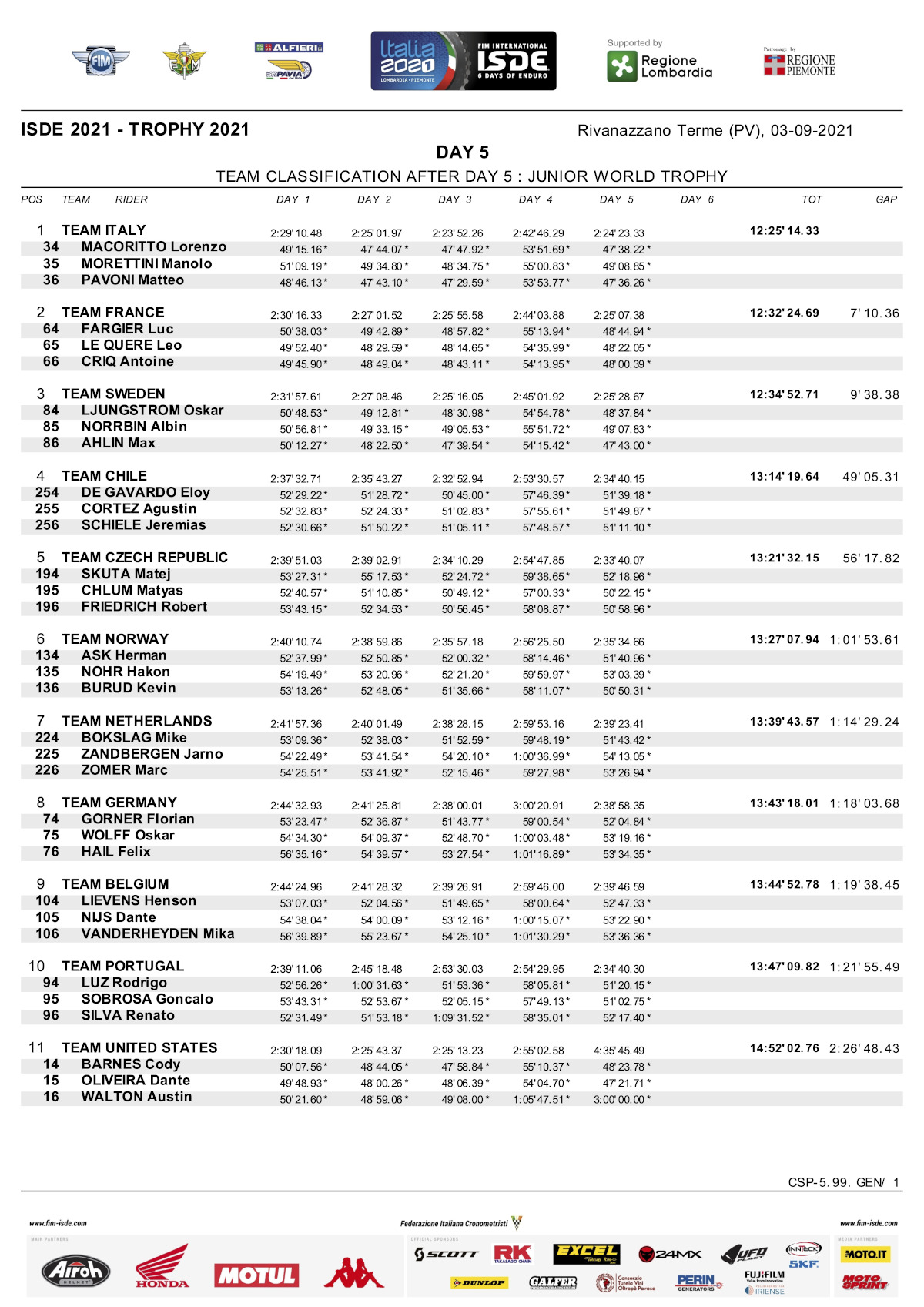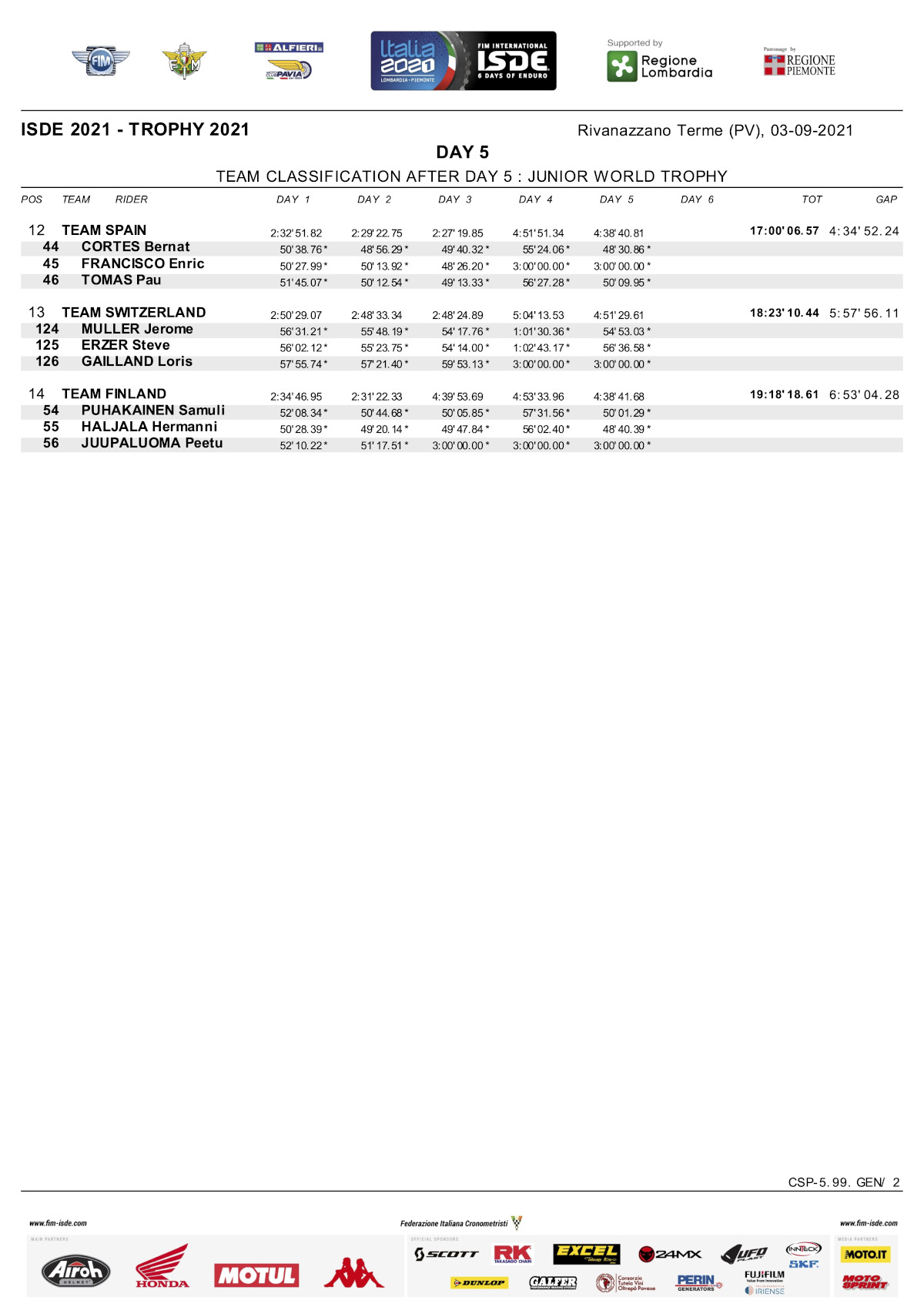 Day 5 results – Women's World Trophy: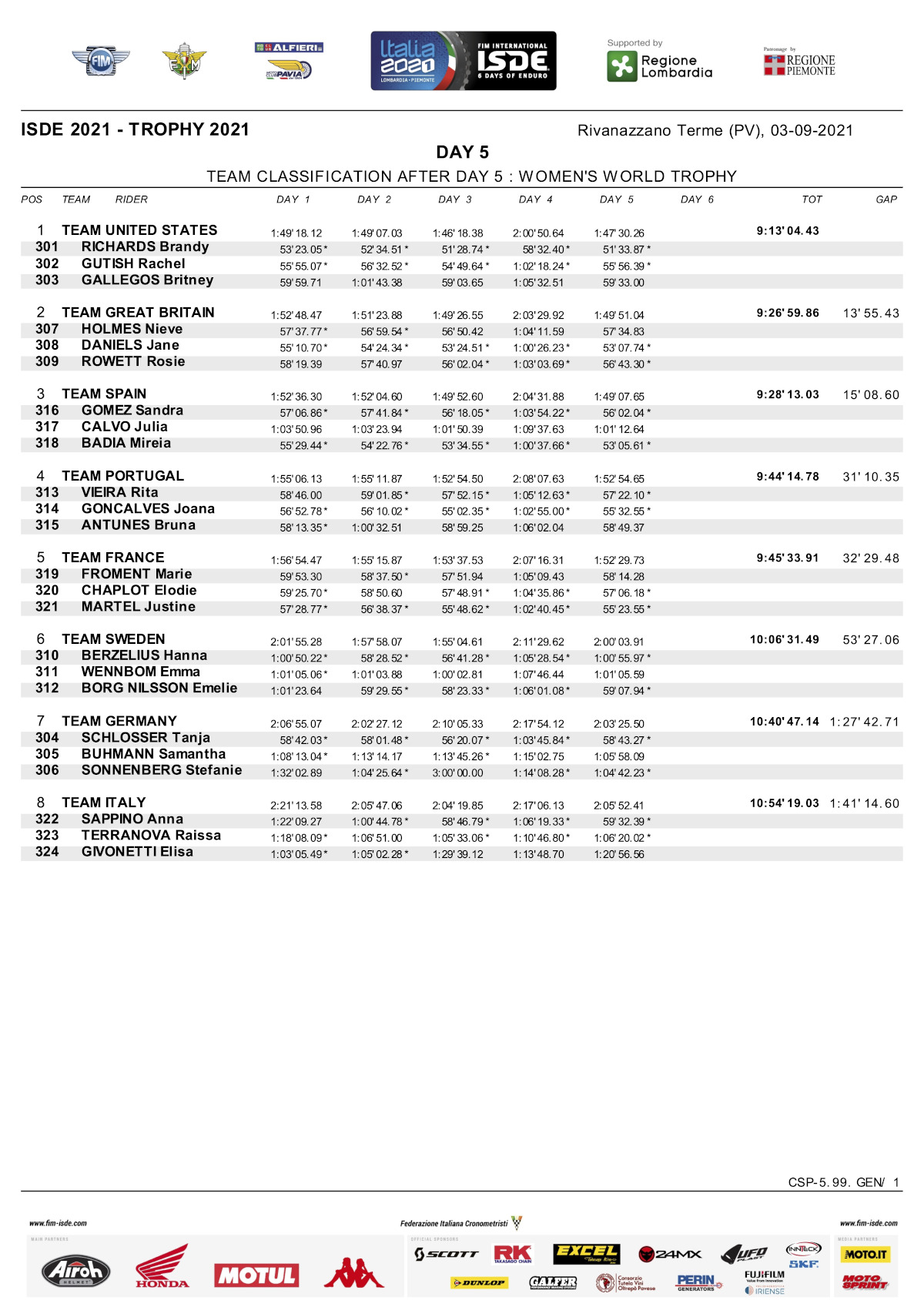 Day 5 results – Club: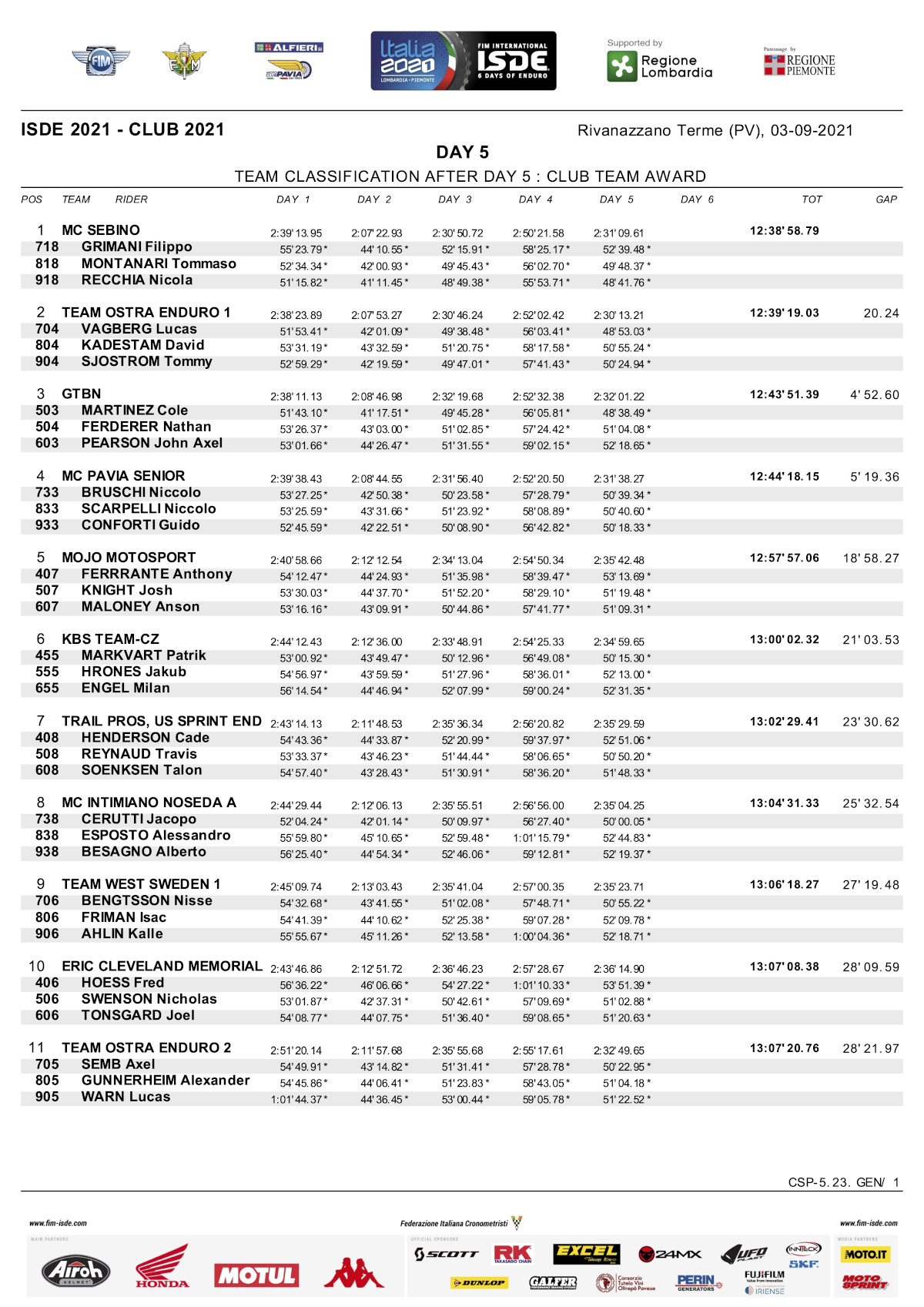 Photo Credit: Andrea Belluschi | Enduro21