2021 ISDE: Day 5 Notebook – aiming for a perfect week
Enduro21's daily notebook number five direct from the 2021 International Six Days of Enduro paddock in Rivanazzano, Italy – from bagging your best-ever ISDE day to nailing a perfect week.
Day five at the 95th ISDE finished with some relief in the paddock. Not just because there's "just" one more motocross test to go but because it's been a hard one.
Getting through the five enduro days and be the fastest team takes hard work and some luck, or at least for everything to go right. For the Italian World Trophy team this week has been just like that. They are fast collectively and everything has been more or less copybook – just as it was for USA in Portugal 2019, Australia in Chile 2018 and so on.
At the best of times this year in Italy has also been intense. The length of the tests is one thing but also the speed has been something else. The baked hard ground requires so much concentration to keep the bike upright all the time. Soft dirt or sandy soil has a certain amount of reliability about it, you can lean a bike into the corners and depend on the dirt giving you a little comfort zone. This stone-hard ground is about as dependable to push on as a rickety rope bridge.
It's been dusty too but that's nothing new. ISDE can be famous for it with so many riders competing. Four-times Enduro World Champion and four-times ISDE winner Mario Rinaldi delivered a classic old boy, "pah, that's nothing" comeback when Enduro21 mentioned the dust:"One year I remember stopping in a test to let the dust settle, it was so bad." Can you imagine Josep Garcia or any of the top boys doing that today?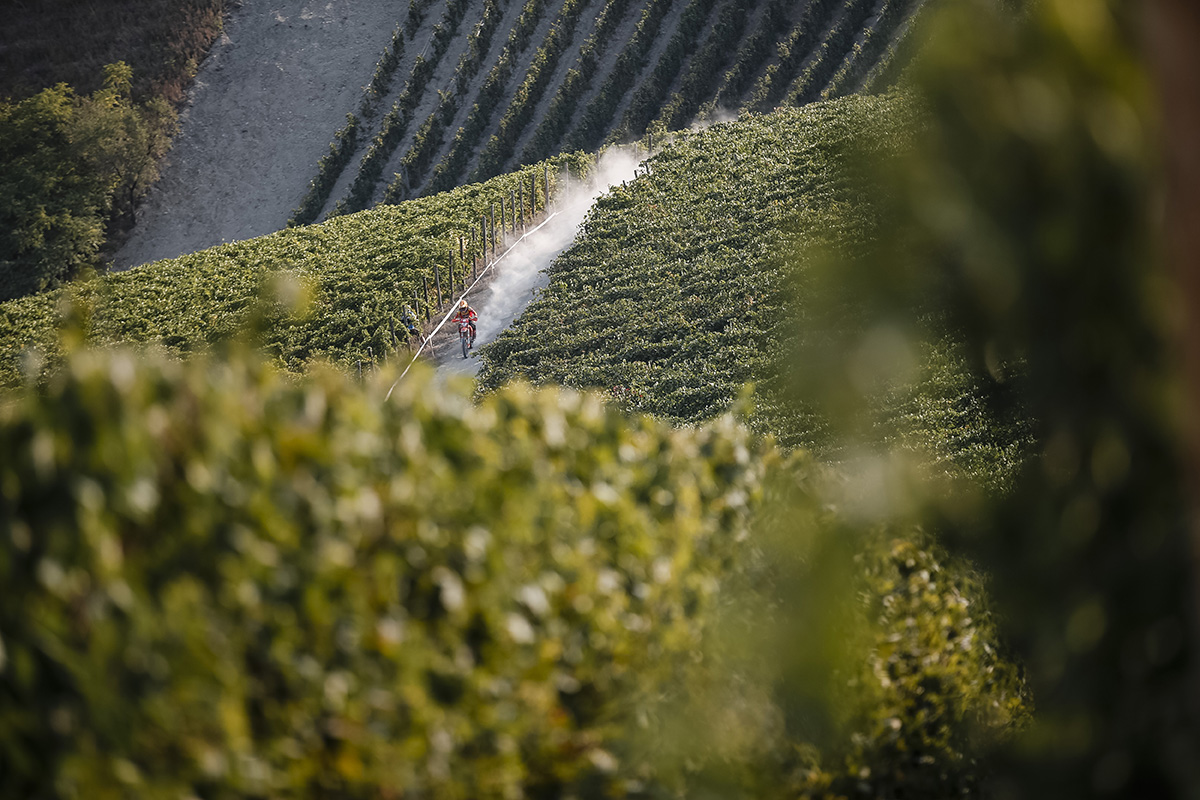 Tomorrow we head to Valle Scrivia Motocross track for the final test to cap off an impressive week from Italy in the World and Junior Trophies, as well as Josep Garcia, Andrea Verona and Brandy Richards individually.
Probably we've talked about Richards too much in our notebook this week but it is hard to ignore how well she has ridden: she has won every single test, most of them by a considerable margin. Has anyone ever done that before? Every test? We can't find anything (or anyone) to say otherwise.
Sliding the bike around makes you faster
Dante Oliveira deserves a shout-out after taking his best result of the week today, indeed best results ever at the ISDE with fifth place scratch.
When you stand trackside at ISDE there are so many good riders coming in such numbers that checking out the different riding styles makes fascinating viewing.
A few riders stand out from the crowd because they're all-action, their body language describes how hard they are trying, the control of the bike seems all the more visible. These are definitely the crowd pleasers.
Oliveira is one of those riders and today, with his teammate Austin Walton a non-starter and subsequently the USA Junior Trophy team being out of the contest, Dante was free to please the crowd as much as he wanted to.
"I've been getting more comfortable with the terrain all week and getting better and better." Dante tells Enduro21 this afternoon. "Now I'm more comfortable I'm sliding the bike around and the times are getting better."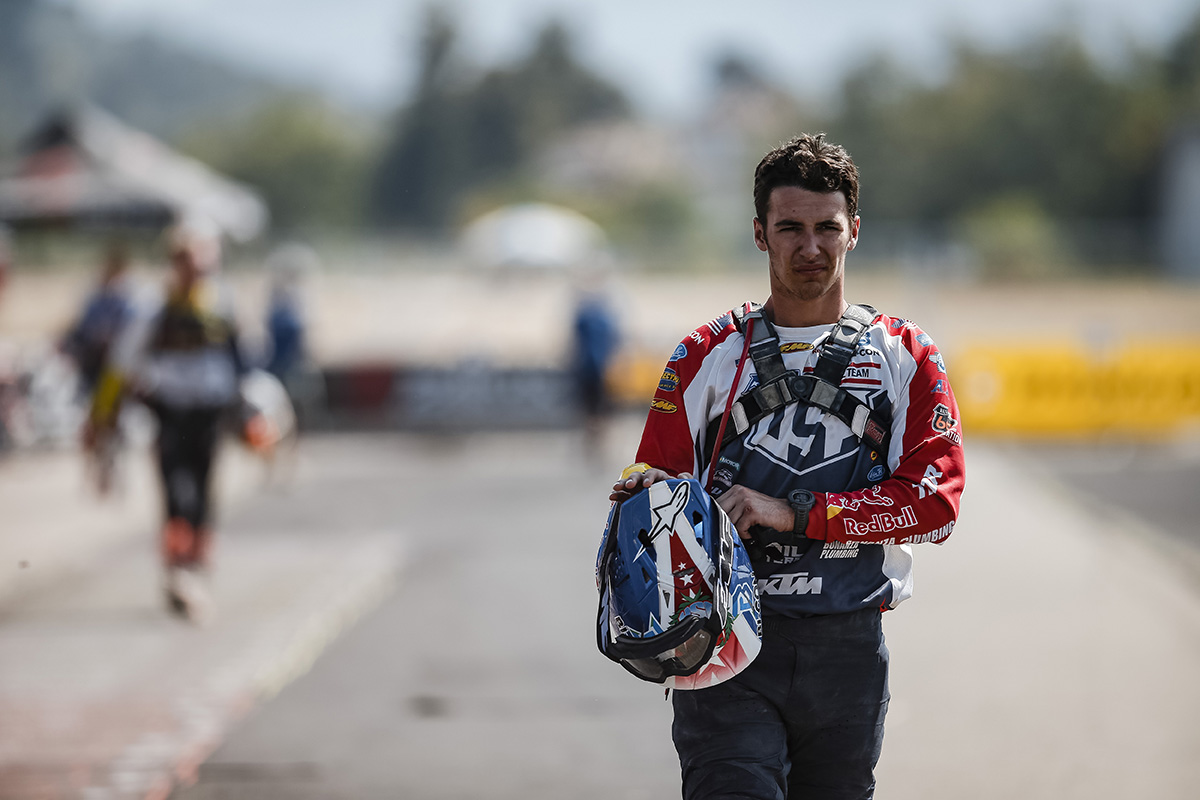 Did the demise of the team's assault of the Junior World Trophy free him up to ride with less worries? "With Austin going out I had the weight off my shoulders a bit but honestly I was just trying to get the best day result I could today.
"I've been hopping around just outside the top 10 and I just wanted to get inside it, I knew I could do a lot better and match those guys out front more."
Motocross test – love it or hate it?
The final day motocross test is always a funny one. This is enduro but ISDE has always had this traditional extra bike-testing MX race at the end. Some riders love it, some hate it.
Brandy Richards loves it. With a huge lead overall, is she going to take it easy for the USA Women's Trophy team or not? "I'm going for the win that's for sure." Brandy says with complete confidence. "We have a really good lead individually and the team but I really want to win every test, that would be really cool." Ladies, you have been warned.
The final day is always a long day of racing on the track but individually it boils down to just one more test, usually of 10 minutes or so, among a lot of waiting for this old show to be over for another year.
Bikes hit the MX test in classes: Club riders first in E1, E2, E3 order then onto the World Trophy categories, with only the Women heading out together as they have been all week.
It's always a mix of 'can we just get this over with' and excitement. Week-long rivals go bar-to-bar and there are still some scores to settle. The E3 contest should be a good one between Matteo Cavallo, Jaume Betriu and Matteo Pavoni. They enter the final mx test separated by seconds.
Sandra Gomez: going old school
Sandra Gomez will be more familiar to most Enduro21 readers as the Hard Enduro rider competing events like Erzbergrodeo and the now two-times Gold class finisher at Romaniacs – the only female to do so.
But the Spanish team rider has put that slow stuff (and TrialGP) aside for a week or so and concentrated on the ISDE which this year has been a bit of a culture shock for someone who concentrates on technical riding so much.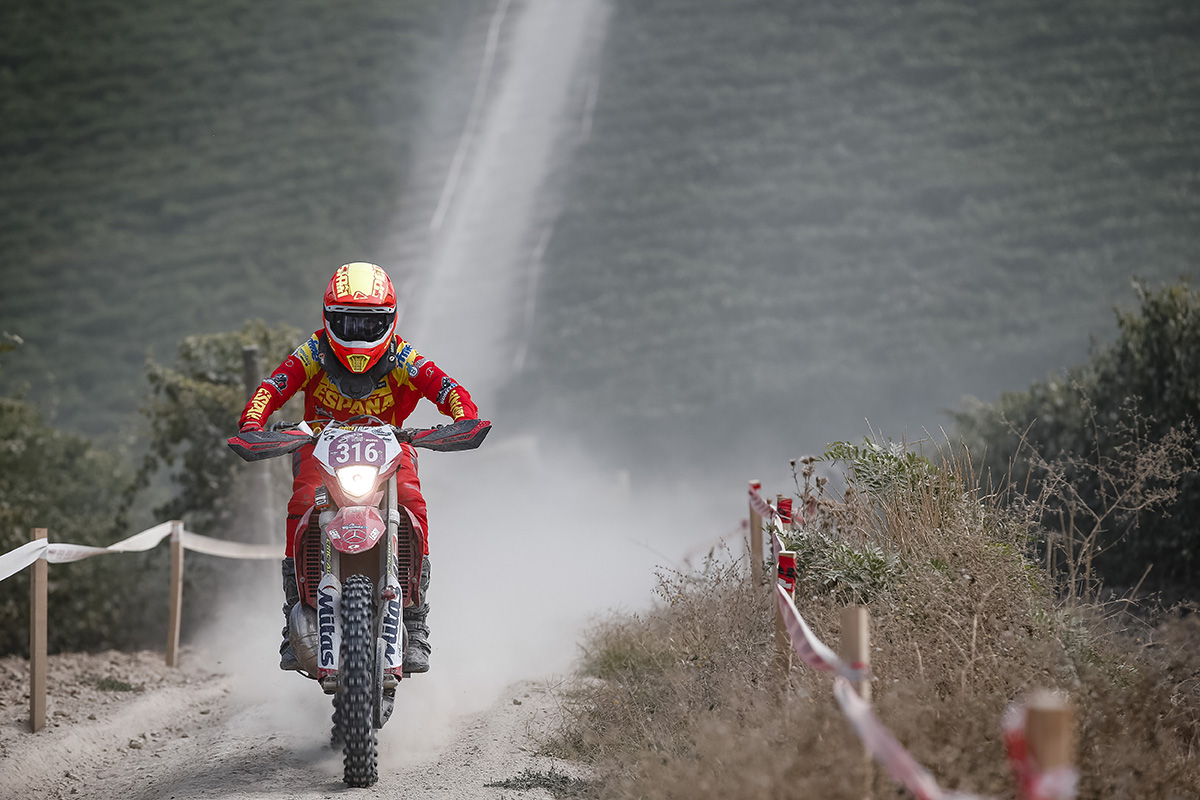 It's old school to be the kind of rider to do all off-road sports well, but how is Gomez coping with these high-speed ISDE tests? "I'm riding ok but all the special test are like motocross, full gas, nothing technical." Sandra explains. "There has been a nice forest test these last two days but still it was fast – I've been improving with each day but I know the times are not good compared to the others."
Sandra has indeed been improving every day and today was her strongest yet. Seventh place might not sound too exciting but crucially it was closer in time to those in front and she helped the Spanish women claw back time on Team GB to put pressure on tomorrow's MX test. "I'm there," she continues, "I keep pushing, trying my best and we will see."
You can watch the final day live if you want, through the FIM ISDE Facebook page.
Photo Credit: Enduro21 | Andrea Belluschi