2021 ISDE: Day 4 Notebook – "to say slow down is not easy"
Enduro21's daily notebook direct from the 2021 International Six Days of Enduro paddock in Rivanazzano, Italy – tonight we talk to the USA Trophy team manager and ponder why asking riders to slow down is not easy.
There is no let-up in the cloudless sky and heat here in Italy. Day four saw the ISDE change direction slightly heading deeper in the picturesque Apennine Mountains in the Lombardia region but it didn't matter how high we went, it was still damn hot.
Those hills brought fresh scenery and new tests including a 10-minute rip around a vineyard, an 11-minute tight woods test (which saw a few crashes) and an eight-minute grass test so vast it could have housed a club enduro with no problem.
If you can't see, you can't race
The rip around the Monleale vineyard was the second and fifth test of the day and something special at this year's ISDE. Staged in a picture postcard tiny, old village on a hill and surrounded by its own vineyard and fruit trees, it is typical Italy and the fact bikes are allowed to race through it is credit to the organisation.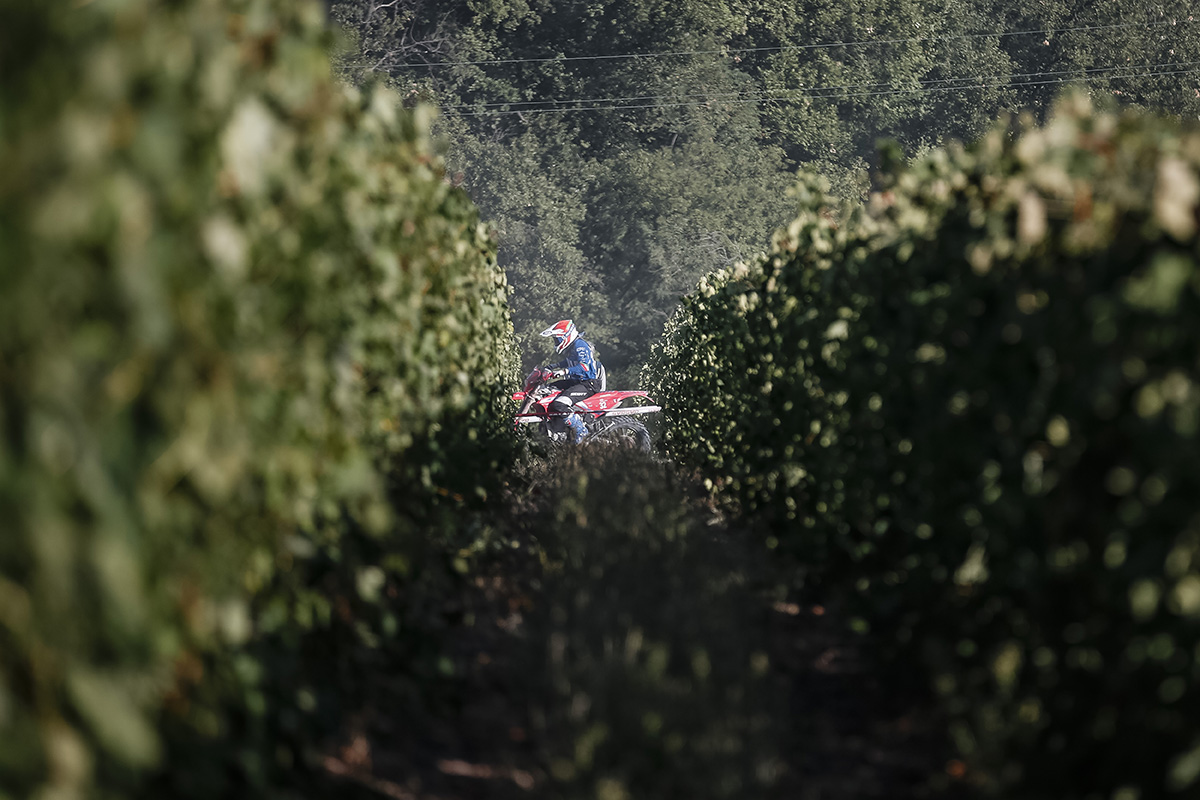 It was a shame then that the dust, very much a feature of this ISDE due to a sustained period of hot weather, caused its cancellation for the afternoon. It was not so bad for the faster riders but further down the order it became a real problem.
Riders arrived at the test five-time check – right in front of the winery – only to be redirected on to the transfer and on their way. It wasn't just the many spectators who were disappointed, Josep Garcia had ripped a 10-seconds faster time there in the morning. After losing over 20 seconds with a crash in the following woods test, he needed that additional test to catch-up time on his rival.
"I started good today but in the long enduro test I crashed and exited the track two times," explains Josep. "I don't know why I lost concentration for a while but lost many seconds.
"After that I came back in the fourth test but when they cancelled the test five it was not so good for me. I pushed in the last test but it was not enough."
His rival this week is Andrea Verona who reached a personal milestone on day four of the 2021 ISDE, he took the scratch day win, his first. "It takes me four days but finally I did it!" Laughs Andrea. "38 seconds on day one, second day 22, next day three seconds and now I have it."
Keep calm and carry on
The Italian team's lead in the World Trophy category is such that the battles for day wins or scratch podiums are becoming a cause for concern. Not for us, it's great to watch, but for the Italian Federation, the force behind the home team, who are getting twitchy with all their riders going so fast.
Davide Guarneri is one of the senior riders in the squad and hugely experienced, old-school you might say. He's had a new lease of life in 2021 since arriving at the E50 Racing Fantic team and is challenging for the E1 EnduroGP title.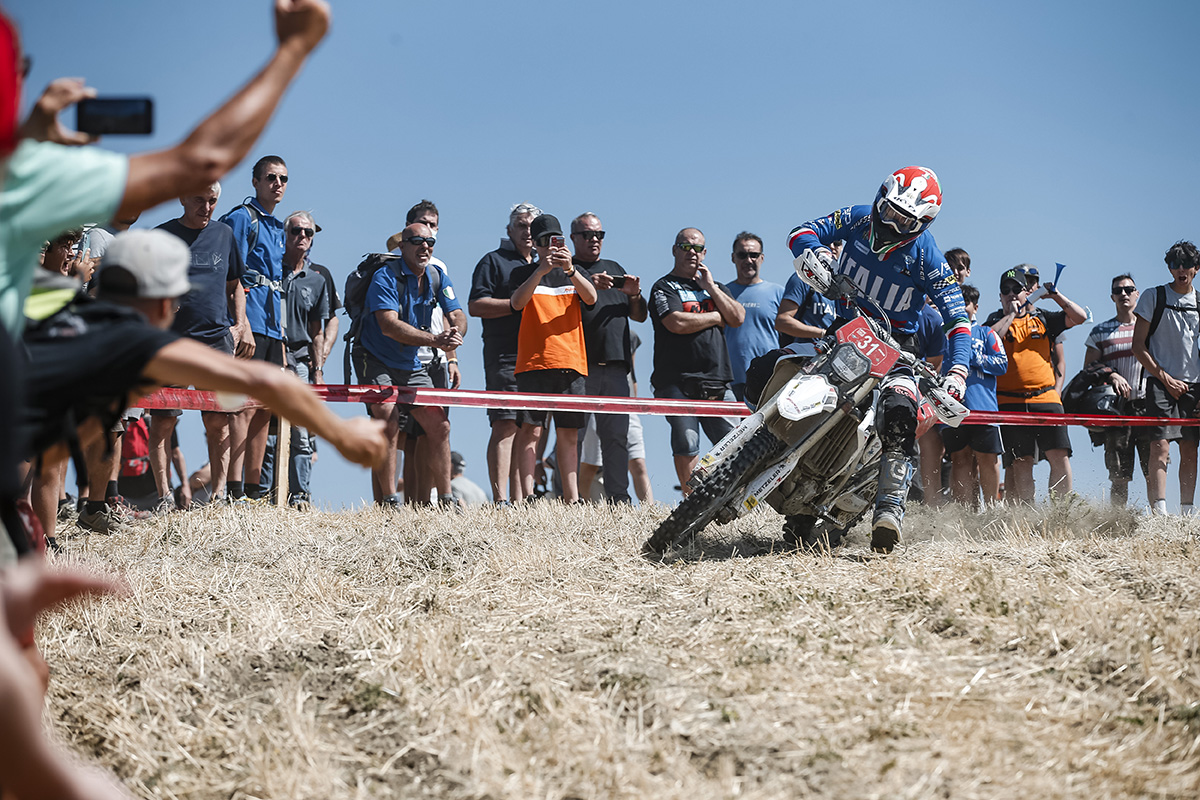 Davide is wise to the ISDE many dangers and knows his own mistakes on day one were costly for the team. "I made stupid mistakes and lost a lot of time." Davide acknowledges, knowing full-well this sport and this contest can throw spanners in the works. "But I've been riding well and these last days we arrive in the top five.
"The top two are riding fast and that's great for the team. Everybody in the Italian team is riding fast and everything is going well but we have to stay focused, anything can happen at Six Days right to the last day. A bad test for two or three riders can have a big effect. We have to keep our concentration."
Are the Italian Federation asking them to stay calm? "Yes! Tonight they say maybe tomorrow we can ride more smooth, take things more easily. You know what? For me it is no big deal because you would call me the experienced rider. But I understand that Verona is fighting for the overall. Luckily he is a smart guy but to say to him 'slow down' in this situation is not easy.
How can you do that? "The thing is to not go overriding, not push in the worst places in the tests, take no risks. But this is off-road racing and even if you think you know everything, you don't until you cross the line."
Asked the same question, Verona says, "It's not good to say we have a cushion to Spain. We have to stay focused and continue to push. The Italian federation say 'go slow, don't push' and I say ok, ok. Obviously we are here for the team but it's an individual race also so I look for the overall classification."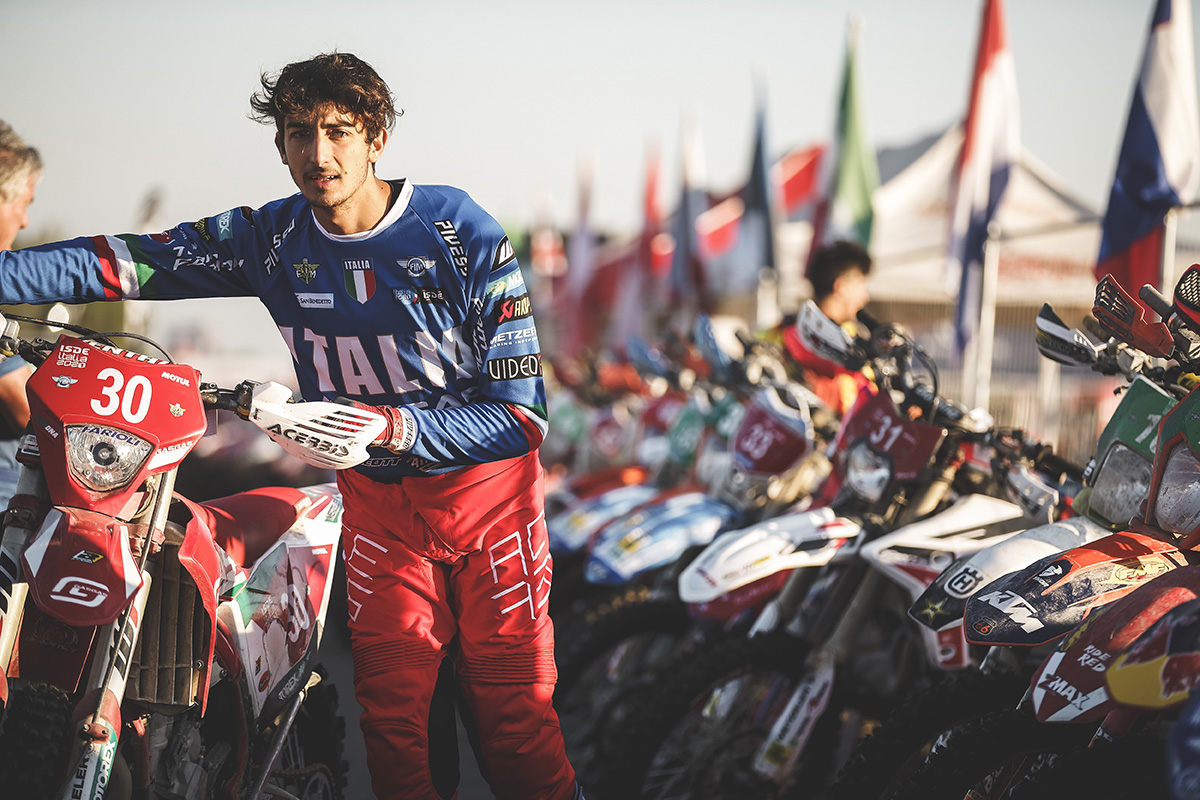 USA Juniors out
When we sat down to write this notebook the medical checks were still going ahead but it was later confirmed day four saw the demise of the USA Junior squad after Auston Walton crashed and damaged his right shoulder.
All three riders count in the Junior class, something Spain know only too well after Enrico Fransisco's Sherco gave up the ghost today. One out, all out in this class.
"Austin had a big, big crash in the enduro test." Explains USA's Trophy Team manager, Antti Kallonen. "He crashed, injured himself, got stuck, couldn't get up, and lost roughly six minutes on the enduro test. He then struggled to get to the service and took a time penalty, that meant he lost around eight minutes."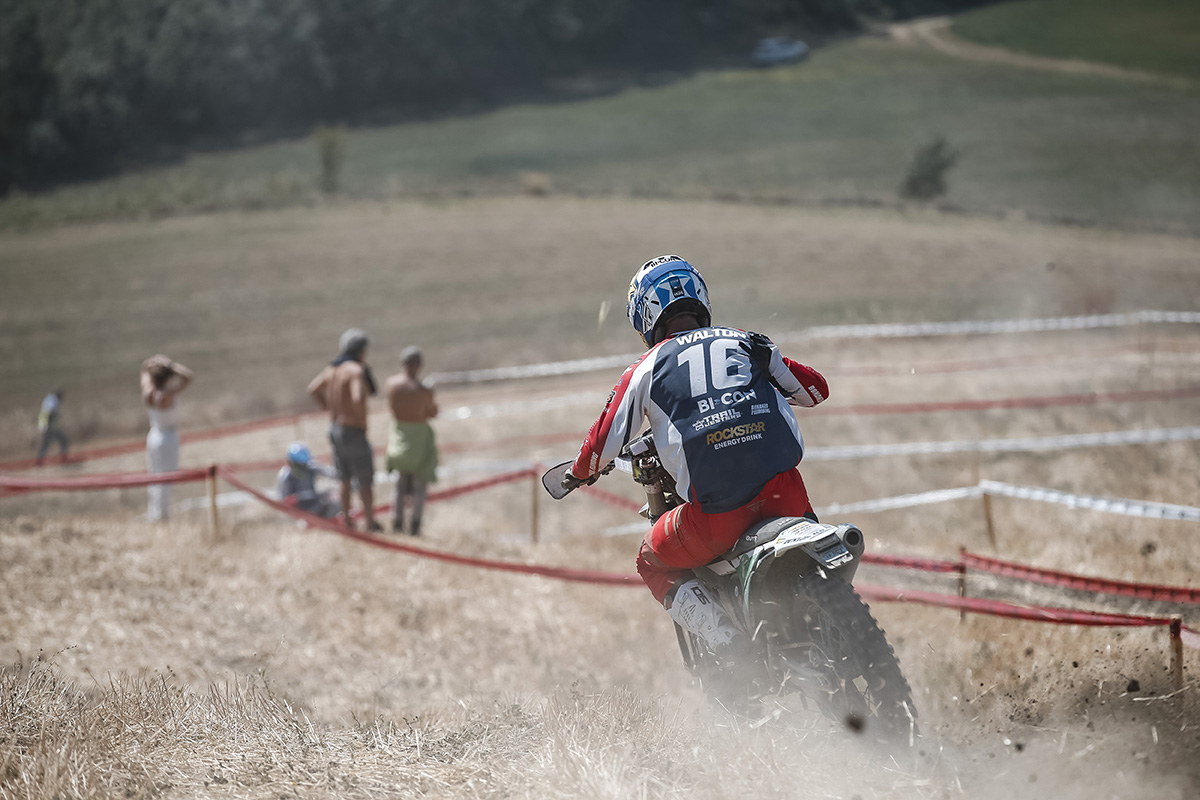 When Enduro21 next saw Walton in the following Cross Test (above) he was taped up, riding but certainly not in a fit shape and clearly suffering.
"Realistically, even if he was able to continue, we are out the Junior Trophy." Continues Kallonen."You wanna have hopes, you wanna have goals but at the end of the day you've got to be realistic and look at the facts and we're out of contention now.
"We won't give up, we are very close in the World Trophy with Spain. Hopefully we can take one trophy home and fight for the podium in the other."
Two years ago in Portugal we were writing the same things about Team USA as we are this year of the Italian's. Consistent performances, all riders inside the top 10 each day, yadda, yadda. It's the secret to success but sometimes the Six Days bites.
Photo Credit: Enduro21 | Andrea Belluschi