ISDE 2022: Day 3 Notebook – give it everything or not? (& staple guns)
Enduro21's daily notebook direct from the International Six Days of Enduro paddock on day three in France talks to the riders about how much to push and when, catches up with a legend and finds out why Team USA's doctor is putting staples in Josep Garcia…
Push for the test wins or take no risks?
When you're fighting for the biggest team prize in enduro, surely the individual goal goes out the window? Steve Holcombe says no, not yet anyway, it's too early: "I think for the minute we're still trying to do our best individually," says Holcombe who's British World Trophy currently lead by over two minutes.
But there is always the fine line between doing your best and stepping over the mark, especially at the speed these guys are pushing. "I know I had a few moments today where I messed up and it gets you thinking, 'what happens if I crash and I put all that hard work to waste.' Something easy like that could hurt me or my bike and that is not only bad for me but the team."
So are they pushing too hard then? "I think to a degree we're not pushing too hard, no. Whereas some other guys are pushing harder to try and make time up on us. I think it is a bit too early to be riding in that mentality and at the moment what we're doing is working, we keep building time so we're doing something right.
"Collectively we're in a really good position, we're all enjoying it and taking it day-by-day."
Team USA doctors and their staple guns...
French trees hurt. The hole punched into Josep Garcia's arm in a test today is testimony to that. It hurt but didn't slow him down much in test two, and then hurt again shortly after when Team USA's doc came to the rescue with his staple gun.
"I didn't crash, just in the forest I dodged to miss a tree and felt something," explained the overall scratch leader. "When I finished the test, I looked, and it was quite a big hole. I had some stiches…but from there the feeling in my stomac…is not good for a while. I do not like to see in my body." No-one likes to see inside their body, do they?!
"Anyway, I was fighting all day for the win despite this and only lost because of a small crash in the last test."
The great thing to see is that the Team USA doctor was willing and able to help Josep despite them being on opposing teams. It was lucky he was around with his gun...
After you, no, after you
Being fastest means you start first with yesterday's next fastest rider at the ISDE. Riders head away at two riders per minute off the podium each morning in the World Trophy class. That means today, as every day except Monday (when they went in nation finishing order from the last ISDE), Garcia was first to every time check alongside Nathan Watson.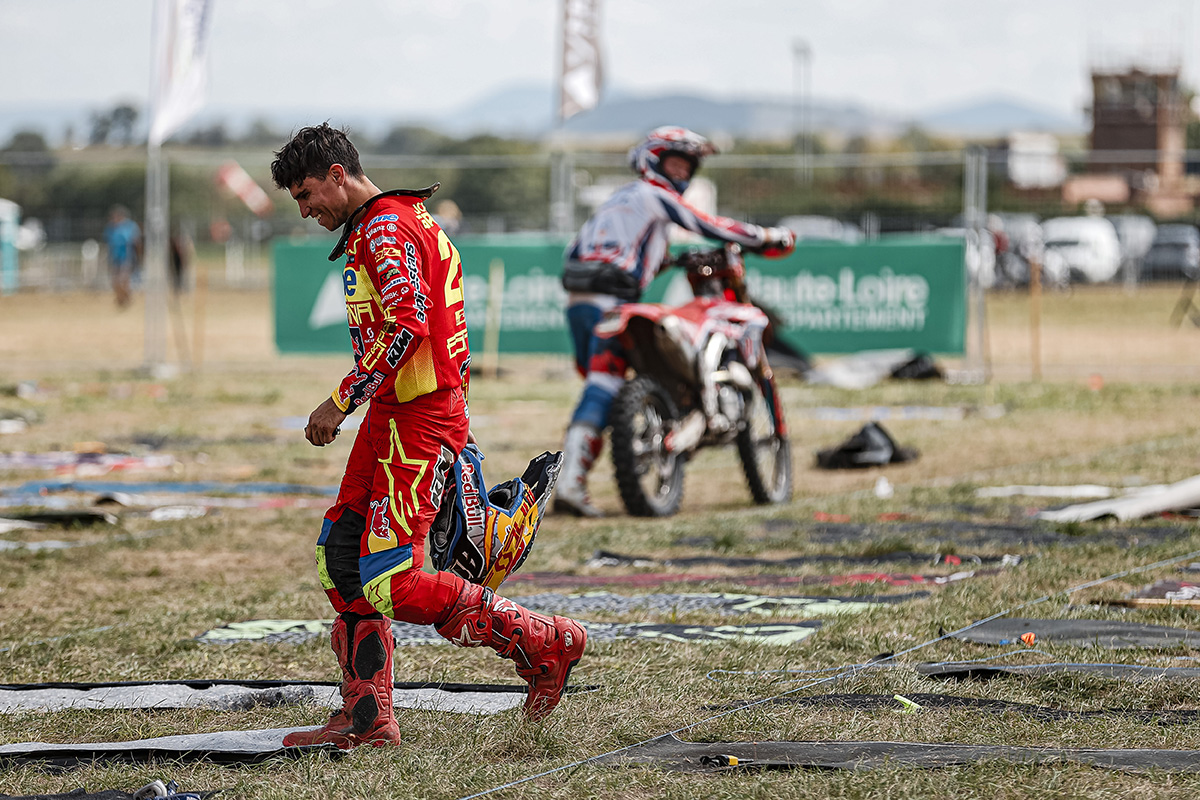 Some riders prefer to go first on tests because they have nothing in front and no distractions or dust. At other times it can depend on how well you get on with the rider on your minute – a bit of rider etiquette can happen.
Josep felt like that didn't happen today: "Today I started every, single test first. When the test has lines already it is not a problem but when the test is new like today it is problem because you have nothing. The problem is no-one starts in front of me all day, they wait, and if I don't start on time I have to take a penalty from the time control."
At this ISDE the early bird seems to be catching the worm by being first in the tests before they get beaten up. But having a line or two there, set down by the scratch leader sure helps on some. As Josep knows only too well, "Tomorrow I will not open any test, that's for sure!" He adds.
French Enduro Legends aiming for Club Trophy – Namboooo, Meoooo, Pelaaaa!!!!
The French crowd is awesome and looks like it will only get better with each day as the weekend approaches. They are right behind their riders and to be far don't mind making a noise at anyone who is giving it their all.
Trophy teams and riders get most of the attention but behind the bright lights (which is where the majority of the riders at the ISDE are actually) are some bloody fast folks lurking.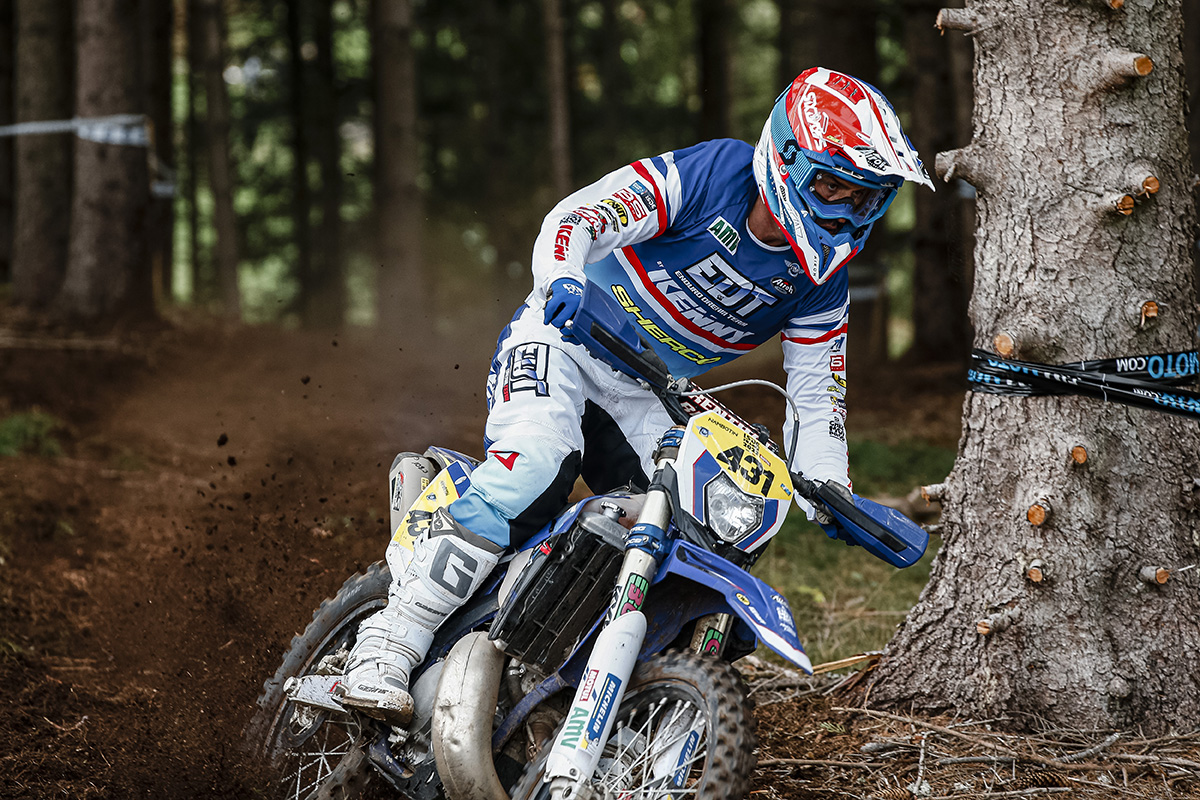 They include GNCC winners, European champions, EnduroGP riders and a trio of French legends: Christophe Nambotin, Pela Renet and Antoine Meo who have just a few world championships and ISDE medals between them.
This Enduro Dream Team are fighting for the club team award and don't the crowds love it. Meo was leading the scratch result and they would have been leading the team timesheets but for a three-minute time penalty yesterday.
Still, they are fourth, two minutes down and "will keep fighting to the finish," Nambo tells Enduro21 in the parc ferme tonight. How does it feel to be racing in club class instead of the French Trophy teams?
"Well for us it's a pleasure, we have no pressure and we can take time to ride for the fans." Christophe explains. "We don't train too much and it is completely different in many ways but we have a good team around us and it is a nice feeling. Three minutes is a lot but we were seventh this morning and now I think P4, so it is not so bad, we will fight until the end."
Time to let it fly
It feels like a luxury to some riders like Zach Pichon in the Juniors who have been cut loose from the team burden and can let fly for his best possible individual result (along with Sweden and USA Juniors, France lost a rider on day one).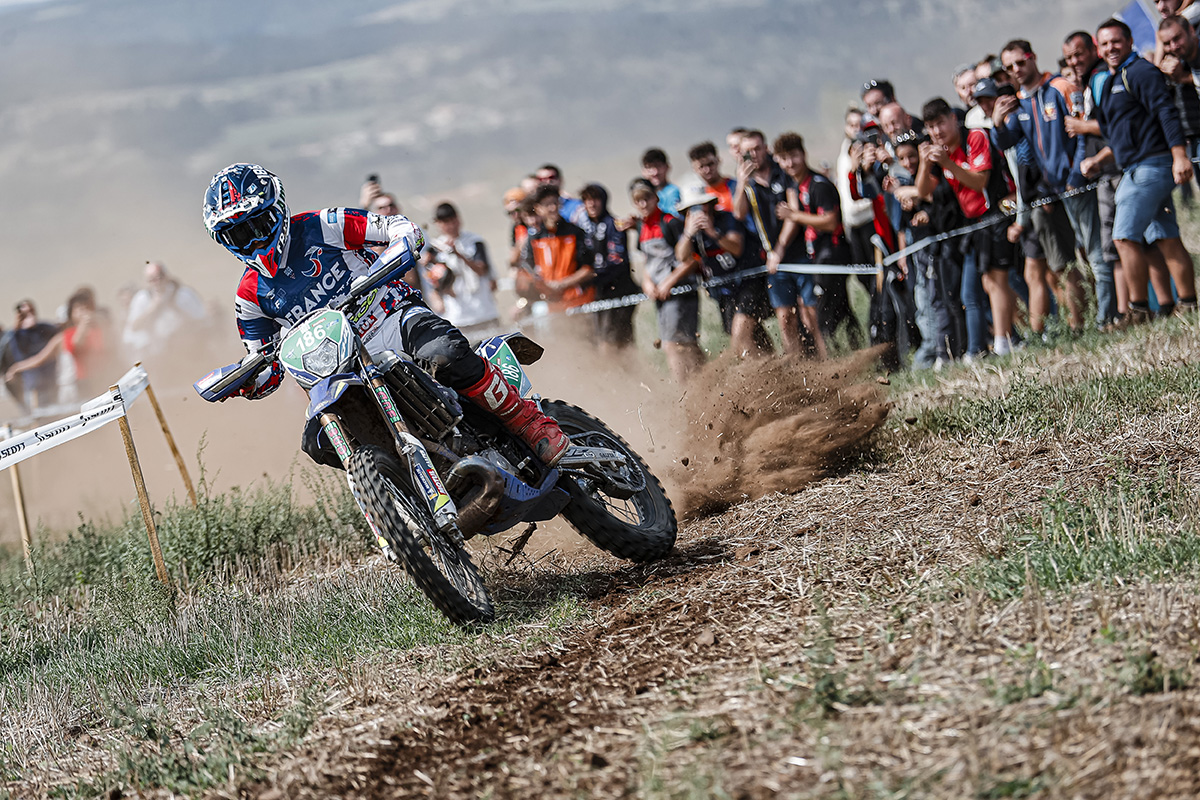 Zach will step up to the seniors in the world championship next season and his ISDE performance this week (fifth scratch again today) is very much a warning shot across the bows for other EGP boys.
Other riders, like Spain's fastest female Mireia Badia, are in a different position. Not quite cut loose because her teammates are still in it, but now so far behind the podium Spain bagged last year in Italy is only a memory.
"This year is difficult for us," Mireia says, "one of our girls does not have the experience of riding in the world championship. She is new here and today both of them are also penalised because of mechanical problems. I think this will put us in last place…"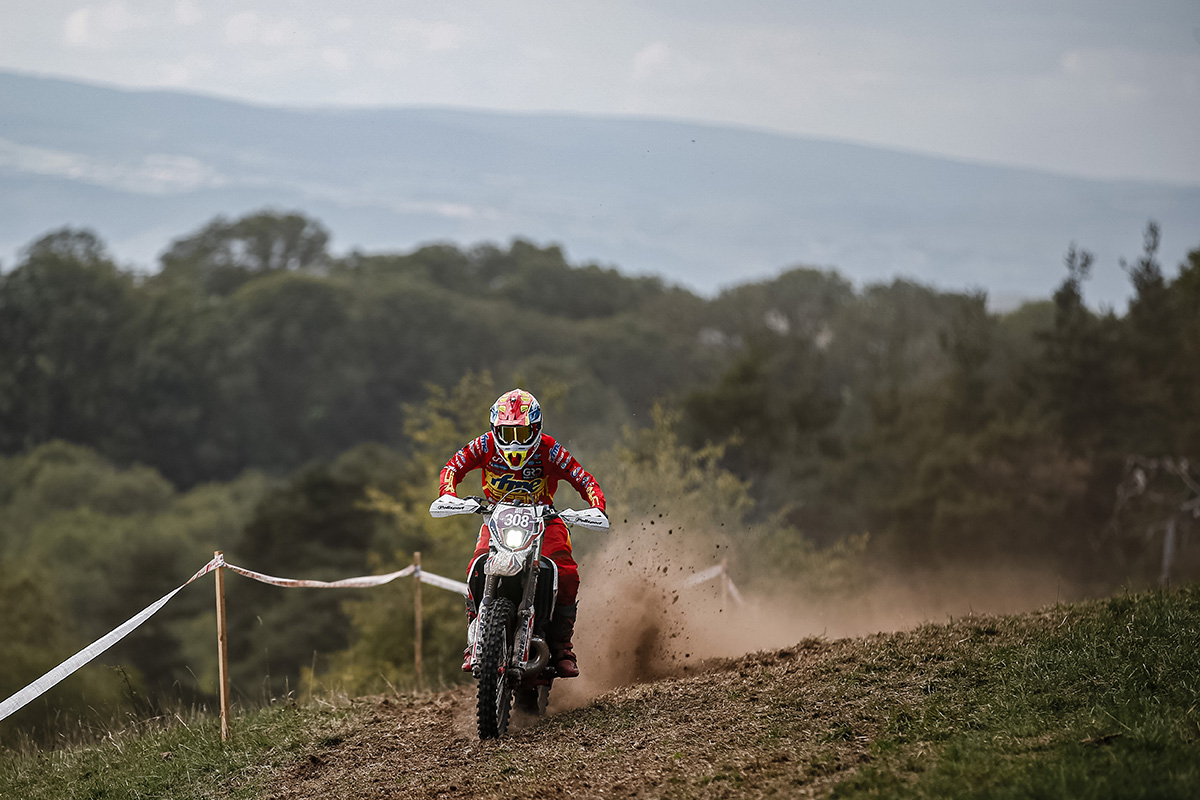 That means Badia can let fly like Pichon and chase the individual goals in the women's class? "Now my objective can change, yes. Now I can focus on myself individually and try to do my best. It is so competitive though and all the girls are fast so if you make a mistake it is really easy to drop down the times. But I really like the tests and I will do my best."
Photo Credit: Future7Media | Andrea Belluschi + Nicki Martinez