Spain announce ISDE teams for France '22
The Royal Spanish Motorcycle Federation (RFME) has announced the riders selected for the 2022 International Six Days of Enduro that will take place, this year, in Puy en Velay, France.
No prizes for guessing the name at the top of the list Josep García, but the trophy teams include a list of big-hitters from EnduroGP to take on the world this August 29 to September 3.
Garcia is joined in the World Trophy squad by Jaume Betriu, Marc Sans and Bernat Cortès making up a powerful senior team capable of challenging the likes of Italy, USA and Team GB.
The United States have already announced their squad but let's not forget it was Spain who stood as runners-up last year in Italy against the hosts. Surely they have every chance of climbing a step higher in France – although we must take into account the Australian ISDE team which returns to the contest this year and they too have some big hitters.
Former GP rider and multiple times ISDE team member Cristóbal Guerrero makes his debut as coach this year, having taken over from Ivan Cervantes. "We are going to these ISDE with three very competitive teams", says Cristobel. "In Trophy, with Josep, Jaume, Marc and Bernat, I think we can fight for everything and I'm sure the riders are going to fight to put Spain on the podium."
It's a different look to the Junior squad this year, with the Navarro brothers removed from the potential line-up due to indiscretions at a recent Spanish Enduro round.
Guerrero has selected Adrià Sánchez, Julio Pando and Albert Fontova in the junior team. "The three chosen are very young, they are learning, improving but they have immense desire and they will also give everything."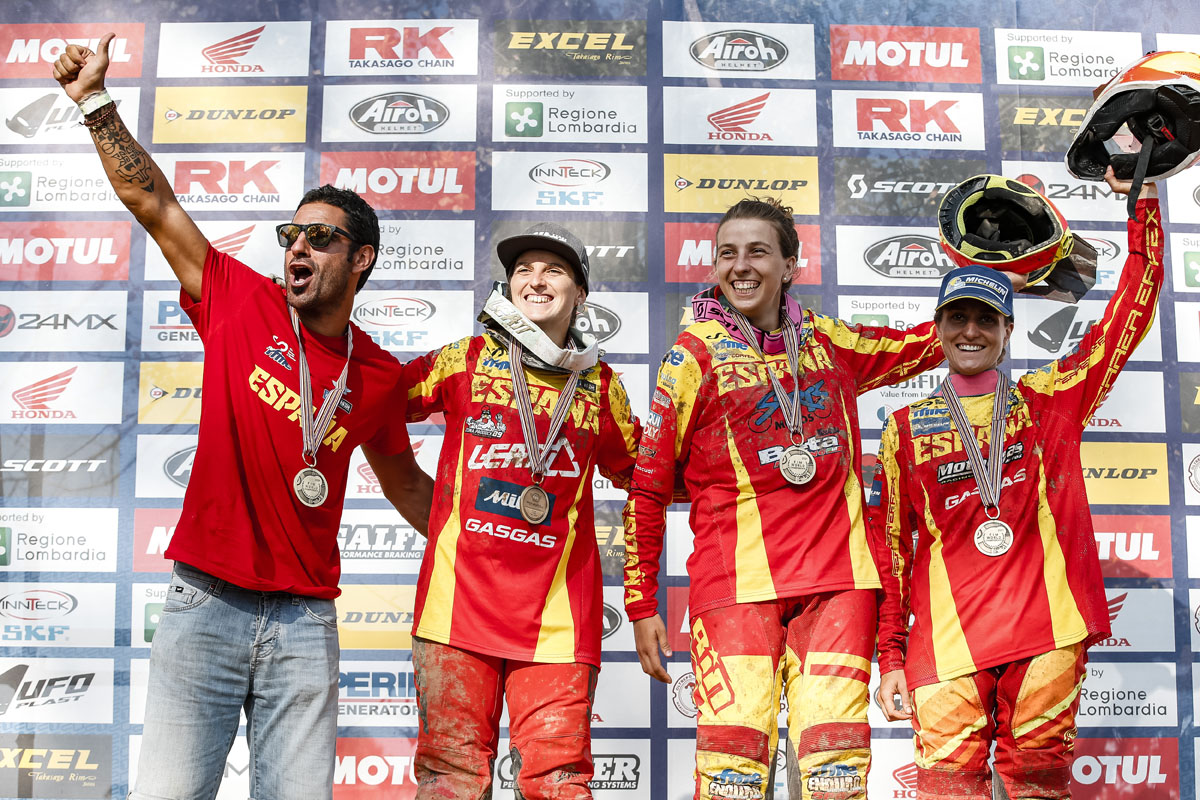 The Womens team also includes EnduroGP riders including world number two Mireia Badia, Júlia Calvo and Nora Esteban. "Both Mireia and Júlia already know what a Six Days is all about," adds Cris "and they will do their best to, at least, repeat last year's result when they were third", says the man from Malaga, setting the bar high for them.
"This will be my first ISDE as a national coach so I hope to be up to the task and help the riders with everything is in my power." Said Guerrero who until last year was part of the senior team but will look at the bulls from the other side of the barrier thi stime around.
2022 Spanish ISDE World Trophy Team:
• Josep Garcia – KTM 350 4T
• Jaume Betriu – KTM 500 4T
• Marc Sans – HUSQVARNA 500 4T
• Bernat Cortes – GAS GAS 350 4T
Spanish Junior Trophy Team:
• Adrià Sánchez – KTM 250 4T
• Julio Pando – BETA 350 4T
• Albert Fontova – KTM 250 4T
Spanish Women's Trophy Team:
• Mireia Badia – Rieju 300 2T
• Julia Calvo – BETA 350 4T
• Nora Esteban – HUSQVARNA 300 2T
Photo Credit: Future7Media | Andrea Belluschi